43% of U.S. households can't afford the basics
Despite a low unemployment rate, all is not well in the United States. Not by a long shot.
18 May, 2018
The United Way has released a report illustrating where our country is, despite a reduction in unemployment since the 2008 recession ended.
---
Dubbed the ALICE Project, which stands for Asset Limit, Income Constrained, Employed, this group of people, which is close to 51 million Americans, make less than what's needed to survive in the modern economy. That number includes 16.1 million households living in poverty, in addition to the 34.7 million families that fall under the classification of ALICE.
It's a staggering 43% of U.S. households that can't afford the basics such as food, child care, health care, transportation, and a cell phone.
The maps on the United Way page give a state-by-state percentage of people below the ALICE threshold, as well as county-by-county, and they're clickable to allow folks to dig down. Here's what the first map looks like:
The reasons why?
1) Many Americans have simply stopped looking for jobs. When pay is below that which will cover child care, it's often a simple calculus.
2) The cost of living in some areas is beyond reach for many. For example, in Seattle's King County, the annual household survival budget—that's the bare minimum needed to just tread water—is a whopping $85,000. For one person in that household to maintain that would require a wage of over $42/hr, which means it's unobtainable for 86% of the population there.
3) 66% of all jobs pay less than $20/hr. That can make supporting a middle-class family impossible. This is why most families see both the mother and father each working two or more jobs.
4) The housing market is on fire, and not in a good way. Sellers and buyers are scrambling to buy and sell houses right now, despite the highest mortgage rates in eight years. It might be a harbinger of serious trouble to come, however—this is similar to a pattern that preceded the mortgage meltdown and the Great Recession that followed in 2008. What this means is that families are sharing smaller and smaller living quarters, moving in with other families, sharing apartments with strangers, and even living out of their cars or on the streets.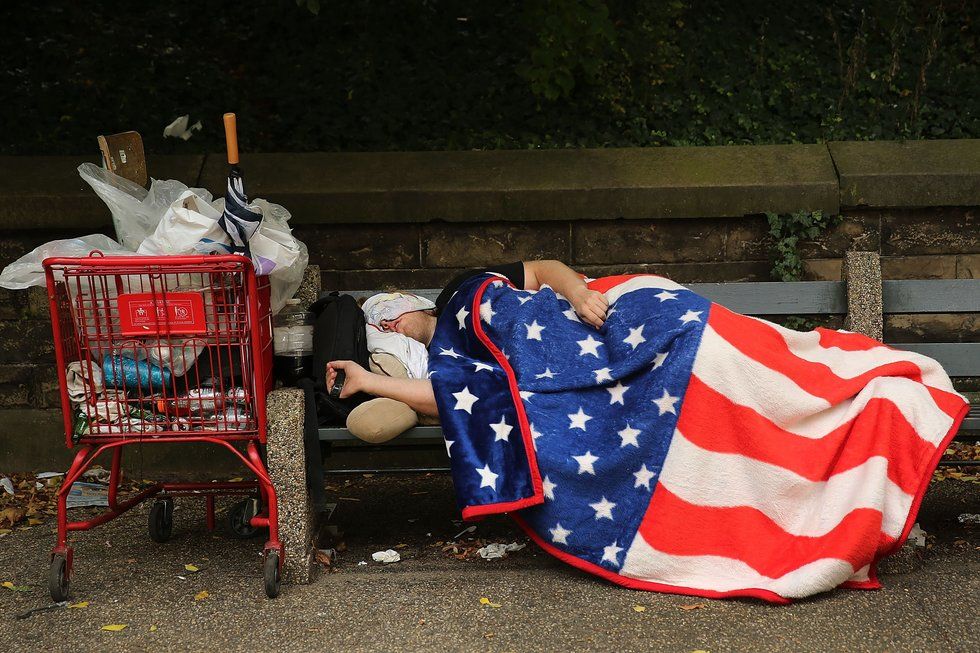 "For too long, the magnitude of financial instability in this country has been understated and obscured by misleading averages and outdated poverty calculations," said John Franklin, president of the ALICE Project and CEO of United Way of Northern New Jersey. "It is morally unacceptable and economically unsustainable for our country to have so many hardworking families living paycheck to paycheck. We are all paying a price when ALICE families can't pay the bills."
Here's Dr. C. Nicole Mason with some hard facts about poverty and getting out of it.
What makes a life worth living as you grow older?
Culture & Religion
Dr. Ezekiel Emanuel revisits his essay on wanting to die at 75 years old.
The doctor believes that an old life filled with disability and lessened activity isn't worth living.
Activists believe his argument stinks of ageism, while advances in biohacking could render his point moot.
The Amazon Rainforest is often called "The Planet's Lungs."
NASA
Politics & Current Affairs
For weeks, fires have been burning in the Amazon rainforest in Brazil, likely started by farmers and ranchers.
Brazil's president, Jair Bolsonaro, has blamed NGOs for starting the flames, offering no evidence to support the claim.
There are small steps you can take to help curb deforestation in the Amazon rainforest, which produces about 20 percent of the world's oxygen.
Emojis might contain more emotional information than meets the eye.
Pixabay
Sex & Relationships
A new study shows that people who frequently used emojis in text messages with potential dates engaged in more sexual activity and had more contact with those dates.
However, the study only shows an association; it didn't establish causality.
The authors suggest that emojis might help to convey nuanced emotional information that's lacking in strictly text-based messaging.