Scientists detect an underground lake at Mars' Southern pole. But it's c-c-c-o-l-d.
If confirmed by future observations, this would be the most significant discovery of liquid water on Mars yet.
25 July, 2018
Underneath one mile of ice at the southern pole of Mars is a large, stable body of water, scientists have concluded.
---
The spacecraft known as Mars Express deployed an instrument in 2005 called Mars Advanced Radar for Subsurface and Ionosphere Sounding (MARSIS), which uses radar in the 4-5 MHz range, that studied the southern pole of the planet from about mid-2012 to December 2014. The MARSIS craft used low-frequency electromagnetic waves to "see" what reflects back from the planet surface, and every indication from that collected data involving 29 separate observations points to one conclusion: The body of water is real.
It's likely composed of liquid water, at about -10 Celsius, and salts of sodium, magnesium, and calcium, which are abundant on the surface of Mars. The salts would allow a lower melting point.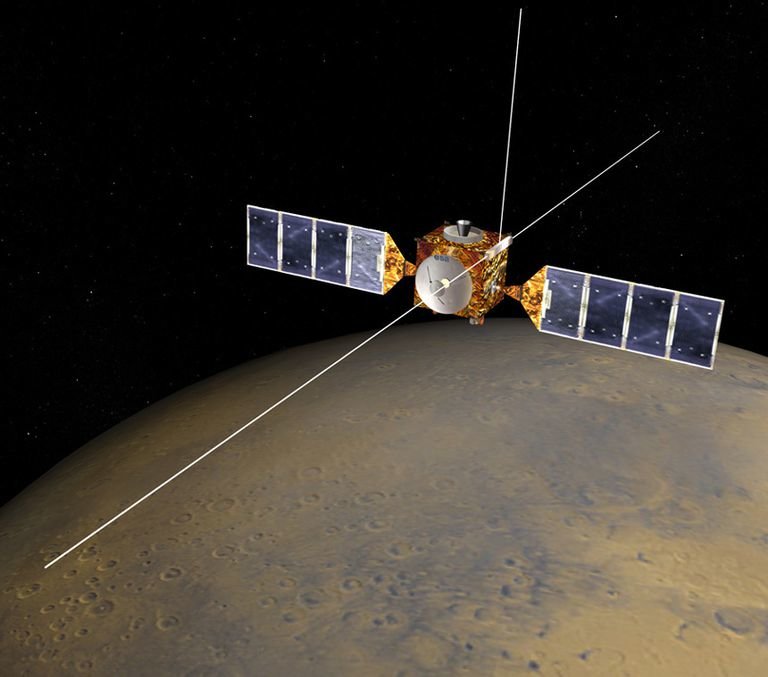 The Mars Express spacecraft with 40-meter MARSIS antenna deployed. (Image by NASA/JPL/CORBY WASTE)
There have been previous studies that have indicated water on Mars and other evidence also exists for water on the surface of the planet, including condensation accumulating on surface landers, as well as subterranean ice deposits that have been discovered.
Of course, when there's water, life should logically follow, right?
It's possible. According to Roberto Orosei, a co-investigator of the MARSIS instrument at the University of Bologna in Italy and lead author of the new study, "There are microorganisms that are capable of surviving well below zero [on Earth] even without being in contact with water, and there are microorganisms that can use the salt, presumably the salt in the water on Mars... for their metabolism."
The abstract of the study, published in Science, reads: "The presence of liquid water at the base of the martian polar caps has long been suspected but not observed... Radar profiles collected between May 2012 and December 2015 contain evidence of liquid water trapped below the ice of the South Polar Layered Deposits. Anomalously bright subsurface reflections are evident within a well-defined, 20-kilometer-wide zone centered at 193°E, 81°S, which is surrounded by much less reflective areas. Quantitative analysis of the radar signals shows that this bright feature has high relative dielectric permittivity (>15), matching that of water-bearing materials. We interpret this feature as a stable body of liquid water on Mars."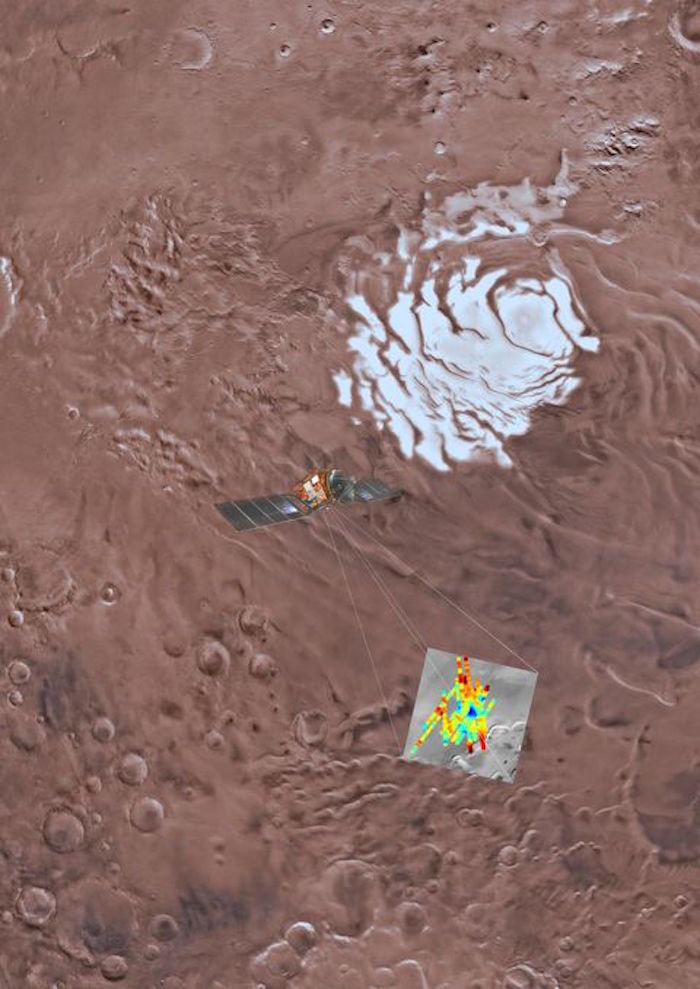 Artistic impression of the Mars Express spacecraft probing the southern hemisphere of Mars, superimposed to a color mosaic of a portion of Planum Australe. The study area is highlighted using a THEMIS IR image mosaic. Subsurface echo power is color coded and deep blue corresponds to the strongest reflections, which are interpreted as being caused by the presence of water. (Image by USGS ASTROGEOLOGY SCIENCE CENTER/ARIZONA STATE UNIVERSITY/ESA/INAF/DAVIDE COERO BORGA)
The radar profile of the region studied resembles that of our own planet, with subglacial lakes underneath Greenland and Antarctica.  
The study needs to be further peer-reviewed and the results verified. Indeed, a Chinese mission to Mars is planning to do exactly that in about two years.
"I can't absolutely prove it's water, but I sure can't think of anything else that looks like this thing does other than liquid water," said Richard Zurek, chief scientist for the Mars Program Office at NASA's Jet Propulsion Laboratory, unaffiliated with the study.
So… when do we all move to Mars? 
Asking for a friend. 
That's a sharp increase from the 1960s when it took the same share of scientists an average of 35 years to drop out of academia.
Pixabay
Surprising Science
The study tracked the careers of more than 100,000 scientists over 50 years.
The results showed career lifespans are shrinking, and fewer scientists are getting credited as the lead author on scientific papers.
Scientists are still pursuing careers in the private sector, however there are key differences between research conducted in academia and industry.
We have to practice doing nothing more often.
Photo: Shutterstock
Personal Growth
Constantly being busy is neurologically taxing and emotionally draining.
In his new book, Jon Kabat-Zinn writes that you're doing a disservice to others by always being busy.
Busyness is often an excuse for the discomfort of being alone with your own thoughts.
The bold technique involves surgically implanting a so-called microneedle patch directly onto the heart.
Red human heart against a yellow background (Getty Images)
Surprising Science
Heart attacks leave scar tissue on the heart, which can reduce the organ's ability to pump blood throughout the body.
The microneedle patch aims to deliver therapeutic cells directly to the damaged tissue.
It hasn't been tested on humans yet, but the method has shown promising signs in research on animals.
Big think's weekly newsletter.
Get smarter faster from the comfort of your inbox.
See our newsletter privacy policy
here
Most Popular
Most Recent
Big think's weekly newsletter.
Get smarter faster from the comfort of your inbox.
See our newsletter privacy policy
here
© Copyright 2007-2018 & BIG THINK, BIG THINK EDGE,
SMARTER FASTER trademarks owned by The Big Think, Inc. All rights reserved.