NASA's Parker Solar Probe launched today. Its mission? 'Touch' the sun.
The Parker Solar Probe is the first time a spacecraft will ever get this close to the sun.
09 August, 2018
"She's a plucky little spacecraft," project scientist Nicola Fox, a solar scientist at Johns Hopkins University, told Space.com. "She's going to the last major region of our solar system to be explored."
---
"Parker," named for Eugene Parker, the solar physicist who predicted solar wind and began referring to it as exactly that, launches Saturday around 3:30 a.m. ET. At its closest, it will be 4 million miles (6 million kilometers) from the surface of our sun. This actually means it will go through the "atmosphere" or corona.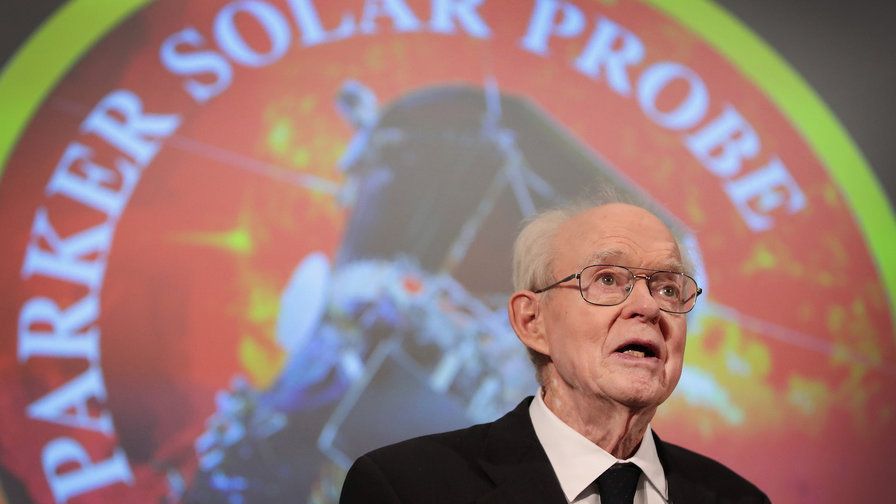 University of Chicago astrophysicist Dr. Eugene Parker listens as NASA officials announced plans to deploy a solar probe, named in Parker's honor, into the sun's atmosphere for the first time. (Photo by Scott Olson/Getty Images)
"The solar probe is going to a region of space that has never been explored before. It's very exciting that we'll finally get a look," said Eugene Parker, who was on the UChicago faculty from 1955 to 1995. "One would like to have some more detailed measurements of what's going on in the solar wind. I'm sure that there will be some surprises. There always are."
Eugene Parker is 91 and will witness the launch—provided it actually comes off on Saturday, which appears likely.
The $1.5 billion project will be the first to study this closely what makes the sun "tick." After making 24 orbits around the sun, including seven Jupiter fly-bys to create a sort of slingshot effect as well as overcome the inertia of launching from our own planet, it will reach a top speed of 430,000 miles per hour—the fastest human object ever.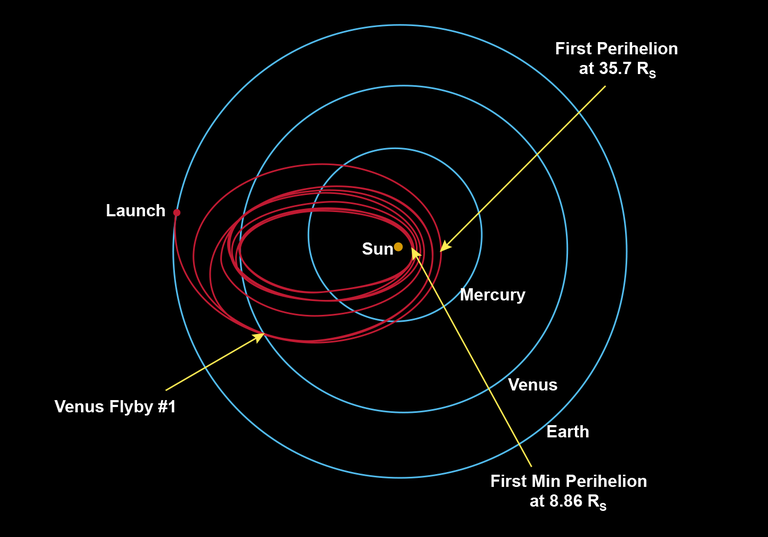 (Orbital trajectory of the Parker Solar Probe. Image credit: JHUAPL)
The 10-foot by 3-foot spacecraft will then head right for the solar corona, with an 8-foot, 4.5 inch (11.43 cm) thick heat shield protecting it from direct heat; instruments onboard Parker will remain a cool 85 degrees F, or 30 degrees C.
The four primary measurements and tools used will be:
1. A camera, called the Wide-Field Imager, to capture photographs of what the spacecraft is about to fly through. This will work in tandem with other instruments to be able to "see" things like solar flares as they are measured. However, once it gets at its closest point to the sun, there will be no possibility to capture any direct images due to the heat.
2) The FIELDS experiment will measure—and map—electric and magnetic fields within the sun's atmosphere.

3) The Solar Winds Electrons Alphas and Protons will collect particles of the solar wind to measure speed and temperature.
4) The Integrated Science Investigation of the Sun will try to figure out how those same particles ended up moving so fast, at more than 1 million miles per hour (500 KM/sec).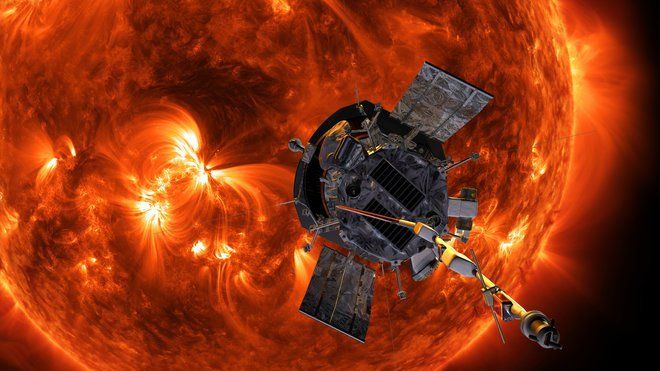 (Artist's depiction of the Parker Solar Probe in orbit around the sun. Credit: Steve Gribben/NASA/Johns Hopkins APL)
The solar wind and other phenomena such as solar flares and coronal mass ejections all make up what's known as "space weather." While normally benign, creating such beauties as the aurora borealis or northern lights, sometimes space weather can make communications equipment fail and navigation satellites go dark. At their strongest, they can even affect power grids on our own planet's surface. 
One primary goal of the mission over its 6+ year lifespan will be understanding these solar phenomena and the sun's atmosphere to get a better idea of just how to protect such equipment from space weather, including how to predict it better. But another is to better understand why the sun's corona is millions of degrees hotter than the surface.
Meanwhile, you can step outside and see the Perseid meteor shower, peaking early Monday morning.
Since the idea of locality is dead, space itself may not be an aloof vacuum: Something welds things together, even at great distances.

Videos
Realists believe that there is an exactly understandable way the world is — one that describes processes independent of our intervention. Anti-realists, however, believe realism is too ambitious — too hard. They believe we pragmatically describe our interactions with nature — not truths that are independent of us.
In nature, properties of Particle B may be depend on what we choose to measure or manipulate with Particle A, even at great distances.
In quantum mechanics, there is no explanation for this. "It just comes out that way," says Smolin. Realists struggle with this because it would imply certain things can travel faster than light, which still seems improbable.
E-cigarettes may be safer than traditional cigarettes, but they come with their own risks.
Surprising Science
A new study used an MRI machine to examine how vaping e-cigarettes affects users' cardiovascular systems immediately after inhalation.
The results showed that vaping causes impaired circulation, stiffer arteries and less oxygen in their blood.
The new study adds to a growing body of research showing that e-cigarettes – while likely safer than traditional cigarettes – are far from harmless.
The Russian-built FEDOR was launched on a mission to help ISS astronauts.