NASA's Parker Solar Probe launched today. Its mission? 'Touch' the sun.
The Parker Solar Probe is the first time a spacecraft will ever get this close to the sun.
09 August, 2018
"She's a plucky little spacecraft," project scientist Nicola Fox, a solar scientist at Johns Hopkins University, told Space.com. "She's going to the last major region of our solar system to be explored."
---
"Parker," named for Eugene Parker, the solar physicist who predicted solar wind and began referring to it as exactly that, launches Saturday around 3:30 a.m. ET. At its closest, it will be 4 million miles (6 million kilometers) from the surface of our sun. This actually means it will go through the "atmosphere" or corona.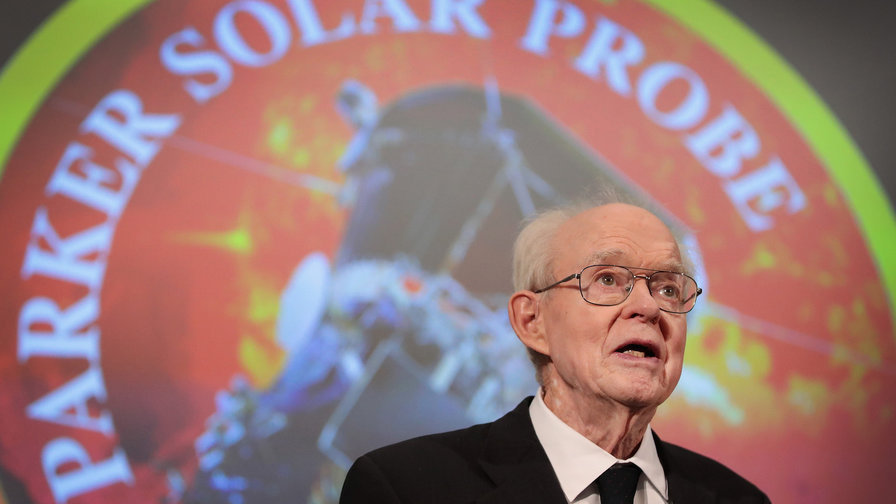 University of Chicago astrophysicist Dr. Eugene Parker listens as NASA officials announced plans to deploy a solar probe, named in Parker's honor, into the sun's atmosphere for the first time. (Photo by Scott Olson/Getty Images)
"The solar probe is going to a region of space that has never been explored before. It's very exciting that we'll finally get a look," said Eugene Parker, who was on the UChicago faculty from 1955 to 1995. "One would like to have some more detailed measurements of what's going on in the solar wind. I'm sure that there will be some surprises. There always are."
Eugene Parker is 91 and will witness the launch—provided it actually comes off on Saturday, which appears likely.
The $1.5 billion project will be the first to study this closely what makes the sun "tick." After making 24 orbits around the sun, including seven Jupiter fly-bys to create a sort of slingshot effect as well as overcome the inertia of launching from our own planet, it will reach a top speed of 430,000 miles per hour—the fastest human object ever.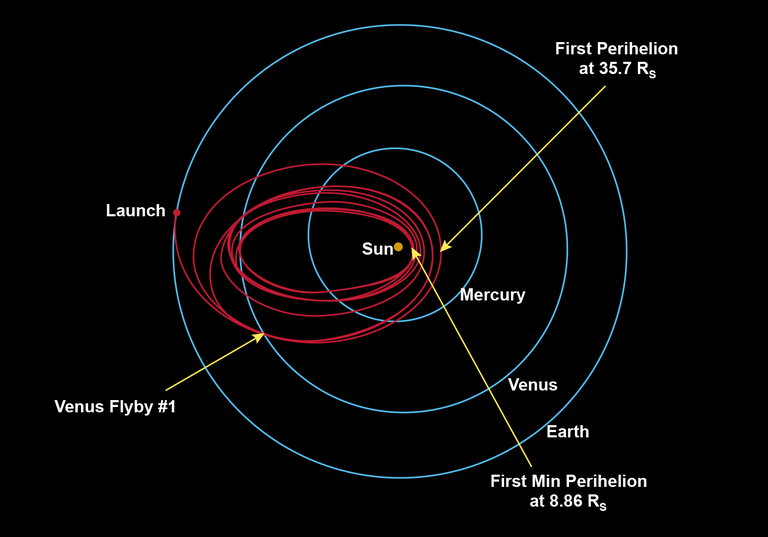 (Orbital trajectory of the Parker Solar Probe. Image credit: JHUAPL)
The 10-foot by 3-foot spacecraft will then head right for the solar corona, with an 8-foot, 4.5 inch (11.43 cm) thick heat shield protecting it from direct heat; instruments onboard Parker will remain a cool 85 degrees F, or 30 degrees C.
The four primary measurements and tools used will be:
1. A camera, called the Wide-Field Imager, to capture photographs of what the spacecraft is about to fly through. This will work in tandem with other instruments to be able to "see" things like solar flares as they are measured. However, once it gets at its closest point to the sun, there will be no possibility to capture any direct images due to the heat.
2) The FIELDS experiment will measure—and map—electric and magnetic fields within the sun's atmosphere.

3) The Solar Winds Electrons Alphas and Protons will collect particles of the solar wind to measure speed and temperature.
4) The Integrated Science Investigation of the Sun will try to figure out how those same particles ended up moving so fast, at more than 1 million miles per hour (500 KM/sec).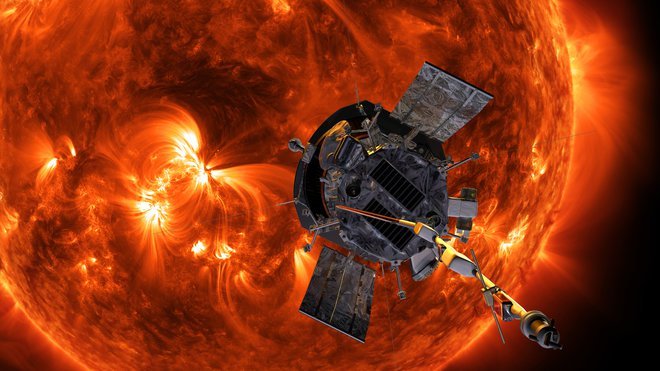 (Artist's depiction of the Parker Solar Probe in orbit around the sun. Credit: Steve Gribben/NASA/Johns Hopkins APL)
The solar wind and other phenomena such as solar flares and coronal mass ejections all make up what's known as "space weather." While normally benign, creating such beauties as the aurora borealis or northern lights, sometimes space weather can make communications equipment fail and navigation satellites go dark. At their strongest, they can even affect power grids on our own planet's surface. 
One primary goal of the mission over its 6+ year lifespan will be understanding these solar phenomena and the sun's atmosphere to get a better idea of just how to protect such equipment from space weather, including how to predict it better. But another is to better understand why the sun's corona is millions of degrees hotter than the surface.
Meanwhile, you can step outside and see the Perseid meteor shower, peaking early Monday morning.
Malcolm Gladwell teaches "Get over yourself and get to work" for Big Think Edge.
Big Think Edge
Learn to recognize failure and know the big difference between panicking and choking.

At Big Think Edge, Malcolm Gladwell teaches how to check your inner critic and get clear on what failure is.

Subscribe to Big Think Edge before we launch on March 30 to get 20% off monthly and annual memberships.
You can say 'no' to things, and you should. Do it like this.
Videos
Give yourself permission to say "no" to things. Saying yes to everything is a fast way to burn out.
Learn to say no in a way that keeps the door of opportunity open: No should never be a one-word answer. Say "No, but I could do this instead," or, "No, but let me connect you to someone who can help."
If you really want to say yes but can't manage another commitment, try qualifiers like "yes, if," or "yes, after."
"I was so moved when I saw the cells stir," said 90-year-old study co-author Akira Iritani. "I'd been hoping for this for 20 years."
Yamagata et al.
Surprising Science
The team managed to stimulate nucleus-like structures to perform some biological processes, but not cell division.
Unless better technology and DNA samples emerge in the future, it's unlikely that scientists will be able to clone a woolly mammoth.
Still, studying the DNA of woolly mammoths provides valuable insights into the genetic adaptations that allowed them to survive in unique environments.
Neuroscience research suggests it might be time to rethink our ideas about when exactly a child becomes an adult.
Mind & Brain
Research suggests that most human brains take about 25 years to develop, though these rates can vary among men and women, and among individuals.
Although the human brain matures in size during adolescence, important developments within the prefrontal cortex and other regions still take pace well into one's 20s.
The findings raise complex ethical questions about the way our criminal justice systems punishes criminals in their late teens and early 20s.
Big think's weekly newsletter.
Get smarter faster from the comfort of your inbox.
See our newsletter privacy policy
here
Most Popular
Most Recent
Big think's weekly newsletter.
Get smarter faster from the comfort of your inbox.
See our newsletter privacy policy
here
© Copyright 2007-2018 & BIG THINK, BIG THINK EDGE,
SMARTER FASTER trademarks owned by The Big Think, Inc. All rights reserved.