Is the USA the best place to work in the world? OECD study says …
The 2018 OECD Employment Outlook of 2018, released on July 4, has some alarming news for residents of some of the key countries involved—especially for the good ol' U. S. of A.
05 July, 2018
The 2018 OECD Employment Outlook of 2018, released on July 4, has some alarming news for residents of some of the key countries involved—especially for the good ol' U. S. of A.
---
The Organization for Economic Cooperation and Development, or OECD, "provides a setting where governments can compare policy experiences, seek answers to common problems, identify good practice and coordinate domestic and international policies."
Right off the bat, it has some interesting news: for the first time since the 2008 global financial crisis that created the Great Recession, unemployment rates are below or close to pre-crisis levels in almost all countries. That's what usually happens after a recession, and is not necessarily due to any government policy or officials.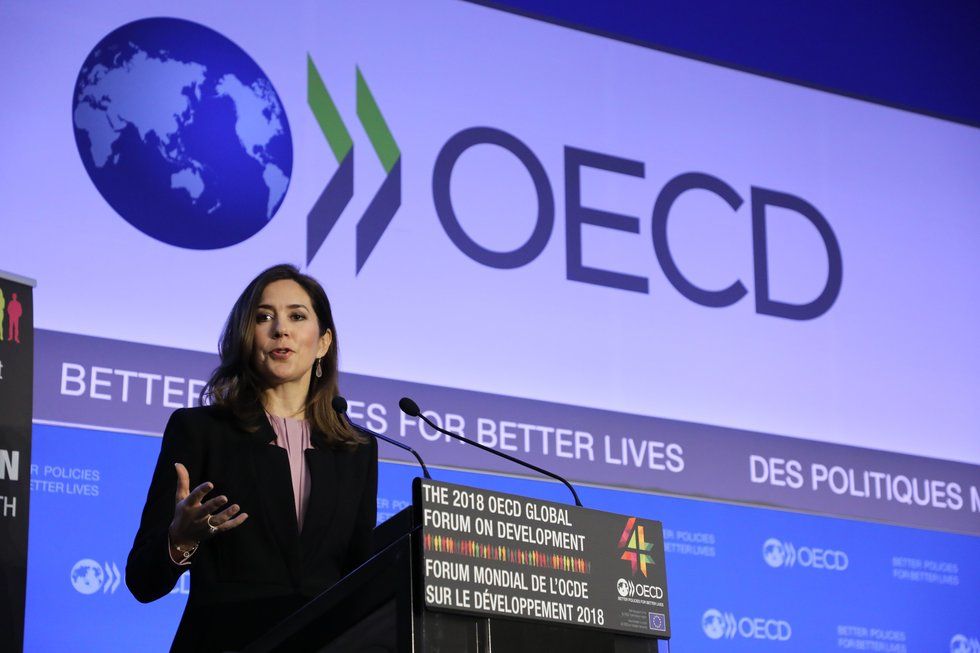 However, wage growth remains sluggish at best: it's half of what it was in OECD countries before the Great Recession.
What's it mean? Well, we work as hard or harder for less money in our paychecks than pre-recession. 
However, not surprisingly, labor incomes of the top 1% of wage earners have increased much faster than those of median full-time workers. Womp womp.
It sounds a bit counter-intuitive, doesn't it? I mean, more jobs and less unemployment usually mean wages go up—right?
Not always. What the OECD refers to as a "slowdown in productivity growth" means that companies that invest in high tech solutions to production save money on labor costs, and simultaneously, jobs that require a higher and ever-higher level of skills (computer and technical skills as well as complex problem solving, critical thinking, and creativity) are receiving the wage increases much faster than those that don't require those.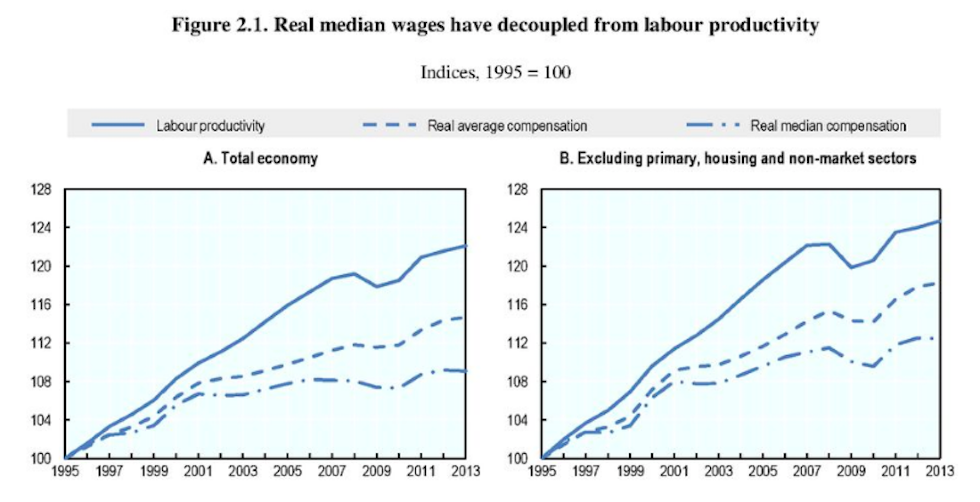 Throw in the declining coverage of unemployment benefits that several countries now have, and you see people forced back into the workforce at lower-paying jobs than they left behind. Take a look at this graph to see how much notice workers in the United States are given that they will be jobless. Hint: Zero. (There are spotty laws on the books that are supposed to provide a few months' notice in the U.S., but they're rarely enforced.)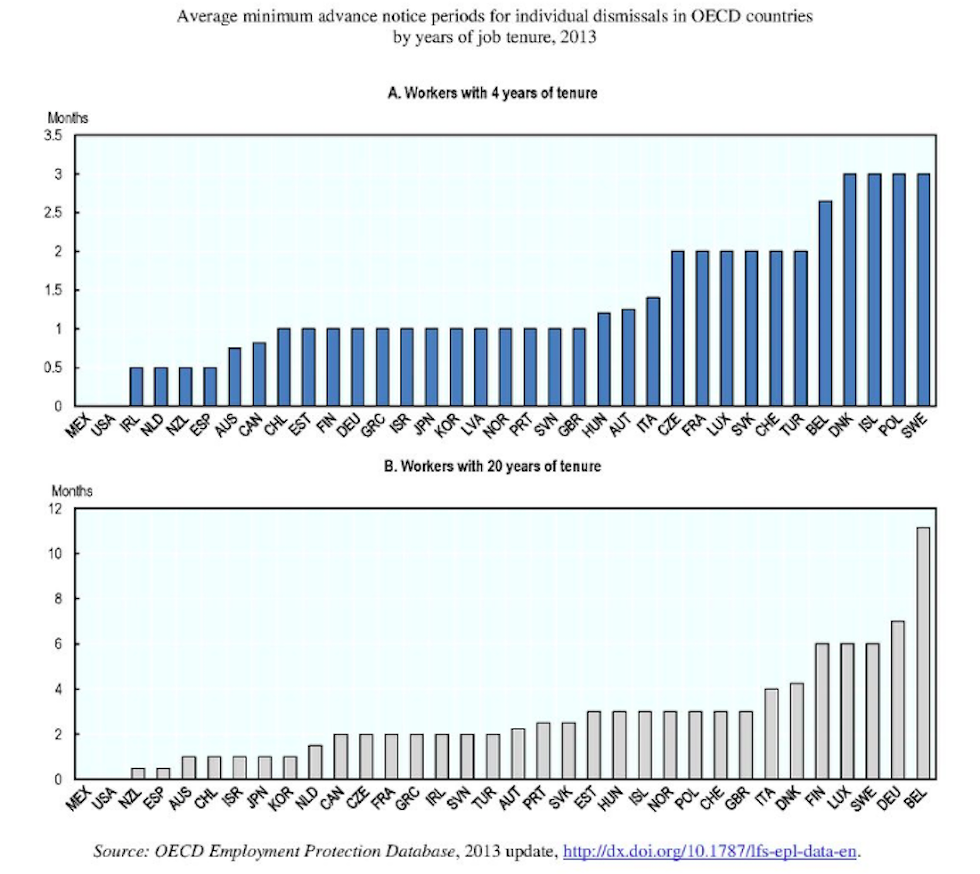 As the report was launched in Paris, OECD Secretary-General Angel Gurria summed it up: "This trend of wage-less growth in the face of a rise in employment highlights the structural changes in our economies that the global crisis has deepened, and it underlines the urgent need for countries to help workers, especially the low-skilled."
Some more takeaways from the report:
The United States ranks 3rd worst when it comes to the share of households earning less than half the median income in 2016.
The U.S. ranks second from bottom (only next to Israel) when it comes to income inequality. In other words, it's nearly the worst in the world. 
The United States spends less on help for active measures that help the unemployed and workers considered at-risk than almost every other country.
Unions represent just 12% of workers in the United States, ahead of only Turkey, Lithuania, and South Korea. This makes a critical difference in both unemployment and wage growth.
The full report is available here.
Picking up where we left off a year ago, a conversation about the homeostatic imperative as it plays out in everything from bacteria to pharmaceutical companies—and how the marvelous apparatus of the human mind also gets us into all kinds of trouble.
Think Again Podcasts
"Prior to nervous systems: no mind, no consciousness, no intention in the full sense of the term. After nervous systems, gradually we ascend to this possibility of having to this possibility of having minds, having consciousness, and having reasoning that allows us to arrive at some of these very interesting decisions."

"We are fragile culturally and socially…but life is fragile to begin with. All that it takes is a little bit of bad luck in the management of those supports, and you're cooked…you can actually be cooked—with global warming!"
Atheism doesn't offer much beyond non-belief, can Secular Humanism fill the gaps?
Culture & Religion
Atheism is increasingly popular, but the lack of an organized community around it can be problematic.
The decline in social capital once offered by religion can cause severe problems.
Secular Humanism can offer both community and meaning, but it has also attracted controversy.
To reach a breakthrough solution to any problem, it's necessary to first understand the underlying causes.
Videos
Companies often jump right into workshopping solutions to a problem before they truly understand the underlying source and "pain points" of the issue.
Deliberate Innovation CEO, Dan Seewald, advises companies to visualize and map out those unmet needs in order to discover a new path to a fresh solution. Only then should you move onto brainstorming and ideation techniques.
These important steps allow for more meaningful experimentation, as well as greater opportunity for learning and breakthroughs.