Is the USA the best place to work in the world? OECD study says …
The 2018 OECD Employment Outlook of 2018, released on July 4, has some alarming news for residents of some of the key countries involved—especially for the good ol' U. S. of A.
05 July, 2018
The 2018 OECD Employment Outlook of 2018, released on July 4, has some alarming news for residents of some of the key countries involved—especially for the good ol' U. S. of A.
---
The Organization for Economic Cooperation and Development, or OECD, "provides a setting where governments can compare policy experiences, seek answers to common problems, identify good practice and coordinate domestic and international policies."
Right off the bat, it has some interesting news: for the first time since the 2008 global financial crisis that created the Great Recession, unemployment rates are below or close to pre-crisis levels in almost all countries. That's what usually happens after a recession, and is not necessarily due to any government policy or officials.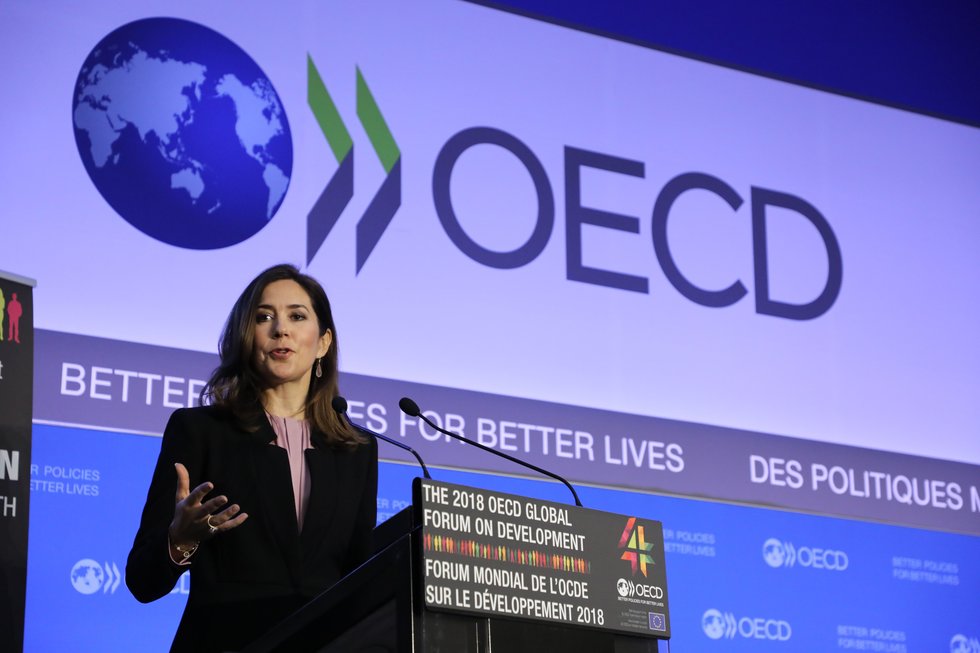 However, wage growth remains sluggish at best: it's half of what it was in OECD countries before the Great Recession.
What's it mean? Well, we work as hard or harder for less money in our paychecks than pre-recession. 
However, not surprisingly, labor incomes of the top 1% of wage earners have increased much faster than those of median full-time workers. Womp womp.
It sounds a bit counter-intuitive, doesn't it? I mean, more jobs and less unemployment usually mean wages go up—right?
Not always. What the OECD refers to as a "slowdown in productivity growth" means that companies that invest in high tech solutions to production save money on labor costs, and simultaneously, jobs that require a higher and ever-higher level of skills (computer and technical skills as well as complex problem solving, critical thinking, and creativity) are receiving the wage increases much faster than those that don't require those.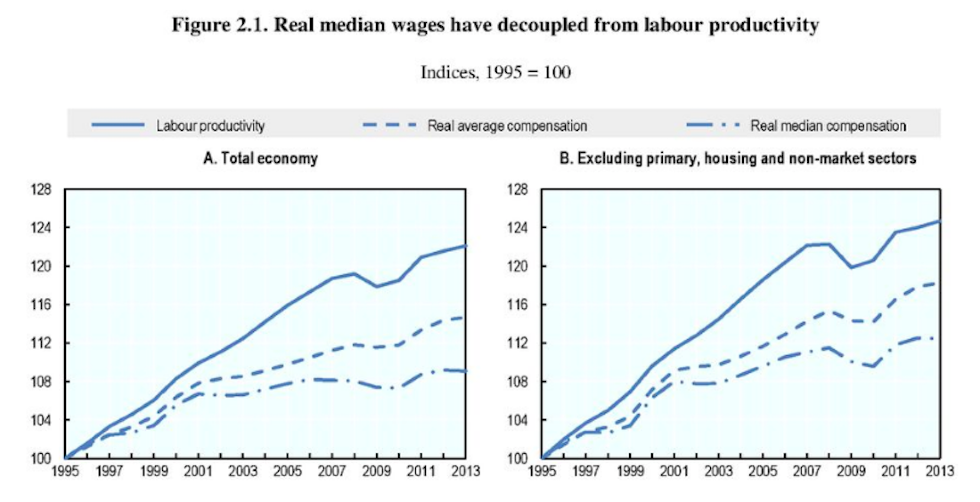 Throw in the declining coverage of unemployment benefits that several countries now have, and you see people forced back into the workforce at lower-paying jobs than they left behind. Take a look at this graph to see how much notice workers in the United States are given that they will be jobless. Hint: Zero. (There are spotty laws on the books that are supposed to provide a few months' notice in the U.S., but they're rarely enforced.)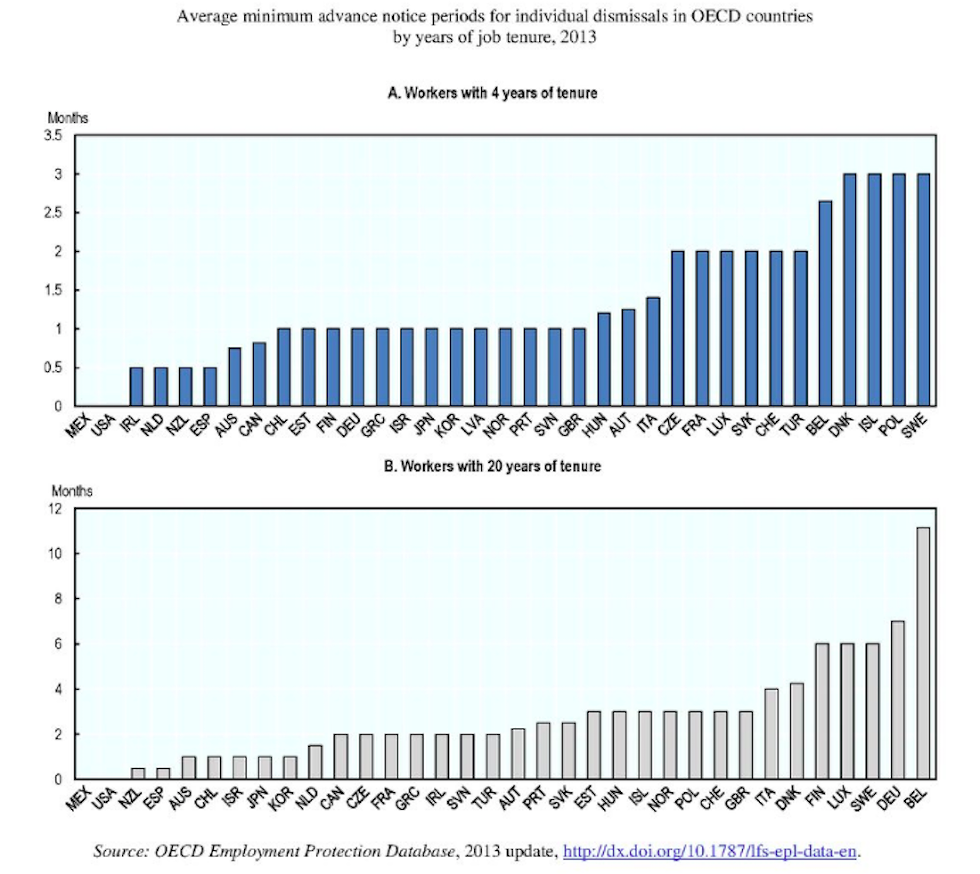 As the report was launched in Paris, OECD Secretary-General Angel Gurria summed it up: "This trend of wage-less growth in the face of a rise in employment highlights the structural changes in our economies that the global crisis has deepened, and it underlines the urgent need for countries to help workers, especially the low-skilled."
Some more takeaways from the report:
The United States ranks 3rd worst when it comes to the share of households earning less than half the median income in 2016.
The U.S. ranks second from bottom (only next to Israel) when it comes to income inequality. In other words, it's nearly the worst in the world. 
The United States spends less on help for active measures that help the unemployed and workers considered at-risk than almost every other country.
Unions represent just 12% of workers in the United States, ahead of only Turkey, Lithuania, and South Korea. This makes a critical difference in both unemployment and wage growth.
The full report is available here.
The way that you think about stress can actually transform the effect that it has on you – and others.
Big Think Edge
Stress is contagious, and the higher up in an organization you are the more your stress will be noticed and felt by others.
Kelly McGonigal teaches "Reset your mindset to reduce stress" for Big Think Edge.

Subscribe to Big Think Edge before we launch on March 30 to get 20% off monthly and annual memberships.
These quick bursts of inspiration will brighten your day in 10 minutes or less.

Explore a legendary philosopher's take on how society fails to prepare us for education and progress.
Alan Watts.
Personal Growth
Alan Watts was an instrumental figure in the 1960s counterculture revolution.
He believed that we put too much of a focus on intangible goals for our educational and professional careers.
Watts believed that the whole educational enterprise is a farce compared to how we should be truly living our lives.
How can we use the resources that are already on the Moon to make human exploration of the satellite as economical as possible?
The All-Terrain Hex-Limbed Extra-Terrestrial Explorer (ATHLETE), a prototype heavy-lift utility vehicle to support future human exploration of extraterrestrial surfaces, at right, is parked beside the Habitat Demonstration Unit - Pressurized Excursion Module (HDU-PEM), at left, a concept off-Earth living and work quarters for astronauts stationed on asteroids, the moon or Mars, 15 September 2010. Photo by: ROBYN BECK/AFP/Getty Images
Technology & Innovation
If you were transported to the Moon this very instant, you would surely and rapidly die. That's because there's no atmosphere, the surface temperature varies from a roasting 130 degrees Celsius (266 F) to a bone-chilling minus 170 C (minus 274 F). If the lack of air or horrific heat or cold don't kill you then micrometeorite bombardment or solar radiation will. By all accounts, the Moon is not a hospitable place to be.

Big think's weekly newsletter.
Get smarter faster from the comfort of your inbox.
See our newsletter privacy policy
here
Most Popular
Most Recent
Big think's weekly newsletter.
Get smarter faster from the comfort of your inbox.
See our newsletter privacy policy
here
© Copyright 2007-2018 & BIG THINK, BIG THINK EDGE,
SMARTER FASTER trademarks owned by The Big Think, Inc. All rights reserved.