Artificial intelligence wins a debate against a human—twice
Please tell me that Internet trolls didn't just get a huge leg up.
19 June, 2018
In the year 1770, a chess-playing "automaton" known as The Turk debuted in Vienna, Austria. It appeared to beat humans at chess, losing very rarely. It was actually an elaborate hoax, with a human being as the real champion chess player, manipulating the Turk via mechanical means from inside. 
---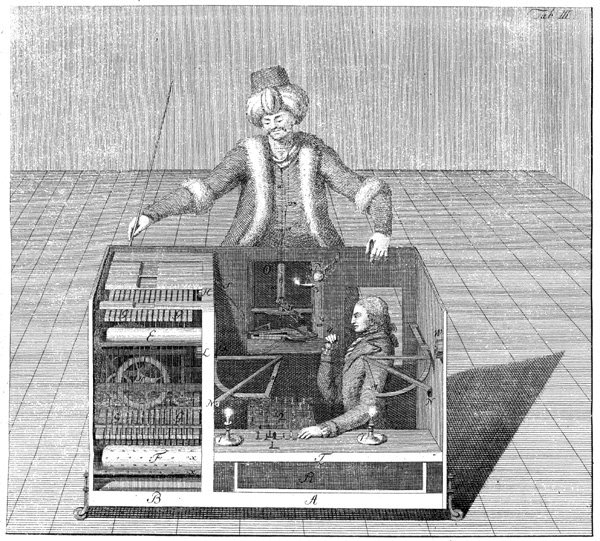 (Image via Wikimedia Commons)
It took another 227 years for an actual computer to beat humans at playing chess in 1997. Now, 22 years later, an A.I. created by IBM—represented by a black box on stage but actually consisting of a group of computers in one of IBM's data centers—named Project Debater has defeated humans in the art of debate. Twice.
The judges were around two dozen panelists who listened as Project Debater took on Noa Ovadia over her position that governments shouldn't fund space exploration and, according to the judges, the machine won. Next, it went up against debater Dan Zafrir, with Project Debater taking a position that telemedicine is a good thing and needs to be increased. 
In both cases, the arguments were prepared by the computer by researching millions of online articles and documents in real time, after it was presented the subject to argue. Then, it formulated its position, and finally, successfully defended it against attack.
Project Debater closed the telemedicine argument with a bit of humor. "I can't say it makes my blood boil, because I have no blood, but it seems some people naturally suspect technology because it's new."
Aya Soffer, who runs IBM Research's global Artificial Intelligence (A.I.) team, summed up why the company is working on the project.
"From our perspective, the debate format is the means and not the end. It's a way to push the technology forward and part of our bigger strategy of mastering language. In general, computers are lagging significantly in understanding and being able to express themselves. If we expect A.I. to be useful, being able to communicate with people is critical." 
Antimicrobial resistance is growing worldwide, rendering many "work horse" medicines ineffective. Without intervention, drug-resistant pathogens could lead to millions of deaths by 2050. Thankfully, companies like Pfizer are taking action.
Image courtesy of Pfizer.
Antimicrobial-resistant pathogens are one of the largest threats to global health today.
As we get older, our immune systems age, increasing our risk of life threatening infections. Without reliable antibiotics, life expectancy could decline for the first time in modern history.
If antibiotics become ineffective, common infections could result in hospitalization or even death. Life-saving interventions like cancer treatments and organ transplantation would become more difficult, more often resulting in death. Routine procedures would become hard to perform.
Without intervention, resistant pathogens could result in 10 million annual deaths by 2050.
By taking a multi-faceted approach—inclusive of adherence to good stewardship, surveillance and responsible manufacturing practices, as well as an emphasis on prevention and treatment—companies like Pfizer are fighting to help curb the spread.
Sponsored
No, the Syrian civil war is not over. But it might be soon. Time for a recap
Strange Maps
The War in Syria has dropped off the radar, but it's not over (yet)
This 1-minute video shows how the fronts have moved – and stabilised – over the past 22 months
Watching this video may leave you both better informed, and slightly queasy: does war need a generic rock soundtrack?
Sarco assisted suicide pods come in three different styles, and allow you to die quickly and painlessly. They're even quite beautiful to look at.
The Sarco assisted suicide pod
Technology & Innovation
Death: it happens to everyone (except, apparently, Keanu Reeves). But while the impoverished and lower-class people of the world die in the same ol' ways—cancer, heart disease, and so forth—the upper classes can choose hip and cool new ways to die. Now, there's an assisted-suicide pod so chic and so stylin' that peeps (young people still say peeps, right?) are calling it the "Tesla" of death... it's called... the Sarco! 
Entrepreneur and author Andrew Horn shares his rules for becoming an assured conversationalist.
content.jwplatform.com
Videos
To avoid basing action on external validation, you need to find your "authentic voice" and use it.
Finding your voice requires asking the right questions of yourself.
There are 3-5 questions that you would generally want to ask people you are talking to.
Big think's weekly newsletter.
Get smarter faster from the comfort of your inbox.
See our newsletter privacy policy
here
Most Popular
Most Recent
Big think's weekly newsletter.
Get smarter faster from the comfort of your inbox.
See our newsletter privacy policy
here
© Copyright 2007-2018 & BIG THINK, BIG THINK EDGE,
SMARTER FASTER trademarks owned by The Big Think, Inc. All rights reserved.