12 new moons discovered around Jupiter; one of them could spell trouble
Scientists just discovered 12 new moons orbiting the planet Jupiter, and they're… interesting.
17 July, 2018
12 new moons have been discovered orbiting the planet Jupiter. They were not known until discovered via the 6.5-meter Magellan Telescopes. The data captured therein took a year to study, but was just confirmed. 
---
"It takes several observations to confirm an object actually orbits around Jupiter. So, the whole process took a year," said Gareth Williams of the International Astronomical Union's Minor Planet Center.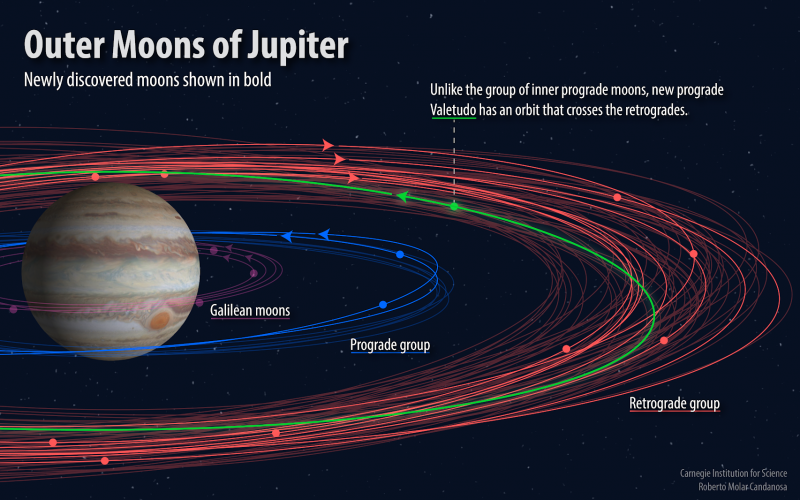 Image by CarnegieScience.Edu.
Ever since Galileo discovered the four moons that we've known of since the year 1610, we've observed that they circle Jupiter in counterclockwise fashion as seen in the video below—they actually orbit the same direction as the planet itself spins, which is known as prograde orbit. Two new ones have now been added to those original four, going the same direction. Because these all have similar orbital distances and angles of inclination around the planet Jupiter, they're thought by scientists to be fragments of a larger moon that was broken apart, likely by another orbiting moon going the opposite direction. 
Of the remaining 10 moons orbiting farther out, nine of them are orbiting in retrograde, or clockwise orbit, as seen in the below video. In other words, the opposite direction from that of the planet's spin. 
The final moon, proposed to be called Valetudo after the Roman god Jupiter's great-granddaughter, is orbiting in a prograde fashion which means it's orbiting in a reverse direction from the nine other new moons that are near it. Valetudo's orbit crosses that of some of the nine newly discovered retrograde-orbit moons and will likely crash into one or more of them, eventually. The rogue moon is only one kilometer in size, which indicates it once was much larger and has possibly collided with others in the past.
"It is as if the moon is traveling the wrong way down a crowded highway. This is an unstable situation," Scott S. Sheppard, who helped lead the team, told The Independent. "Head-on collisions would quickly break apart and grind the objects down to dust."
All of the new moons are less than two miles (3.2 km) wide, which explains why it's been so difficult to spot them until much more sensitive telescope equipment was deployed. 
The discovery brings the total number of objects orbiting the planet, both prograde and retrograde, to 79—the most of any planet in our solar system.
Lumina Foundation is partnering with Big Think to unearth the next large-scale, rapid innovation in post-high school education. Enter the competition here!
That's one way to reduce the national debt.
Change.org
Politics & Current Affairs
The tongue-in-cheek petition, whose stated aim is to reduce the national debt, has been signed more than 8,600 times as of Tuesday.
Selling Montana, the fourth largest state in the country, would constitute the largest land deal since the Louisiana Purchase.
The national debt is often a source of concern for individuals, but the chances of the U.S. defaulting on its debts are relatively low — in part because the bulk of the national debt is owned by the American public.
A disturbing interview given by a KGB defector in 1984 describes America of today and outlines four stages of mass brainwashing used by the KGB.
Politics & Current Affairs
Bezmenov described this process as "a great brainwashing" which has four basic stages.
The first stage is called "demoralization" which takes from 15 to 20 years to achieve.
According to the former KGB agent, that is the minimum number of years it takes to re-educate one generation of students that is normally exposed to the ideology of its country.
Evolutionarily speaking, being gay is still something of an enigma
Videos
Heterosexual people have been less interesting to scientists than gay people, in terms of where they come from, because, evolutionarily speaking, being gay doesn't lead to a higher "higher reproductive fitness" — meaning, it doesn't lead to more babies.
Across cultures, gay boys tend to be more interested in spending time with their mothers.
We still don't really know why gay people are attracted to each other.
Big think's weekly newsletter.
Get smarter faster from the comfort of your inbox.
See our newsletter privacy policy
here
Most Popular
Most Recent
Big think's weekly newsletter.
Get smarter faster from the comfort of your inbox.
See our newsletter privacy policy
here
© Copyright 2007-2018 & BIG THINK, BIG THINK EDGE,
SMARTER FASTER trademarks owned by The Big Think, Inc. All rights reserved.