12 new moons discovered around Jupiter; one of them could spell trouble
Scientists just discovered 12 new moons orbiting the planet Jupiter, and they're… interesting.
17 July, 2018
12 new moons have been discovered orbiting the planet Jupiter. They were not known until discovered via the 6.5-meter Magellan Telescopes. The data captured therein took a year to study, but was just confirmed. 
---
"It takes several observations to confirm an object actually orbits around Jupiter. So, the whole process took a year," said Gareth Williams of the International Astronomical Union's Minor Planet Center.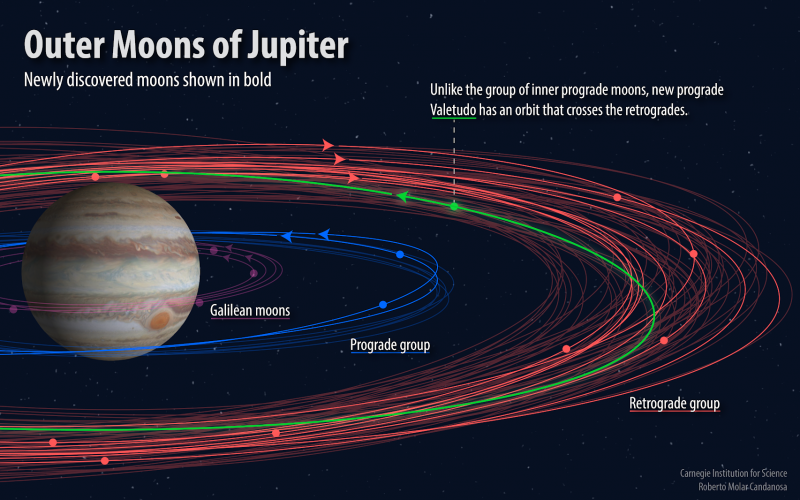 Image by CarnegieScience.Edu.
Ever since Galileo discovered the four moons that we've known of since the year 1610, we've observed that they circle Jupiter in counterclockwise fashion as seen in the video below—they actually orbit the same direction as the planet itself spins, which is known as prograde orbit. Two new ones have now been added to those original four, going the same direction. Because these all have similar orbital distances and angles of inclination around the planet Jupiter, they're thought by scientists to be fragments of a larger moon that was broken apart, likely by another orbiting moon going the opposite direction. 
Of the remaining 10 moons orbiting farther out, nine of them are orbiting in retrograde, or clockwise orbit, as seen in the below video. In other words, the opposite direction from that of the planet's spin. 
The final moon, proposed to be called Valetudo after the Roman god Jupiter's great-granddaughter, is orbiting in a prograde fashion which means it's orbiting in a reverse direction from the nine other new moons that are near it. Valetudo's orbit crosses that of some of the nine newly discovered retrograde-orbit moons and will likely crash into one or more of them, eventually. The rogue moon is only one kilometer in size, which indicates it once was much larger and has possibly collided with others in the past.
"It is as if the moon is traveling the wrong way down a crowded highway. This is an unstable situation," Scott S. Sheppard, who helped lead the team, told The Independent. "Head-on collisions would quickly break apart and grind the objects down to dust."
All of the new moons are less than two miles (3.2 km) wide, which explains why it's been so difficult to spot them until much more sensitive telescope equipment was deployed. 
The discovery brings the total number of objects orbiting the planet, both prograde and retrograde, to 79—the most of any planet in our solar system.
What can 3D printing do for medicine? The "sky is the limit," says Northwell Health researcher Dr. Todd Goldstein.
Northwell Health
Sponsored by Northwell Health
Medical professionals are currently using 3D printers to create prosthetics and patient-specific organ models that doctors can use to prepare for surgery.
Eventually, scientists hope to print patient-specific organs that can be transplanted safely into the human body.
Northwell Health, New York State's largest health care provider, is pioneering 3D printing in medicine in three key ways.
Torn between absolutism on the left and the right, classical liberalism—with its core values of compassion and incremental progress whereby the once-radical becomes the mainstream—is in need of a good defense. And Adam Gopnik is its lawyer.
Think Again Podcasts
Liberalism as "radical pragmatism"
Intersectionality and civic discourse
How "a thousand small sanities" tackled drunk driving, normalized gay marriage, and could control gun violence
As Game of Thrones ends, a revealing resolution to its perplexing geography.
Strange Maps
The fantasy world of Game of Thrones was inspired by real places and events.
But the map of Westeros is a good example of the perplexing relation between fantasy and reality.
Like Britain, it has a Wall in the North, but the map only really clicks into place if you add Ireland.
The lost practice of face-to-face communication has made the world a more extreme place.
Videos
The world was saner when we spoke face-to-face, argues John Cameron Mitchell. Not looking someone in the eye when you talk to them raises the potential for miscommunication and conflict.
Social media has been an incredible force for activism and human rights, but it's also negatively affected our relationship with the media. We are now bombarded 24/7 with news that either drives us to anger or apathy.
Sitting behind a screen makes polarization worse, and polarization is fertile ground for conspiracy theories and fascism, which Cameron describes as irrationally blaming someone else for your problems.
Big think's weekly newsletter.
Get smarter faster from the comfort of your inbox.
See our newsletter privacy policy
here
Most Popular
Most Recent
Big think's weekly newsletter.
Get smarter faster from the comfort of your inbox.
See our newsletter privacy policy
here
© Copyright 2007-2019 & BIG THINK, BIG THINK EDGE,
SMARTER FASTER trademarks owned by The Big Think, Inc. All rights reserved.