12 new moons discovered around Jupiter; one of them could spell trouble
Scientists just discovered 12 new moons orbiting the planet Jupiter, and they're… interesting.
17 July, 2018
12 new moons have been discovered orbiting the planet Jupiter. They were not known until discovered via the 6.5-meter Magellan Telescopes. The data captured therein took a year to study, but was just confirmed. 
---
"It takes several observations to confirm an object actually orbits around Jupiter. So, the whole process took a year," said Gareth Williams of the International Astronomical Union's Minor Planet Center.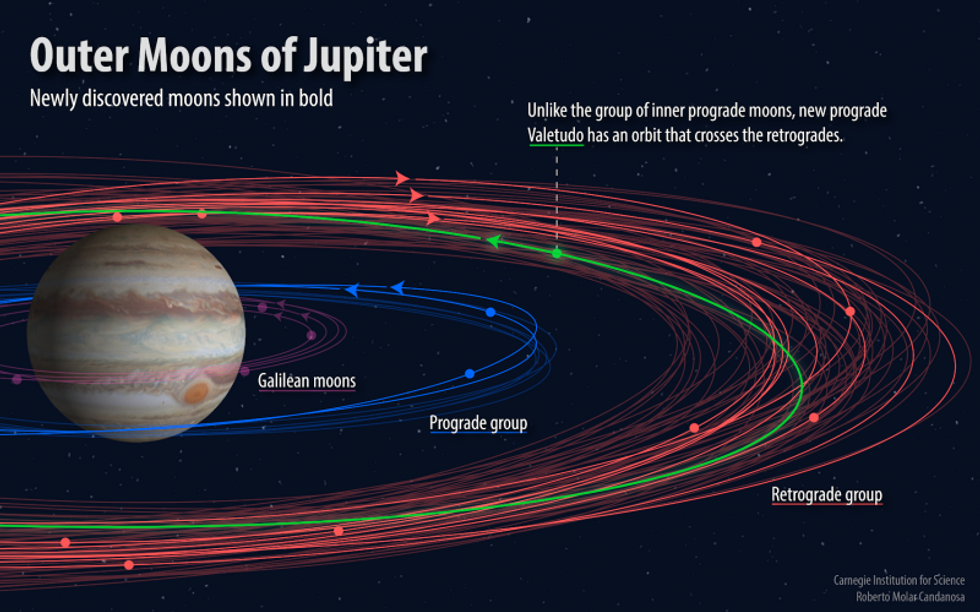 Image by CarnegieScience.Edu.
Ever since Galileo discovered the four moons that we've known of since the year 1610, we've observed that they circle Jupiter in counterclockwise fashion as seen in the video below—they actually orbit the same direction as the planet itself spins, which is known as prograde orbit. Two new ones have now been added to those original four, going the same direction. Because these all have similar orbital distances and angles of inclination around the planet Jupiter, they're thought by scientists to be fragments of a larger moon that was broken apart, likely by another orbiting moon going the opposite direction. 
Of the remaining 10 moons orbiting farther out, nine of them are orbiting in retrograde, or clockwise orbit, as seen in the below video. In other words, the opposite direction from that of the planet's spin. 
The final moon, proposed to be called Valetudo after the Roman god Jupiter's great-granddaughter, is orbiting in a prograde fashion which means it's orbiting in a reverse direction from the nine other new moons that are near it. Valetudo's orbit crosses that of some of the nine newly discovered retrograde-orbit moons and will likely crash into one or more of them, eventually. The rogue moon is only one kilometer in size, which indicates it once was much larger and has possibly collided with others in the past.
"It is as if the moon is traveling the wrong way down a crowded highway. This is an unstable situation," Scott S. Sheppard, who helped lead the team, told The Independent. "Head-on collisions would quickly break apart and grind the objects down to dust."
All of the new moons are less than two miles (3.2 km) wide, which explains why it's been so difficult to spot them until much more sensitive telescope equipment was deployed. 
The discovery brings the total number of objects orbiting the planet, both prograde and retrograde, to 79—the most of any planet in our solar system.
To create wiser adults, add empathy to the school curriculum.
Sponsored by Charles Koch Foundation
Stories are at the heart of learning, writes Cleary Vaughan-Lee, Executive Director for the Global Oneness Project. They have always challenged us to think beyond ourselves, expanding our experience and revealing deep truths.
Vaughan-Lee explains 6 ways that storytelling can foster empathy and deliver powerful learning experiences.
Global Oneness Project is a free library of stories—containing short documentaries, photo essays, and essays—that each contain a companion lesson plan and learning activities for students so they can expand their experience of the world.
Philosophers like to present their works as if everything before it was wrong. Sometimes, they even say they have ended the need for more philosophy. So, what happens when somebody realizes they were mistaken?
Just before I turned 60, I discovered that sharing my story by drawing could be an effective way to both alleviate my symptoms and combat that stigma.
Photo by JJ Ying on Unsplash
Mind & Brain
I've lived much of my life with anxiety and depression, including the negative feelings – shame and self-doubt – that seduced me into believing the stigma around mental illness: that people knew I wasn't good enough; that they would avoid me because I was different or unstable; and that I had to find a way to make them like me.
A joint study by two England universities explores the link between sex and cognitive function with some surprising differences in male and female outcomes in old age.
Mind & Brain
A joint study by the universities of Coventry and Oxford in England has linked sexual activity with higher cognitive abilities in older age.
The results of this study suggest there are significant associations between sexual activity and number sequencing/word recall in men. In women, however, there was a significant association between sexual activity in word recall alone - number sequencing was not impacted.
The differences in testosterone (the male sex hormone) and oxytocin (a predominantly female hormone) may factor into why the male cognitive level changes much more during sexual activity in older age.
Technology & Innovation
Mathematicians studied 100 billion tweets to help computer algorithms better understand our colloquial digital communication.
Scroll down to load more…