Digital deception: We 'love' using our devices and it's making us miserable
"Obviously, technology product and app designers seek to entice us to use their products. Few designers, however, are worried about the adverse effects of encouraging overuse."
09 February, 2018
The technology industry is taking a lot of fire for its role in spreading misinformation but there are more fundamental problems in its products: they limit our choices and are designed to keep us addicted. Instead of making us happy and bringing us together, technology is ripping societies apart.
---
It may seem that the Internet is an endless array of choices, but in reality, the choices are becoming less useful to us. Google started as a neutral place to find the best answer to a question, and the most unbiased source of information. It evolved into an online advertising channel that makes it extremely difficult to find content that either isn't paid for or hosted on the largest web properties. Search Google for "best hotels in San Francisco" and you will find the listings are dominated by larger web properties, online booking engines, and individual hotel sites, for example.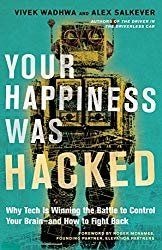 Maybe Google's algorithm is right in concluding that TripAdvisor has more inbound links than does some small blog by a local writer living in San Francisco. But maybe the gem that we seek, the best advice for us personally, resides with a small blogger. Today we may have to flip through 10 pages of results to get to the blogger, because it is a less popular site than some, even if it is as valuable as any other.  
Facebook, for its part, curates our news feeds to maximize engagement without actually asking us whether we enjoy the endless array of pictures of our friends' children.  (We must, because we click, right?)  Over time, both strategies, with their inbuilt positive feedback, cause the most popular content to grow even more popular and easier to find and the less popular content to become more deeply buried in the weeds. Occasionally, the less popular content is passed around and goes viral; however, it is a chicken-and-egg problem. Because Facebook buries this lesser content, it dramatically reduces the chances that it will be exposed and that causes it to become harder to find. (All the news publishers have learned the hard way what happens when Facebook changes their algorithms).
In general, even as the amount of online content has exploded, the ability of the tech companies to expose that content has lagged.  
The second problem increasingly evident in Silicon Valley's products is that they foster a psychological addiction without consideration for the human cost or alternative design structures that might be less profitable but healthier for people over the long-haul. I am not making this up. One of the best selling books on the topic, "Hooked" by Nir Eyal, explicitly talks about designing applications to stimulate our brains to create dopamine that makes us happy.
Obviously, technology product and app designers seek to entice us to use their products. Few designers, however, are worried about the adverse effects of encouraging overuse.  With massive computation conducting all manner of real-time tests of whether a red-banner ad drives 1% more traffic, and with some of the smartest minds in the world working to convince us to spend more time on their apps, it's no wonder that we struggle to disengage from technology every minute of every day.
It is not a fair fight.  The product developers have us massively outmatched. We can turn off our apps but we become subconsciously addicted to them as part of the onboarding experience. When someone joins Instagram, the apps tells their news friends to give them some "love". They send nice notes, which come in at random intervals, encouraging the new user to keep checking the app in anticipation of "likes" or notes. This is precisely how Las Vegas casinos design slot machines to hook users, as documented in detail in the book "Addiction by Design".
The question then becomes how we can reverse these trends. How can we create better choices and live our technology lives such that we can see these alternatives and weigh them, rather than have to click through 10 pages of search results to find them? In addition, how can we both instruct the tech companies to back off and allow us to establish our own cadence for using their tech? For our part, we need to learn to better control the addiction in the face of these distractions.
There are a number of ideas addressing both of these themes. To give us back our choice, Google might allow us to select an "ad free" version of search results and charge us a monthly fee for doing so. Perhaps no one else would take it up, but I certainly would.  The time savings alone would be worth the cost.  By switching users from being the product to being the buyer, Google would be incentivized to give us the best content rather than compromised by desire for commerce.  And Facebook could offer multiple modes for our newsfeed. We could have an "All Articles from Friends" mode that would allow us to see all the news articles our friends are posting rather than just the ones Facebook thinks we will click on. Why can't Netflix ask us to opt-in to autoplay of the next video rather than be forced to dive deep in the menu to turn it off and charge us 50 cents more per month per subscriber?
Or Apple might allow us, on the home screen, to select a "Focus Mode" that would turn off all notifications and disable all social apps and that would take the additional step of hiding all applications on our home screens: a huge improvement over our needing to do it piecemeal.  Netflix, Facebook, and YouTube all allow us to turn off autoplay of videos, but maybe they could all make such exits possible via a prominent button in the upper right rather than via a dive deep into the menu structure.
These are just some suggestions for making product design friendlier to users. And, by extension, for improving our ability to find what we need and to consume what we want to — making our use of the Internet and its associated technology an experience based on freedom rather than on baited traps.
It is about taking technology back to its original goals: to give us greater freedom and knowledge and making our lives better.
--
Step inside the unlikely friendship of a former ACLU president and an ultra-conservative Supreme Court Justice.

Sponsored by Charles Koch Foundation
Former president of the ACLU Nadine Strossen and Supreme Court Justice Antonin Scalia were unlikely friends. They debated each other at events all over the world, and because of that developed a deep and rewarding friendship – despite their immense differences.
Scalia, a famous conservative, was invited to circles that were not his "home territory", such as the ACLU, to debate his views. Here, Strossen expresses her gratitude and respect for his commitment to the exchange of ideas.
"It's really sad that people seem to think that if you disagree with somebody on some issues you can't be mutually respectful, you can't enjoy each other's company, you can't learn from each other and grow in yourself," says Strossen.
The opinions expressed in this video do not necessarily reflect the views of the Charles Koch Foundation, which encourages the expression of diverse viewpoints within a culture of civil discourse and mutual respect.
Scientists make an important discovery for the future of computing.
Pixabay
Surprising Science
Researchers find a new state of matter called "topological superconductivity".
The state can lead to important advancements in quantum computing.
Utilizing special particles that emerge during this state can lead to error-free data storage and blazing calculation speed.
Erik Verlinde has been compared to Einstein for completely rethinking the nature of gravity.
Photo by Willeke Duijvekam
Surprising Science
The Dutch physicist Erik Verlinde's hypothesis describes gravity as an "emergent" force not fundamental.
The scientist thinks his ideas describe the universe better than existing models, without resorting to "dark matter".
While some question his previous papers, Verlinde is reworking his ideas as a full-fledged theory.
As tempting as it may be to run away from emotionally-difficult situations, it's important we confront them head-on.
Videos
Impossible-sounding things are possible in hospitals — however, there are times when we hit dead ends. In these moments, it's important to not run away, but to confront what's happening head-on.
For a lot of us, one of the ways to give meaning to terrible moments is to see what you can learn from them.
Sometimes certain information can "flood" us in ways that aren't helpful, and it's important to figure out what types of data you are able to take in — process — at certain times.