Big ideas.
Once a week.
Subscribe to our weekly newsletter.
Less Than Artful Choices: Narcissistic Personality Disorder According to Donald Trump
Debate on personality disorders, classifications, diagnoses, and treatments is well worthwhile, and a colorful spokesperson never hurts.
03 May, 2011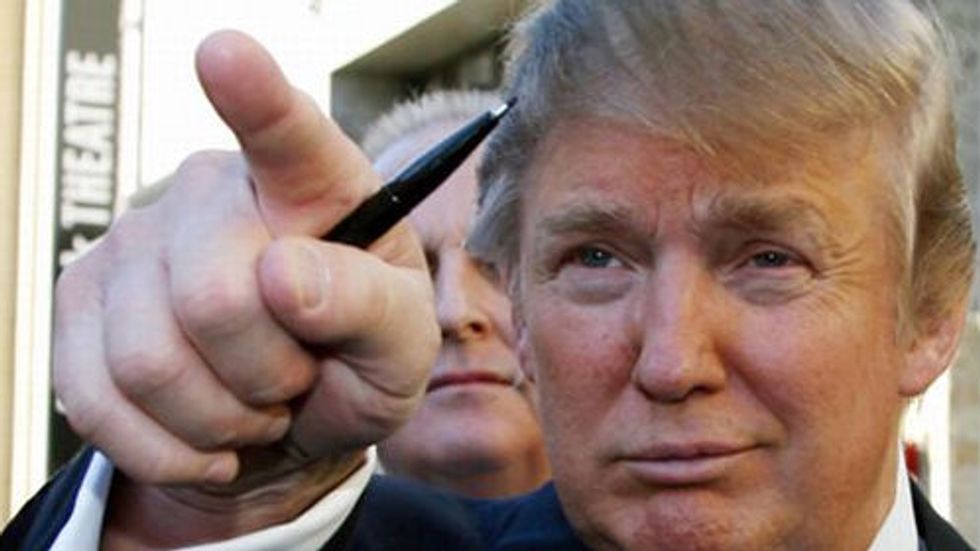 Donald Trump was born in 1946. 34 years later, in the third edition of the Diagnostic and Statistical Manual of Mental Disorders (DSM), the American Psychiatric Association's hefty volume of mental disorder classifications, the term "Narcissistic Personality Disorder" (NPD) first appeared as a diagnosable disease – Trump would doubtless say it was created in his honor (characteristic #1 of NPD: An exaggerated sense of self-importance). After all, the newly-minted personality disorder made its debut only nine years after he took the helm of his father's company… and renamed it from Elizabeth Trump & Son to The Trump Organization.
---
The most recent DSM, DSM-IV, is currently under extensive revision, with DSM-V scheduled for publication sometime in 2013, and both its listed diseases and their definitions are undergoing extensive scrutiny and contentious debate. On the chopping block are five of the ten or so so-called personality disorders, including NPD. Among the reasons for the cut are the frequent overlap between disorders, the general lack of stability of symptoms, and the range of those symptoms in reality, as compared to the either/or approach of the manual (either you have a disorder or you don't). So, before NPD becomes a thing of the past, at least in its current form, I thought we'd take a moment to reflect on some less than artful choices – or the things that make Trump look like he just stepped out of the fourth edition, symptom by symptom.
A caveat: I am obviously exaggerating, both Trump and narcissism. But debate on personality disorders, classifications, diagnoses, and treatments is well worthwhile, and a colorful spokesperson never hurts.
So, without further ado, Trump's quotable illustration of the hallmarks of NPD, defined according to DSM-IV as, "A pervasive pattern of grandiosity (in fantasy or behavior), need for admiration, and lack of empathy." The disorder is indicated by at least five of the following:
1.     An exaggerated sense of self-importance (e.g., exaggerates achievements and talents, expects to be recognized as superior without commensurate achievements)
 A sense of one's own importance, a grandiose feeling that one is alone responsible for any achievement is a hallmark of the narcissist. Grandiosity is one of the central tenets of a narcissistic personality. Narcissists tend to take credit for everything, as if no one else contributed to the end product. Witness Trump's declaration that, "When people see the beautiful marble in Trump Tower, they usually have no idea what I went through personally to achieve the end result. No one cares about the blood, sweat, and tears that art or beauty require." What do you know: not only is Trump a developer and an artistic visionary, but he seems to be a stellar architect and construction worker as well.
And history will agree (naturally). "Anyone who thinks my story is anywhere near over is sadly mistaken," says Trump. Sadly, indeed.
2.     Preoccupation with fantasies of unlimited success, power, brilliance, beauty or ideal love
 How many presidential runs does it take for the process to be defined as a preoccupation rather than an occupation?
I'd leave it at that, except for the existence of this little gem: "My fingers are long and beautiful, as, it has been well documented, are various other parts of my body." Not only all-powerful, but all-beautiful, too. The man has it all.
3.     Believes he is "special" and can only be understood by, or should associate with, other special or high-status people (or institutions)
 To narcissists, the "little people" or anyone beneath them (which is mostly everyone) don't matter. Trump's lambasting of Rosie O'Donnell is a good case in point: "Rosie O'Donnell called me a snake oil salesman. And, you know, coming from Rosie, that's pretty low because when you look at her and when you see the mind, the mind is weak. I don't see it. I don't get it. I never understood – how does she even get on television?"
Clearly, Rosie lacks the power to understand the dazzling intellect that is Donald Trump. Trump needs someone of equal status to appreciate his immensity. But it can't be Larry King, because as he told King, "Do you mind if I sit back a little? Because your breath is very bad. It really is. Has this been told to you before?"
4.     Requires excessive admiration
 No matter the sincerity, as long as the praise comes frequently and at a high enough volume. Says Trump, "All of the women on The Apprentice flirted with me – consciously or unconsciously. That's to be expected." Clearly. Admired, wherever he may go, even when he's talking about himself in the third person, as in, "Love him or hate him, Trump is a man who is certain about what he wants and sets out to get it, no holds barred. Women find his power almost as much of a turn-on as his money."
As he puts it, "Nobody but a total masochist wants to be criticized."
5.     Has a sense of entitlement
The world owes the narcissist everything; he, in turn, owes it nothing.
I think Trump's attitude can be summed up with this approach to marriage: "I wish I'd had a great marriage. See, my father was always very proud of me, but the one thing he got right was that he had a great marriage. He was married for 64 years. One of my ex-wives once said to me, 'You have to work at a marriage.' And I said, 'That's the most ridiculous thing.'"
6.     Selfishly takes advantage of others to achieve his own ends
I don't have a quote for this one, but perhaps we can talk to one of his ex-wives.
7.     Lacks empathy
Narcissists don't sympathize with the feelings of others. Who are these "others," anyway? No one matters except for me.
I won't recreate the Rosie rampage in full, but sentiments like, "I'll sue her because it would be fun. I'd like to take some money out of her fat ass pockets," capture the spirit.
8.     Is often envious of others or believes others to be envious of him
Here, it seems like Trump is dominated by the second sentiment, the expectation that everyone is envious of his success. Everyone wants to be Trump. As he puts it, "The old rich may look down their noses at me, but I think they kiss my ass."
9.     Shows arrogant, haughty, patronizing, or contemptuous behaviors or attitudes
Again, other people don't matter. They can be treated like nothing, because who are we kidding – nothing is the closest description of what they are.
Clients don't matter. As Trump puts it, "When I build something for somebody, I always add $50 million or $60 million onto the price. My guys come in, they say it's going to cost $75 million. I say it's going to cost $125 million, and I build it for $100 million. Basically, I did a lousy job. But they think I did a great job." Take them for the suckers they are; that's the ticket.
The media doesn't matter. According to Trump, "You know, it really doesn't matter what (the media) write as long as you've got a young and beautiful piece of ass." The piece of ass doesn't matter, either; any will do.
Other businesses don't matter. As Trump says, "If you want to buy something, it's obviously in your best interest to convince the seller that what he's got isn't worth very much." 
But it's ok. Trump doesn't have to be nice. After all, it's not like he wants to run for office or anything: "I'm not running for office. I don't have to be politically correct. I don't have to be a nice person. Like I watch some of these weak-kneed politicians, it's disgusting. I don't have to be that way."
Too bad. We need a good candidate. Because according to Trump, "One of the key problems today is that politics is such a disgrace. Good people don't go into government."
A man's skeleton, found facedown with his hands bound, was unearthed near an ancient ceremonial circle during a high speed rail excavation project.
Culture & Religion
A skeleton representing a man who was tossed face down into a ditch nearly 2,500 years ago with his hands bound in front of his hips was dug up during an excavation outside of London.
The discovery was made during a high speed rail project that has been a bonanza for archaeology, as the area is home to more than 60 ancient sites along the planned route.
An ornate grave of a high status individual from the Roman period and an ancient ceremonial circle were also discovered during the excavations.
Because of our ability to think about thinking, "the gap between ape and man is immeasurably greater than the one between amoeba and ape."
Mind & Brain
Self-awareness — namely, our capacity to think about our thoughts — is central to how we perceive the world.
Without self-awareness, education, literature, and other human endeavors would not be possible.
Striving toward greater self-awareness is the spiritual goal of many religions and philosophies.
The following is an excerpt from Dr. Stephen Fleming's forthcoming book Know Thyself. It is reprinted with permission from the author.
I now run a neuroscience lab dedicated to the study of self-awareness at University College London. My team is one of several working within the Wellcome Centre for Human Neuroimaging, located in an elegant town house in Queen Square in London. The basement of our building houses large machines for brain imaging, and each group in the Centre uses this technology to study how different aspects of the mind and brain work: how we see, hear, remember, speak, make decisions, and so on. The students and postdocs in my lab focus on the brain's capacity for self-awareness. I find it a remarkable fact that something unique about our biology has allowed the human brain to turn its thoughts on itself.
Until quite recently, however, this all seemed like nonsense. As the nineteenth-century French philosopher Auguste Comte put it: "The thinking individual cannot cut himself in two — one of the parts reasoning, while the other is looking on. Since in this case the organ observed and the observing organ are identical, how could any observation be made?" In other words, how can the same brain turn its thoughts upon itself?
Comte's argument chimed with scientific thinking at the time. After the Enlightenment dawned on Europe, an increasingly popular view was that self-awareness was special and not something that could be studied using the tools of science. Western philosophers were instead using self-reflection as a philosophical tool, much as mathematicians use algebra in the pursuit of new mathematical truths. René Descartes relied on self-reflection in this way to reach his famous conclusion, "I think, therefore I am," noting along the way that "I know clearly that there is nothing that can be perceived by me more easily or more clearly than my own mind." Descartes proposed that a central soul was the seat of thought and reason, commanding our bodies to act on our behalf. The soul could not be split in two — it just was. Self-awareness was therefore mysterious and indefinable, and off-limits to science.
Credit: FRED TANNEAU via Getty Images
We now know that the premise of Comte's worry is false. The human brain is not a single, indivisible organ. Instead, the brain is made up of billions of small components — neurons — that each crackle with electrical activity and participate in a wiring diagram of mind-boggling complexity. Out of the interactions among these cells, our entire mental life — our thoughts and feelings, hopes and dreams — flickers in and out of existence. But rather than being a meaningless tangle of connections with no discernible structure, this wiring diagram also has a broader architecture that divides the brain into distinct regions, each engaged in specialized computations. Just as a map of a city need not include individual houses to be useful, we can obtain a rough overview of how different areas of the human brain are working together at the scale of regions rather than individual brain cells. Some areas of the cortex are closer to the inputs (such as the eyes) and others are further up the processing chain. For instance, some regions are primarily involved in seeing (the visual cortex, at the back of the brain), others in processing sounds (the auditory cortex), while others are involved in storing and retrieving memories (such as the hippocampus).
In a reply to Comte in 1865, the British philosopher John Stuart Mill anticipated the idea that self-awareness might also depend on the interaction of processes operating within a single brain and was thus a legitimate target of scientific study. Now, thanks to the advent of powerful brain imaging technologies such as functional magnetic resonance imaging (fMRI), we know that when we self-reflect, particular brain networks indeed crackle into life and that damage or disease to these same networks can lead to devastating impairments of self-awareness.
I often think that if we were not so thoroughly familiar with our own capacity for self-awareness, we would be gobsmacked that the brain is able to pull off this marvelous conjuring trick. Imagine for a moment that you are a scientist on a mission to study new life-forms found on a distant planet. Biologists back on Earth are clamoring to know what they're made of and what makes them tick. But no one suggests just asking them! And yet a Martian landing on Earth, after learning a bit of English or Spanish or French, could do just that. The Martians might be stunned to find that we can already tell them something about what it is like to remember, dream, laugh, cry, or feel elated or regretful — all by virtue of being self-aware.
I find it a remarkable fact that something unique about our biology has allowed the human brain to turn its thoughts on itself.
But self-awareness did not just evolve to allow us to tell each other (and potential Martian visitors) about our thoughts and feelings. Instead, being self-aware is central to how we experience the world. We not only perceive our surroundings; we can also reflect on the beauty of a sunset, wonder whether our vision is blurred, and ask whether our senses are being fooled by illusions or magic tricks. We not only make decisions about whether to take a new job or whom to marry; we can also reflect on whether we made a good or bad choice. We not only recall childhood memories; we can also question whether these memories might be mistaken.
Self-awareness also enables us to understand that other people have minds like ours. Being self-aware allows me to ask, "How does this seem to me?" and, equally importantly, "How will this seem to someone else?" Literary novels would become meaningless if we lost the ability to think about the minds of others and compare their experiences to our own. Without self-awareness, there would be no organized education. We would not know who needs to learn or whether we have the capacity to teach them. The writer Vladimir Nabokov elegantly captured this idea that self-awareness is a catalyst for human flourishing:
"Being aware of being aware of being. In other words, if I not only know that I am but also know that I know it, then I belong to the human species. All the rest follow s— the glory of thought, poetry, a vision of the universe. In that respect, the gap between ape and man is immeasurably greater than the one between amoeba and ape."
In light of these myriad benefits, it's not surprising that cultivating accurate self-awareness has long been considered a wise and noble goal. In Plato's dialogue Charmides, Socrates has just returned from fighting in the Peloponnesian War. On his way home, he asks a local boy, Charmides, if he has worked out the meaning of sophrosyne — the Greek word for temperance or moderation, and the essence of a life well lived. After a long debate, the boy's cousin Critias suggests that the key to sophrosyne is simple: self-awareness. Socrates sums up his argument: "Then the wise or temperate man, and he only, will know himself, and be able to examine what he knows or does not know…No other person will be able to do this."
Likewise, the ancient Greeks were urged to "know thyself" by a prominent inscription carved into the stone of the Temple of Delphi. For them, self-awareness was a work in progress and something to be striven toward. This view persisted into medieval religious traditions: for instance, the Italian priest and philosopher Saint Thomas Aquinas suggested that while God knows Himself by default, we need to put in time and effort to know our own minds. Aquinas and his monks spent long hours engaged in silent contemplation. They believed that only by participating in concerted self-reflection could they ascend toward the image of God.
Credit: Dimas Ardian via Getty Images
A similar notion of striving toward self-awareness is seen in Eastern traditions such as Buddhism. The spiritual goal of enlightenment is to dissolve the ego, allowing more transparent and direct knowledge of our minds acting in the here and now. The founder of Chinese Taoism, Lao Tzu, captured this idea that gaining self-awareness is one of the highest pursuits when he wrote, "To know that one does not know is best; Not to know but to believe that one knows is a disease."
Today, there is a plethora of websites, blogs, and self-help books that encourage us to "find ourselves" and become more self-aware. The sentiment is well meant. But while we are often urged to have better self-awareness, little attention is paid to how self-awareness actually works. I find this odd. It would be strange to encourage people to fix their cars without knowing how the engine worked, or to go to the gym without knowing which muscles to exercise. This book aims to fill this gap. I don't pretend to give pithy advice or quotes to put on a poster. Instead, I aim to provide a guide to the building blocks of self-awareness, drawing on the latest research from psychology, computer science, and neuroscience. By understanding how self-awareness works, I aim to put us in a position to answer the Athenian call to use it better.
It is impossible for science to arrive at ultimate truths, but functional truths are good enough.
Credit: Sergey Nivens / 202871840
13-8
What is truth? This is a very tricky question, trickier than many would like to admit.
Science does arrive at what we can call functional truth, that is, when it focuses on what something does as opposed to what something is. We know how gravity operates, but not what gravity is, a notion that has changed over time and will probably change again.
The conclusion is that there are not absolute final truths, only functional truths that are agreed upon by consensus. The essential difference is that scientific truths are agreed upon by factual evidence, while most other truths are based on belief.
Does science tell the truth? The answer to this question is not as simple as it seems, and my 13.8 colleague Adam Frank took a look at it in his article about the complementarity of knowledge. There are many levels of complexity to what truth is or means to a person or a community. Why?
It's complicated
First, "truth" itself is hard to define or even to identify. How do you know for sure that someone is telling you the truth? Do you always tell the truth? In groups, what may be considered true to a culture with a given set of moral values may not be true in another. Examples are easy to come by: the death penalty, abortion rights, animal rights, environmentalism, the ethics of owning weapons, etc.
At the level of human relations, truth is very convoluted. Living in an age where fake news has taken center stage only corroborates this obvious fact. However, not knowing how to differentiate between what is true and what is not leads to fear, insecurity, and ultimately, to what could be called worldview servitude — the subservient adherence to a worldview proposed by someone in power. The results, as the history of the 20th century has shown extensively, can be catastrophic.
Proclamations of final or absolute truths, even in science, shouldn't be trusted.
The goal of science, at least on paper, is to arrive at the truth without recourse to any belief or moral system. Science aims to go beyond the human mess so as to be value-free. The premise here is that Nature doesn't have a moral dimension, and that the goal of science is to describe Nature the best possible way, to arrive at something we could call the "absolute truth." The approach is a typical heir to the Enlightenment notion that it is possible to take human complications out of the equation and have an absolute objective view of the world. However, this is a tall order.
It is tempting to believe that science is the best pathway to truth because, to a spectacular extent, science does triumph at many levels. You trust driving your car because the laws of mechanics and thermodynamics work. NASA scientists and engineers just managed to have the Ingenuity Mars Helicopter — the first man-made device to fly over another planet — hover above the Martian surface all by itself.
We can use the laws of physics to describe the results of countless experiments to amazing levels of accuracy, from the magnetic properties of materials to the position of your car in traffic using GPS locators. In this restricted sense, science does tell the truth. It may not be the absolute truth about Nature, but it's certainly a kind of pragmatic, functional truth at which the scientific community arrives by consensus based on the shared testing of hypotheses and results.
What is truth?
Credit: Sergey Nivens / 242235342
But at a deeper level of scrutiny, the meaning of truth becomes intangible, and we must agree with the pre-Socratic philosopher Democritus who declared, around 400 years BCE, that "truth is in the depths." (Incidentally, Democritus predicted the existence of the atom, something that certainly exists in the depths.)

A look at a dictionary reinforces this view. "Truth: the quality of being true." Now, that's a very circular definition. How do we know what is true? A second definition: "Truth: a fact or belief that is accepted as true." Acceptance is key here. A belief may be accepted to be true, as is the case with religious faith. There is no need for evidence to justify a belief. But note that a fact as well can be accepted as true, even if belief and facts are very different things. This illustrates how the scientific community arrives at a consensus of what is true by acceptance. Sufficient factual evidence supports that a statement is true. (Note that what defines sufficient factual evidence is also accepted by consensus.) At least until we learn more.
Take the example of gravity. We know that an object in free fall will hit the ground, and we can calculate when it does using Galileo's law of free fall (in the absence of friction). This is an example of "functional truth." If you drop one million rocks from the same height, the same law will apply every time, corroborating the factual acceptance of a functional truth, that all objects fall to the ground at the same rate irrespective of their mass (in the absence of friction).
But what if we ask, "What is gravity?" That's an ontological question about what gravity is and not what it does. And here things get trickier. To Galileo, it was an acceleration downward; to Newton a force between two or more massive bodies inversely proportional to the square of the distance between them; to Einstein the curvature of spacetime due to the presence of mass and/or energy. Does Einstein have the final word? Probably not.
Is there an ultimate scientific truth?
Final or absolute scientific truths assume that what we know of Nature can be final, that human knowledge can make absolute proclamations. But we know that this can't really work, for the very nature of scientific knowledge is that it is incomplete and contingent on the accuracy and depth with which we measure Nature with our instruments. The more accuracy and depth our measurements gain, the more they are able to expose the cracks in our current theories, as I illustrated last week with the muon magnetic moment experiments.
So, we must agree with Democritus, that truth is indeed in the depths and that proclamations of final or absolute truths, even in science, shouldn't be trusted. Fortunately, for all practical purposes — flying airplanes or spaceships, measuring the properties of a particle, the rates of chemical reactions, the efficacy of vaccines, or the blood flow in your brain — functional truths do well enough.
Culture & Religion
Using urinals, psychological collages, and animated furniture to shock us into reality.
Scroll down to load more…