Astronomers Just Discovered a New Kind of Galaxy
Astronomers have discovered a new kind of galaxy that raises many questions, and perhaps paves the way for answers about galaxy formation.
10 January, 2017
Astronomers at the University of Minnesota Duluth and the North Carolina Museum of Natural Sciences have just discovered a galaxy unlike any other in the observed universe. Its name is thoroughly unsexy: PGC 1000714, which is its catalog number, but the new find is a very remarkable and rare one: it's a ring galaxy. 
---
PGC 1000714 is the first observed ring galaxy of its kind. Ring galaxies have an elliptical core surrounded by a ring of stars. As George Dvorsky points out in an article on the new discovery in Gizmodo, ring objects are very rare in and of themselves: fewer than 0.1% of known galaxies are ring galaxies. PGC 1000714 is not only an instance of a very rare type, but it is unique enough among them to warrant its own sub-classification: it has not one but two distinct rings.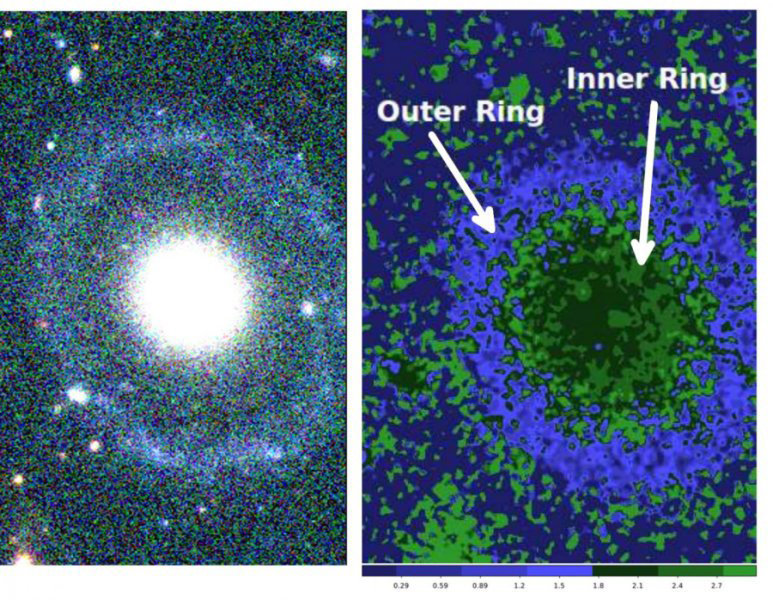 Left visual: A color-rendered image of the ring galaxy PGC 1000714. Right visual: a B-I color index map showing the outer ring (in blue) and diffuse inner ring (in light green). Image: Ryan Beauchemin
Astronomers are hopeful that PGC 1000714's unique features will provide some answers to questions surrounding the how galaxies form. Ring galaxies are particularly mysterious, as astronomers remain unsure of how they form at all. The discoverers' analysis of the galaxy demonstrates that the core and the two rings formed at separate times. An article from the North Carolina Museum of Natural Sciences provides an overview of the scientists' methodology.
While the researchers found a blue and young (0.13 billion years) outer ring, surrounding a red and older (5.5 billion years) central core, they were surprised to uncover evidence for a second inner ring around the central body. To document this second ring, researchers took their images and subtracted out a model of the core. This allowed them to observe and measure the obscured, second inner ring structure.
The core, as is typical of ring galaxies, formed long before and independently of the rings. The article continues:
Galaxy rings are regions where stars have formed from colliding gas. "The different colors of the inner and outer ring suggest that this galaxy has experienced two different formation periods," [lead author Burcin] Mutlu-Pakdil says. "From these initial single snapshots in time, it's impossible to know how the rings of this particular galaxy were formed." The researchers say that by accumulating snapshot views of other galaxies like this one astronomers can begin to understand how unusual galaxies are formed and evolve.
The rings themselves formed independently too.
PGC 1000714 is a new kind of galaxy that tests existing ideas in astronomy. Astrophysicist Patrick Treuthardt, one of the co-authors of the study, noted, "Whenever we find a unique or strange object to study, it challenges our current theories and assumptions about how the universe works." This discovery raises many interesting and perplexing questions and, hopefully, helps to pave the way to some answers about how galaxies form.
Here's the lead author on the finding, Burcin Mutlu-Pakdil:
Malcolm Gladwell teaches "Get over yourself and get to work" for Big Think Edge.
Big Think Edge
Learn to recognize failure and know the big difference between panicking and choking.

At Big Think Edge, Malcolm Gladwell teaches how to check your inner critic and get clear on what failure is.

Subscribe to Big Think Edge before we launch on March 30 to get 20% off monthly and annual memberships.
The 21st century is experiencing an Asianization of politics, business, and culture.
Videos
Our theories about the world, even about history or the geopolitics of the present, tend to be shaped by Anglo perspectives of the Western industrial democracies, particularly those in the United States and the United Kingdom.
The West, however, is not united. Canada, for instance, acts in many ways that are not in line with American or British policies, particularly in regard to populism. Even if it were united, though, it would not represent most of the world's population.
European ideas, such as parliamentary democracy and civil service, spread across the world in the 19th century. In the 20th century, American values such as entrepreneurialism went global. In the 21st century, however, what we're seeing now is an Asianization — an Asian confidence that they can determine their own political systems, their own models, and adapt to their own circumstances.
Research has shown that men today have less testosterone than they used to. What's happening?
Sex & Relationships
Several studies have confirmed that testosterone counts in men are lower than what they used to be just a few decades ago.
While most men still have perfectly healthy testosterone levels, its reduction puts men at risk for many negative health outcomes.
The cause of this drop in testosterone isn't entirely clear, but evidence suggests that it is a multifaceted result of modern, industrialized life.
Can sensitive coral reefs survive another human generation?
Videos
Coral reefs may not be able to survive another human decade because of the environmental stress we have placed on them, says author David Wallace-Wells. He posits that without meaningful changes to policies, the trend of them dying out, even in light of recent advances, will continue.
The World Wildlife Fund says that 60 percent of all vertebrate mammals have died since just 1970. On top of this, recent studies suggest that insect populations may have fallen by as much as 75 percent over the last few decades.
If it were not for our oceans, the planet would probably be already several degrees warmer than it is today due to the emissions we've expelled into the atmosphere.
Big think's weekly newsletter.
Get smarter faster from the comfort of your inbox.
See our newsletter privacy policy
here
Most Popular
Most Recent
Big think's weekly newsletter.
Get smarter faster from the comfort of your inbox.
See our newsletter privacy policy
here
© Copyright 2007-2018 & BIG THINK, BIG THINK EDGE,
SMARTER FASTER trademarks owned by The Big Think, Inc. All rights reserved.