Big ideas.
Once a week.
Subscribe to our weekly newsletter.
Why Youth Are Less Civically Minded, Active on the Environment
16 March, 2012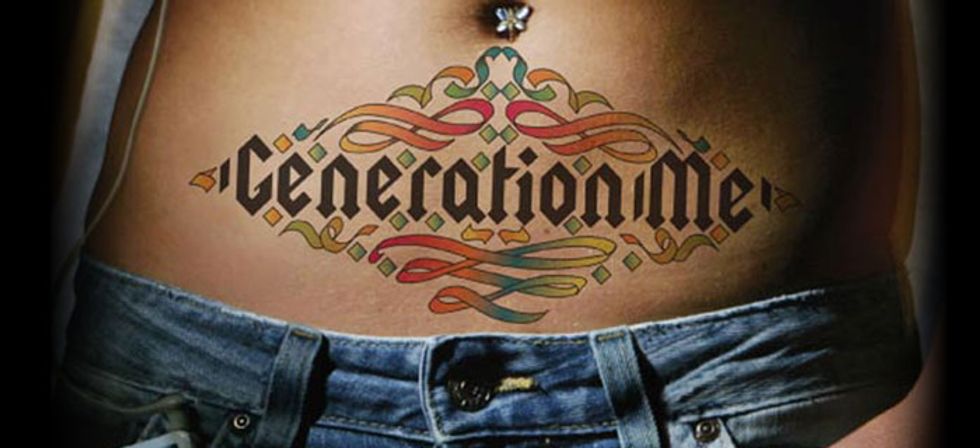 A new study in the Journal of Personality and Social Psychology finds that in comparison to young Baby Boomers and Gen Xers, today's high school seniors and college freshmen are less interested in government, spend less time thinking about social problems, and are less likely to be involved in efforts to help the environment. [USA Today, AP coverage]
---
Community volunteerism among today's youth is greater than past generations, but concern for others and their community is down.  The higher volunteerism of today's youth, conclude the authors, is likely due to increased school requirements.
The findings on the environment cut against conventional wisdom about today's young people, but they are in line with findings from an analysis that I conducted in 2010 with Lauren Feldman, Ed Maibach, and Tony Leiserowitz.  An Executive Summary of the analysis is at the end of this post.  
Trends related to political engagement and participation need to be compared to other measures and studies. A book length study by Cliff Zukin and colleagues tracks approximately similar trends.  Young people are less politically interested, attentive and involved than older generations.  Instead they view political participation as a matter of consumer purchasing power -- rewarding and punishing companies -- and in terms of community volunteering.
Why this might be the case and the implications for civic culture are the subject of debate among scholars.  Briefly, in my view, there are a number of likely factors contributing to the decline in interest and participation in civic affairs generally and the environment specifically. These include:
1. Time Displacement
Young people are spending more time with social media and online entertainment content which displaces time spent doing other more civically oriented activities including news reading, time spent outdoors, and time spent interacting across community settings.  
2. The Gossip Girl Factor
Youth oriented media inundates young people with narratives and messages that reinforce materialistic, consumerist, and narcissistic values. Past research has also shown that entertainment portrayals tend to reduce social trust and promote distrust of government. This last finding also likely applies to news programming such as The Daily Show and Colbert Report.
3. Political Polarization
Today's world of polarized politics and opinionated media likely reinforces disengagement among young people and moderates more generally.  In a forthcoming paper reviewing a large body of studies on forms of media use, selectivity, and their effects in the context of politics, Wolfgang Donsbach and Cornelia Mothes suggest that media enable a spiral of political polarization and mobilization among the most politically engaged.
Over the course of an election or policy debate in Congress, partisans consume like-minded media and information, which intensifies their opinions and commitments, which in turn increases their attention and consumption of like-minded media, which further intensifies their commitment to a candidate or policy outcome.
Yet Donsbach and Mothes also suggest that for moderates and those who lack a strong interest in politics such as young people, there is a parallel spiral of political disengagement and demobilization.  For these groups, it is increasingly easy for them to avoid public affairs media and to pay only close attention to entertainment and soft news.  
If young people are to be recruited into politics, it is most likely to be through strategic use of entertainment media, celebrities, Facebook, Twitter, and mobile technology with forms of participation limited in their duration, sophistication, and intensity. Note for example the increased turn out and involvement among young people in 2008 and the relative disengagement in the years since including the 2010 election.
The Climate Change Generation?
Survey Analysis of the Perceptions and Beliefs of Young Americans
American adults under the age of 35 have come of age in the decades since the "discovery" of man-made climate change as a major societal problem. The oldest of this cohort was twelve in 1988, when NASA climate scientist James Hansen testified at a Senate Energy Committee hearing that global temperature rise was underway and that human-produced greenhouse gases were almost certainly responsible. For this reason, the conventional wisdom holds that young Americans, growing up in a world of ever more certain scientific evidence, increasing news attention, alarming entertainment portrayals, and school-based curricula, should be more engaged with and concerned about the issue of climate change than older Americans.
However, contrary to this conventional wisdom, new nationally representative survey data analyzed by American University researchers and collected by the Yale Project on Climate Change and the George Mason University Center for Climate Change Communication reveal that Americans between the ages of 18 and 34 are, for the most part, split on the issue of global warming and, on some indicators, relatively disengaged when compared to older generations.
Overall, the survey data, collected between December 24, 2009 and January 3, 2010, offer no predictable portrait of young people when it comes to global warming: While less concerned about and preoccupied with global warming than older generations, they are slightly more likely to believe that global warming is caused by human factors and that there is scientific consensus that it is occurring. They are also somewhat more optimistic than their elders about the effectiveness of taking action to reduce global warming. And, while they are less open to new information about global warming than older generations, they are much more trusting of scientists and President Obama on the issue. However, they also share older generations' distrust of the mainstream news media.
Of note, young evangelicals, an increasingly important group politically, place strong levels of trust in religious leaders as sources of information about global warming, though they are also trusting of scientists and President Obama.
Nationwide, liberals and conservatives exhibit wide differences in their beliefs about global warming, with conservatives more skeptical and less engaged than liberals, and this ideological divide is no different among young Americans.
Members of the current college-age generation (18-22 year-olds), who have grown up with even less scientific uncertainty about climate change, are somewhat more concerned and engaged than their slightly older 23-34 year-old counterparts; however, this does not hold across the board.
Still, the data suggest untapped potential to engage young Americans on the issue of global warming, particularly relative to shifting the perceptions of those who currently hold moderately skeptical or uncertain views.
See Also:
Breaking the Big Sort: The Merits of a National Service Program for Youth
Online News and the End of Political Disagreement
These alien-like creatures are virtually invisible in the deep sea.
Credit: Karen Osborn/Smithsonian
Surprising Science
A team of marine biologists used nets to catch 16 species of deep-sea fish that have evolved the ability to be virtually invisible to prey and predators.
"Ultra-black" skin seems to be an evolutionary adaptation that helps fish camouflage themselves in the deep sea, which is illuminated by bioluminescent organisms.
There are likely more, and potentially much darker, ultra-black fish lurking deep in the ocean.
A team of marine biologists has discovered 16 species of "ultra-black" fish that absorb more than 99 percent of the light that hits their skin, making them virtually invisible to other deep-sea fish.
The researchers, who published their findings Thursday in Current Biology, caught the species after dropping nets more than 200 meters deep near California's Monterey Bay. At those depths, sunlight fizzles out. That's one reason why many deep-sea species have evolved the ability to illuminate the dark waters through bioluminescence.
But what if deep-sea fish don't want to be spotted? To counter bioluminescence, some species have evolved ultra-black skin that's exceptionally good at absorbing light. Only a few other species are known to possess this strange trait, including birds of paradise and some spiders and butterflies.
The Pacific blackdragon
Credit: Karen Osborn/Smithsonian
When researchers first saw the deep-sea species, it wasn't immediately obvious that their skin was ultra-black. Then, marine biologist Karen Osborn, a co-author on the new paper, noticed something strange about the photos she took of the fish.
"I had tried to take pictures of deep-sea fish before and got nothing but these really horrible pictures, where you can't see any detail," Osborn told Wired. "How is it that I can shine two strobe lights at them and all that light just disappears?"
After examining samples of fish skin under the microscope, the researchers discovered that the fish skin contains a layer of organelles called melanosomes, which contain melanin, the same pigment that gives color to human skin and hair. This layer of melanosomes absorbs most of the light that hits them.
A crested bigscale
Credit: Karen Osborn/Smithsonian
"But what isn't absorbed side-scatters into the layer, and it's absorbed by the neighboring pigments that are all packed right up close to it," Osborn told Wired. "And so what they've done is create this super-efficient, very-little-material system where they can basically build a light trap with just the pigment particles and nothing else."
The result? Strange and terrifying deep-sea species, like the crested bigscale, fangtooth, and Pacific blackdragon, all of which appear in the deep sea as barely more than faint silhouettes.
Pacific viperfish
David Csepp, NMFS/AKFSC/ABL
But interestingly, this unique disappearing trick wasn't passed on to these species by a common ancestor. Rather, they each developed it independently. As such, the different species use their ultra-blackness for different purposes. For example, the threadfin dragonfish only has ultra-black skin during its adolescent years, when it's rather defenseless, as Wired notes.
Other fish—like the oneirodes species, which use bioluminescent lures to bait prey—probably evolved ultra-black skin to avoid reflecting the light their own bodies produce. Meanwhile, species like C. acclinidens only have ultra-black skin around their gut, possibly to hide light of bioluminescent fish they've eaten.
Given that these newly described species are just ones that this team found off the coast of California, there are likely many more, and possibly much darker, ultra-black fish swimming in the deep ocean.
Information may not seem like something physical, yet it has become a central concern for physicists. A wonderful new book explores the importance of the "dataome" for the physical, biological, and human worlds.
Credit: agsandrew via Adobe Stock
13-8
The most important current topic in physics relates to a subject that hardly seems physical at all — information, which is central to thermodynamics and perhaps the universe itself.
The "dataome" is the way human beings have been externalizing information about ourselves and the world since we first began making paintings on cave walls.
The dataome is vast and growing everyday, sucking up an ever increasing share of the energy humans produce.
Physics is a field that is supposed to study real stuff. By real, I mean things like matter and energy. Matter is, of course, the kind of stuff you can hold in your hand. Energy may seem a little more abstract, but its reality is pretty apparent, appearing in the form of motion or gravity or electromagnetic fields.
What has become apparent recently, however, is the importance to physics of something that seems somewhat less real: information. From black holes to quantum mechanics to understanding the physics of life, information has risen to become a principal concern of many physicists in many domains. This new centrality of information is why you really need to read astrophysicist Caleb Scharf's new book The Ascent of Information: Books, Bits, Machines, and Life's Unending Algorithms.
Scharf is currently the director of the Astrobiology Program at Columbia University. He is also the author of four other books as well as a regular contributor to Scientific American.
(Full disclosure: Scharf and I have been collaborators on a scientific project involving the Fermi Paradox, so I was a big fan before I read this new book. Of course, the reason why I collaborated with him is because I really like the way he thinks, and his creativity in tackling tough problems is on full display in The Ascent of Information.)
What is the dataome?
In his new book, Scharf is seeking a deeper understanding of what he calls the "dataome." This is the way human beings have been externalizing information about ourselves and the world since we first began making paintings on cave walls. The book opens with a compelling exploration of how Shakespeare's works, which began as scribbles on a page, have gone on to have lives of their own in the dataome. Through reprintings in different languages, recordings of performances, movie adaptations, comic books, and so on, Shakespeare's works are now a permanent part of the vast swirling ensemble of information that constitutes the human dataome.
I found gems in these parts of the book that forced me to put the volume down and stare into space for a time to deal with their impact.
But the dataome does not just live in our heads. Scharf takes us on a proper physicist's journey through the dataome, showing us how information can never be divorced from energy. Your brain needs the chemical energy from food you ate this morning to read, process, and interpret these words. One of the most engaging parts of the book is when Scharf details just how much energy and real physical space our data-hungry world consumes as it adds to the dataome. For example, the Hohhot Data Center in the Inner Mongolia Autonomous Region of China is made of vast "farms" of data processing servers covering 245 acres of real estate. A single application like Bitcoin, Scharf tells us, consumes 7.7 gigawatts per year, equivalent to the output of half a dozen nuclear reactors!
Information is everywhere
But the dataome is not just about energy. Entropy is central to the story as well. Scharf takes the reader through a beautifully crafted discussion of information and the science of thermodynamics. This is where the links between energy, entropy, the limits of useful work, and probability all become profoundly connected to the definition of information.
The second law of thermodynamics tells us that you cannot use all of a given amount of energy to do useful work. Some of that energy must be wasted by getting turned into heat. Entropy is the physicist's way of measuring that waste (which can also be thought of as disorder). Scharf takes the reader through the basic relations of thermodynamics and then shows how entropy became intimately linked with information. It was Claude Shannon's brilliant work in the 1940s that showed how information — bits — could be defined for communication and computation as an entropy associated with the redundancy of strings of symbols. That was the link tying the physical world of physics explicitly to the informational and computational world of the dataome.
The best parts of the book are where Scharf unpacks how information makes its appearance in biology. From the data storage and processing that occurs with every strand of DNA, to the tangled pathways that define evolutionary dynamics, Scharf demonstrates how life is what happens to physics and chemistry when information matters. I found gems in these parts of the book that forced me to put the volume down and stare into space for a time to deal with their impact.
The physics of information
There are a lot of popular physics books out there about black holes and exoplanets and other cool stuff. But right now, I feel like the most important topic in physics relates to a subject that hardly seems physical at all. Information is a relatively new addition to the physics bestiary, making it even more compelling. If you are looking for a good introduction to how that is so, The Ascent of Information is a good place to start.
A new study tested to what extent dogs can sense human deception.
Credit: Adobe Stock / kozorog
Surprising Science
A study of 260 dogs found that, in some cases, dogs can tell when people are lying.
The experiments involved giving dogs information about the location of food.
The majority of the dogs did not follow false suggestions when they knew humans were lying.
Is humanity's best friend catching on to our shenanigans? Researchers at the University of Vienna discovered that dogs can in certain cases know when people are lying.
The scientists carried out a study with hundreds of dogs to determine to what extent dogs could spot deception. The team's new paper, published in Proceedings of the Royal Society B, outlined experiments that tested whether dogs, like humans, have some inner sense of how to assess truthfulness.
As the researchers wrote in their paper, "Among non-primates, dogs (Canis familiaris) constitute a particularly interesting case, as their social environment has been shared with humans for at least 14,000 years. For this reason, dogs have been considered as a model species for the comparative investigation of socio-cognitive abilities." The investigation focused specifically on understanding if dogs were "sensitive to some mental or psychological states of humans."
The experiment
The experiments involved 260 dogs, which were made to listen to advice from a human "communicator" whom they did not know. The human told them which one of two bowls had a treat hidden inside by touching it and saying, "Look, this is very good!" If the dogs took the person's advice, they would get the treat.
Once they established the trust of the dogs, the researchers then complicated the experience by letting dogs watch another human that they did not know transfer the treat from one bowl to another. In some cases, the original communicator would also be present to watch but not always.
The findings revealed that half of the dogs did not follow the advice of the communicator if that person was not present when the food was switched to a different bowl. The dogs had a sense that this human could not have known the true location of the treat. Furthermore, two-thirds of the dogs ignored the human's suggestion if she did see the food switch but pointed to the wrong bowl. The dogs figured out the human was lying to them.
Photos of experiments showing the dog, human communicator, and person hiding the treat. Credit: Lucrezia Lonardo et al / Proceedings of the Royal Society B.
"We thought dogs would behave like children under age five and apes, but now we speculate that perhaps dogs can understand when someone is being deceitful," co-author Ludwig Huber from the University of Vienna told New Scientist. "Maybe they think, 'This person has the same knowledge as me, and is nevertheless giving me the wrong [information].' It's possible they could see that as intentionally misleading, which is lying."
This is not the first time such experiments have been carried out. Previously, children under age five, macaques, and chimps were tested in a similar way. It turned out that children and other animals were more likely than dogs to listen to the advice of the liars. Notably, among the dogs, terriers were found to be more like children and apes, more eagerly following false suggestions.
Personal Growth
When we rely on the conscious mind alone, we lose; but when we listen to the body, we gain a winning edge.
Scroll down to load more…