Columbia Journalism Review Names Framing Science a Top Resource for Journalists Reporting on Climate Change
16 August, 2010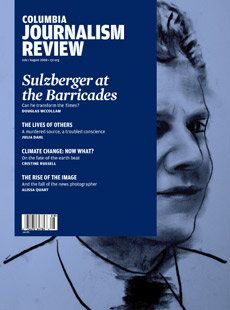 In the latest issue of the Columbia Journalism Review, Harvard University's Cristine Russell contributes an important analysis on the next stage in climate change media coverage. She spotlights reporters such as the NY Times' Andrew Revkin who are among an "advanced guard" of journalists who are figuring out how to strategically frame coverage of climate change in ways that resonate with new audiences and across a diversity of media platforms.

"Climate change will require thoughtful leadership and coordination at news organizations," asserts Russell. "Editors will need to integrate the specialty environment, energy, and science reporters with other beats that have a piece of the story--everything from local and national politics to foreign affairs, business, technology, health, urban affairs, agriculture, transportation, law, architecture, religion, consumer news, gardening, travel, and sports."

Veteran journalists that Russell interviews in the article include Bud Ward of the Yale Climate Media Forum and Charlie Petit of the Knight Science Journalism Tracker. She also interviews science policy experts such as Stanford's Stephen Schneider along with Harvard's Daniel Schrag and John Holdren.

In the article, Russell even turns to me for a few insights and I am happy to say I was able to provide a quote that reinforces her lede and central argument:


And Matthew C. Nisbet, an American University communications professor, says, "We have had more science coverage on climate change than at any time in history. The next challenge is to find ways to cover the story across news beats and in ways that engage new readers."
Later in the article, I talk about the important frame shift that has happened since the release of Inconvenient Truth. (For more, see this
past blog post
.)
Nisbet, for one, sees a dramatic shift in media rhetoric on climate change. In the spring of 2006, fear was at the heart of Al Gore's documentary film, An Inconvenient Truth, which jump-started media coverage of global warming after years on the back burner. Suddenly, climate change--that term is gaining ground over global warming, by the way--was on front pages and magazine covers, including Time's iconic image of a lone polar bear and the warning, "Be Worried. Be Very Worried."

Today, says Nisbet, "the underlying appeal is a moral message: 'We're all in this together.' It's a moral call to arms." Gore's new $300-million "We" media campaign seeks to cross the partisan divide with the optimistic motto: "We Can Solve It." The cover of Time's Spring 2008 environment issue, bordered in green instead of Time's customary red, took the famous World War II photo of Marines raising a U.S. flag on Iwo Jima and substituted a tree to illustrate its bold headline: "How to Win the War on Global Warming."
As a side bar to the article, Russell and CJR staffers put together a
definitive list
of the top Web resources for journalists reporting on climate change. Here's what CJR has to say about Framing Science.
Framing Science: American University communications professor Matthew C. Nisbet blogs here about the "intersections between science, media and politics." Nisbet has a well-earned reputation for leading research and commentary on media and public opinion about climate change.
Upstreamism advocate Rishi Manchanda calls us to understand health not as a "personal responsibility" but a "common good."
Sponsored by Northwell Health
Upstreamism tasks health care professionals to combat unhealthy social and cultural influences that exist outside — or upstream — of medical facilities.
Patients from low-income neighborhoods are most at risk of negative health impacts.
Thankfully, health care professionals are not alone. Upstreamism is increasingly part of our cultural consciousness.
The Bajau people's nomadic lifestyle has given them remarkable adaptions, enabling them to stay underwater for unbelievable periods of time. Their lifestyle, however, is quickly disappearing.
Wikimedia Commons
Culture & Religion
The Bajau people travel in small flotillas throughout the Phillipines, Malaysia, and Indonesia, hunting fish underwater for food.
Over the years, practicing this lifestyle has given the Bajau unique adaptations to swimming underwater. Many find it straightforward to dive up to 13 minutes 200 feet below the surface of the ocean.
Unfortunately, many disparate factors are erasing the traditional Bajau way of life.
Some evidence attributes a certain neurological phenomenon to a near death experience.
Credit: Petr Kratochvil. PublicDomainPictures.net.
Surprising Science
Time of death is considered when a person has gone into cardiac arrest. This is the cessation of the electrical impulse that drive the heartbeat. As a result, the heart locks up. The moment the heart stops is considered time of death. But does death overtake our mind immediately afterward or does it slowly creep in?
An innovation may lead to lifelike self-reproducing and evolving machines.
Shogo Hamada/Cornell University
Surprising Science
Scientists at Cornell University devise a material with 3 key traits of life.
The goal for the researchers is not to create life but lifelike machines.
The researchers were able to program metabolism into the material's DNA.
Big think's weekly newsletter.
Get smarter faster from the comfort of your inbox.
See our newsletter privacy policy
here
Most Popular
Most Recent
Big think's weekly newsletter.
Get smarter faster from the comfort of your inbox.
See our newsletter privacy policy
here
© Copyright 2007-2019 & BIG THINK, BIG THINK EDGE,
SMARTER FASTER trademarks owned by The Big Think, Inc. All rights reserved.