Big ideas.
Once a week.
Subscribe to our weekly newsletter.
Green Groups Rebrand Global Warming Around Public Health
21 March, 2012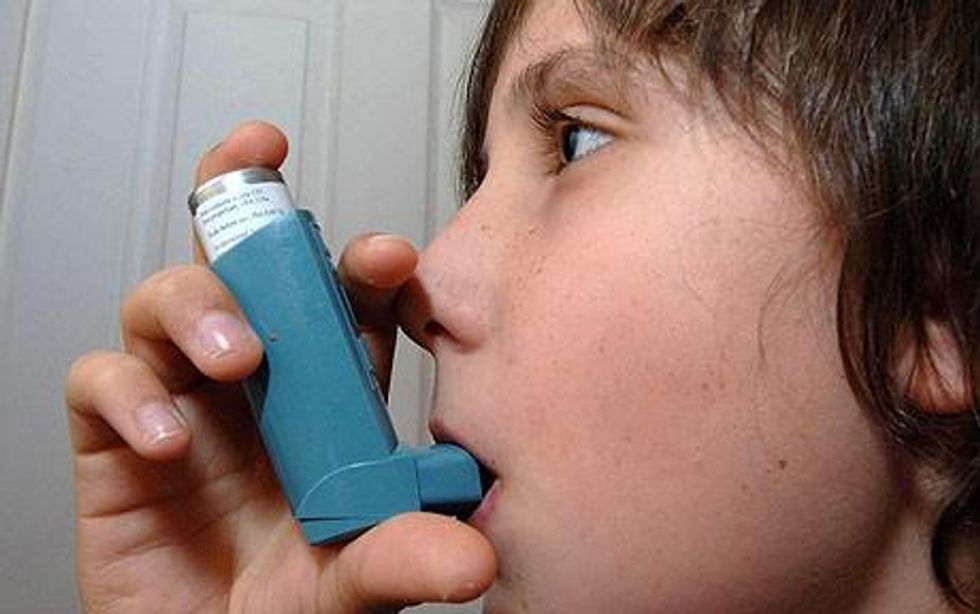 Following the demise of cap and trade legislation, green group leaders acknowledged that despite spending several hundred million dollars to pass the bill, they were unable to create public demand for action in key Midwest Congressional districts and states. 
---
"The community that tried to move a climate bill fundamentally lacks political power and doesn't have the ability to either deliver punishment or reward to members of Congress who don't vote for us," Kathleen Welch, a Washington-based philanthropy adviser told Politico in 2011. Her admission was echoed in statements by Fred Krupp, Bill McKibben and others. 
Now, as Politico reports today, it appears that green groups led by the National Resources Defense Council and the Sierra Club are seeking to address this weakness.  "We're going to talk a lot about the health implications of dirty air," Heather Taylor, director of NRDC's political arm told Politico. "I think that the Midwest is one of those places where [there are] a million great clean energy stories, especially. And they're not being told right now, because we've tended to be in other markets. That's an area where we feel like it's time to go tell those stories." You can watch one of their TV ads emphasizing this message later in the post.
In a polarized America, if you are going to build support for candidates in the Midwest and other battleground states that will back legislation on climate change during the next Congress, you have to switch focus to emphasize public health and economic resilience, goals realized through incremental actions like eliminating coal plants and boosting fuel efficiency.
"Critics for a long time have argued that environmentalists and our issues don't connect with people," Sierra Club National Political Director Tony Cani told Politico. "The idea is this: When it comes to any issue, whether it's Keystone, EPA regulations or any other issue … how does that impact individuals? How does it impact families? I think that it's fair to say that that's not always been a strength of environmentalists."
HISTORY OF MESSAGING ON CLIMATE CHANGE, 2006 to 2010
As I reviewed in a 2009 paper at the journal Environment, in 2006 and 2007 the dominant focus of climate messaging was around the "climate crisis" and the risk of catastrophe. This message was set in motion and promoted through Al Gore's An Inconvenient Truth.  Along with this frame was one of political accountability, emphasizing the "war on science," the actions of the Bush administration and conservatives, and the efforts of Democrats to "return science to its rightful place" in politics, as Obama would later declare.
In late 2007, Gore with his newly launched WE campaign switched focus temporarily to a message emphasizing national unity in the face of an existential threat, similar to Americans coming to together to win WWII or to put a man on the Moon. Yet by 2009 and for most of the cap and trade debate, Green groups led by the Environmental Defense Fund and the WE campaign focused on climate action as leading to jobs.  EDF in ads told viewers that "Cap=jobs" and the WE campaign ran ads featuring construction workers, ranchers, and clean energy technicians around the brand theme "Repower America."
Yet the focus on jobs lacked a moral foundation.  It offered the promise of benefits, but didn't build a case for why we should act and why we have a responsibility to do so.  The emphasis on economic benefits in the context of the recession also turned the debate into  "some economic benefits" as claimed by greens versus "dramatic economic costs" as claimed by opponents, a balance that given the economic context favored the opposition.
A SLOW SHIFT TO FOCUS ON PUBLIC HEALTH
Public health has been a dramatically under-communicated dimension of the climate change story, yet it is a dimension that has perhaps the best ability to connect with a wider diversity of Americans, to erode polarized differences, and to create a moral foundation for action.
Consider that through 2009, in an analysis I conducted for the Centers for Disease Control with several colleagues, we found that health impacts such as extreme heat, disease, and respiratory problems, and more vivid threats such as hurricanes, were mentioned in fewer than 5% and 10% of the climate change-related articles in national and regional papers, respectively.
One reason that human health impacts were dramatically under-communicated was that major funders were not considering these types of human dimensions in their investment strategies. As I detailed in the Climate Shift report, between 2008 and 2010, the 9 major national foundations that were part of the Design to Win alliance distributed more than $360 million in grants related to action on climate change and energy, but among these grants only $1.9 million included a focus on public health and well-being, less than .05% of all funds distributed.
WHY THE FOCUS ON PUBLIC HEALTH AND GAS PRICES MATTERS
1. Public Health Partners Have a Built in Network in the Midwest, Greens Don't
Partnering with NRDC and the Sierra Club is the American Lung Association. This partnership is important since by their own admission, green groups lack the network in many conservative or swing districts to make major communication gains. For public health groups, this network exists and they have a playbook specific to tobacco to draw from.
In the ALA and other public health groups' efforts to regulate tobacco, major Congressional legislation was blocked by the tobacco lobby until 2009.  Yet over the previous 30 years, anti-smoking groups won incremental policy victories through smoking bans and cigarette taxes, while socially stigmatizing smoking through campaigns in support of these goals.  Moreover, it was legal action by States Attorney General that ultimately forced Congress to consider national legislation in 1998.  The bill failed but built momentum for legislative success in 2009, the first time after 50 years of efforts that Congress enacted a bill that regulates tobacco as a controlled substance.
2. A Public Health Frame Personalizes and Localizes the Climate Pollution Story
As I wrote in the 2009 paper at Environment, by re-framing climate change in terms of public health, several points of emphasize likely connect better with audiences beyond the environmental base:
The public health frame stresses climate change's potential to increase the incidence of infectious diseases, asthma, allergies, heat stroke, and other salient health problems, especially among the most vulnerable populations: the elderly and children. In the process, the public health frame makes climate change personally relevant to new audiences by connecting the issue to health problems that are already familiar and perceived as important. The frame also shifts the geographic location of impacts, replacing visuals of remote Arctic regions, animals, and peoples with more socially proximate neighbors and places across local communities and cities. Coverage at local television news outlets and specialized urban media is also generated.
In research with Ed Maibach and colleagues, we find that by focusing communication on the health risks of climate change and the health benefits of local-level action, even those doubtful or dismissive of climate change support forms of mitigation-related actions, a starting point for building support for eventual national policy. [See discussion and study at BMC Public Health.]
As Maibach and I have also described, by focusing on public health, you additionally activate new trusted spokespeople and opinion leaders among local public health officials, nurses, doctors, and health advocates.  
With Mindy Weathers -- a graduate student at GMU -- we put together a report and primer on Conveying the Health Implications of Climate Change, intended to serve as an education tool and resource for public health officials, professionals, agencies, and offices across the country.
3. Personal Stories Build the Foundation for National Action
Localizing the issue of greenhouse gas pollution in terms of personal stories also resonates strongly with the strategy of health care reform advocates in the run up to the 2008 election. 
Families USA spent several million in 2008 creating a "story bank" of media that documented the personal struggles of individuals without health insurance or who had been denied coverage. This became a major resource for journalists, campaign speechwriters and communication staff, helped elevate attention to health care during the election, and set an important frame of reference for the policy debate after Obama was elected. The efforts by Sierra, NRDC, and ALA should be designed and used with these types of goals in mind.
4. A Public Health Focus Can Transcend Polarization
As evidenced by the study above, public health is a widely shared value.  Indeed, as was the case in the battle over tobacco and second-hand smoke, concern for the health of innocents including women and children is a moral foundation held by both liberals and conservatives.
In the XL Pipeline debate, opposition to the pipeline from Midwest state and local Republican political leaders did not come from appeals to act on behalf of the environment or global warming, but rather because of concerns over health risks related to the contamination of the Ogallala aquifer. "I want to emphasize that I am not opposed to pipelines," wrote Gov. Dave Heineman in a letter to Obama.  "I am opposed to the proposed Keystone XL Pipeline route because it is directly over the Ogallala Aquifer."
5. A Public Health Frame Morally Stigmatizes Fossil Fuel Companies
The tobacco campaign began to turn when grassroots activists across states shifted the perceived norms around smoking from something that was attractive and done openly in public to something that was harmful to innocents, disgusting and done in private. In the process, advocates morally stigmatized tobacco companies as knowingly creating an addictive product that harmed the public's health especially innocents such as kids.  Tobacco executives then lied before Congress about the issue.
Defining greenhouse pollution as harming innocent kids and fossil fuel companies as morally irresponsible is a parallel strategy. Partnering with ALA and public health officials gives Green groups the moral authority to make this argument. 
Sierra and NRDC do this in the first of the ads that they are running in the Midwest. See below. 
6. Greens for Too Long Have Ceded the Conversation on Gas Prices to Conservatives
Focusing on fuel efficiency in cars as an antidote to high gas prices -- and thanking President Obama for the fuel efficiency rules -- is also an important strategy.  For too long, Greens and Democrats have ceded the gas price conversation to conservatives who redefine the issue as a supply problem (i.e. drill more) rather than a demand problem (ie. fuel efficiency, public transportation that saves money and benefits public health).
In a study at the American Journal of Public Health with Ed Maibach and Tony Leiserowitz, we find that conservative perceptions mirror expert opinion, as they are highly concerned about the possible economic and health impacts of a spike and volatility in gas prices.  Liberals -- opposite to climate change -- display greater divergence from expert opinion and are less concerned about these impacts, suggesting an ideological blind spot to the importance of the issue.
The sensitivity of conservatives to gas prices and their low information, intuitive sense that gas prices are connected to public health offers a strong opening for engagement on the issue, an opportunity to start a broader conversation about the connections between energy policy, public health, and economic well-being.
See Also:
Maibach, E., Nisbet, M.C., Baldwin, P., Akerlof, K. & Diao, G. (2010).  Reframing Climate Change as a Public Health Issue: An Exploratory Study of Public Reactions.  BMC Public Health, 10: 299.
Maibach, E., Nisbet, M.C., & Weathers, M. (2011, April).Conveying the Human Implications of Climate Change: A Climate Change Communication Primer for Public Health Professionals. Fairfax, VA: Center for Climate Change Communication, George Mason University
Nisbet, M.C. (2009). Communicating Climate Change: Why Frames Matter to Public Engagement.  Environment, 51 (2), 12-23.
Nisbet, M.C., Maibach, E. & Leiserowitz, A. (2011). Framing Peak Petroleum as a Public Health Problem: Audience Research and Public Engagement. American Journal of Public Health, 101: 1620-1626.
Nisbet, M.C. (2011, April). Climate Shift: Clear Vision for the Next Decade of Public Debate. Washington, D.C.: School of Communication, American University.
"Deepfakes" and "cheap fakes" are becoming strikingly convincing — even ones generated on freely available apps.
Magdalene Visaggio via Twitter
Technology & Innovation
A writer named Magdalene Visaggio recently used FaceApp and Airbrush to generate convincing portraits of early U.S. presidents.
"Deepfake" technology has improved drastically in recent years, and some countries are already experiencing how it can weaponized for political purposes.
It's currently unknown whether it'll be possible to develop technology that can quickly and accurately determine whether a given video is real or fake.
Ancient corridors below the French capital have served as its ossuary, playground, brewery, and perhaps soon, air conditioning.
Credit
: Inspection Générale des Carrières, 1857 / Public domain
Strange Maps
People have been digging up limestone and gypsum from below Paris since Roman times.
They left behind a vast network of corridors and galleries, since reused for many purposes — most famously, the Catacombs.
Soon, the ancient labyrinth may find a new lease of life, providing a sustainable form of air conditioning.
Ancient mining areas below Paris for limestone (red) and gypsum (green).Credit: Émile Gérards (1859–1920) / Public domain
"If you're brave enough to try, you might be able to catch a train from UnLondon to Parisn't, or No York, or Helsunki, or Lost Angeles, or Sans Francisco, or Hong Gone, or Romeless."

China Miéville's fantasy novel Un Lun Dun is set in an eerie mirror version of London. In it, he hints that other cities have similar doubles. On the list that he offhandedly rattles off, Paris stands out. Because the City of Light really does have a twisted sister. Below Paris Overground is Paris Underground, the City of Darkness.
Most people will have heard of the Catacombs of Paris: subterranean charnel houses for the bones of around six million dead Parisians. They are one of the French capital's most famous tourist attractions – and undoubtedly its grisliest.
But they constitute only a small fragment of what the locals themselves call les carrières de Paris ("the mines of Paris"), a collection of tunnels and galleries up to 300 km (185 miles) long, most of which are off-limits to the public, yet eagerly explored by so-called cataphiles.
The Grand Réseau Sud ("Great Southern Network") takes up around 200 km beneath the 5th, 6th, 14th, and 15th arrondissements (administrative districts), all south of the river Seine. Smaller networks run beneath the 12th, 13th, and 16th arrondissements. How did they get there?
Paris stone and plaster of Paris
It all starts with geology. Sediments left behind by ancient seas created large deposits of limestone in the south of the city, mostly south of the Seine; and gypsum in the north, particularly in the hills of Montmartre and Ménilmontant. Highly sought after as building materials, both have been mined since Roman times.
The limestone is also known as Lutetian limestone (Lutetia is the Latin name for ancient Paris) or simply "Paris stone." It has been used for many famous Paris landmarks, including the Louvre and the grand buildings erected during Georges-Eugène Haussmann's large-scale remodelling of the city in the mid-19th century. The stone's warm, yellowish color provides visual unity and a bright elegance to the city.

The fine-powdered gypsum of northern Paris, used for making quick-setting plaster, was so famed for its quality that "plaster of Paris" is still used as a term of distinction. However, as gypsum is very soluble in water, the underground cavities left by its extraction were extremely vulnerable to collapse.
Like living on top of a rotting tooth: subsidence starts far below the surface, but it can destroy your house.Credit : Delavanne Avocats
In previous centuries, a road would occasionally open up to swallow a chariot, or even a whole house would disappear down a sinkhole. In 1778, a catastrophic subsidence in Ménilmontant killed seven. That's why the Montmartre gypsum quarries were dynamited rather than just left as they were. The remaining gypsum caves were to be filled up with concrete.

The official body governing Paris down below is the Inspection Générale des Carrières (IGC), founded in the late 1770s by King Louis XVI. The IGC was tasked with mapping and, where needed, propping up the current and ancient (and sometimes forgotten) mining corridors and galleries hiding beneath Paris.
A delightful hiding place
Also around that time, the dead of Paris were getting in the way of the living. At the end of the 18th century, their final destination consisted of about 200 small cemeteries, scattered throughout the city — all bursting at the seams, so to speak. There was no room to bury the newly dead, and the previously departed were fouling up both the water and air around their respective churchyards.

Something radical had to happen. And it did. From 1785 until 1814, the smaller cemeteries were emptied of their bones, which were transported with full funerary pomp to their final resting place in the ancient limestone quarries at Tombe-Issoire. Three large and modern cemeteries were opened to receive the remains of subsequent generations of Parisians: Montparnasse, Père-Lachaise, and Passy.
Who says stacking skulls and bones can't be fun?Credit: Rijin via Wikimedia and licensed under CC BY-SA 4.0
The six million dead Parisians in the Catacombs, from all corners of the capital and across many centuries, together form the world's largest necropolis — their now anonymized skulls and bones methodically stacked, occasionally into whimsical patterns. The Catacombs are fashioned into a memorial to the brevity of life. The message above the entrance reads: Arrête! C'est ici l'empire de la Mort. ("Halt! This is the empire of Death.")

That has not stopped the Catacombs, accessible via a side door to a classicist building on the Avenue du Colonel Henri Rol-Tanguy, making just about every Top 20 list of things to see in Paris.
An underground economy
However, while the Catacombs certainly are the most famous part of the centuries-old network beneath Paris, and in non-pandemic times draw thousands of tourists each day, they constitute just 1.7 km (1 mile) of the 300-km (185-mile) tunneling total.
Subterranean Paris wasn't just used for mining and storing dead people. In the 17th century, Carthusian monks converted the ancient quarries under their monastery into distilleries for the green or yellow liqueur that still carries their name, chartreuse.

Because the mines generally keep a constant cool temperature of around 15° C (60° F), they were also ideal for brewing beer, as happened on a large scale from the end of the 17th century until well into the 20th century. Several caves were dug especially for establishing breweries, and not just because of the ambient temperature: going underground allowed brewers to remain close to their customers without having to pay a premium for real estate up top.
Overview of the Paris Catacombs.Credit: Inspection Générale des Carrières, 1857 / Public domain.
At the end of the 19th century, the underground breweries of the 14th arrondissement alone produced more than a million hectoliters (22 million gallons) per year. One of the most famous of Paris' underground breweries, Dumesnil, stayed in operation until the late 1960s.

In that decade, the network of corridors and galleries south of the Seine, long since abandoned by miners, became the unofficial playground for the young people of Paris. They explored the fantastical world beneath their feet, in some cases via entry points located in their very schools. Fascinated, these cataphiles ("catacomb lovers") read up on old books, explored the subterranean labyrinth, and drew up schematics that were passed around among fellow initiates as reverently as treasure maps.
As Robert Macfarlane writes in Underland, Paris-beneath-their-feet became "a place where people might slip into different identities, assume new ways of being and relating, become fluid and wild in ways that are constrained on the surface."

Some larger caves turned into notorious party zones: a 7-meter-tall gallery below the Val-de-Grâce hospital is widely known as "Salle Z." Over the last few decades, various other locations in subterranean Paris have hosted jazz and rock concerts and rave parties — like no other city, Paris really has an "underground music scene."
Hokusai's Great Wave as the backdrop to the "beach" under Paris.Credit: Reddit
Cataphiles vs. cataphobes

With popularity came increased reports of nuisance and crime — the tunnels provided easy access to telephone cables, which were stolen for the resale value of their copper.
The general public's "discovery" of the underground network led the city of Paris to officially interdict all access by non-authorized persons. That decree dates back to 1955, but the "underground police" have an understanding with seasoned cataphiles. Their main targets are so-called tourists, who by their lack of knowledge expose themselves to risk of injuries or worse, and degrade their surroundings, often leaving loads of litter in their wake.

The understanding does not extend to the IGC. Unlike in the 19th century, when weak cavities were shored up by purpose-built pillars, the policy now is to inject concrete to fill up endangered spaces — thus progressively blocking off parts of the network. That procedure has also been used to separate the Catacombs to prevent "infiltration" of the site by cataphiles.
Many subterranean streets have their own names, signs and all. This is the Rue des Bourguignons (Street of the Burgundians) below the Champs des Capucins (Capuchin Field), neither of which exists on the surface.Credit: Jean-François Gornet via Wikimedia and licensed under
The cataphiles, however, are fighting back. In a game of cat and mouse with the authorities, they are reopening blocked passages and creating chatières ("cat flaps") through which they can squeeze into chambers no longer accessible via other underground corridors.

Catacomb climate control
Alone against the unstoppable tide of concrete, the amateurs of Underground Paris would be helpless. But the fight against climate change may turn the subterranean labyrinths from a liability into an asset — and the City of Paris into an ally.
The UN's 2015 Climate Plan — concluded in Paris, by the way — requires the world to reduce greenhouse gas emissions by 75 percent by 2050. And Paris itself wants to be Europe's greenest city by 2030. More sustainable climate control of our living spaces would be a great help toward both targets. A lot of energy is spent heating houses in winter and cooling them in summer.
This is where the constant temperature of the Parisian tunnels comes in. It's not just good for brewing beer; it's a source of geothermal energy, says Fieldwork, an architectural firm based in Paris. It can be used to temper temperatures, helping to cool houses in summer and warming them in winter.

One catch for the cataphiles: it also works when the underground cavities are filled up with concrete. So perhaps one day, Paris Underground, fully filled up with concrete, will completely fall off the map, reducing the city's formerly real doppelgänger into an air conditioning unit.
Cool in summer, warm in winter: Paris Underground could become Paris A/C.Credit: Fieldwork
Strange Maps #1083
Got a strange map? Let me know at strangemaps@gmail.com.
Meconium contains a wealth of information.
Surprising Science
A new study finds that the contents of an infants' first stool, known as meconium, can predict if they'll develop allergies with a high degree of accuracy.
A metabolically diverse meconium, which indicates the initial food source for the gut microbiota, is associated with fewer allergies.
The research hints at possible early interventions to prevent or treat allergies just after birth.
The prevalence of allergies arising in childhood has increased over the last 50 years, with 30 percent of the human population now having some kind of atopic disease such as eczema, food allergies, or asthma. The cause of this increase is still subject to debate, though it has been associated with a number of factors, including changes to the gut microbiomes of infants.
A new study by Canadian researchers published in Cell Reports Medicine may shed further light on how these allergies develop in children by examining the contents of their first diaper.
The things you do for science
The research team examined the first stool of 100 infants from the CHILD Cohort Study. The first stool of an infant is a thick, green, horrid-looking substance called meconium. It consists of various things that the infant ingests during the second half of gestation. Additionally, it provides not only a snapshot of what the infant was exposed to during that time, but it also reveals what the food sources will be for the initial gut bacteria that colonize the baby's digestive tract.
The content of the meconium was examined and found to contain such varied elements as amino acids, lipids, carbohydrates, and myriad other substances.
A graph of the comparative, summed abundance of different elements in a metabolic pathway after scaling to median abundance of each metabolite. The blue figures are those children without atopy, the yellow ones show the data for those with an atopic condition. Petersen et al.
The authors fed this information into an algorithm that used this data, along with the identities of the bacteria present as well as the baby's overall health, to predict which infants would go on to develop allergies within one year. The algorithm got it right 76 percent of the time.

A way to prevent childhood allergies?
Infants whose meconium had a less diverse metabolic niche the initial microbes to settle in the gut were at the highest risk of developing allergies a year later. Many of these elements were associated with the presence or absence of different bacterial groups in the digestive system of the child, which play an increasingly appreciated role in our overall health and development. The findings were summarized by senior co-author Dr. Brett Finlay:

"Our analysis revealed that newborns who developed allergic sensitization by one year of age had significantly less 'rich' meconium at birth, compared to those who didn't develop allergic sensitization."
The findings could be used to help understand how allergies form and even how to prevent them. Co-author Dr. Stuart Turvey commented on this possibility:
"We know that children with allergies are at the highest risk of also developing asthma. Now we have an opportunity to identify at-risk infants who could benefit from early interventions before they even begin to show signs and symptoms of allergies or asthma later in life."
A model for early childhood allergies
Petersen et al.
As shown above, the authors constructed a model of how they believe metabolites and bacterial diversity help prevent allergies. Increased diversity of metabolic products in the meconium encourage the development of "healthy" families of bacteria, like Peptostreptococcaceae, which in turn promote the development of a healthy and diverse gut microbiome. Ultimately, such diversity decreases the likelihood that a child will develop allergies.
Mind & Brain
If you ask your maps app to find "restaurants that aren't McDonald's," you won't like the result.
Scroll down to load more…