Is Amanda Palmer the Prototypical Artist of the Future?
Is Amanda Palmer (who turns 40 today!), queen of pop-up concerts, kickstarter, and social media, the prototypical artist of the future?
16 April, 2016
"DEAR DOWNLOADER of MUSIC," musician-artist Amanda Palmer writes on her online shop page, "this store is built on a 'pay what you want' philosophy for my digital music. i firmly believe in music being as free as possible. unlocked. shared and spread."  That openness ("honor system.
no judgment.") comes with a purpose: "once you have it, SHARE SHARE SHARE! COPY COPY COPY! SPREAD THE EVIL!!! we are the media."  On this, Amanda Palmer's 40th birthday, it's time to ask if she and her artistic philosophy are the prototype for the artist of the future.
---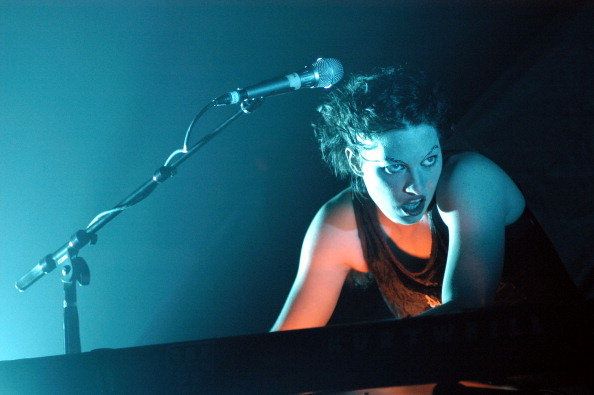 Image: Amanda Palmer of The Dresden Dolls during The Dresden Dolls in Concert at The Tabernacle in Atlanta - May 22, 2005 at The Tabernacle in Atlanta, Georgia, United States. (Photo by Frank Mullen/WireImage)
Say what you will about Amanda Palmer (and she has many detractors as well as many fans), she knows how to get your attention.  From her dramatic onstage presence (example shown above) to her in-your-face punk rock look and sensibility, Palmer demands recognition.  Aligned with that attention-grabbing persona is her highly engaged social media presence on her personal web page, blog, online videos, Facebook page, Twitter, Tumbler, YouTube channel, and Instagram.  She even has an online multimedia "beginner's guide" to her and her work called "Amandalanda."  It's status quo for artists today to branch out into social media, but Amanda Palmer adopted early and often.  For her, social media's always been just as important as the art itself, whereas others see it as just a lower-priority marketing tool.
Most people know Palmer primarily through her popular TED Talk, "The Art of Asking," which has been viewed nearly 8 million times (video above).  Palmer spun that talk off into a bestselling book of the same name.  (For more of Palmer's thoughtful insights on life, the universe, and everything, check out her BigThink podcast.)  The talk's theme of using one's vulnerability to reach out and connect with others touched a nerve with the general public that her loyal fans had understood for years.  The power of Palmer's vulnerability comes from the unfiltered directness of her interaction with her fans.  Since telling her record label Roadrunner Records to "Please Drop Me" in 2008, Palmer's "gotten to know [her]self," she writes on her Patreon page.  "as a creator, as a songwriter, and as a recording artist, i thrive on instant gratification and a direct mainline to my audience without having to go through labels, distributors, the machine, the mass media," Palmer explains. "i love making things and instantly sharing. and i know my fanbase: you're smart, kind, supportive, future-platform embracing people." This mutual trust between artist and audience—cutting out the middleman and the middleman's cut of the profits—not only drives Palmer's creativity, but also might be the paradigm for other artists looking to find an audience without selling their souls to the gatekeepers.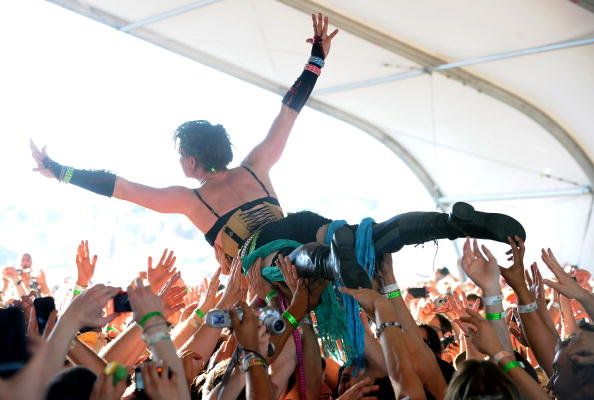 Image: Ndio, CA—April 18: Musician Amanda Palmer performs during day 2 of the Coachella Valley Music & Arts Festival 2009 at the the Empire Polo Club on April 18, 2009 in Indio, California. (Photo by Jeff Kravitz/FilmMagic)
As she mentions in her TED Talk, Palmer couch-surfed long before she hit it big, using The Shadowbox as her connection with her fans around the world since 2001.  Palmer relied on the kindness of strangers believing that allowing others to be generous is as important as being generous yourself.  I love the Coachella image of Palmer appearing to soar while supported by her fans (shown above) because it emblemizes their relationship.  What artist wouldn't want that kind of relationship with their audience?  Talent certainly is a prerequisite, but talent isn't enough.  Palmer's talent for engaging her audiences—for taking that leap of faith into their real and virtual arms—is a talent artists of the future need to cultivate if they hope to survive and thrive.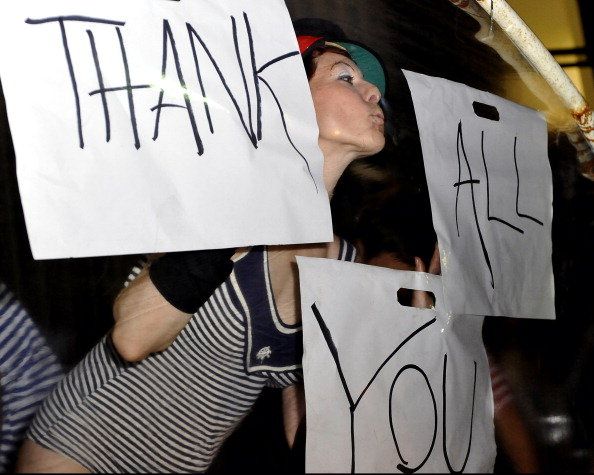 Image: Brooklyn, NY—May 31: Indie-Rocker Amanda Palmer, who raised over $1 million on her Kickstarter Campaign, at a street block Celebration on May 31, 2012 in Brooklyn, New York. (Photo by Jude Domski/Getty Images)
But a free place to crash for a night or a free home-cooked meal only get you so far.  Palmer's 2011 Kickstarter Campaign for her Theatre Is Evil album raised $1,192,793 from 24,883 backers. (Palmer shows her thanks to her backers above.)  But Palmer recognized the Kickstarter model might not be sustainable.  "while kickstarter is awesome for huge one-time projects," she acknowledges. "i don't want to do get repetitive and exhaust the fanbase with 'HEY I'M MAKING YET ANOTHER RECORD, PRE-ORDER HERE....AGAIN!.'"  Instead, she moved on to Patreon, a platform where fans can pledge long-term support for exclusive access to her latest productions arriving roughly once per month (aside from a hiatus to "produce" her first child).  "kickstarter was like a serious date," Palmer explains, "this [Patreon] is like getting married."  Artists facing an economic crunch should take note of Palmer's model as a way of building a patronage base to smooth out the financial ups and downs.  As Palmer points out, Scientist Neil DeGrasse Tyson, Arts Journalist Geeta Dayal, and Photojournalist Martin Gommel also use Patreon, so maybe you should, too.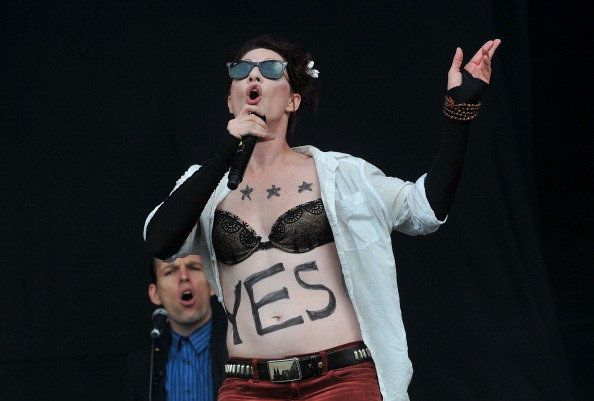 Image: Glastonbury, England—June 28: Amanda F**king Palmer performs live on the Other stage during day 2 of the 2013 Glastonbury Festival at Worthy Farm on June 28, 2013 in Glastonbury, England. (Photo by Jim Dyson/Getty Images)
If nothing else, Amanda Palmer stands as a prototypical attitude for the artist of the future, a huge "YES" (shown above) when others say "NO."  "it is, in these days of negativity and tumblr outrage, the bright side of the net," Palmer writes.  "it is how the web can really *save artists* in an art-economy that is floundering."  For artists, that positivity flings a life-preserver of hope into the sea of doubts.  Palmer's example also speaks to audiences hoping for art that will continue to engage and inspire them.  "AND it means YOU [the audience] need to step up and support the artists you love, the political cartoonists you want to see bravely satirizing the system, the painters you want to see reflecting their realities, the musicians you want filling your hearts and your speakers, the journalists you want to see writing about the state of the world," she exclaims.  If all artists worked more like Amanda Palmer (and all lovers of art acted like her fans), the state of the arts of today and the future would be a lot healthier and a lot more hopeful.  Happy Birthday, Amanda Palmer!  May you give birth to a modern arts revolution!
[Image at top of post: Berlin, Germany, November 04: Amanda Palmer performs with the Grand Theft Orchestra at Kesselhaus on November 4, 2013 in Berlin, Germany. (Photo by Adam Berry/Redferns via Getty Images)]
[Please follow me on Twitter (@BobDPictureThis) and Facebook (Art Blog By Bob) for more art news and views.]
What can 3D printing do for medicine? The "sky is the limit," says Northwell Health researcher Dr. Todd Goldstein.
Northwell Health
Sponsored by Northwell Health
Medical professionals are currently using 3D printers to create prosthetics and patient-specific organ models that doctors can use to prepare for surgery.
Eventually, scientists hope to print patient-specific organs that can be transplanted safely into the human body.
Northwell Health, New York State's largest health care provider, is pioneering 3D printing in medicine in three key ways.
A 2019 ranking of all 50 states' education systems shows the Sunshine State serves its college students well.
Politics & Current Affairs
Florida may be the butt of many jokes, but its higher education system is second to none.
However, the state's PreK-12 education lacks comparatively, giving Massachusetts the top spot for the best education overall.
Americans believe their state governments should prioritize education, but much work needs to be done to catch up to other countries.
Some books had a profound influence on Einstein's thinking and theories.
Getty Images
Culture & Religion
Einstein had a large library and was a voracious reader.
The famous physicist admitted that some books influenced his thinking.
The books he preferred were mostly philosophical and scientific in nature.
Mega-rich entrepreneurs are taking us where no human being has gone before.
Videos
During the first golden era of space exploration, we went to the moon. Then we sort of dropped the ball for 50 years.
The problem is space travel is very expensive, especially the way governments do space travel.
Because it costs $10,000 to put a pound of anything into orbit around the planet, we need to have an infusion of public and private funds. That's where billionaires such as Elon Musk and Jeff Bezos come into the picture. With their help, we have new energies, new strategies, and new plans to go back into outer space.
Big think's weekly newsletter.
Get smarter faster from the comfort of your inbox.
See our newsletter privacy policy
here
Most Popular
Most Recent
Big think's weekly newsletter.
Get smarter faster from the comfort of your inbox.
See our newsletter privacy policy
here
© Copyright 2007-2019 & BIG THINK, BIG THINK EDGE,
SMARTER FASTER trademarks owned by The Big Think, Inc. All rights reserved.