How dark was Degas' dark side?
There's a strange beauty, yes, but also a violence to Degas' technique. Where did that violence come from?
02 May, 2016
Edgar Degas, known best publicly today as the painter of those pretty ballerinas on Impressionists calendars and museum souvenirs worldwide, earned a powerful reputation for draftsmanship during his day. Degas nearly re-legitimized pastel as a serious medium after a long period it was considered the domain of women and children.
He tried and mastered every medium he touched, including the new, inky medium of monotype. Writing years after Degas' death, French poet-critic Stéphane Mallarmé remarked that despite being already a "master of drawing," Degas still pursued "delicate lines and movements exquisite or grotesque" in his late monotypes, arriving at "a strange new beauty." At the 2016 exhibition Edgar Degas: A Strange New Beauty, the Museum of Modern Art, New York, inadvertently raises the "exquisite or grotesque" question of just how strange that "strange new beauty" was. How dark was Degas dark side?
---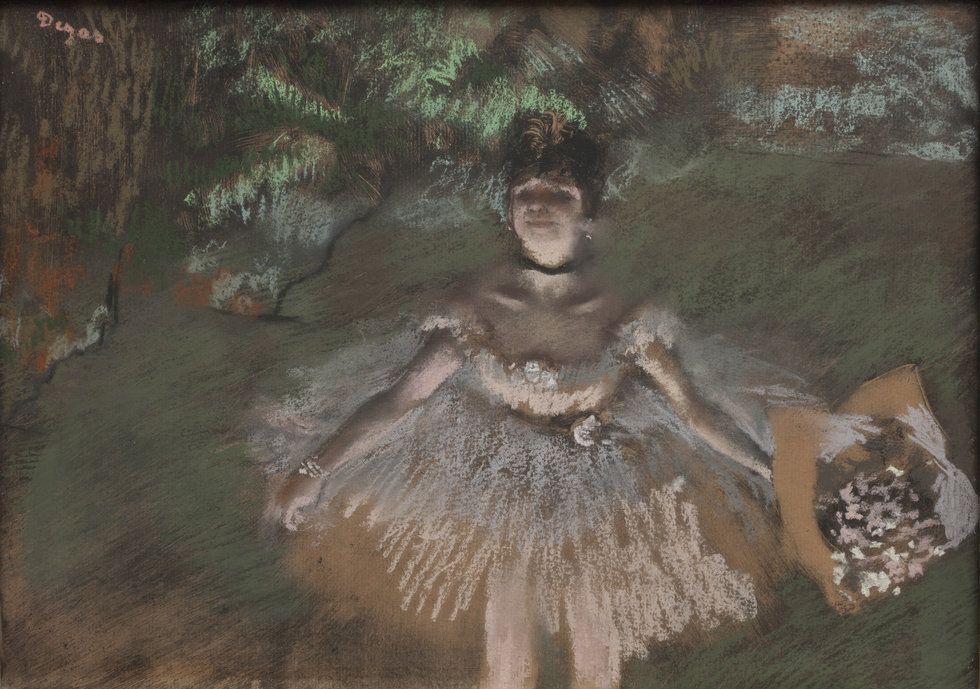 Image courtesy: Museum of Modern Art, New York
Image: Edgar Degas (French, 1834–1917). Dancer Onstage with a Bouquet, c.1876. Pastel over monotype on laid paper. Plate: 10 5/8 × 14 7/8 in. (27 × 37.8 cm). Private collection.
Of all the Impressionists, Degas seems the most puzzling in some ways. Immensely talented, everything seemed to come forth with ease, although his draftsmanship clearly came from years and years of intense study and experimentation. Technological innovations in monotype, a centuries-old process of printing from an etched plate, intrigued Degas late in his career with new possibilities. Throwing off the academic style of drawing, Degas took to monotype with radical zest, scraping, scratching, wiping, removing, and even fingerprinting parts of the images freshly pulled from the printing press. Perhaps Degas' similar infatuation with photography — still in its infancy of blurs and accidents — inspired Degas to do similar things with monotypes.
Exhibition curator Jodi Hauptman describes Degas' "mania for monotype" circa 1876 in the exhibition's catalogue's introduction and pictures him "black ink to his elbows, staining his suit, dripping onto his shoes." But how down and dirty was Degas willing to take such classic Degas' images as the Dancer Onstage with a Bouquet (shown above)?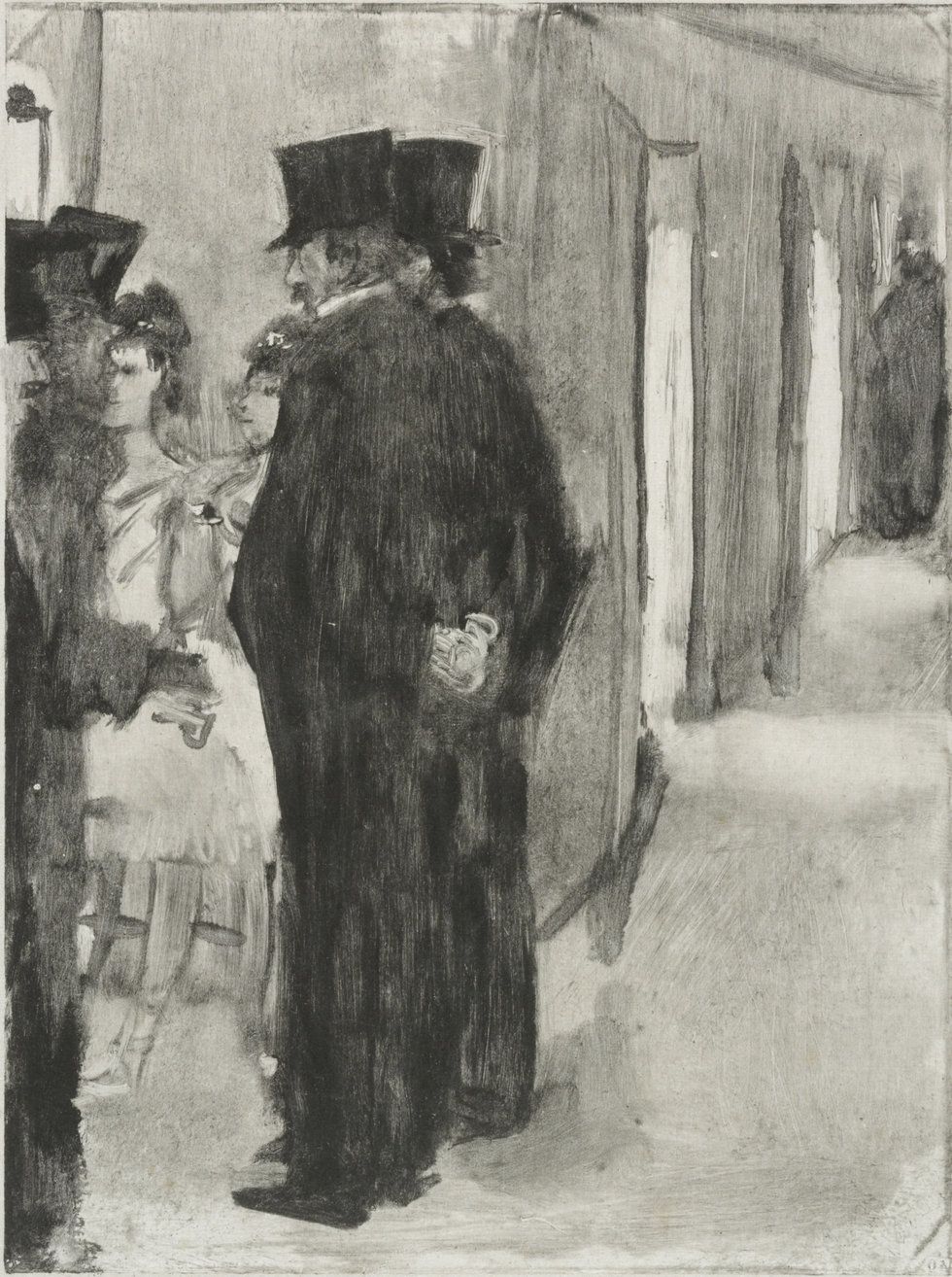 Image courtesy: Museum of Modern Art, New York
Image: Edgar Degas (French, 1834–1917). Pauline and Virginie Conversing with Admirers (Pauline et Virginie Cardinal bavardant avec des admirateurs), c. 1876–77. Proposed illustration for The Cardinal Family (La Famille Cardinal). Monotype on paper. Plate: 8 7/16 x 6 5/16 in. (21.5 x 16.1 cm); sheet: 11 3/10 x 7 1/2 in. (28.7 x 19.1 cm). Harvard Art Museums/Fogg Museum, Cambridge, Massachusetts. Bequest of Meta and Paul J. Sachs.
There's always been a dark side to Degas' subject matter. Behind the scenes of the beautiful onstage pictures of graceful ballerinas are the backstage images of practice (where young female bodies endured debilitating pain in the name of perfection) and pursuit (where young female bodies endured the desiring gaze of men). In Pauline and Virginie Conversing with Admirers (shown above), we get another scene of wealthy and influential men gaining access to the exclusive backstage area to meet the performers. Such images hold a sexual charge when painted in color, but there's a different vibe coming across in the monotypes.
Aside from the fact that the dark-suited men physically obscure the dancers from the perspective of the viewer, there's an overall feeling of darkness falling upon the scene. The pretense of pleasant conversation and admiration of the dance drowns in the inky blackness of the monotype. We know exactly what these men are after in these prints, whereas the paintings and pastels of the same subject literally color it over with nicer possibilities.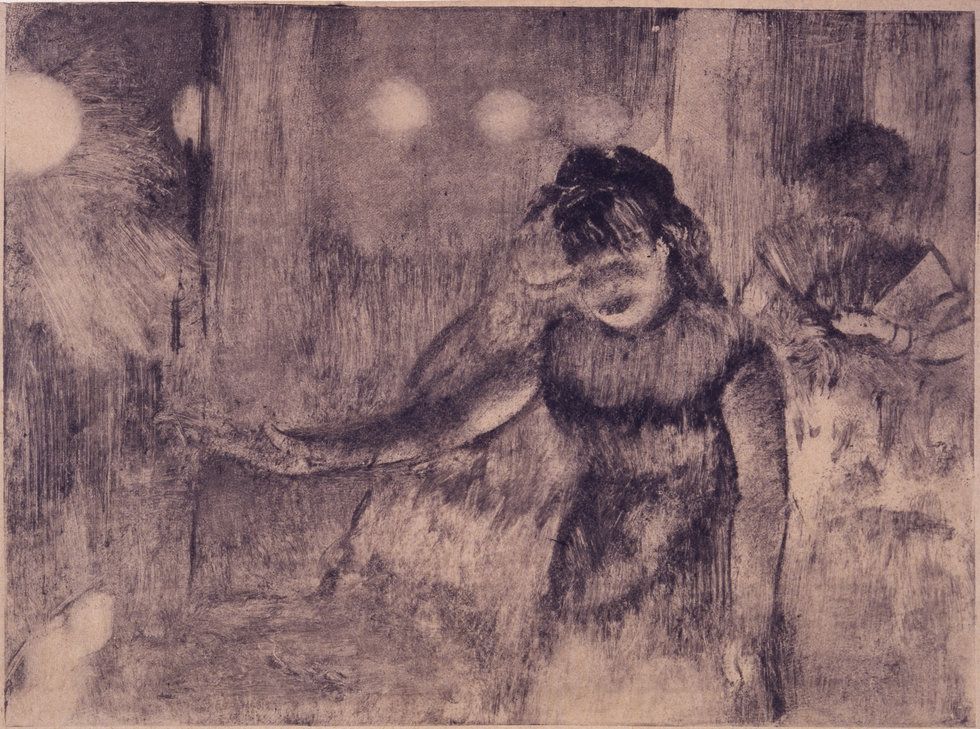 Image courtesy: Museum of Modern Art, New York
Image: Edgar Degas (French, 1834–1917). Café Singer, c.1877‑78. Monotype on paper. Plate: 4 3/4 × 6 3/8 in. (12 × 16.2 cm). Private collection.
Elsewhere in the catalogue, Richard Kendall quotes Camille Pissarro writing to his son Lucien in 1891 that the politically conservative Degas was "such an anarchist! In art, of course, and without knowing it!" Degas held all the conservative views of his contemporaries on women, race, and politics despite working on the cutting edge of art. Popular art forms, such as ballet and café shows, provided material for "anarchist" Degas to comment on subtly. Or not so subtly, as in his monotype Café Singer (shown above). Whereas Degas' contemporary Henri de Toulouse-Lautrec could capture the participatory vibrancy and fun of the café, there's always an outsider-looking-in feel to Degas' pictures, made more so by the ominous looking singer here, who is faceless and almost monstrous beneath a fog of distorting scratching and wiping away that nearly obliterates her.
There's a strange beauty, yes, but also a violence to Degas' technique. Where did that violence come from?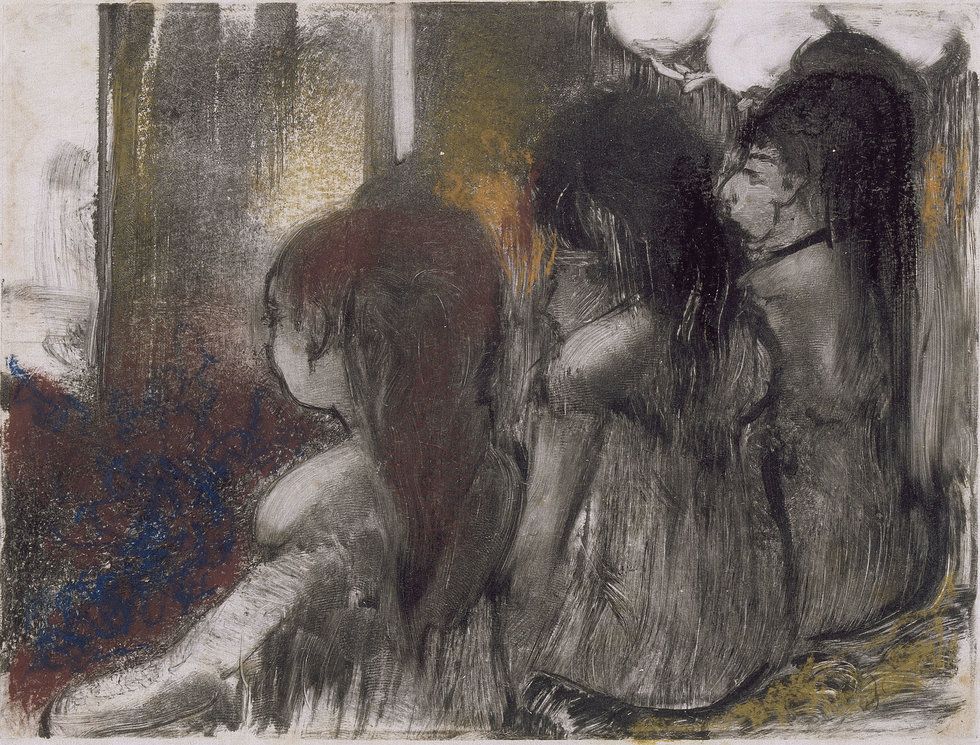 Image courtesy: Museum of Modern Art, New York
Image: Edgar Degas (French, 1834–1917). Three Women in a Brothel, Seen from Behind (Trois filles assises de dos), c. 1877–79. Pastel over monotype on paper. 6 5/16 x 8 7/16 in. (16.1 x 21.4 cm). Musée Picasso, Paris.
Plenty of ink's been spilled over Degas' misogyny. (A fuller, balanced run-down can be read here.) Degas never married because he hated women — a misogynist born into the misogynist society of late 19th-century France — goes one side. Degas reflected his times, but he also respected and encouraged the talents of some female artists, including Mary Cassatt, goes the other side. Judging solely by the pictures, however, it's hard not to see a dark side to Degas' view of women, as in Three Women in a Brothel, Seen from Behind (shown above).
Nameless and faceless, identified solely by their sexual profession, these women lack all humanity. The acid-colored pastel highlights dashed across the scratched surface make them seem almost monstrous. Where prostitution is subtly hinted to some degree in the backstage ballet pictures, here you see the profession unmasked. In the medium of monotype, Degas visually links ballerinas, singers, and prostitutes more clearly (albeit through murky ink and distortions) than anywhere else in his oeuvre.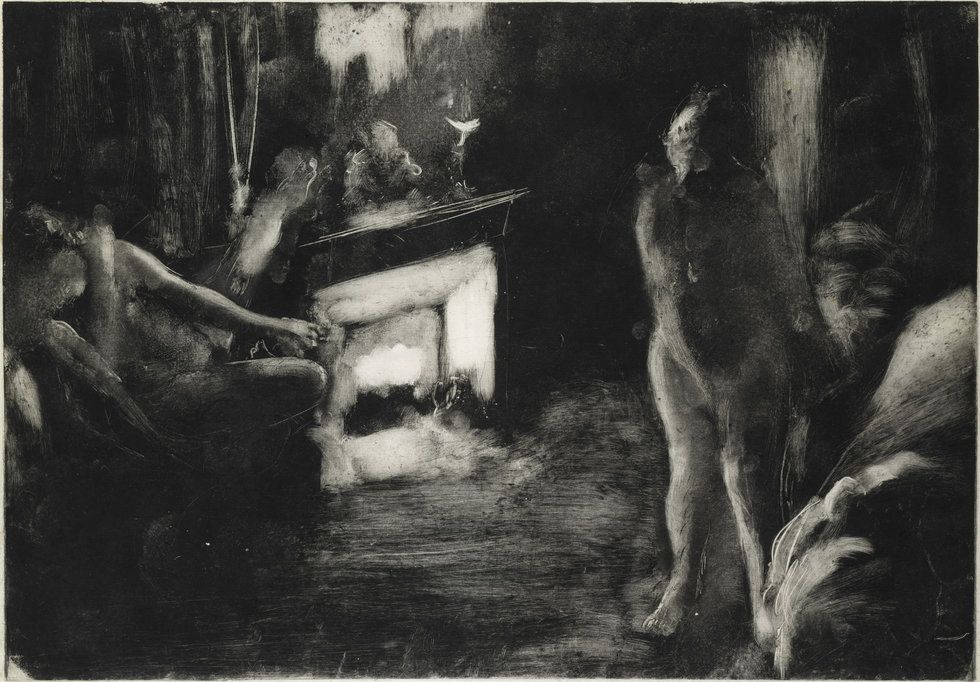 Image courtesy: Museum of Modern Art, New York
Image: Edgar Degas (French, 1834–1917). The Fireside (Le Foyer [La Cheminée]), c. 1880–85. Monotype on paper. Plate: 16 3/4 x 23 1/16 in. (42.5 x 58.6 cm), sheet: 19 3/4 x 25 1/2 in. (50.2 x 64.8 cm). The Metropolitan Museum of Art, New York. Harris Brisbane Dick Fund, The Elisha Whittelsey Collection, The Elisha Whittelsey Fund, and C. Douglas Dillon Gift, 1968 (68.670).
Hauptman links Degas' infatuation with monotype to the combination of Degas having to give in to the accidents of the monotype medium while trying to control them with his own rule-breaking innovations, calling it a "combination of submission and transgression that constitutes his 'untidy intimacy,' this relationship between creator and what he uses to create that fuels his production." Such "untidy intimacy" appears in works such as The Fireside (shown above). A naked woman clearly appears in the room, seen from behind on the right. Is the nude figure seated at left another woman? Is it a man observing the nude woman, but from the front? It's hard to tell. Also, it's a room, a place of intimacy, but the darkness broken by the light streaming from the fireplace renders the scene literally hellish.
"Degas made his most daring application of the monotype medium in depicting these female subjects," Hauptman suggests. "The private acts of bathing and grooming became an opportunity to portray bodies in unusual and awkward positions — bones and muscles stretched, heads and limbs obscured — and to dramatically illuminate their environs." Yet, whereas Renoir, for example, shows an affiliation for the female form in his distortions—a continuous exploration of possibilities of the flesh in paint—Degas' experimentation seems a rejection of the flesh, a condemnation to hell.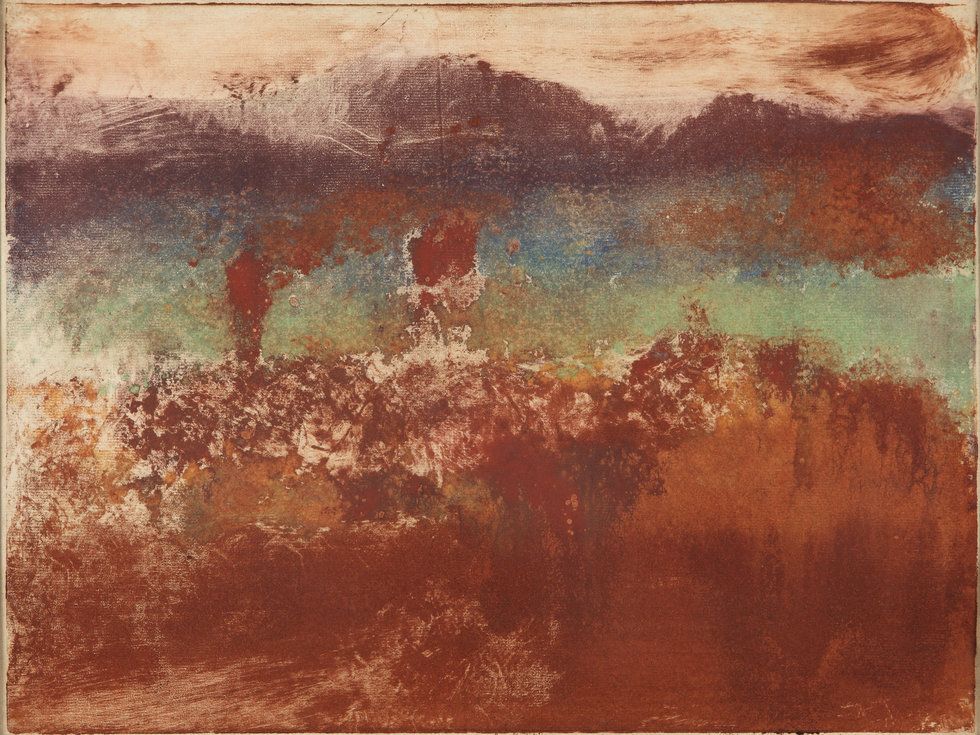 Image: Edgar Degas (French, 1834–1917). Autumn Landscape (L'Estérel), 1890. Monotype in oil on paper. Plate: 11 7/8 x 15 3/4 in. (30.2 x 40 cm), sheet: 12 1/2 x 16 1/4 in. (31.8 x 41.3 cm). Private collection.
Degas' "monotypes represent the area of his work in which he was most free, most alive, and most reckless," critic Arsene Alexandre wrote shortly after Degas' death, "not hampered by any rule." Such freedom via monotype led to fascinating experiments such as Autumn Landscape (shown above), which seem decades before their time in their abstraction, as if Degas could time travel to the 1950s of the Abstract Expressionists and hang out with Jackson Pollock. Yet, as Edgar Degas: A Strange New Beauty shows, for all the strange beauty Degas could wring from the landscape with monotypes, when it came to people—especially women—the works can tell a different, more disturbing story. Looking at these monotypes anew (and this is the first U.S. show in 50 years of Degas' monotypes) may have you looking at that Impressionists calendar in a whole different light.
What can 3D printing do for medicine? The "sky is the limit," says Northwell Health researcher Dr. Todd Goldstein.
Northwell Health
Sponsored by Northwell Health
Medical professionals are currently using 3D printers to create prosthetics and patient-specific organ models that doctors can use to prepare for surgery.
Eventually, scientists hope to print patient-specific organs that can be transplanted safely into the human body.
Northwell Health, New York State's largest health care provider, is pioneering 3D printing in medicine in three key ways.
The periodic table was a lot simpler at the beginning of the universe.
Great ideas in philosophy often come in dense packages. Then there is where the work of Marcus Aurelius.
(Getty Images)
Personal Growth
Meditations is a collection of the philosophical ideas of the Roman Emperor Marcus Aurelius.
Written as a series of notes to himself, the book is much more readable than the dry philosophy most people are used to.
The advice he gave to himself 2,000 years ago is increasingly applicable in our hectic, stressed-out lives.
Can dirt help us fight off stress? Groundbreaking new research shows how.
University of Colorado Boulder
Surprising Science
New research identifies a bacterium that helps block anxiety.
Scientists say this can lead to drugs for first responders and soldiers, preventing PTSD and other mental issues.
The finding builds on the hygiene hypothesis, first proposed in 1989.
Are modern societies trying too hard to be clean, at the detriment to public health? Scientists discovered that a microorganism living in dirt can actually be good for us, potentially helping the body to fight off stress. Harnessing its powers can lead to a "stress vaccine".
Researchers at the University of Colorado Boulder found that the fatty 10(Z)-hexadecenoic acid from the soil-residing bacterium Mycobacterium vaccae aids immune cells in blocking pathways that increase inflammation and the ability to combat stress.
The study's senior author and Integrative Physiology Professor Christopher Lowry described this fat as "one of the main ingredients" in the "special sauce" that causes the beneficial effects of the bacterium.
The finding goes hand in hand with the "hygiene hypothesis," initially proposed in 1989 by the British scientist David Strachan. He maintained that our generally sterile modern world prevents children from being exposed to certain microorganisms, resulting in compromised immune systems and greater incidences of asthma and allergies.
Contemporary research fine-tuned the hypothesis, finding that not interacting with so-called "old friends" or helpful microbes in the soil and the environment, rather than the ones that cause illnesses, is what's detrimental. In particular, our mental health could be at stake.
"The idea is that as humans have moved away from farms and an agricultural or hunter-gatherer existence into cities, we have lost contact with organisms that served to regulate our immune system and suppress inappropriate inflammation," explained Lowry. "That has put us at higher risk for inflammatory disease and stress-related psychiatric disorders."
University of Colorado Boulder
Christopher Lowry
This is not the first study on the subject from Lowry, who published previous work showing the connection between being exposed to healthy bacteria and mental health. He found that being raised with animals and dust in a rural environment helps children develop more stress-proof immune systems. Such kids were also likely to be less at risk for mental illnesses than people living in the city without pets.
Lowry's other work also pointed out that the soil-based bacterium Mycobacterium vaccae acts like an antidepressant when injected into rodents. It alters their behavior and has lasting anti-inflammatory effects on the brain, according to the press release from the University of Colorado Boulder. Prolonged inflammation can lead to such stress-related disorders as PTSD.
The new study from Lowry and his team identified why that worked by pinpointing the specific fatty acid responsible. They showed that when the 10(Z)-hexadecenoic acid gets into cells, it works like a lock, attaching itself to the peroxisome proliferator-activated receptor (PPAR). This allows it to block a number of key pathways responsible for inflammation. Pre-treating the cells with the acid (or lipid) made them withstand inflammation better.
Lowry thinks this understanding can lead to creating a "stress vaccine" that can be given to people in high-stress jobs, like first responders or soldiers. The vaccine can prevent the psychological effects of stress.
What's more, this friendly bacterium is not the only potentially helpful organism we can find in soil.
"This is just one strain of one species of one type of bacterium that is found in the soil but there are millions of other strains in soils," said Lowry. "We are just beginning to see the tip of the iceberg in terms of identifying the mechanisms through which they have evolved to keep us healthy. It should inspire awe in all of us."
Check out the study published in the journal Psychopharmacology.
Big think's weekly newsletter.
Get smarter faster from the comfort of your inbox.
See our newsletter privacy policy
here
Most Popular
Most Recent
Big think's weekly newsletter.
Get smarter faster from the comfort of your inbox.
See our newsletter privacy policy
here
© Copyright 2007-2019 & BIG THINK, BIG THINK EDGE,
SMARTER FASTER trademarks owned by The Big Think, Inc. All rights reserved.