Study confirms lifting weights reduces depression
A review of 33 trials confirms that loading your body does your brain good.
11 June, 2018
Last week was a bad week for depression. We lost two cultural icons. Kate Spade's name is ubiquitous in the fashion world. A few days later, waking up at 5 am to discover that Anthony Bourdain took his own life made me do a double, then triple take at my screen. The grief remains palpable for many of us. 
---
There is no singular reason for suicide. In a recent episode of Revisionist History, Malcolm Gladwell discusses the insidious, deadly effects of encephalopathy. Football players suffer tragic consequences from repetitive poundings taken on the field. One of the most emotional episodes of Vice on HBO dealt with the right to die. Euthanasia should be legal for the terminally ill.
But what of us who just feel dissatisfied with life to the point of suffering from a chronic lack of meaning? Depression is often at the root of suicide. No matter how Logic's massive hit positively impacted the world, suicide rates continue to climb. This shouldn't be surprising, considering depression rates have also been increasing. That doesn't make it any less shocking when you run into the consequences of statistics once again. You rarely know the depths of someone else's pain. 
While correlation does not always imply causation, these two increasing rates coincide with another: the Internet. Trace the footsteps of each new advancement—widespread adoption of the cell phone, the introduction of the iPhone, the contagion effect of social media—and you find increasing dissatisfaction across the nation. Time spent on devices must be subtracted from other activities, and often those activities involve physical movement. Convenience is never free.
When people say we're disconnected from nature, what they really mean is we no longer move our bodies. We can pinpoint any geographical location on the planet on a screen, yet what good is this knowledge if we never pass through it? Every digital breakthrough seems to render us more immobile. Some point to a loss of meaning as the philosophical underpinning of suicide, yet what meaning is possible without movement? Even thinking triggers motor neurons. We were built for movement.
An ability to move through our environment created the brains we have. Spatial navigation forms and informs important traits: memory, endurance, creativity, dexterity, ingenuity. Movement makes us healthy. When surrendering this birthright, of course we'll feel depressed.
This is not to claim that lack of movement is the only cause of depression. But it's certainly an important one. What also shouldn't surprise us is that exercise reduces rates of depression. Reclaiming what is inherently ours makes us feel good about ourselves. A lifting of depression has been observed in running, yoga, meditation, even walking through forests. Now we can add weightlifting to this list. 
This isn't the first research paper to address this issue; I wrote about prior studies on this site years ago. But this review of dozens of studies offers the first quantitative synthesis of the relationship between resistance exercise training (RET) and depression. Covering 33 randomized clinical trials with 1,877 participants, this is the first time we have a large pool to investigate, and the results are satisfying.
The research paper, led by graduate student Brett Gordon at Ireland's University of Limerick, notes that 300 million people suffer from depression worldwide, costing the global economy $118 billion. Medication, the authors continue, can be expensive and efficacy is questionable, while psychotherapy is sometimes inaccessible as well as costly. A gym membership might not be the end-all, but it is certainly less expensive and undoubtedly healthier.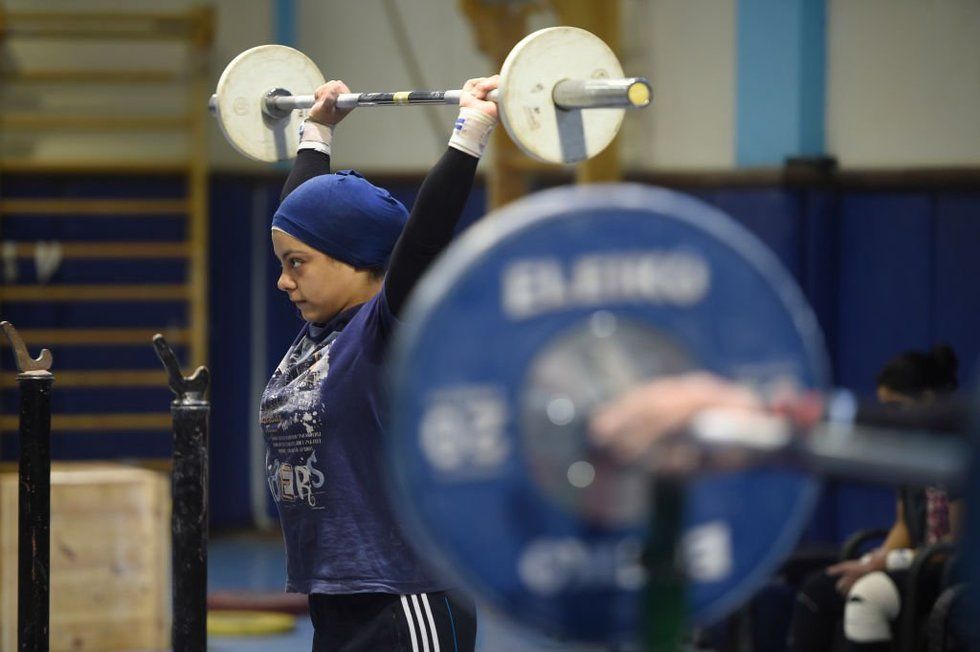 Egyptian female weightlifter Sara Samir, known in competitions as Sara Ahmed, 20, takes part in a training session at the Maadi Olympic centre in Cairo on April 18, 2018. (Photo by Khaled Desouki/AFP/Getty Images)
After reviewing the literature, Gordon and team found that regardless of age, sex, or health status, RET is "associated with a significant reduction in depressive symptoms." The largest gains were found in adults with elevated symptoms, which gave the researchers hope that RET "may be particularly helpful for reducing depression symptoms in people with greater depressive symptoms." They also found that supervised workout sessions resulted in larger gains than in unsupervised sessions.
As Gordon says, it's impossible to blind people for this sort of research—you know who is lifting weights and who is not. As with most studies, the placebo effect could be at work. But given all we know about the benefits of exercise, this is a placebo with few side effects (overexertion and muscle strains being the most prominent). The benefits outweigh any potential risk.
The neurochemistry of movement is beneficial to everyone, including those not suffering from depression. It could be argued that regular exercise staves off depressive symptoms from regular gym goers so that problems never arise. While weightlifting is often associated with "bulking up," such ambitions were absent from study participants: "All that mattered was showing up and completing the workouts."
Though we often associate lifting weights with a particular mindset, historically humans always loaded their bodies—carrying water from the river, chopping wood, clearing forests, building shelter. It's only until quite recently when all physical exertion was removed from our daily activities. Trace the depression scale from the beginning of the Industrial Revolution and you might find further data to contemplate. Biologically and emotionally we are designed to use our bodies. The results of not doing so are unlikely to be positive.
--
What can 3D printing do for medicine? The "sky is the limit," says Northwell Health researcher Dr. Todd Goldstein.
Northwell Health
Sponsored by Northwell Health
Medical professionals are currently using 3D printers to create prosthetics and patient-specific organ models that doctors can use to prepare for surgery.
Eventually, scientists hope to print patient-specific organs that can be transplanted safely into the human body.
Northwell Health, New York State's largest health care provider, is pioneering 3D printing in medicine in three key ways.
A recent study gives new meaning to the saying "fake it 'til you make it."
Pixabay
Surprising Science
The study involves four experiments that measured individuals' socioeconomic status, overconfidence and actual performance.
Results consistently showed that high-class people tend to overestimate their abilities.
However, this overconfidence was misinterpreted as genuine competence in one study, suggesting overestimating your abilities can have social advantages.
Is this proof of a dramatic shift?
Strange Maps
Map details dramatic shift from CNN to Fox News over 10-year period
Does it show the triumph of "fake news" — or, rather, its defeat?
A closer look at the map's legend allows for more complex analyses
Dramatic and misleading
Image: Reddit / SICResearch
The situation today: CNN pushed back to the edges of the country.
Over the course of no more than a decade, America has radically switched favorites when it comes to cable news networks. As this sequence of maps showing TMAs (Television Market Areas) suggests, CNN is out, Fox News is in.
The maps are certainly dramatic, but also a bit misleading. They nevertheless provide some insight into the state of journalism and the public's attitudes toward the press in the US.
Let's zoom in:
It's 2008, on the eve of the Obama Era. CNN (blue) dominates the cable news landscape across America. Fox News (red) is an upstart (°1996) with a few regional bastions in the South.
By 2010, Fox News has broken out of its southern heartland, colonizing markets in the Midwest and the Northwest — and even northern Maine and southern Alaska.
Two years later, Fox News has lost those two outliers, but has filled up in the middle: it now boasts two large, contiguous blocks in the southeast and northwest, almost touching.
In 2014, Fox News seems past its prime. The northwestern block has shrunk, the southeastern one has fragmented.
Energised by Trump's 2016 presidential campaign, Fox News is back with a vengeance. Not only have Maine and Alaska gone from entirely blue to entirely red, so has most of the rest of the U.S. Fox News has plugged the Nebraska Gap: it's no longer possible to walk from coast to coast across CNN territory.
By 2018, the fortunes from a decade earlier have almost reversed. Fox News rules the roost. CNN clings on to the Pacific Coast, New Mexico, Minnesota and parts of the Northeast — plus a smattering of metropolitan areas in the South and Midwest.
"Frightening map"
Image source: Reddit / SICResearch
This sequence of maps, showing America turning from blue to red, elicited strong reactions on the Reddit forum where it was published last week. For some, the takeover by Fox News illustrates the demise of all that's good and fair about news journalism. Among the comments?
"The end is near."
"The idiocracy grows."
"(It's) like a spreading disease."
"One of the more frightening maps I've seen."
For others, the maps are less about the rise of Fox News, and more about CNN's self-inflicted downward spiral:
"LOL that's what happens when you're fake news!"
"CNN went down the toilet on quality."
"A Minecraft YouTuber could beat CNN's numbers."
"CNN has become more like a high-school production of a news show."
Not a few find fault with both channels, even if not always to the same degree:
"That anybody considers either of those networks good news sources is troubling."
"Both leave you understanding less rather than more."
"This is what happens when you spout bullsh-- for two years straight. People find an alternative — even if it's just different bullsh--."
"CNN is sh-- but it's nowhere close to the outright bullsh-- and baseless propaganda Fox News spews."
"Old people learning to Google"
Image: Google Trends
CNN vs. Fox News search terms (200!-2018)
But what do the maps actually show? Created by SICResearch, they do show a huge evolution, but not of both cable news networks' audience size (i.e. Nielsen ratings). The dramatic shift is one in Google search trends. In other words, it shows how often people type in "CNN" or "Fox News" when surfing the web. And that does not necessarily reflect the relative popularity of both networks. As some commenters suggest:
"I can't remember the last time that I've searched for a news channel on Google. Is it really that difficult for people to type 'cnn.com'?"
"More than anything else, these maps show smart phone proliferation (among older people) more than anything else."
"This is a map of how old people and rural areas have learned to use Google in the last decade."
"This is basically a map of people who don't understand how the internet works, and it's no surprise that it leans conservative."
A visual image as strong as this map sequence looks designed to elicit a vehement response — and its lack of context offers viewers little new information to challenge their preconceptions. Like the news itself, cartography pretends to be objective, but always has an agenda of its own, even if just by the selection of its topics.
The trick is not to despair of maps (or news) but to get a good sense of the parameters that are in play. And, as is often the case (with both maps and news), what's left out is at least as significant as what's actually shown.
One important point: while Fox News is the sole major purveyor of news and opinion with a conservative/right-wing slant, CNN has more competition in the center/left part of the spectrum, notably from MSNBC.
Another: the average age of cable news viewers — whether they watch CNN or Fox News — is in the mid-60s. As a result of a shift in generational habits, TV viewing is down across the board. Younger people are more comfortable with a "cafeteria" approach to their news menu, selecting alternative and online sources for their information.
It should also be noted, however, that Fox News, according to Harvard's Nieman Lab, dominates Facebook when it comes to engagement among news outlets.
CNN, Fox and MSNBC
Image: Google Trends
CNN vs. Fox (without the 'News'; may include searches for actual foxes). See MSNBC (in yellow) for comparison
For the record, here are the Nielsen ratings for average daily viewer total for the three main cable news networks, for 2018 (compared to 2017):

Fox News: 1,425,000 (-5%)
MSNBC: 994,000 (+12%)
CNN: 706,000 (-9%)
And according to this recent overview, the top 50 of the most popular websites in the U.S. includes cnn.com in 28th place, and foxnews.com in... 27th place.
The top 5
, in descending order, consists of google.com, youtube.com, facebook.com, amazon.com and yahoo.com — the latter being the highest-placed website in the News and Media category.
If you thought your mother was pushy in her pursuit of grandchildren, wait until you learn about bonobo mothers.
Pixabay
Surprising Science
Mother bonobos have been observed to help their sons find and copulate with mates.
The mothers accomplish this by leading sons to mates, interfering with other males trying to copulate with females, and helping sons rise in the social hierarchy of the group.
Why do mother bonobos do this? The "grandmother hypothesis" might hold part of the answer.
Big think's weekly newsletter.
Get smarter faster from the comfort of your inbox.
See our newsletter privacy policy
here
Most Popular
Most Recent
Big think's weekly newsletter.
Get smarter faster from the comfort of your inbox.
See our newsletter privacy policy
here
© Copyright 2007-2019 & BIG THINK, BIG THINK EDGE,
SMARTER FASTER trademarks owned by The Big Think, Inc. All rights reserved.
//This will actually fire event. Should be called after consent was verifed