Big ideas.
Once a week.
Subscribe to our weekly newsletter.
Vegetarian diet is associated with poorer health, Austrian researchers say
Could vegetarianism actually lead to a lower quality of life?
27 November, 2017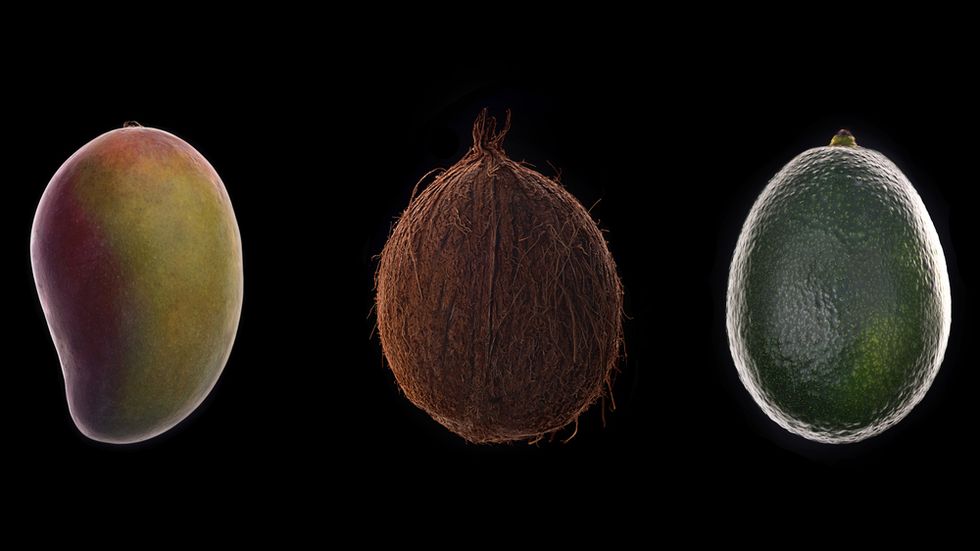 Every month an onslaught of new nutrition news dominates the health blogosphere. Fish will kill you. Fish are heart-healthy. Coconut oil is like manna from heaven. Coconut oil will definitely give you a heart attack. Red meat is the devil, unless it's raw, in which case you can survive solely from it. Kelp. And so on.
---
Part of the challenge of reading the studies this news is based on — and, often, not based on at all — is recognizing that small sample groups do not always make for solid science. This is especially true with our diets, as environment, activity level, and genetics all play a role in how we interact with our food choices. Some people simply process certain foods better than others. There is no singular ideal diet.
Michael Pollan's famous advice — "Eat food. Not too much. Mostly plants." — has become an oft-repeated mantra of the modern era. The first part is a reminder to eat actual food, not the processed chemistry dominating supermarket shelves. The second is personal responsibility: eat until you're full, not until your plate is clean. Don't snack so much. Recognize the link between emotional problems and binge eating, and address them simultaneously.
Now what does "mostly plants" actually entail?
A team of Austrian researchers based at the Institute of Social Medicine and Epidemiology, Medical University Graz, wanted to find out. Their meta-analysis of over 15,000 Austrians, age 15 and older, revealed important insights into what all-plant, mostly plant, and occasional-plant diets mean for our health.
Of those 15,000+ Austrian citizens, the team analyzed the data of 1,320 individuals: 330 vegetarians, 330 carnivores who eat a lot of fruits and vegetables, 330 carnivores who do not eat much meat and an equal number who eat a lot of meat. They took age, sex, and socioeconomic factors into consideration when matching groups. In the end 76.4 percent of this group were female, with 40 percent being under age 30. Another 35 percent fell between the ages of 30 and 50.
Interestingly, while there were positive benefits associated with vegetarianism, the group concludes the following:
Overall, our findings reveal that vegetarians report poorer health, follow medical treatment more frequently, have worse preventive health care practices, and have a lower quality of life… Our results have shown that vegetarians report chronic conditions and poorer subjective health more frequently.
They also discovered "significantly higher" incidences of cancer in vegetarians, as well as increased rates of anxiety disorder and depression, although they note that this is inconsistent with other research. They did point out another study which shows an increased risk of mental disorders in vegetarians. In general, vegetarians suffer from more chronic conditions and take more medication than even occasional meat eaters.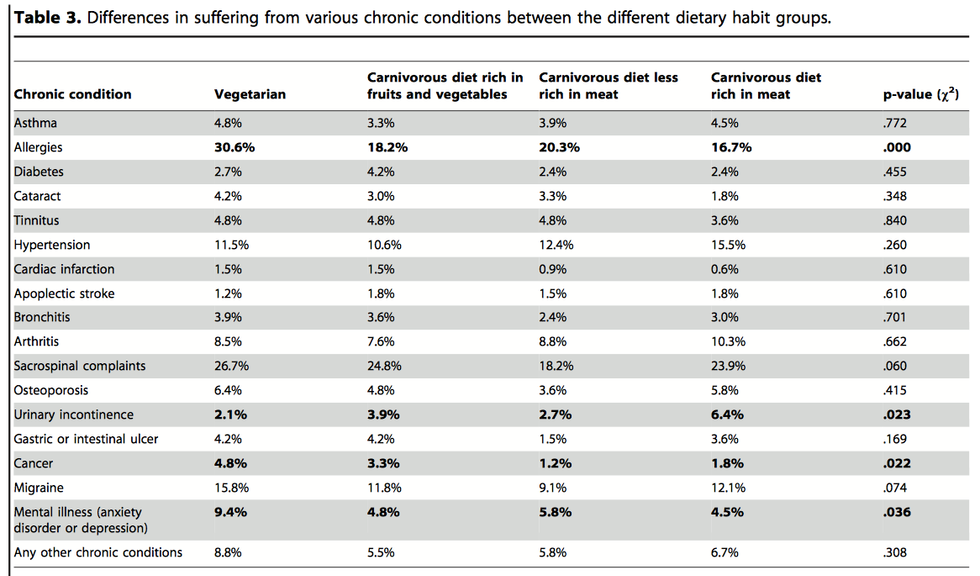 It's not all bad news. Vegetarians have a lower body-mass index and suffer less from cholesterol problems, hypertension, coronary artery disease, and type 2 diabetes. Vegetarians enjoy a higher socioeconomic status, though correlation might not equal causation: a lot of lower income workers might not be able to afford high-quality plant products. Vegetarians also treat their bodies better: they exercise more and smoke and drink alcohol less.
The correlation between BMI and meat is clear in this study. Carnivores who eat a lot of meat have the highest BMI while pure vegetarians have the lowest. Again, correlation and causation are not clear, as meat eaters also show a much higher rate of alcohol consumption, which is one of the quickest and surest ways to pack on pounds.
Interestingly, vegetarians are vaccinated and visit the doctor less often than the other groups, which could play into the chronic conditions data. Given the questionable marketing tactics by "health food" brands that claim that "food is medicine" and call their products "superfoods," it's no surprise that some vegetarians believe their diet to be a panacea. Factor in that this group vaccinates less often and it's easy to understand how one conspiracy rolls into the next, a pattern that could prove detrimental to their health.
The team's conclusion is stark:
Our study has shown that Austrian adults who consume a vegetarian diet are less healthy (in terms of cancer, allergies, and mental health disorders), have a lower quality of life, and also require more medical treatment.
So the "mostly" part of Pollan's creed appears valid. Diet is a balancing act only in an era of excess. Protein and fat was, for most of our evolutionary history, scarce and harder to secure. We had to eat "mostly" plants. Choosing to overload on meat today, while ignoring plant carbohydrates (and the fiber that goes along with it) appears to be just as dangerous as avoiding meat altogether. During a time when so much is available, the inherent — and necessary, given they didn't have a choice — wisdom of our ancestors stands up. We do have a choice today, and must always remember that when deciding what we put into our mouths.

--
Derek Beres is the author of Whole Motion: Training Your Brain and Body For Optimal Health. Based in Los Angeles, he is working on a new book about spiritual consumerism. Stay in touch on Facebook and Twitter.
Geologists discover a rhythm to major geologic events.
Surprising Science
It appears that Earth has a geologic "pulse," with clusters of major events occurring every 27.5 million years.
Working with the most accurate dating methods available, the authors of the study constructed a new history of the last 260 million years.
Exactly why these cycles occur remains unknown, but there are some interesting theories.
Our hearts beat at a resting rate of 60 to 100 beats per minute. Lots of other things pulse, too. The colors we see and the pitches we hear, for example, are due to the different wave frequencies ("pulses") of light and sound waves.
Now, a study in the journal Geoscience Frontiers finds that Earth itself has a pulse, with one "beat" every 27.5 million years. That's the rate at which major geological events have been occurring as far back as geologists can tell.
A planetary calendar has 10 dates in red
Credit: Jagoush / Adobe Stock
According to lead author and geologist Michael Rampino of New York University's Department of Biology, "Many geologists believe that geological events are random over time. But our study provides statistical evidence for a common cycle, suggesting that these geologic events are correlated and not random."

The new study is not the first time that there's been a suggestion of a planetary geologic cycle, but it's only with recent refinements in radioisotopic dating techniques that there's evidence supporting the theory. The authors of the study collected the latest, best dating for 89 known geologic events over the last 260 million years:
29 sea level fluctuations
12 marine extinctions
9 land-based extinctions
10 periods of low ocean oxygenation
13 gigantic flood basalt volcanic eruptions
8 changes in the rate of seafloor spread
8 times there were global pulsations in interplate magmatism
The dates provided the scientists a new timetable of Earth's geologic history.
Tick, tick, boom
Credit: New York University
Putting all the events together, the scientists performed a series of statistical analyses that revealed that events tend to cluster around 10 different dates, with peak activity occurring every 27.5 million years. Between the ten busy periods, the number of events dropped sharply, approaching zero.

Perhaps the most fascinating question that remains unanswered for now is exactly why this is happening. The authors of the study suggest two possibilities:
"The correlations and cyclicity seen in the geologic episodes may be entirely a function of global internal Earth dynamics affecting global tectonics and climate, but similar cycles in the Earth's orbit in the Solar System and in the Galaxy might be pacing these events. Whatever the origins of these cyclical episodes, their occurrences support the case for a largely periodic, coordinated, and intermittently catastrophic geologic record, which is quite different from the views held by most geologists."
Assuming the researchers' calculations are at least roughly correct — the authors note that different statistical formulas may result in further refinement of their conclusions — there's no need to worry that we're about to be thumped by another planetary heartbeat. The last occurred some seven million years ago, meaning the next won't happen for about another 20 million years.
Long before Alexandria became the center of Egyptian trade, there was Thônis-Heracleion. But then it sank.
Surprising Science
Egypt's Thônis-Heracleion was the thriving center of Egyptian trade before Alexandria — and before earthquakes drove it under the sea.
A rich trade and religious center, the city was at its height from the six to the fourth century BCE.
As the city's giant temple collapsed into the Mediterranean, it pinned the newly discovered military vessel underwater.
Before Alexander the Great established Alexandria around 331 BCE, one of Egypt's primary ports on the Mediterranean Sea between the sixth and fourth centuries BCE was a place called Thônis-Heracleion.
Now researchers from the European Institute for Underwater Archaeology (IEASM), the same organization that first found the city in 2001, have announced the discovery of a couple of fascinating items from the city's heyday. Pinned beneath fallen temple stones is a surprisingly intact Egyptian military vessel from the second century BCE, and researchers have excavated a large cemetery from the fourth century BCE.
Thônis-Heracleion
Credit: Egyptian Ministry of Tourism and Antiques
Thônis-Heracleion was one of the two primary access points to ancient Egypt from the Mediterranean. (The other, Canopus, was discovered in 1999.) For millennia, experts assumed Thônis-Heracleion were two different lost cities, but it's now known that Thônis is simply the city's Egyptian name, while Heracleion is its Greek name.

Thônis-Heracleion had been the stuff of legend before it was located, mentioned only in rare ancient texts and stone inscriptions. Herodotus seems to have been referring to Thônis-Heracleion's temple of Amun as the place where Heracles first arrived in Egypt. He also described a visit there by Helen with her lover Paris just before the outbreak of the Trojan War. In addition, 400 years later, geographer Strabo wrote that Heraclion, containing the temple of Heracles, had been located opposite Canopus across a branch of the Nile. Today we know Thônis-Heracleion's location as Egypt's Abu Qir Bay. The sunken port is about 6.5 kilometers from the coast and lies beneath ten meters of water.
Both Thônis-Heracleion and Canopus were wealthy in their day, and the temple was an important religious center. This all ended when the Egyptian dynasty created by Ptolemy set out to establish Alexandria as Egypt's center. Thônis-Heracleion and Canopus' trade — and thus wealth — was diverted to the new capital.
It was perhaps just as well, given that natural forces eventually destroyed Thônis-Heracleion. Located on the Mediterranean, the ground upon which it was built became saturated and eventually began to destabilize and liquefy. The temple of Amun probably collapsed around 140 BCE. A series of earthquakes sealed the cty's' fate around 800 CE, sending a 100 square-kilometer chunk of the Nile delta on which it was constructed under the waves. The Mediterranean's rising sea level over the next couple thousand years completed the drowning of Thônis-Heracleion.
Researchers have recovered a large collection of Thônis-Heracleion's treasures revealing an economically rich culture. Coins, bronze statuettes, and over 700 ancient ship anchors have been pulled from the waters. Divers have also identified over 70 shipwrecks. A giant statue of the Nile god Hapi took two and a half years to bring up.
An ancient vessel and a cemetery
Gold mask found in a submerged Greek cemetery.Credit: Egyptian Ministry of Tourism and Antiques
The newly discovered ship was found beneath 16 feet of hard clay, "thanks to cutting-edge prototype sub-bottom profiler electronic equipment," says Ayman Ashmawy of the Egyptian Ministry of Tourism and Antiques.

The military vessel had been moored in Thônis-Heracleion when the temple of Amun collapsed. The temple's enormous blocks fell onto the ship, sinking it. The boat is a rare find — only one other ship of its period has been found. As underwater archaeologist Franck Goddio, one of the scientists who found the city, puts it, "Finds of fast ships from this age are extremely rare."
At 80 feet long, the boat is six times as long as it is wide. Like its dually-named city, it's an amalgam of Greek and Egyptian ship-building techniques. According to expert Ehab Fahmy, head of the Central Department of Underwater Antiquities at IEASM, the boat has some classical construction features such as mortar and tenon joints. On the other hand, it was built to be rowed, and some of its wood was reused lumber, signature traits of Egyptian boat design. Its flat bottom suggests it was built for navigating the shallows of the Nile delta where the river flows into the Mediterranean.
Also found alongside the city's submerged northeastern entrance canal was a large Greek cemetery. The funerary is adorned with opulent remembrances, including a mask made of gold, shown above. A statement by the Egyptian Ministry of Tourism and Antiques describes its significance, as reported by Reuters:
"This discovery beautifully illustrates the presence of the Greek merchants who lived in that city. They built their own sanctuaries close to the huge temple of Amun. Those were destroyed simultaneously and their remains are found mixed with those of the Egyptian temple."
Excavation is ongoing, with more of Egypt's ancient history no doubt waiting beneath the waves.
We are likely to see the first humans walk on Mars this decade.
NASA
Technology & Innovation
Space agencies have successfully sent three spacecraft to Mars this year.
The independent missions occurred at around the same time because Earth and Mars were particularly close to each other last summer, providing an opportune time to launch.
SpaceX says it hopes to send a crewed mission to Mars by 2026, while the U.S. and China aim to land humans on the planet in the 2030s.
Spacecraft from three of the world's space agencies reached Mars this year.
In February, the United Arab Emirates' Hope space probe entered the Martian orbit, where it is studying the planet's weather cycles. That same month, NASA's Perseverance rover touched down on Mars, where it will soon begin collecting rock samples that could contain signs of ancient life. And in May, China successfully landed its Zhurong rover on the Martian surface, becoming the second nation to ever do so.
All three missions launched in the summer of 2020. The timing was no coincidence: once every two years, Earth and Mars come especially close together because their orbits are "at opposition," which is when the Earth-Mars distance is smallest during the 780-day synodic period. It is an opportune window to send spacecraft to Mars.
The handful of spacecraft currently exploring the Martian surface and atmosphere are scheduled to conduct their experiments for periods ranging from months to years. Some even plan to collect materials to return to Earth. For example, NASA's Perseverance will store its rock samples in protective tubes and leave them behind for a smaller "fetch rover" to pick up on a future mission.
Photo of Martian surface taken by the Perseverance roverNASA/JPL-Caltech
If all goes well, an Airbus spacecraft dubbed the Earth Return Orbiter (ERO) will carry the samples back to Earth in 2031. It would be the first time a space mission has returned Martian matter to Earth. But before the decade's end, space agencies have some other missions that aim to study the Red Planet.

Europe & Russia
NASA is not the only space agency aiming to find evidence of life on the Red Planet. In 2023, Roscosmos and the European Space Agency plan to land their Rosalind Franklin rover on the Martian surface, where it will drill into rock and analyze soil composition for signs of past — or possibly present — alien life.
The joint mission is part of a long-term Mars project that began in 2016. This second phase was initially planned for 2020, but due in part to the COVID-19 pandemic, the space agencies decided to postpone the launch to 2022.
"We want to make ourselves 100% sure of a successful mission. We cannot allow ourselves any margin of error. More verification activities will ensure a safe trip and the best scientific results on Mars," said ESA Director General Jan Wörner.
Japan
In 2022, the Japanese Aerospace Exploration Agency (JAXA) plans to send to Mars its TEREX lander, which will "precisely measure the amount of water molecules and oxygen molecules, and search for water resources and the possibility of life on Mars," JAXA wrote.
TEREX-1National Institution of Information and Communications Technology
In 2024, JAXA also plans to launch a uniquely bold interplanetary mission that will involve sending a probe to orbit Mars, landing on the Martian moon Phobos, collecting surface samples, and then returning those samples to Earth in 2029. JAXA says the mission has two main objectives: (1) to investigate whether the Martian moons are captured asteroids or fragments that coalesced after a giant impact with Mars; and (2) to clarify the mechanisms controlling the surface evolution of the Martian moons and Mars.

China
Following the successful landing of its Zhurong rover this year, China released a roadmap of its plans for additional Mars voyages. The first is an uncrewed mission scheduled for 2030, with crewed missions planned for 2033, 2035, 2037, and 2041. As the International Space Station project is coming to a close, China is in the process of building its own space station; earlier this year it launched into orbit the first part of its station, which will take 10 more missions to assemble.
SpaceX
Elon Musk's California-based aerospace company has its sights on two Mars voyages: a cargo-only mission in 2022 and a human mission by 2026. The crewed mission would involve building a propellant depot and preparing a site for future crewed flights. Getting to Mars will first require an orbital test of SpaceX's Starship rocket, which the company hopes to conduct this year.
Regarding the long-term future of humans on the Red planet, Musk once told Ars Technica:
"I'll probably be long dead before Mars becomes self-sustaining. But I'd like to at least be around to see a bunch of ships land on Mars."
India
In 2014, the Indian Space Research Organization executed its first interplanetary trip with its Mars Orbiter Mission. It marked the first time an Asian nation reached Martian orbit and also the first time a nation successfully reached the Red planet on its maiden voyage. India has plans for a follow-up Mars Orbiter Mission 2, but it remains unclear when that will occur and what the mission will entail.
In February, the chief of the Indian Space Research Organisation said the nation would only launch a Mars mission after Chandrayaan-3, India's upcoming mission to the Moon, which is expected to launch in 2022.
popular
A new episode of "Your Brain on Money" illuminates the strange world of consumer behavior and explores how brands can wreak havoc on our ability to make rational decisions.
Scroll down to load more…