If a pill could replace exercise's benefits, would it be worth it?
For sufferers of Alzheimer's, the answer is yes. But replacing movement with a pill is not the best option.
12 September, 2018
One of the most beneficial aspects of exercising is staving off dementia.
In both animals and humans, exercise plays a role in boosting memory.
A pill could be beneficial to people who are too frail to exercise.
---
Years ago a close friend was trying to quit smoking. He asked for advice. I offered a few yogic breathing exercises to help him maintain composure and focus, hoping that if he took the time to notice his relationship to breathing it would inspire him to stop. His reply: "No, I meant a pill."
A few years later he did quit and even tried the breathing exercises. But the promise of a pill is seductive. There's little that pills (and powders and liquids) stocked on supermarket shelves aren't advertised to cure. If you have a problem, there's a pill for it, somewhere. Even, as it turns out, exercise.
One of the great benefits of exercise is the proliferation of brain-derived neurotrophic factor (BDNF), a protein that Harvard professor John Ratey spends an entire book championing—he calls it "Miracle-Gro for the brain." BDNF not only supports the survival of existing neurons; it also promotes the growth of new ones.
Specifically, BDNF interacts in the basal forebrain, cortex, and hippocampus, regions responsible for memory, learning, and higher thinking. While the protein plays a role in other processes—in the kidneys and motor neurons, for example—it is especially important for the sustaining of long-term memory.
As Ratey writes, one of the most beneficial aspects of exercising is staving off diseases of dementia. A lack of movement is implicated in cognitive decline (among other problems), so it makes sense that getting your heart rate up and loading your bones with strength training would have positive mental benefits.
And so a widespread team of researchers, led by Harvard neurologist Rudolph Tanzi, decided to see if they could mimic these effects in memory-suffering mice. The results were published in Science.
While 30 million people worldwide currently suffer from Alzheimer's disease, that number is expected to grow to 100 million by 2050 if an effective intervention isn't discovered. While the mechanisms for this—brain inflammation, the loss of neurons, neurofibrillary tangles, and β-amyloid plaques—are understood, why they play a role in memory loss is not.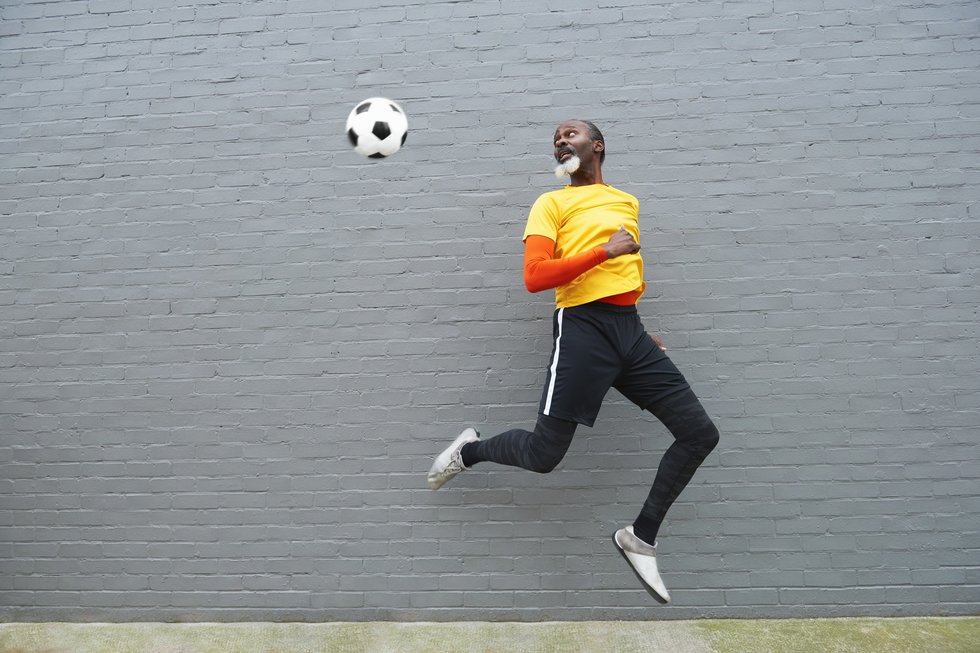 Recent evidence from postmortem human brains and mice implicate neurogenesis in memory loss as well. In both animals, exercise plays a role in delaying the disease through neurogenesis, which is in large part why moving your body is packaged with other lifestyle habits as a means for healthy aging.
To understand why neurogenesis is involved in dementia, Tanzi and team hindered the ability of mice to grow new neurons; it turns out their form of Alzheimer's is even more severe than in humans. Once the mice were in the throes of dementia, the team attempted to induce neurogenesis through pharmacological and genetic means.
Neither worked—they were miffed. Then the mice exercised, and hello BDNF. Neurogenesis commenced. The team then increased BDNF through pharmacological and genetic means and the same effects were observed.
The pill replaced exercise.
Neurologist Samuel Gandy brings up an important point regarding this research: for patients that are frail and immobile, a pharmaceutical that mimics exercise is quite useful. The exercising-mimicking pill can be a game-changer. This is science at its best.
At its worst, however, would be healthy people avoiding exercise and relying on a pill. Of course, memory is not the only benefit of exercise. We are complex animals that rely on system-wide best practices to both sustain and thrive. A strong memory isn't that useful in a weak or broken body.
For some, there is no choice—take the strong mind. But for most of us: exercise now. Making sure pills stay unnecessary is the best we can hope for. Interventions should only be by necessity.
--
Stay in touch with Derek on Facebook and Twitter.
Lumina Foundation is partnering with Big Think to unearth the next large-scale, rapid innovation in post-high school education. Enter the competition here!
The 8th century AD was a tough time to be a genius from a poor family in China. Poet and novelist Ha Jin on the tortured life of the legendary drunken poet Li Bai. Also: panpsychism, the value of idleness, and humanities education in America today.
Think Again Podcasts
"I knew in the case of Li Bai, I should follow the poems. Every masterpiece by him would be kind of a small crisis…a center for drama in his life."
"There are people who want a different kind of fulfillment. Society should be open to that. In the long run, you don't know—maybe those idlers can produce more for the society."
We explore the history of blood types and how they are classified to find out what makes the Rh-null type important to science and dangerous for those who live with it.
Abid Katib/Getty Images
Surprising Science
Fewer than 50 people worldwide have 'golden blood' — or Rh-null.
Blood is considered Rh-null if it lacks all of the 61 possible antigens in the Rh system.
It's also very dangerous to live with this blood type, as so few people have it.
The world's next superpower might just resurrect the Middle Ages.
Big think's weekly newsletter.
Get smarter faster from the comfort of your inbox.
See our newsletter privacy policy
here
Most Popular
Most Recent
Big think's weekly newsletter.
Get smarter faster from the comfort of your inbox.
See our newsletter privacy policy
here
© Copyright 2007-2018 & BIG THINK, BIG THINK EDGE,
SMARTER FASTER trademarks owned by The Big Think, Inc. All rights reserved.