Four cups of coffee a day protects against heart disease
We knew that coffee is good for us. Now we know why.
25 June, 2018
Last week I overheard a conversation in which a woman was telling a man how she didn't drink coffee. The virtues of a caffeine-free life were shared between the two, including the supposed toxicity of coffee and how being "natural" is a much healthier option. The two concluded their chat with self-satisfied grins, behavioral one-ups on the other 90 percent of the country that drinks the poisonous extract from those nasty beans.
---
And then there's science. 
A new study appearing in PLOS Biology, led by Judith Haendeler and Joachim Altschmied in Duesseldorf, Germany, shows that a physiologically-relevant dose of caffeine—in this case, what is achieved with four cups of coffee—protects cardiovascular cells from damage.
It has long been known that caffeine is associated with a reduced risk of type 2 diabetes, stroke, and heart disease. These researchers wanted to know why. According to their research, a mitochondrial protein, p27, protects heart muscles from cell death and helps repair these muscles after a heart attack. After the discovery, Haendeler said, 
These results should lead to better strategies for protecting heart muscle from damage, including consideration of coffee consumption or caffeine as an additional dietary factor in the elderly population. Furthermore, enhancing mitochondrial p27 could serve as a potential therapeutic strategy not only in cardiovascular diseases but also in improving healthspan.
Altschmied notes that this research—along with an extensive list of over 100 studies showing the beneficial aspects of coffee consumption in helping decrease the risk of breast, colorectal, colon, endometrial, and prostate cancers, cardiovascular disease, Parkinson's disease, type 2 diabetes, and mortality—overturns the assumption that the elderly should avoid caffeine.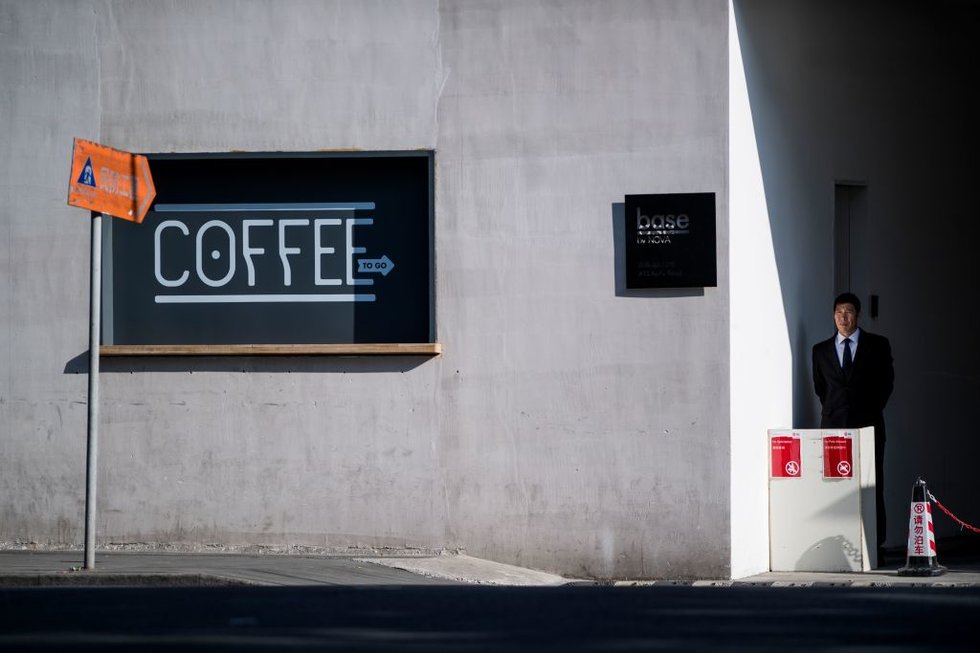 A security guard is seen next to a 'coffee to go' sign on the streets of Shanghai on April 17, 2018. (Photo by Johannes Eisele/AFP/Getty Images)
There's also the NIH study of over 400,000 Americans, aged 50-71, showing that coffee consumption is related to a lower risk of all-cause mortality; another multinational study of over 500,000 Europeans confirmed this finding.
Of course, everyone processes caffeine differently. Some people can drink an espresso right before bed and have no problem sleeping. If I drink coffee anytime after noon, I know I'll have a rough night. Coffee drinkers that are slow metabolizers are more susceptible to insomnia, heart palpitations, heartburn, and irritability. Caffeine has also been shown to have a negative impact on pregnancy and fertility. There are even examples of fatal overdoses. Then again, you can overdose on water.
As with such studies, coffee is not a cure-all. Haendeler notes that drinking four or five cups of coffee a day does not give anyone's sedentary habits a pass. Regular exercise and good diet still matter.
But so does coffee. And that's good news for us all.
--
A guide to making difficult conversations possible—and peaceful—in an increasingly polarized nation.
Progressive America would be half as big, but twice as populated as its conservative twin.
Image: Dicken Schrader
Strange Maps
America's two political tribes have consolidated into 'red' and 'blue' nations, with seemingly irreconcilable differences.
Perhaps the best way to stop the infighting is to go for a divorce and give the two nations a country each
Based on the UN's partition plan for Israel/Palestine, this proposal provides territorial contiguity and sea access to both 'red' and 'blue' America
A federal judge ruled that the Trump administration likely violated the reporter's Fifth Amendment rights when it stripped his press credentials earlier this month.
WASHINGTON, DC - NOVEMBER 16: CNN chief White House correspondent Jim Acosta (R) returns to the White House with CNN Washington bureau chief Sam Feist after Federal judge Timothy J. Kelly ordered the White House to reinstate his press pass November 16, 2018 in Washington, DC. CNN has filed a lawsuit against the White House after Acosta's press pass was revoked after a dispute involving a news conference last week. (Photo by Alex Wong/Getty Images)
Politics & Current Affairs
Acosta will be allowed to return to the White House on Friday.
The judge described the ruling as narrow, and didn't rule one way or the other on violations of the First Amendment.
The case is still open, and the administration may choose to appeal the ruling.
Big think's weekly newsletter.
Get smarter faster from the comfort of your inbox.
See our newsletter privacy policy
here
Most Popular
Most Recent
Big think's weekly newsletter.
Get smarter faster from the comfort of your inbox.
See our newsletter privacy policy
here
© Copyright 2007-2018 & BIG THINK, BIG THINK EDGE,
SMARTER FASTER trademarks owned by The Big Think, Inc. All rights reserved.