This Twitter algorithm predicts mental illness better than trained professionals
A supervised learning algorithm can predict clinical depression much earlier and more accurately than trained health professionals.
05 November, 2017
---
One of the more surprising, and upsetting, uses of social media has been suicides performed on Facebook Live. Though reasons for suicide are complex, the mere threat is often a cry for help, acceptance, or recognition. During the two years I worked as a patient monitor in an emergency room, I discovered most people that attempt to take their own lives desire a pair of ears to listen to their problems more than anything else.
It's hard to gauge a person's reality based on social media habits, however. Those who spout vitriolic rhetoric are often quite approachable and reserved in person. We can't read inflections and temperament from words on a screen, or take into consideration that the person might just be having a bad day.
That said, social media can be a powerful indicator of those at risk for suffering from mental health disorders, a new study published in Scientific Reports suggests. A team led by Andrew Reece, in the Department of Psychology at Harvard, collected Twitter data from 204 individuals. Of those, 105 suffered from depression, with a control of 99 healthy subjects. The team then used a supervised learning algorithm to see if changes in language predicted clinical depression.
The answer is yes. Depressed patients used more words like death, no, and never, while posting fewer positive words—like happy, beach, and photo—in the lead-up to their diagnosis.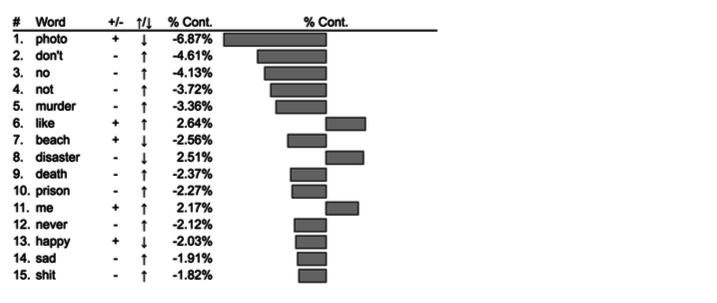 Figure 4. Depression word-shift graph revealing contributions to difference in Twitter happiness observed between depressed (5.98) and healthy (6.11) participants. In column 3, (−) indicates a relatively negative word, and (+) indicates a relatively positive word, both with respect to the average happiness of all healthy tweets. An up (down) arrow indicates that word was used more (less) by the depressed class. Words on the left (right) contribute to a decrease (increase) in happiness in the depressed class. [Credit: Andrew G. Reece et. al.]
A second group pf 174 Twitter users was also studied. Of these, 63 suffered from PTSD. Again, changes in language revealed that they were likely to be diagnosed.
These results are not perfect. In both situations there was a preselected pool of Twitter users with a close ratio of healthy to unhealthy, which does not reflect society as a whole. Add to this fact that many depressed people or those suffering from PTSD do not use social media. It would be hard to acquire firm numbers based on these shortcomings.
That said, Reece and his team are borrowing this predictive model from similar early warning systems in place for hard-to-detect cancers, disease outbreaks, and regional dietary health issues. Diseases like addiction and suicidal ideation have already been studied through social media. While this trend of using public facing data to detect potential cognitive disorders is new, cries for help might be detected, and treated, much sooner.
Reece and team believe they have found if not a silver bullet for predicting depression and PTSD, at least a shinier one than has so far been developed:
Our findings strongly support the claim that computational methods can effectively screen Twitter data for indicators of depression and PTSD. Our method identified these mental health conditions earlier and more accurately than the performance of trained health professionals, and was more precise than previous computational approaches.
With the current rise in depression and anxiety, especially among teens, a particularly vulnerable group that has now fully grown up on social media, such predictive tools could prove to be a valuable source of therapy and recovery moving forward.
"We hope that our research will eventually help improve mental health care, for example in preventive screening," Stanford researcher Katharina Lix told Digital Trends. "We could imagine clinicians using this technology as a supporting tool during a patient's initial assessment, provided that the patient has agreed to have their social media data used in this way. However, before we get to that point, the technology needs to be validated using a larger sample of people that's representative of the general population. We want to emphasize that any real-world application of this technology must carefully take into account ethical and privacy concerns."
--
Derek is the author of Whole Motion: Training Your Brain and Body For Optimal Health. Based in Los Angeles, he is working on a new book about spiritual consumerism. Stay in touch on Facebook and Twitter.
Swipe right to make the connections that could change your career.
Getty Images
Sponsored
Swipe right. Match. Meet over coffee or set up a call.
No, we aren't talking about Tinder. Introducing Shapr, a free app that helps people with synergistic professional goals and skill sets easily meet and collaborate.
Research by neuroscientists at MIT's Picower Institute for Learning and Memory helps explain how the brain regulates arousal.
Photo by CHARLY TRIBALLEAU / AFP/ Getty Images
Mind & Brain
The big day has come: You are taking your road test to get your driver's license. As you start your mom's car with a stern-faced evaluator in the passenger seat, you know you'll need to be alert but not so excited that you make mistakes. Even if you are simultaneously sleep-deprived and full of nervous energy, you need your brain to moderate your level of arousal so that you do your best.
A disturbing interview given by a KGB defector in 1984 describes America of today and outlines four stages of mass brainwashing used by the KGB.
Politics & Current Affairs
Bezmenov described this process as "a great brainwashing" which has four basic stages.
The first stage is called "demoralization" which takes from 15 to 20 years to achieve.
According to the former KGB agent, that is the minimum number of years it takes to re-educate one generation of students that is normally exposed to the ideology of its country.
When these companies compete, in the current system, the people lose.
Top Video Splash
When a company reaches the top of the ladder, they typically kick it away so that others cannot climb up on it. The aim? So that another company can't compete.
When this happens in the pharmaceutical world, certain companies stay at the top of the ladder, through broadly-protected patents, at the cost of everyday people benefitting from increased competition.
Since companies have worked out how to legally game the system, Amin argues we need to get rid of this "one size fits all" system, which treats product innovation — "tweaks" — the same as product invention.
Big think's weekly newsletter.
Get smarter faster from the comfort of your inbox.
See our newsletter privacy policy
here
Most Popular
Most Recent
Big think's weekly newsletter.
Get smarter faster from the comfort of your inbox.
See our newsletter privacy policy
here
© Copyright 2007-2018 & BIG THINK, BIG THINK EDGE,
SMARTER FASTER trademarks owned by The Big Think, Inc. All rights reserved.