Mae West: "YOLO," Before YOLO Was a Thing
Words of Wisdom from 20th century actress, comedian, and sex symbol Mae West: "You only live once, but if you do it right, once is enough."
22 September, 2015
Have you ever thought about or read up on an old celebrity from before the digital age and thought, "Damn, that person would have been great on Twitter." Today's Words of Wisdom arrive via one of them.
---
Mary Jane "Mae" West (1893-1980) was an American actress, singer, playwright, screenwriter, and sex symbol whose entertainment career spanned seven decades. Known for her bawdy double entendres, West made a name for herself in vaudeville and on the stage in New York City before moving to Hollywood to become a comedienne, actress, and writer in the motion picture industry. For her contributions to American cinema, the American Film Institute named West 15th among the greatest female stars of all time.
Something tells us that if West had lived to be 122, her Twitter feed would be amazing. Alas, people don't often live to 122 and we're only left with quotes such as this, a #YOLO from a different time: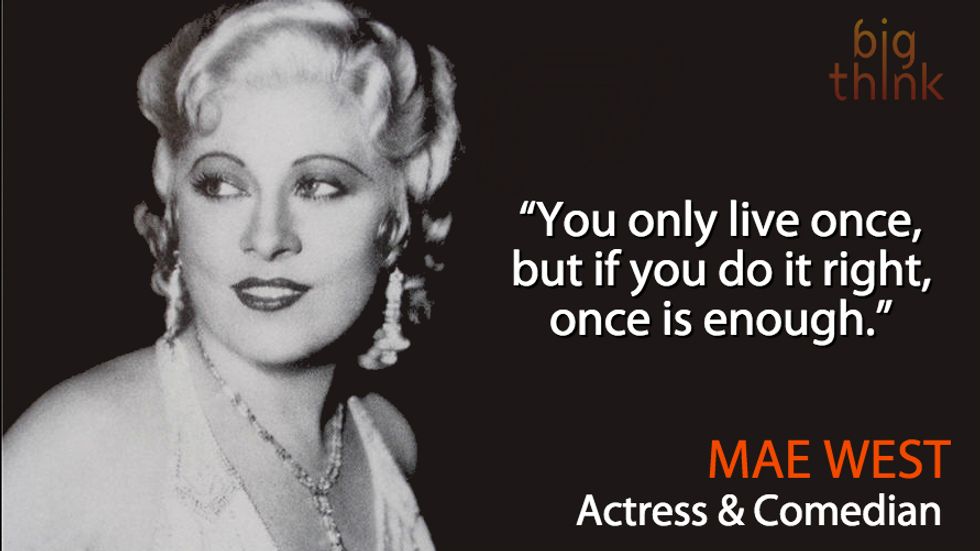 "You only live once, but if you do it right, once is enough."
Videos
Popularity is slippery, and shouldn't be confused with quality, says critic A.O. Scott.
Scroll down to load more…