What's Dark Matter? And Other Physics Mysteries
Lisa Randall
Lisa Randall studies theoretical particle physics and cosmology at Harvard University. Her research connects theoretical insights to puzzles in our current understanding of the properties and interactions of matter. She has developed and studied a wide variety of models to address these questions, the most prominent involving extra dimensions of space. Her work has involved improving our under-standing of the Standard Model of particle physics, supersymmetry, baryogenesis, cosmological inflation, and dark matter. Randall's research also explores ways to experimentally test and verify ideas and her current research focuses in large part on the Large Hadron Collider and dark matter searches and models.
Randall has also had a public presence through her writing, lectures, and radio and TV appearances. Randall's books, Warped Passages: Unraveling the Mysteries of the Universe's Hidden Dimensions and Knocking on Heaven's Door: How Physics and Scientific Thinking Illuminate the Universe and the Modern World were both on the New York Times' list of 100 Notable Books of the Year. Higgs Discovery: The Power of Empty Space was released as a Kindle Single in the summer of 2012 as an update with recent particle physics developments.
Randall's studies have made her among the most cited and influential theoretical physicists and she has received numerous awards and honors for her scientific endeavors. She is a member of the National Academy of Sciences, the American Philosophical Society, the American Academy of Arts and Sciences, was a fellow of the American Physical Society, and is a past winner of an Alfred P. Sloan Foundation Research Fellowship, a National Science Foundation Young Investigator Award, a DOE Outstanding Junior Investigator Award, and the Westinghouse Science Talent Search. Randall is an Honorary Member of the Royal Irish Academy and an Honorary Fellow of the British Institute of Physics. In 2003, she received the Premio Caterina Tomassoni e Felice Pietro Chisesi Award, from the University of Rome, La Sapienza. In 2006, she received the Klopsteg Award from the American Society of Physics Teachers (AAPT) for her lectures and in 2007 she received the Julius Lilienfeld Prize from the American Physical Society for her work on elementary particle physics and cosmology and for communicating this work to the public.
Randall has also pursued art-science connections, writing a libretto for Hypermusic: A Projective Opera in Seven Planes that premiered in the Pompidou Center in Paris and co-curating an art exhibit for the Los Angeles Arts Association, Measure for Measure, which was presented in Gallery 825 in Los Angeles, at the Guggenheim Gallery at Chapman University, and at Harvard's Carpenter Center. In 2012, she was the recipient of the Andrew Gemant Award from the American Institute of Physics, which is given annually for significant contributions to the cultural, artistic, or humanistic dimension of physics.
Professor Randall was on the list of Time Magazine's "100 Most Influential People" of 2007 and was one of 40 people featured in The Rolling Stone 40th Anniversary issue that year. Prof. Randall was featured in Newsweek's "Who's Next in 2006" as "one of the most promising theoretical physicists of her generation" and in Seed Magazine's "2005 Year in Science Icons". In 2008, Prof. Randall was among Esquire Magazine's "75 Most Influential People."
Professor Randall earned her PhD from Harvard University and held professorships at MIT and Princeton University before returning to Harvard in 2001. She is also the recipient of honorary degrees from Brown University, Duke University, Bard College, and the University of Antwerp.
23 March, 2010
Question: What do particle physicists do on a day-to-day basis?
Lisa Randall: So, particle physicists, we're trying to understand the substructure of matter; what's really out there, what's at the core of matter, how it interacts, what are the fundamental forces. And as you go to deeper and deeper scales you learn different things. So the sort of two-pronged approach, we have some very theoretical work that goes on and some very experimentally oriented work. We're trying to see what we can find out at the collider that will turn on again next week, we hope. The collider that will be running for the next couple of years, the Large Hadron Collider, that will collide together protons of high energy and tell us what's out there. We also try to combine it together with theoretical ideas we've been working on. Some of them generated from more high energy theoretical ideas beyond what we can see with experiment and we're trying to put those together.
On a day-to-day basis, we could be thinking about many different things. We could be thinking about what the experiments will do. We could be thinking about the theoretical idea of how they fit together, doing the calculations to see what the consequences of some ideas, which we call models, would be. There might be some speculations or hypotheses for what's out there and we try to derive what the consequences would be and test whether those ideas work, test these ideas that might synthesize the various phenomena that we've observed, but we don't yet understand.
Question: What insights do you hope the LHC will yield?
Lisa Randall: So, the LHC stands for Large Hadron Collider. It's large; it's 27 kilometers in circumference. It's a big tunnel where two beams of protons will circulate around it and then collide at various points within the tunnel. When it collides, it will collide together at high energy, about seven times the energy of the highest energy collider we have yet had on earth. And when it does that, the idea is for the mass of the particles converts into energy.
The energy that's created in the collision can then convert into new particles. Those particles can have heavier mass than anything that's been created before, E=MC2, so having bigger energy means that we can create particles that have bigger mass. It also will have what's called high luminosity, which is to say, there's a high collision rate. So the hope is that by having these new parameters, this high rate of collision, these high energies, we'll be able to study matter in ways we haven't been able to study it before.
In the process, we want to understand the answers to questions like; where do the masses of fundamental particle come from? That might sound like an odd question since mass seems like an intrinsic property to matter, but it turns out that in the simplest versions of the theories you've ****, particles don't have mass. And we know that it's actually only possible for particles to have mass because of something like a phase transition that happened **** universe, something called the Higgs Mechanism, named after the physicist, Peter Higgs, who thought of it. And the idea is that particles at high energy might seem not to have mass, but at low energies they do. And the question is; how did that come about? If it's a simple Higgs Mechanism implementation, we'll spy something called the Higgs Boson. It's a particle that tells us that this is really what happens and really puts it all together.
The standard model works to an incredibly high degree of precision. We believe that it's right. The standard model of particle physics tells us what are the basic elements of matter? What are the forces through which they interact? It's been tested to a high degree of precision. But it doesn't answer questions like; where do the particle masses come from, the elementary particle masses come from? And the other question it doesn't answer is; why are those masses about the scale that they are? Why aren't those masses much bigger? That has to do with something what we call the hierarchy problem of particle physics, which is connected to the question of why gravity is so weak. And those are the types of questions we hope to answer at the LHC.
If we're really lucky, we might also get some insight into dark matter. The matter that doesn't emit light that we know is out there in the universe. So, there's a number of questions that we hope the LHC might help us answer.
Question: What is dark matter?
Lisa Randall: As far as dark matter goes, we could be lucky in the sense that it seems that if you look at just the amount of dark matter that's out there in the universe, we can figure out what is called the relic density is given a sort of type of interaction. That is to say, how much stuff should be left over now that the universe is big and cool. And it turns out that if particles had mass about the scale it's going to be probed at the LHC, the Large Hadron Collider, that it turns out to have about the right relic density. Now, this might be just a coincidence, or it might be something deep and fundamental telling us that the Large Hadron Collider might actually be able to produce the dark matter particle. It might not produce it directly, but it could produce something that decays into the dark matter particles. So there is some hope that by probing this energy, that the LHC will study, we can learn something about dark matter.
Recorded on February 17, 2010
Interviewed by Austin Allen
The Harvard scientist explains the daily work of a particle physicist and what problems lie at the cutting edge of her field.
Malcolm Gladwell teaches "Get over yourself and get to work" for Big Think Edge.
Big Think Edge
Learn to recognize failure and know the big difference between panicking and choking.

At Big Think Edge, Malcolm Gladwell teaches how to check your inner critic and get clear on what failure is.

Subscribe to Big Think Edge before we launch on March 30 to get 20% off monthly and annual memberships.
It turns out, that tattoo ink can travel throughout your body and settle in lymph nodes.
17th August 1973: An American tattoo artist working on a client's shoulder. (Photo by F. Roy Kemp/BIPs/Getty Images)
popular
In the slightly macabre experiment to find out where tattoo ink travels to in the body, French and German researchers recently used synchrotron X-ray fluorescence in four "inked" human cadavers — as well as one without. The results of their 2017 study? Some of the tattoo ink apparently settled in lymph nodes.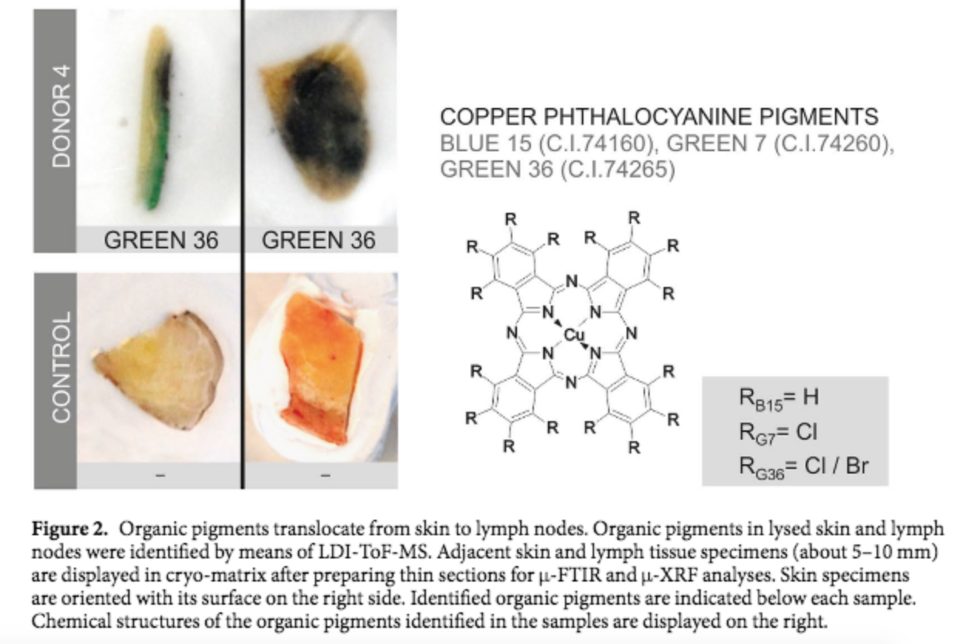 Image from the study.
As the authors explain in the study — they hail from Ludwig Maximilian University of Munich, the European Synchrotron Radiation Facility, and the German Federal Institute for Risk Assessment — it would have been unethical to test this on live animals since those creatures would not be able to give permission to be tattooed.
Because of the prevalence of tattoos these days, the researchers wanted to find out if the ink could be harmful in some way.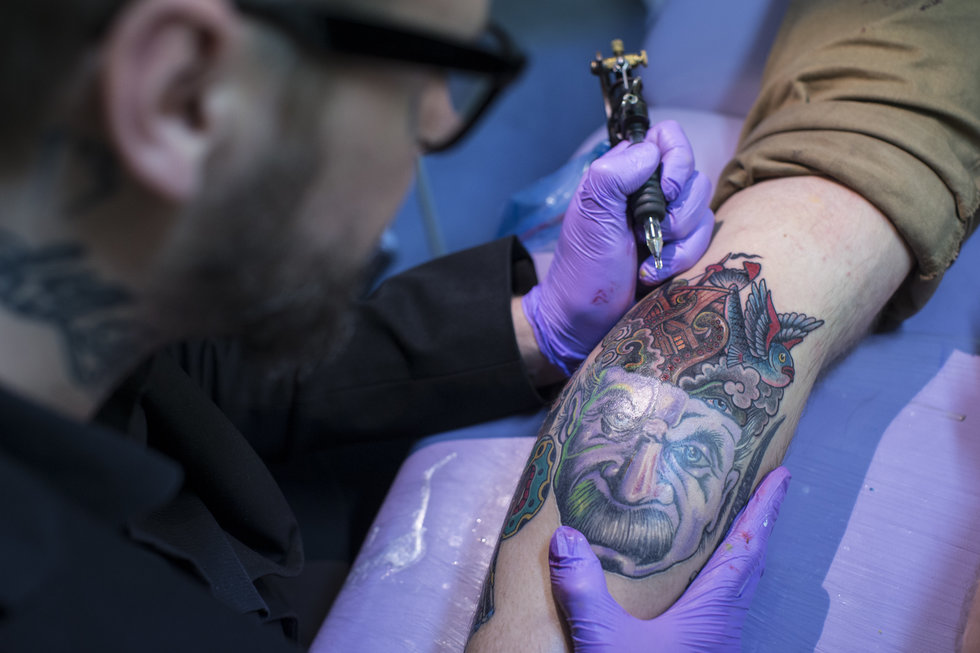 "The increasing prevalence of tattoos provoked safety concerns with respect to particle distribution and effects inside the human body," they write.
It works like this: Since lymph nodes filter lymph, which is the fluid that carries white blood cells throughout the body in an effort to fight infections that are encountered, that is where some of the ink particles collect.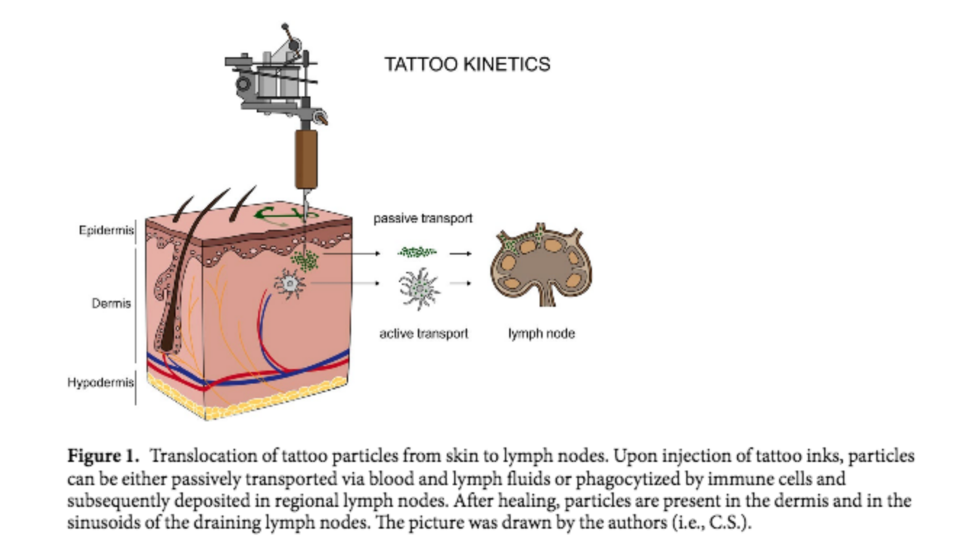 Image by authors of the study.
Titanium dioxide appears to be the thing that travels. It's a white tattoo ink pigment that's mixed with other colors all the time to control shades.
The study's authors will keep working on this in the meantime.
"In future experiments we will also look into the pigment and heavy metal burden of other, more distant internal organs and tissues in order to track any possible bio-distribution of tattoo ink ingredients throughout the body. The outcome of these investigations not only will be helpful in the assessment of the health risks associated with tattooing but also in the judgment of other exposures such as, e.g., the entrance of TiO2 nanoparticles present in cosmetics at the site of damaged skin."
It's one of the most consistent patterns in the unviverse. What causes it?
Videos
Spinning discs are everywhere – just look at our solar system, the rings of Saturn, and all the spiral galaxies in the universe.
Spinning discs are the result of two things: The force of gravity and a phenomenon in physics called the conservation of angular momentum.
Gravity brings matter together; the closer the matter gets, the more it accelerates – much like an ice skater who spins faster and faster the closer their arms get to their body. Then, this spinning cloud collapses due to up and down and diagonal collisions that cancel each other out until the only motion they have in common is the spin – and voila: A flat disc.
Big think's weekly newsletter.
Get smarter faster from the comfort of your inbox.
See our newsletter privacy policy
here
Most Popular
Most Recent
Big think's weekly newsletter.
Get smarter faster from the comfort of your inbox.
See our newsletter privacy policy
here
© Copyright 2007-2018 & BIG THINK, BIG THINK EDGE,
SMARTER FASTER trademarks owned by The Big Think, Inc. All rights reserved.