What are the challenges of globalization?
Thomas A. Stewart
Thomas A. Stewart is the Chief Marketing and Knowledge Officer (CMKO) of the global management consulting firm Booz & Company. Stewart most recently served as editor and managing director of Harvard Business Review, and is a best-selling author, an authority on intellectual capital and knowledge management, and an influential thought leader on global management issues and ideas.

During Stewart's six years with Harvard Business Review, the magazine was a two-time finalist for general excellence in the National Magazine Awards, and received an "Eddie" in 2007 from Folio Magazine.

Previously, Stewart served as the editorial director for Business 2.0 and as a member of Fortune's Board of Editors. He is the author of two books, Intellectual Capital: The New Wealth of Organizations, and The Wealth of Knowledge: Intellectual Capital and the 21st Century Organization, published by Doubleday Business in 1998 and 2003, respectively.

Stewart is a fellow of the World Economic Forum. He is a summa cum laude graduate of Harvard College, and holds an honorary Doctor of Science degree from Cass School of Business at City University, London.
06 February, 2008
Question: What are the challenges of globalization?
Tom Stewart: You know, the … the … the struggles over globalization are . . . This is the story. This is the … Globalization is the economic – and maybe the social – story of our … of our time. I've heard Larry Summers say that he thinks that, you know, the Renaissance, the Industrial Revolution and globalization may be events of comparable magnitude that, you know, historians may come back and look at … at this. Time will tell whether he's right and … or whether the hypothesis is right. I don't think he said it was a fact. I think he said it was a possibility. And I think he's absolutely right. It troubles me a lot that the conversation about this has been so much about individual pain and so little about collective opportunity. The … There's no question … globalization is good for the world. There's no, you know … the amount of poverty has gone down. Life expectancy's gone up in India and China and in other places. Africa is now showing economic growth. And granted, some of that growth that it's showing is because China's mark … China's appetite for commodities is … is, you know, gargantuan. But there's opportunity for everybody. And yes, opportunity for everybody in this kind of growth also means there are some people who are losing their jobs. And some people whose … whose … who will have to find – dare I say – new opportunity. And I … wanna sound "Pollyanna-ish" about it because I've lost my job. I know what it's … I know some of what it's like, and I can't imagine anything more difficult than to be a member of, I don't know, a traditional blue-collar, union family in Michigan that is seeing a way of life disappear and doesn't quite know your way out of it, and working at Wal-Mart is a step down. I mean this is not . . . this is not easy. So making the transition possible for people is a really important aspect, both of … not only of public policy, but I also think of private policy and of corporate behavior. But understanding in the long run this is not a "zero sum" game … In the long run that this is actually making the world in the long run safer, in the long run a lot more prosperous.

There's a book – and I've forgotten the name of the author – but a professor in the Economics Department at Harvard wrote a book …. published a book a couple of years ago called The Moral Consequences of Economic Growth. Very interesting book that argues that . . . that economic growth actually creates the conditions under which people can be better. That if you are … and be more moral. Without economic growth it's …, and moral behavior goes down. And you know … And from a global perspective, this is good. And at the same time, if you're sitting there in Michigan and economic growth is going badly, you may have special problems that you … you've gotta deal with. This is a … this is a big important story.
Recorded on: 6/22/07
There is too much emphasis on individual pain and not enough on collective opportunity.
Big ideas.
Once a week.
Subscribe to our weekly newsletter.
Australian parrots have worked out how to open trash bins, and the trick is spreading across Sydney.
Surprising Science
If sharing learned knowledge is a form of culture, Australian cockatoos are one cultured bunch of birds.
A cockatoo trick for opening trash bins to get at food has been spreading rapidly through Sydney's neighborhoods.
But not all cockatoos open the bins; some just stay close to those that do.
Like humans, some animals are capable of
culture
, including learning from one another. And the cockatoos of Sydney, Australia have learned a neat trick — well, neat for them, anyway. Homeowners with dumpsters might feel differently.
Dumpster-diving trash parrots
In a study about these smart birds just published in Science, researchers define animal culture as "population-specific behaviors acquired via social learning from knowledgeable individuals."
Co-lead author of the study Barbara Klump of the Max Planck Institute of Animal Behavior in Konstanz, Germany says, "[C]ompared to humans, there are few known examples of animals learning from each other. Demonstrating that food scavenging behavior is not due to genetics is a challenge."
An opportunity presented itself in a video that co-author Richard Major of the Australian Museum shared with Klump and the other co-authors. In the video, a sulphur-crested cockatoo used its beak to pull up the handle of a closed garbage bin — using its foot as a wedge — and then walked back the lid sufficiently to flip it open, exposing the bin's edible contents.
Major has been studying Cacatua galerita for 20 years and says, "Like many Australian birds, sulphur-crested cockatoos are loud and aggressive." The study describes them as a "large-brained, long-lived, and highly social parrot." Says Major, "They are also incredibly smart, persistent, and have adapted brilliantly to living with humans."
(Research regarding some of the ways in which
wild animals adapt to the presence of humans
has already produced
some fascinating results
and is ongoing.)
Clever cockie opens bin - 01 youtu.be
The researchers became curious about how widespread this behavior might be and saw a research opportunity. After all, says John Martin, a researcher at Taronga Conservation Society, "Australian garbage bins have a uniform design across the country, and sulphur-crested cockatoos are common across the entire east coast."

Martin continues, "In 2018, we launched an online survey in various areas across Sydney and Australia with questions such as, 'What area are you from, have you seen this behavior before, and if so, when?'"
Word Gets Around
Credit: magspace/Adobe Stock
Although the cockatoos' maneuver was reported in only three suburbs before 2018, by the end of 2019, people in 44 areas reported observing the behavior. Clearly, more and more cockatoos were learning how to successfully dumpster dive.
As further proof, says Klump, "We observed that the birds do not open the garbage bins in the same way, but rather used different opening techniques in different suburbs, suggesting that the behavior is learned by observing others." One individual bird in north Sydney invented its own method, and the scientists saw it grow in popularity throughout the local population.
To track individual birds, the researchers marked 500 cockatoos with small red dots. Subsequent observations revealed that not all cockatoos are bin-openers. Only about 10 percent of them are, and they are mostly males. The other cockatoos apparently restrict their education to a different lesson: hang around with a bin-opener, and you will get supper.
Thanks to the surveys, the researchers consider the entire project to be a valuable citizen-science experiment. "By studying this behavior with the help of local residents, we are uncovering the unique and complex cultures of their neighborhood birds."
The few seconds of nuclear explosion opening shots in Godzilla alone required more than 6.5 times the entire budget of the monster movie they ended up in.
Culture & Religion
As I sat in a darkened cinema in 1998, mesmerised and unnerved by the opening nuclear bomb explosions that framed the beginning of Roland Emmerich's Godzilla, it felt like I was watching the most expensive special effect in history.
Vast expanding clouds and fireballs eclipsed their surroundings and smothered everything in their path, dropping radioactive material that gave rise to the title monster. I had never encountered anything like this. I appreciated the creativity of those 90s films that tried to push visual boundaries through emerging computer technology, but this was on a different scale. I later discovered that there was a good reason for this – the footage was real.
The film did win awards for its special effects, although that was for the giant lizard itself and scenes of New York landmarks being shattered by its rampage, not the precise origin or significance of those fleeting mushroom clouds.
I kept coming back to those images and the accompaniment of haunting, almost other-worldly, choral music. It sent shivers down my spine, and still does every time I re-watch it.
It was that footage which started my journey towards research into nuclear history, and which led to me becoming a visiting fellow at the British Library's Eccles Centre for American Studies, where I study their collections, including the early pictorial history of nuclear testing.
Many of those iconic images which originally stunned me came from the aptly named Operation Crossroads – an exercise 75 years ago involving the first postwar nuclear weapons tests in July 1946, conducted by a joint US army-navy task force in Bikini Atoll in the Pacific. It involved 42,000 people, around 150 support vessels and over 90 target ships and submarines.
It also used over half the world's supply of film footage and hundreds of cameras to capture the nuclear detonations. Officially, this extensive filming was driven by military policy and scientific considerations, US political and military leaders wanting to understand the effects of this new weapon. At the same time, the demonstration of these weapons on film also served to showcase US power to a global audience.
The literal and psychological shock waves of that event were significant in the early cold war and in shaping the modern world, from setting precedents for thousands of subsequent bomb tests and accelerating the arms race to long-lasting radioactive environmental damage in locations where these tests occurred.
Crossroads even led to the invention of a language of terms to describe nuclear testing (through over two months of negotiation). Some terms agreed on are perhaps less familiar, including "cauliflower cloud" and "base surge", while others (like "fallout") have become ubiquitous since.
Crossroads had such an impact because it was almost a blockbuster movie production in its filmic scale and focus – a military-scientific cinematic spectacle, unique among over 2,000 nuclear tests conducted worldwide by all nations since.
Public Domain (Wikicommons)
Even as much of its cold war origins and significance lie forgotten, Crossroads' cinematic legacies have lived on over the last 75 years. Photos and footage from it have been used widely, from propaganda to popular culture: from Godzilla movies to internet memes. It has been employed to inform, to protest, as cultural symbols, and in ways which have obscured or re-framed aspects of nuclear history, shifting away from legacies of US testing, or even making the bomb a monster-destroying weapon (seen not least through Godzilla), much like a mushroom cloud enveloping everything in its path.

The world's most expensive film shoot
Crossroads fundamentally changed the film profile of atom bombs. Still images of those dropped on Hiroshima and Nagasaki in 1945 had appeared in many newspapers, but there was limited camera footage of these. There were also only a few thousand TVs in the US in 1946, so for many the Crossroads footage would be watched in cinema newsreels (whether in the US or other countries).
The Crossroads plan was large in scale and complexity, but underpinned by one central concept: assembling a fleet of around 90 decommissioned US naval ships (including three captured German and Japanese vessels), anchoring them in a remote lagoon in the Pacific (Bikini Atoll) and setting off atom bombs against them. A truly blockbuster plan.
'Operation Crossroads. Underwater atomic blast again rocks Bikini Atoll', British Pathé newsreel, 1946.
The stated goal was to test how atomic bombs would affect naval vessels, better to improve the design of future ships and such defensive arrangements as anchoring them in harbours, in the event that America faced the atom bombs of other nations in the future – though only the US had the bomb at this time. But Crossroads was later widened to test damage to other types of material and equipment, as well as measuring various effects of the weapons, such as (rather unsettlingly) the biological impact on thousands of animals present on target ships, including pigs, goats and rats.
Crossroads has been described as one of the most photographed events in history, and this had had several practical effects for moviemakers, even before the first weapon had been exploded. As more than half the world's available stock of film footage was bought up for cameras to record the tests, there were months of shortages in Hollywood and other major studios around the world.
New high-speed cameras were used to capture even the first fractions of a second after detonation (although these didn't always go to plan). Subsequent nuclear tests prompted further developments of these technologies, some of which would later make their way into fields from commercial cinematography to medicine.
Some of the first drone cameras – a concept evoking images of 21st-century movie-making – were also significantly developed and used in Crossroads. Large four-propeller engine B-17 bombers were rigged with TV cameras and transmitters so that they could be flown remotely as drone aircraft, to film the explosions and to collect radioactive samples from clouds. Similar arrangements were made for small, un-crewed boats. While a far cry from modern military and civil drones, such experiments were groundbreaking, leading to shots that would previously have been impossible, and laying foundations for future developments in both drones and in remote-controlled photography.
Development of the atomic bomb had been shrouded in the utmost secrecy throughout the second world war, to the point that the public and most members of Congress didn't know about it until after Hiroshima was bombed. Even Harry Truman – as vice president – hadn't known of its existence until he succeeded President Roosevelt in April 1945. This made the widespread publicity of Crossroads as a global media event one year later even more remarkable. Observers were invited to attend the tests from such unlikely places as the Soviet Union.
While the visuals of nuclear tests may be well recognised, the sound adds another dimension to their impact. The orchestras of the US Armed Forces provided custom music for films of the tests, whether for classified or public consumption, akin to the dramatic soundtracks of action or superhero adventures, or the eerie music of horror movies that creates the atmosphere.
The music was usually reserved as rousing chords for the opening and ending, or particularly poignant moments, such as observing damage to ships, though not for the detonations themselves. By contrast, all cinematic and documentary uses of Crossroads almost always overlay detonation footage with dramatic music.
Crossroads Baker detonation, with added music and with commentary by William Shatner, as featured in the revised version of the 1995 documentary 'Trinity and Beyond'.
One of a kind
"Those black dots are battleships? But they're so tiny," was the amazed reaction of one student when I showed their class footage from Crossroads – it was by no means an isolated response. The iconic nature of those images partly stems from Crossroads being distinctive among nuclear tests, particularly the second detonation, Crossroads Baker, on July 25 1946.
Almost all nuclear weapons tested have either been detonated within the atmosphere (ground or air, sometimes on the verge of space), in which case the first sign of the explosion has involved a blinding flash obscuring everything, or underground, in which there was often much less to see, except eerie videos of the earth slowly giving way to form a crater before kicking up dust. Underground testing could, of course, still lead to dramatic (and disturbing) footage, such as the ground rising up before exploding, a particularly notable example being the Operation Storax Sedan detonation in 1962, which was testing (almost unbelievably) ways of using nuclear weapons for civil construction in large excavation projects.
Crossroads Baker, meanwhile, was detonated just underwater, meaning it could be observed from the moment the explosion reached the surface. The visual effect was also made all the more powerful by the surrounding lagoon, the rapidly expanding blast hurling what were later estimated to be over two million tonnes of water and spray high into the air.
Silent footage from a ground angle with a clear view of the Crossroads Baker detonation, showing the growth of the explosion.
The scale of subsequent test series was different. While the bombs increased in power hundreds of times after Crossroads (and tests grew from using two weapons to sometimes up to 30 or 40 in a single operation), never again was there such a fleet assembled to be bombed.
Filming of tests became an industry in its own right, with subsequent tests having an entire US Air Force studio at Lookout Mountain Laboratory being dedicated to them. But there was rarely the same gathering of news media or scale of filming as at Crossroads. Footage of later tests, while still released in some propaganda and news films, also became less public for various reasons, including security.
There were no further underwater tests until 1955 with Operation Wigwam, which examined a concept originally planned for the cancelled third Crossroads test, Charlie, on the effects of deep ocean nuclear explosions against submarines. Wigwam similarly saw no repeat of the Crossroads fleet – only three miniature submarines anchored to the bomb for taking damage measurements, alongside a modest number of support vessels.
Other stories
For all the effort of being so widely photographed, much of the footage captured remained classified. Some was released in 1946 newsreel and public information films, more appeared in the 1960s, and further photographs and footage were released in 2016.
Crossroads had a book as well: an "Official Pictorial Report", something not repeated in any other test series and publicly available with around 200 photographs and captions. It has been a very valuable and often-overlooked time capsule of how the test was recorded and presented, but is also only a drop in the lagoon of 50,000 still images captured.
Many photos are of the people involved rather than the bombs themselves. In the Official Report, for instance, I discovered that only a fifth of the images show mushroom clouds; the rest charting things like scientific preparations or the aftermath of tests, but also everyday life for the task-force members conducting them. The more I saw them, the more I became fascinated with how these people were adapting to living through such events. It was like seeing "behind the scenes" footage.
And then there are the people who are only represented briefly in these images, often in a particular light, or excluded entirely – such as the existing population of 167 people at Bikini Atoll. These people ostensibly "agreed" to give up their homes for science, but, in reality, felt that they didn't have a choice, and also assumed that the move would only be temporary.
This was one of the first examples of nuclear colonialism. They were relocated to Rongerik Atoll, where food sources turned out not to be sustainable, and relocated further times after that. About 150 returned to Bikini in the 1970s, but the health dangers from radioactivity left behind by subsequent tests meant they had to leave again in 1978 and have never been able to return. Their story only received the greater attention it deserves in recent years.
In the world of box office films, the predominant cinematic uses of Crossroads' historic footage remains the mushroom cloud, inescapable in its iconic and instantly recognisable form. But the ways in which it has been used out of context in such films as Godzilla can create new meanings for how others depicted nuclear history, while further obscuring the original ones.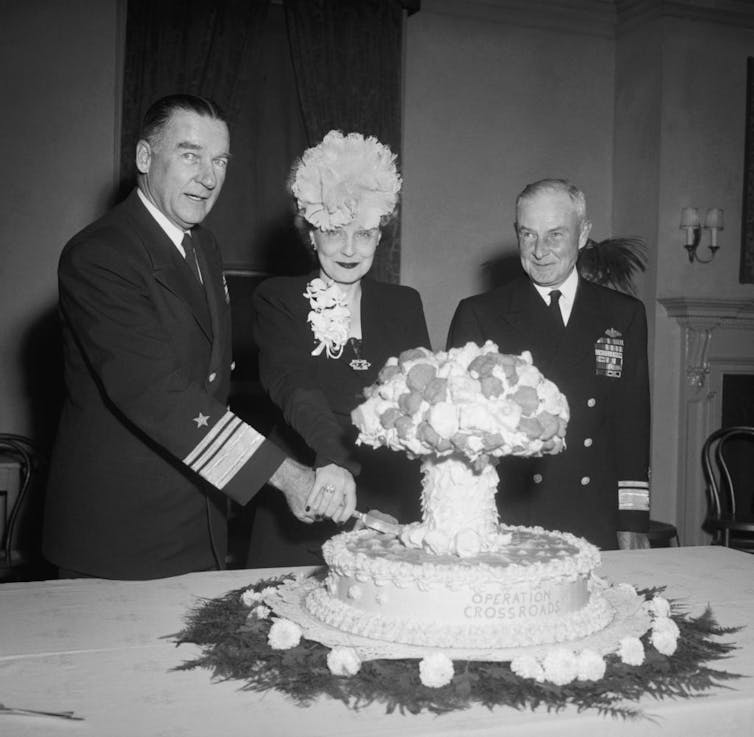 Admiral William Blandy, who led Operation Crossroads, and his wife cut a mushroom cloud cake. ( Harris & Ewing Studio/Wikimedia Commons)
(Mis)appropriation of Crossroads
Crossroads' footage has been used in a wide variety of settings, from the ending of Stanley Kubrick's Dr Strangelove to YouTube memes. But the Godzilla uses stand out, both in my own personal experience, but also because of their significance of wider trends in how nuclear history has been re-interpreted cinematically.
Even in 1998, I saw Godzilla as an allegory for the effects of nuclear tests and radiation. It was only when reading about the 1954 original that I learned the wider history: in the original (Japanese) story, Godzilla is an embodiment of the harm from nuclear weapons themselves and particularly the atomic bombings of Hiroshima and Nagasaki. The 1954 Godzilla was a peaceful ancient dinosaur, sent on a rampage by the effects of radiation from an atomic explosion. But this narrative became distorted in some later remakes, whether aimed at Japanese or western audiences.
A particular criticism of US adaptations, right from US re-cuts of the 1954 original that were sold back to Japan, has been the removal of overt references within the movies to Hiroshima and Nagasaki, or indeed to any of the problematic aspects of US nuclear history.
The 1998 film begins by focusing on Godzilla as being created by French nuclear tests in the Pacific. Such detonations did indeed happen, although the footage used is entirely that of American Pacific nuclear testing (Crossroads Baker featuring prominently from different angles alongside a few shots of other tests). Little visual and audio cues reinforce this fiction by superimposing over a montage of test preparations a map of French Polynesia, a countdown in French, and La Marseillaise playing in the background.
There are other hints later in the film which – as subtle as the presence of Godzilla itself – include Jean Reno as leader of a "French Secret Service" team who signals their job is to clean up the problems created by their country's tests in the Pacific, and a US TV station helpfully putting up a map of Godzilla's origins alongside a big sign "French Nuke Testing".
The 2014 film goes even further in its repainting of nuclear testing history. The opening also starts with Pacific tests, although framed as being the 1954 US thermonuclear weapons test, Castle Bravo. This time, instead of starting with a Godzilla created by atom bomb radiation, the nuclear tests are portrayed as a weapon used to try to kill Godzilla.
Opening shots of Godzilla (2014), prominently featuring footage of the Crossroads Baker detonation.
Of course, it's ironic that the film starts with an attempt to kill the embodiment of the effects of nuclear weapons, Godzilla, with nuclear weapons. And that the real-life 1954 Castle Bravo test went out of control because of an unexpected reaction, spreading radiation much further than planned, severely affecting the population of the Rongelap and Utirik Atolls with radiation poisoning, as well as sailors on a Japanese fishing trawler, one of whom later died. This story of the fishermen ignited protests in Japan over nuclear testing, resonating with the still fresh wounds of Hiroshima and Nagasaki and acting as a major inspiration for the original Japanese Godzilla film that same year.
For all the advancements in special effects technology, at the crucial moment of detonation, the iconic footage of Crossroads Baker still appears as the centrepiece in the 2014 Godzilla. It is interspersed with a more computer-generated mushroom cloud and the mimicking of shock waves hitting island beaches, but the continued usage shows its cinematic longevity.
It is not that there weren't videos of Castle Bravo available. On the contrary, footage of it has been iconic, and terrifying, in its own right in documentaries and films, and that bomb itself was over 700 times more powerful than Crossroads Baker. It is possible that these films, taken from a greater distance, didn't have quite the same, seemingly close-up, unobscured, and immediate feeling of scale as Baker, flanked by full-sized naval ships that appear as mere toys against the mushroom cloud.
To stunned moviegoers like myself, Crossroads may well have been the most expensive special effects in history. Adjusted for inflation, the operation would have cost over US$800 million in 1998, possibly even more with added technical and safety complexities (fortunately, US and Soviet atmospheric nuclear testing had ended in 1962). As such, those few seconds of nuclear explosion opening shots in Godzilla alone required more than 6.5 times the entire budget of the monster movie they ended up in.
But the cost which can never be calculated is the power of those images upon the human imagination and fear, as well as their effect on the nuclear arms race. Many target ships, while damaged, survived Crossroads Baker, but were enveloped in so much radioactive seawater that decontamination became almost impossible, except for a few vessels.
Plans to sail the remaining ships back to the US triumphantly gave way to sinking most of them, albeit without the same fanfare as the operation itself. A forgotten end credits scene on which the cameras never rolled, but the fallout from which fogs the films to this day.
Timothy Noël Peacock, Lecturer in History, University of Glasgow

This article is republished from The Conversation under a Creative Commons license. Read the original article.
A new study tested to what extent dogs can sense human deception.
Credit: Adobe Stock / kozorog
Surprising Science
A study of 260 dogs found that, in some cases, dogs can tell when people are lying.
The experiments involved giving dogs information about the location of food.
The majority of the dogs did not follow false suggestions when they knew humans were lying.
Is humanity's best friend catching on to our shenanigans? Researchers at the University of Vienna discovered that dogs can in certain cases know when people are lying.
The scientists carried out a study with hundreds of dogs to determine to what extent dogs could spot deception. The team's new paper, published in Proceedings of the Royal Society B, outlined experiments that tested whether dogs, like humans, have some inner sense of how to assess truthfulness.
As the researchers wrote in their paper, "Among non-primates, dogs (Canis familiaris) constitute a particularly interesting case, as their social environment has been shared with humans for at least 14,000 years. For this reason, dogs have been considered as a model species for the comparative investigation of socio-cognitive abilities." The investigation focused specifically on understanding if dogs were "sensitive to some mental or psychological states of humans."
The experiment
The experiments involved 260 dogs, which were made to listen to advice from a human "communicator" whom they did not know. The human told them which one of two bowls had a treat hidden inside by touching it and saying, "Look, this is very good!" If the dogs took the person's advice, they would get the treat.
Once they established the trust of the dogs, the researchers then complicated the experience by letting dogs watch another human that they did not know transfer the treat from one bowl to another. In some cases, the original communicator would also be present to watch but not always.
The findings revealed that half of the dogs did not follow the advice of the communicator if that person was not present when the food was switched to a different bowl. The dogs had a sense that this human could not have known the true location of the treat. Furthermore, two-thirds of the dogs ignored the human's suggestion if she did see the food switch but pointed to the wrong bowl. The dogs figured out the human was lying to them.
Photos of experiments showing the dog, human communicator, and person hiding the treat. Credit: Lucrezia Lonardo et al / Proceedings of the Royal Society B.
"We thought dogs would behave like children under age five and apes, but now we speculate that perhaps dogs can understand when someone is being deceitful," co-author Ludwig Huber from the University of Vienna told New Scientist. "Maybe they think, 'This person has the same knowledge as me, and is nevertheless giving me the wrong [information].' It's possible they could see that as intentionally misleading, which is lying."
This is not the first time such experiments have been carried out. Previously, children under age five, macaques, and chimps were tested in a similar way. It turned out that children and other animals were more likely than dogs to listen to the advice of the liars. Notably, among the dogs, terriers were found to be more like children and apes, more eagerly following false suggestions.
Opponents of 19th-century American imperialism were not above body-shaming the personification of the U.S. government.
Credit
: Bill of Rights Institute / Public domain
Strange Maps
In the years before 1900, the United States was experiencing a spectacular spurt of growth.
Not everyone approved: many feared continued expansionism would lead to American imperialism.
To illustrate the threat, Uncle Sam was depicted as dangerously or comically fat.
Detail from "Charge of the 24th and 25th Colored Infantry, July 2nd 1898", depicting the Battle of San Juan Hill – a turning point in the Spanish-American War. Credit: Kurz and Allison / Public domain
The past is a different country. And not just in the poetic sense. In the early 19th century, the United States was much smaller than it is today. But by the end of that century, the U.S. had consolidated into an empire both in the continental sense as well as the colonial one: not only did it stretch across the entirety of North America, from sea to shining sea, it also had acquired significant amounts of territory and influence beyond those shores.

Decidedly non-progressive
America's imperial girth and radiance may seem like faits accomplis today, but they were vehemently contested by the domestic press of the time. At the very tail of the century, this opposition led to a curious cartographic phenomenon which, despite its anti-imperialist origins, we today recognize as a decidedly non-progressive practice: the fat-shaming of Uncle Sam.
Uncle Sam is the personification of the United States (the country and, often specifically, its government), with which he shares his initials. His exact origins are unknown, although an apocryphal reference is often made to Samuel Wilson, a meat packer from Troy, NY and supplier of American troops during the War of 1812. Authenticity concerns aside, ever since 1989, the U.S. has had an annual Uncle Sam Day on September 13th, Wilson's birthday.
However, Uncle Sam is also the continuation of Brother Jonathan, who personified the typical New England Yankee and has his origins in the 17th-century English Civil War (where the term was used by the Royalists to mock the Puritans). Sam certainly borrowed Jonathan's striped pants, stove-pipe hat, and lanky figure. The thinness and old-fashioned appearance of both Jonathan and Sam (who were interchangeable by the mid-19th century) were meant to symbolize a kind of restless thriftiness, a supposedly national trait of the Yankee — and by extension, the American nation.
A lightning rod for criticism
Around the time of the Civil War, Sam had largely supplanted Jonathan as a national figure. As a sort of shorthand of the U.S., Uncle Sam was a favorite of cartoonists in the 19th and 20th centuries. (He seems to have gone a bit out of fashion in the 21st.) Especially during the World Wars, he was used as a symbol of national resilience and an important ingredient of patriotic propaganda. Inversely, he was also easily adopted as a lightning rod for criticism of the U.S. and its international policies.
In various cartoons of the 19th century's last decade, Uncle Sam — recognizable by his goatee and tricolored clothes — is depicted as increasingly fat and mocked for it. His embonpoint is understood to be a symbol of geopolitical gluttony, making him — that is, the United States itself — appear both avaricious and ridiculous on the world stage. This was the build-up toward the Spanish-American war of 1898, from which the U.S. would emerge victorious and in possession of much of Spain's remaining overseas empire, consisting of the Philippines, Puerto Rico, Cuba, and other smaller island territories.
This can be seen as America's Julius Caesar moment — when it, like Rome before it, changed from a republic into an empire. It was certainly recognized (and feared) as such in those days.

Trying to swallow Cuba whole
A Victor Gillam cartoon for Judge, this front-page illustration clearly shows Uncle Sam's voracious ambition toward Cuba. Credit: Cornell University Library / Public domain
On August 10, 1895, the satirical magazine Judge published a cartoon by Victor Gillam on its front page that showed a modified map of North America, enlisting the continent's geography to make a shockingly visceral, anti-imperialist point.
Cuba is shown as a small fish, attempting to swim away from the maw of Uncle Sam, who coincides with North America itself. Mexico is his lower jaw, Central America his goatee, Florida his nose, Washington, DC his all-seeing eye, and Canada his hat.
The map is entitled The Trouble in Cuba. The trouble seems to be that Cuba refuses to be swallowed by Uncle Sam, who says, "I've had my eye on that morsel for a long time; guess I'll have to take it in!"

An expansionist menu
"You're too late", says Uncle Sam: "I've eaten."Credit: National Archives / Public domain
In this cartoon, Uncle Sam, identified with President McKinley, is presented as a glutton and his detractors as too slow to stop him. In 1898, the United States had won the Spanish-American War, laying claim to Puerto Rico and the Philippines among other spoils of the now defunct Spanish empire. In the same year, the U.S. had also acquired Hawaii as a territory.
Many in Congress worried that McKinley's policy of continued expansion would lead to imperialism. Bursting through the door to prevent Uncle Sam from gobbling up a load of overseas territories are Representative William Jennings Bryan and Senator George Frisbie Hoar. They are too late; the plates are empty. On the ground is an Expansion Menu, listing what just has been devoured: Hawaiian Soup, Portorican Rice (?), Philippine Pudding.

Cracks in the pond
Skating on thin ice? U.S. expansionism reimagined as a winter sport.Credit: Library of Congress / Public domain
This centerfold cartoon from the New York Herald of November 26, 1898 shows the comically rotund figures of Uncle Sam and President McKinley, skating across a wintery landscape on a body of water labelled Expansion Pond. A rather joyless figure in a deerstalker hat, perhaps newspaper magnate Joseph Pulitzer, known for his anti-expansionist stance, does not want to join in the fun. "I will not skate on your pond," he avers.

Big, bigger, best?
A cartoon from 1899, from the satirical magazine Judge, depicting the growth (and growth) of the United States.Credit: Bill of Rights Institute / Public domain
In 1899, Judge published another cartoon by Victor Gillam, entitled A Lesson for Anti-Expansionists. Showing the growth of Uncle Sam over the various stages of his life, that lesson is how the U.S. "has been an expansionist first, last, and all the time."
On the left, the U.S. starts out as an infant (1783, 13 states).
The second figure is a strapping young lad confidently leaning on a frontiersman's axe (1803, Louisiana Purchase).
The third figure is a stern-looking, musket-holding soldier (1819, Florida ceded by Spain).
The fourth figure is a supremely confident-looking gentleman, newly goateed and top-hatted (1861, having recently annexed Texas).
Fifth is an older gentleman, slightly roguish and rotund (1898, annexed Hawaii).
In just one year, Uncle Sam has gone from merely full-figured to morbidly obese but with a confident smirk on his face and a ship under his arm, as a symbol of the naval prowess that earned him various colonies (Cuba, Philippines, Porto Rico [sic] in 1899).
The final figure is pondering the many hands outstretched toward him, labelled as Russia, China, Germany, England, and other world powers. "And now all the nations are anxious to be on friendly terms with Uncle Sam," the caption reads. Unlike Gillam's earlier cartoon, this one can be construed as ambiguous: is this a critique of expansionism or an acknowledgement of the influence that expansion has brought with it?
Expand and explode

"1776 – 1803 – 1867 – 1898 - ?": Life magazine cartoon critical of America's expansionism.Credit: Life magazine, 26-January-1899, pp. 72-73. Via Hathi Trust Digital Library / Public domain
Gillam may have been inspired by a cartoon published earlier that year in Life magazine, which depicts a similarly inflating Uncle Sam, but with a more dramatic finale.
Uncle Sam starts out as his full-grown, slim-figured self in 1776.
The Louisiana Purchase of 1803 seems to subtract rather than to add to his joy.
The annexations of Alaska and Texas only add to his discomfort.
Discomfort turns to distemper in 1898, with the takeover of the defunct Spanish empire in the Pacific and Caribbean.
Growing ever bigger and more agitated over the course of these additions, can it be far off before Uncle Sam simply explodes?
Intervention at the tailor shop
Cartoon by John S. Pughe, published in Puck on September 5, 1900, titled "Declined with Thanks."Credit: Keppler & Swartzmann / Public domain
This cartoon from 1900 shows then-President William McKinley as a tailor, sizing up an enormous Uncle Sam. The striped pants list Sam's recent acquisitions, from Louisiana and California to Hawaii and Porto Rico.
McKinley is getting ready to cut Uncle Sam a new suit from cloth labelled "enlightened foreign policy - rational expansion." But three stern-looking gentlemen have entered McKinley's tailor shop and are keen for another course of action. They want to administer a medicine called "anti-expansionist policy."
The most prominent of the three would have been recognized by contemporaries as publishing magnate Joseph Pulitzer, campaigner against imperial expansion. He says, "Here, take a dose of this anti-fat and get thin again!" To which Uncle Sam replies, "No, Sonny! I never did take any of that stuff, and I'm too old to begin!"
And… thin again
John Bull and Uncle Sam in the year 1900, a study in contrasts. Credit: American Truth Society / Public domain
Uncle Sam and other national personifications have several advantages over real people — one of those is that they can change body type to fit the situation.

Despite years of cartoons showing Uncle Sam as getting too big for his britches, in this illustration from 1900 he reverts to type, becoming rail-thin again. The reason: to contrast with that other national archetype, John Bull, representing the British Empire, which was then at its height. How do you personify a globe-spanning empire? By fattening up the figure in question.
Without knowing anything about the content of The Fable of John Bull and Uncle Sam, it is safe to say, judging from the stance of both figures alone, that it will show the former as unworthy of his leading role in the world with the latter more capable and willing to assume that role.
Most maps were taken from this article on Carto-Caricatures, a fascinating blog about the intersection between cartography and caricature.
Strange Maps #1097
Got a strange map? Let me know at strangemaps@gmail.com.