Video Games and the Future of Storytelling
Salman Rushdie
Salman Rushdie is a British-Indian novelist and writer, author of ten novels including Midnight's Children (Booker Prize, 1981), Two Years Eight Months and Twenty-Eight Nights, and The Golden House.
The publication of his fourth novel "The Satanic Verses" in 1988 led to violent protests in the Muslim world for its depiction of the prophet Mohammad. The Supreme Leader of Iran, Ayatollah Khomeini, issued a death fatwa against Rushdie, which sent him into hiding for nearly a decade. Rushdie weathered countless death threats and many assassination attempts.
In June 2007, he was knighted by Queen Elizabeth. In 2008 he became a member of the American Academy of Arts and Letters and was named a Library Lion of the New York Public Library. In addition, "Midnight's Children" was named the Best of the Booker—the best prize-winner in the award's 40 year history—by a public vote. In 2008, The Times of London ranked Rushdie thirteenth on their list of "The 50 greatest British writers since 1945."
24 November, 2010
Question: How are video games influencing linear forms of storytelling?

Salman Rushdie: That's a very interesting question and I think the answer is we don't yet know. But I do think that I mean for instance the game that my 13 year-old boy Milan and his friends all seem to be playing right now is this wild west game called "Red Dead Redemption" and one of the things looking over… I mean I don't even pretend to understand what is going on really, but one of the things that is interesting about it to me is the much looser structure of the game and the much greater agency that the player has to choose how he will explore and inhabit the world that is provided for you. He doesn't... in fact, doesn't really have to follow the main narrative line of the game at all for long periods of time. There is all kinds of excursions and digressions that you can choose to go on and find many stories to participate in instead of the big story, the macro story. I think that really interests me as a storyteller because I've always thought that one of the things that the Internet and the gaming world permits as a narrative technique is to not tell the story from beginning to end—to tell stories sideways, to give alternative possibilities that the reader can, in a way, choose between.

I've always thought of the Borges story, "The Garden of Forking Paths" as kind of model of this, that... "The Garden of Forking Paths" is a story, is a book whose author has gone mad because what he has tried to do is to offer every possible variation of every moment. So, boy meets girl. They fall in love/they don't fall in love. That is the first fork and he wants to tell both those stories and then every variation of every moment down both those lines and of course it's like nuclear fission. The possibilities explode into millions and billions of possibilities and it's impossible to write that book. But it seems to me that in some ways the Internet is the garden of forking paths where you can have myriad variant possibilities offered and at the same level of authority, if you like. So I mean I think that's one of the ways in which storytelling could move. And these games, these more free-form games in which the player can make choices about what the game is going to be, become a kind of gaming equivalent of that narrative possibility.

Question: Do you worry that video games are eroding people's ability to read novels?

Salman Rushdie: I think there are legitimate concerns there and I worry also that there is a dumbing down factor. These games... I mean they sometimes require lateral thinking. They sometimes require quite skilled hand-eye coordination and so on. But they're not in any sense intelligent in the way that you want your children to develop intelligence to make the mind not just supple, but actually informed. And of course if people spend too much time on this stuff then it militates against that.

One of the things about "Luka and the Fire of Life," which is basically pro... Rashid Luka's father is basically fond of the video game and defends video games to Luka's mother, who is much more skeptical of their value. But there is a bit of the book which also suggests that the problem may be that this way of inhabiting the imagination may do something harmful to our relationship to story, to the way in which human beings have always needed and responded to the art of the story and that is something to be worried about, because I think that there is something about storytelling that is very intrinsic to who we are as human beings. So one of the characters in the book refers to man as the storytelling animal—and so we are. We are the only creatures on the earth who do this, so and we may even I think be hard-wired to do it in the way that we have a language instinct. We may actually have a story instinct and so there is a legitimate concern about a new form which may erode our attachment to the story. What will that do to us as human beings?
Recorded November 12, 2010
Interviewed by Max Miller
Directed / Produced by Jonathan Fowler

Rushdie is fascinated by video games like "Red Dead Redemption," which allows gamers much more agency to choose the path they take through the narrative. Will all storytelling have to adapt to this new, looser narrative technique?
Malcolm Gladwell teaches "Get over yourself and get to work" for Big Think Edge.
Big Think Edge
Learn to recognize failure and know the big difference between panicking and choking.

At Big Think Edge, Malcolm Gladwell teaches how to check your inner critic and get clear on what failure is.

Subscribe to Big Think Edge before we launch on March 30 to get 20% off monthly and annual memberships.
It turns out, that tattoo ink can travel throughout your body and settle in lymph nodes.
17th August 1973: An American tattoo artist working on a client's shoulder. (Photo by F. Roy Kemp/BIPs/Getty Images)
popular
In the slightly macabre experiment to find out where tattoo ink travels to in the body, French and German researchers recently used synchrotron X-ray fluorescence in four "inked" human cadavers — as well as one without. The results of their 2017 study? Some of the tattoo ink apparently settled in lymph nodes.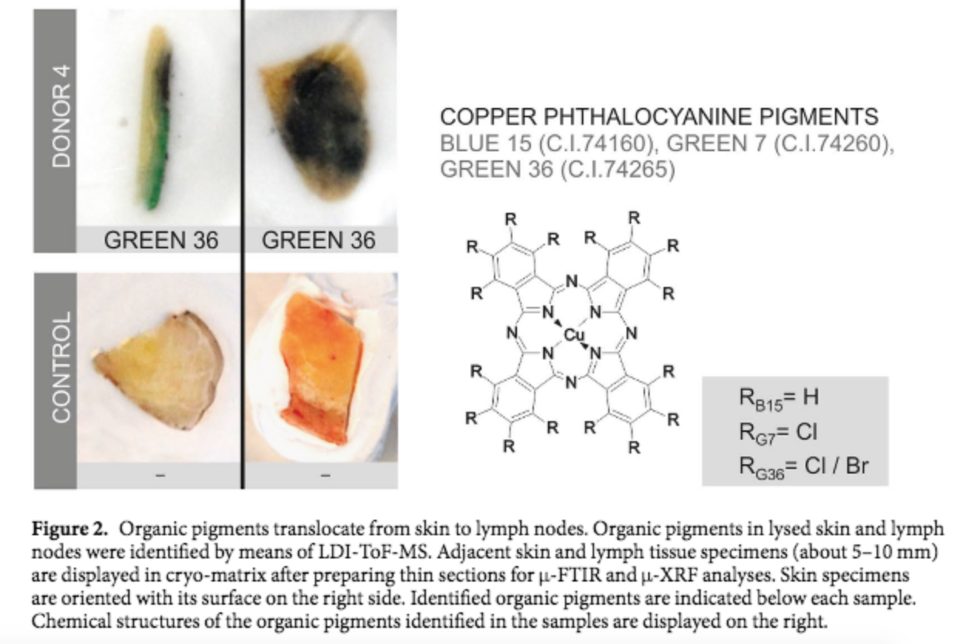 Image from the study.
As the authors explain in the study — they hail from Ludwig Maximilian University of Munich, the European Synchrotron Radiation Facility, and the German Federal Institute for Risk Assessment — it would have been unethical to test this on live animals since those creatures would not be able to give permission to be tattooed.
Because of the prevalence of tattoos these days, the researchers wanted to find out if the ink could be harmful in some way.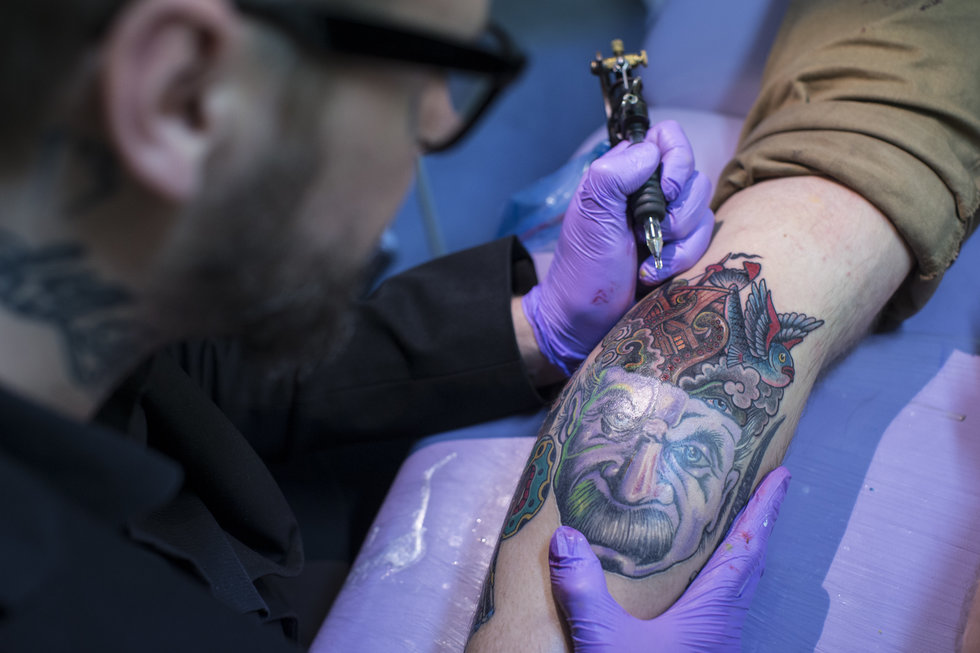 "The increasing prevalence of tattoos provoked safety concerns with respect to particle distribution and effects inside the human body," they write.
It works like this: Since lymph nodes filter lymph, which is the fluid that carries white blood cells throughout the body in an effort to fight infections that are encountered, that is where some of the ink particles collect.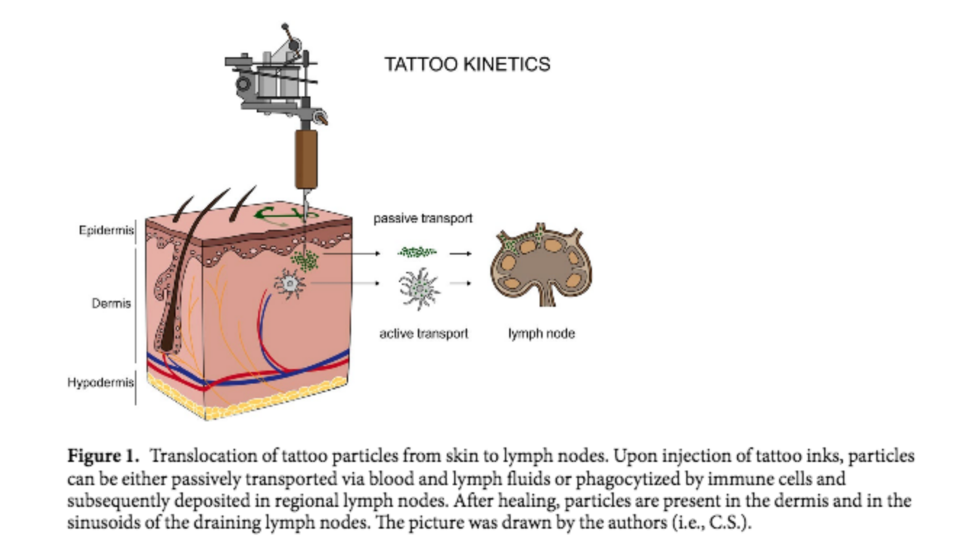 Image by authors of the study.
Titanium dioxide appears to be the thing that travels. It's a white tattoo ink pigment that's mixed with other colors all the time to control shades.
The study's authors will keep working on this in the meantime.
"In future experiments we will also look into the pigment and heavy metal burden of other, more distant internal organs and tissues in order to track any possible bio-distribution of tattoo ink ingredients throughout the body. The outcome of these investigations not only will be helpful in the assessment of the health risks associated with tattooing but also in the judgment of other exposures such as, e.g., the entrance of TiO2 nanoparticles present in cosmetics at the site of damaged skin."
It's one of the most consistent patterns in the unviverse. What causes it?
Videos
Spinning discs are everywhere – just look at our solar system, the rings of Saturn, and all the spiral galaxies in the universe.
Spinning discs are the result of two things: The force of gravity and a phenomenon in physics called the conservation of angular momentum.
Gravity brings matter together; the closer the matter gets, the more it accelerates – much like an ice skater who spins faster and faster the closer their arms get to their body. Then, this spinning cloud collapses due to up and down and diagonal collisions that cancel each other out until the only motion they have in common is the spin – and voila: A flat disc.
Big think's weekly newsletter.
Get smarter faster from the comfort of your inbox.
See our newsletter privacy policy
here
Most Popular
Most Recent
Big think's weekly newsletter.
Get smarter faster from the comfort of your inbox.
See our newsletter privacy policy
here
© Copyright 2007-2018 & BIG THINK, BIG THINK EDGE,
SMARTER FASTER trademarks owned by The Big Think, Inc. All rights reserved.