Is Your Life Really Yours? How 'The Attention Merchants' Got Inside Our Heads
"My Experience is What I Agree to Pay Attention to," said psychologist William James. And therein lies the problem and danger of advertising: we don't always agree or choose to pay attention, but it shapes our life experience irrevocably.
Tim Wu
Tim Wu is an author, policy advocate, professor at Columbia Law School, and director of the Poliak Center for the Study of First Amendment Issues at Columbia Journalism School. Wu's best known work is the development of Net Neutrality theory, but he also writes about private power, free speech, copyright, and antitrust.
In 2014, he ran as the progressive Democrat candidate for lieutenant governor of New York. His book The Master Switch (2010) has won wide recognition and various awards. Wu is a contributing writer at The New Yorker and a former contributing editor at The New Republic. He formerly wrote for Slate, where he won the Lowell Thomas Gold medal for Travel Journalism. Wu worked at the Federal Trade Commission during the first term of the Obama administration, and has also worked as Chair of the media reform group Free Press, as a fellow at Google, and worked for Riverstone Networks in the telecommunications industry. In 2015, he was appointed to the Executive Staff of the Office of New York State Attorney General Eric Schneiderman as a senior enforcement counsel and special advisor.
01 November, 2016
Tim Wu: So there was a man named Benjamin Day who I call the first of the attention merchants, the founder of the New York Sun, who was in his own way a business genius and an innovator. He had this idea which was as opposed to selling a newspaper for six cents which was the normal way of doing it, he would sell his newspaper for a penny and try and attract an enormous audience and resell that audience to advertisers. So the newspapers at the time, the six penny papers, they're a little bit boring. They covered politics and finance. They didn't have crime stories, that kind of thing. And he introduced a sort of a far more interesting newspaper. The very first issue was all about the suicide of a man who had been separated from his lover. It had stories of death, mayhem, destruction, gossip and was sold at such a low price that he managed to attract these enormous audiences which then were resold to advertisers. Now the thing about that penny price is it was a money losing proposition unless you sold enough and unless you reach enough advertisers to make it worth it. So he pioneered this unusual business model which today is found in as many places as Google, Facebook, Instagram, you know, it's sort of taken over our lives.
So we are in a period where there's something of a revolt going on against advertising. There are a lot of people who consider themselves immune to ads or try and avoid all advertising. There's cord cutters and there's a lot of people who use ad blocking technologies to try and have themselves sort of in an ad free zone. And it's reached the point where it's a little bit of a kind of a war, maybe a war of attrition. And I'll say two things about that. First in the history of advertising there have been similar moments. It seems that about every 30 years or so there's a kind of revolt. Usually because things have gone too far in one way or another and I think in some ways things have gone too far in the web. That there is just too much, too intrusive, too much privacy invasion and people are starting to say, you know, this is not what I bargained for. Whatever deal we had I think you're exceeding the terms.
I think that hopefully it will lead to a place where we strike some kind of new deal, some kind of understanding is made. You know the web lacks any kind of limits as to where advertising should or shouldn't go. It's not like newspapers or something where there's, you know, you don't have every page of the newspaper completely covered in ads. There's kind of a bargain. And I hope we reach that on the web.
[Another thing that it will probably lead to however is also more and more efforts to use advertising that is surreptitious, that gets under the radar, that you don't really realize is advertising. You might even call it manipulation or nudges.
I think you'll see this particularly with some of our devices or new technologies. Let's say you use Google Maps trying to find something, a place to eat. How much of that decision is based on what's nearby and the best, how much it is based on who is paid at Google to sort of put the ad there. I think as we move into an era where we increasingly rely on intelligent intermediaries defining things for us or to be our guides in life the possibilities of surreptitious marketing increase. And I think that's a direction that we'll probably see, particularly with so much resistance to advertising.
You know I think as a culture we've become obsessed with free stuff almost frankly quite to our detriment. You know it's almost impossible for many people to consider using anything on the web that isn't free. Somehow it's like an outrage if you have to pay for it. And there's been a cost to that. I think that when many people signed up for Facebook in the early days it just seemed fun and free. There was very few advertising or very little advertising. But slowly we've come to understand that you're paying in very different ways. You're paying with your data which you hand over. You're paying with your attention. If you spend I don't know how many minutes or even hours a day on Facebook you're giving over something of tremendous value. And ultimately there's several ways in which we're paying. First of all we are granting unprecedented levels of access to ourselves, to our portal of judgment which ultimately has commercial influence or can influence our life in other ways. So we may without realizing it end up living lives that are a little different than we might have wanted to buying more things than we expected to, voting for people we might not have thought we would. All these sorts of things. We make ourselves open to influence, let's just put it that way.
And the other cost is that ad supported mediums have a constant need to deliver a receptive audience. And since we are the audience we are increasingly programmed to be more receptive which means open to distraction, ready to see something, constantly clicking and looking. There's an effect that I call the casino effect which I think comes to describe our lives on the web where you sit down to write an email and then suddenly you notice four hours have gone by. You're not quite sure what happened. You do know you clicked on a bunch of stuff and you went here and you went there. I think that is kind of becoming our lives and that's a very attractive mental state for advertisers because you're constantly clicking, constantly refreshing, constantly seeing new stuff. Whether it's good for us is an entirely different question. And so I think we're at risk of losing some of our ability to deeply focus, to get work done, to have the kind of attention span you need to do more profound kinds of work. And that I think is some of the cost of free.
So one of the inspirations for this book was the philosopher William James who is one of the first psychologists writing in the nineteenth century. And he had this one line that really struck me where he said roughly, you know, your life experience is what you choose to direct your attention to. And so at the end of your day is when it's all said and done what your life was will be the culmination of what you paid attention to. You know and that's in some very profound way true. And it does suggest something interesting about our times. We live in a time where our life experience moment to moment is more intermediated than any other time in human history. It's almost like we live in a built environment of attention. Most, I don't know exactly how you count the hours but many of our hours are screen as opposed to physical. I mean the screen is physical but it's some virtual thing. And in some sense we live in a cocoon almost, a projection at this point. You know we're still here but in terms of what our attention is paid to a lot of it is not here. And so I think that whether that's good or bad I'll leave to one side but it certainly makes it important that we understand the motives of those who are creating the cocoon that you're living in.
If we are living in kind of a simulated reality that's where we are, virtual reality is just the stronger version of it. You better pretty profoundly trust who's creating your reality for you and maybe have some say in what that reality looks like. And I worry and part of the reason I wrote this book is to examine those motivations. And if it is fundamentally the motivation to gather you up for resale to something well that might not actually be in your interest or sort of suddenly manipulate you in different ways. But even more profoundly than being sold to which is kind of annoying there is this issue of living your own life, making decisions which are yours. And I don't care if you listen to the founders or John Stuart Mill or if you're a religious person but the importance of decisions that are truly ours is so fundamental, so profound to a realized life that I think we need in this day and age there's so much that we're exposed to is motivated by other ideas. We need to be very careful about reserving time and space for ourselves and making decisions which we can truly call our own in order to live a life you can truly call your own.
When we turn on the television, or leaf through the newspaper, every one of us enters into a knowing contract with advertisers – they will do their best to sell us something. According to Tim Wu, law professor at Columbia University and author of new book The Attention Merchants, the online world is markedly different – it runs away with that mutual understanding, stretches it to places and methods you would not sensibly consent to.
---
What makes us stick around, then? Wu believes it's our love of free things. Facebook, Google, Amazon, eBay and many other platforms that have become the center of our social, business and retail lives don't cost a thing to use, and allow us to do so much. But what are the costs of everything being free? In exchange for these privileges, companies and media organizations harvest our attention and sell it to advertisers. They are 'the attention merchants'. That makes you the commodity.
Many of us revolt against ads – we use ad blockers, choose streaming over broadcast TV, listen to on-demand music rather than radio, and hack our way out of much-loathed YouTube commercial overtures. But there is subtle attention harvesting happening in ways we cannot see, and do not question. Our preferences and habits are being mined and that information used to sell products and ideas to us at an even deeper level. The high-competition for our attention results in ever-increasing misleading click-bait, flashing images, shorter content (anything to get us in and keep us there), and it actually changes us neurologically. We've lost our ability to deeply focus, to get into a flow state where profound work is made – that, in Wu's eyes is a definite and serious cost.
But even more worrying is the way advertisements push and pull you toward decisions that could change the course of your life entirely. You may spend more money than planned and miss out on experiences you would have organically desired instead, like travel. You may vote for someone you previously wouldn't have. Open to the influence of companies who know a lot about you, you may end up living a little differently that you wanted to – without even realizing it. This gets us to one of Wu's big questions: since your mind and attention have become commodities, open to extensive and subtle influenced, are the decisions you're making really yours? How much of your life is motivated by ideas and impulses disguised so that you feel they are authentically yours? Wu says we need to be diligent in removing ourselves from the attention marketplace regularly enough so that we can be sure we are living lives we can truly call our own.
Tim Wu's most recent book is The Attention Merchants The Epic Scramble to Get Inside Our Heads.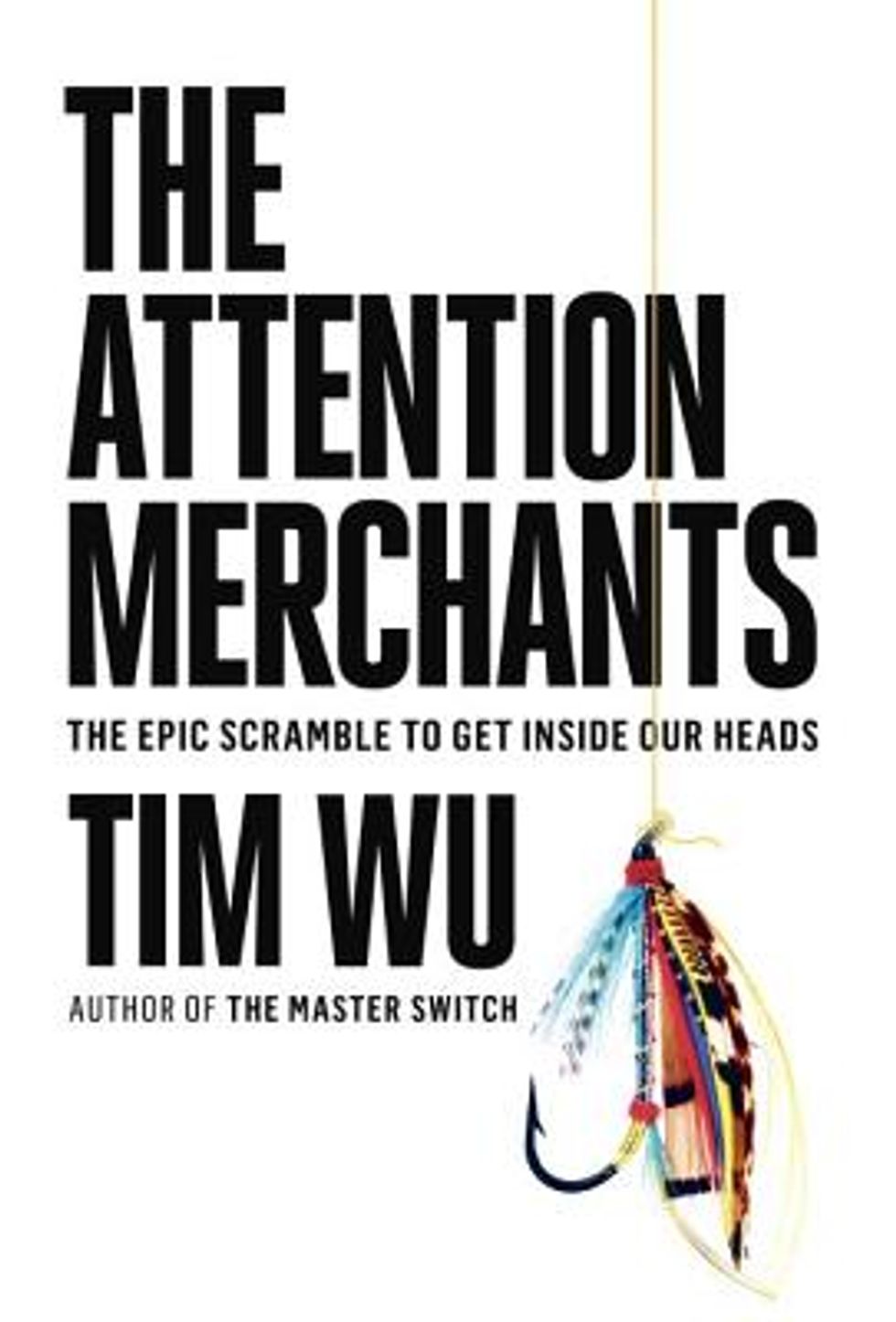 Big ideas.
Once a week.
Subscribe to our weekly newsletter.
What's the difference between brainwashing and rehabilitation?
Mind & Brain
The book and movie, A Clockwork Orange, powerfully asks us to consider the murky lines between rehabilitation, brainwashing, and dehumanization.
There are a variety of ways, from hormonal treatment to surgical lobotomies, to force a person to be more law abiding, calm, or moral.
Is a world with less free will but also with less suffering one in which we would want to live?
Alex is a criminal. A violent and sadistic criminal. So, we decide to do something about it. We're going to "rehabilitate" him.
Using a new and exciting "Ludovico" technique, we'll change his brain chemistry to make him an upstanding, moral citizen. Alex will be forced to watch violent movies as his body is pumped with nausea-inducing drugs. After a while, he'll come to associate violence with this horrible sickness. And, after a course of Ludovico, Alex can happily return to society, never again doing an immoral or illegal act. He'll no longer be a danger to himself or anyone else.
This is the story of A Clockwork Orange by Anthony Burgess, and it raises important questions about the nature of moral decisions, free will, and the limits of rehabilitation.
Today's Clockwork Orange
This might seem like unbelievable science fiction, but it might be truer — and nearer — than we think. In 2010, Dr. Molly Crockett did a series of experiments on moral decision-making and serotonin levels. Her results showed that people with more serotonin were less aggressive or confrontational and much more easy-going and forgiving. When we're full of serotonin, we let insults pass, are more empathetic, and are less willing to do harm.
As Fydor Dostoyevsky wrote in The Brothers Karamazov, if the "entrance fee" for having free will is the horrendous suffering we see all around us, then "I hasten to return my ticket."
The idea that biology affects moral decisions is obvious. Most of us are more likely to be short-tempered and spiteful if we're tired or hungry, for instance. Conversely, we have the patience of a saint if we just have received some good news, had half a bottle of wine, or had sex.
If our decision-making can be manipulated or determined by our biology, should we not try various interventions to prevent the criminally inclined from harming others?
Drastic interventions
What is the point of prison? This is itself no easy question, and it's one with a rich philosophical debate. Surely one of the biggest reasons is to protect society by preventing criminals from reoffending. This might be achievable by manipulating a felon's serotonin levels, but why not go even further?
Today, we know enough about the brain to have identified a very particular part of the prefrontal cortex responsible for aggressive behavior. We know that certain abnormalities in the amygdala can result in anti-social behavior and rule breaking. If the purpose of the penal system is to rehabilitate, then why not "edit" these parts of the brain in some way? This could be done in a variety of ways.
Credit: Otis Historical Archives National Museum of Health and Medicine via Flickr / Wikipedia
Electroconvulsive therapy (ECT) is a surprisingly common practice in much of the developed world. Its supporters say that it can help relieve major mental health issues such as depression or bipolar disorder as well as alleviate certain types of seizures. Historically, and controversially, it has been used to "treat" homosexuality and was used to threaten those misbehaving in hospitals in the 1950s (as notoriously depicted in One Flew Over the Cuckoo's Nest). Of course, these early and crude efforts at ECT were damaging, immoral, and often left patients barely able to function as humans. Today, neuroscience and ECT are much more sophisticated. If we could easily "treat" those with aggressive or anti-social behavior, then why not?

Ideally, we might use techniques such as ECT or hormonal supplementation, but failing that, why not go even further? Why not perform a lobotomy? If the purpose of the penal system is to change the felon for the better, we should surely use all the tools at our disposal. With one fairly straightforward surgery to the prefrontal cortex, we could turn a violent, murderous criminal into a docile and law-abiding citizen. Should we do it?
Is free will worth it?
As Burgess, who penned A Clockwork Orange, wrote, "Is a man who chooses to be bad perhaps in some way better than a man who has the good imposed upon him?"
Intuitively, many say yes. Moral decisions must, in some way, be our own. Even if we know that our brains determine our actions, it's still me who controls my brain, no one else. Forcing someone to be good, by molding or changing their brain, is not creating a moral citizen. It's creating a law-abiding automaton. And robots are not humans.
And yet, it begs the question: is "free choice" worth all the evil in the world?
If my being brainwashed or "rehabilitated" means children won't die malnourished or the Holocaust would never happen, then so be it. If lobotomizing or neuro-editing a serial killer will prevent them from killing again, is that not a sacrifice worth making? There's no obvious reason why we should value free will above morality or the right to life. A world without murder and evil — even if it meant a world without free choices for some — might not be such a bad place.
As Fyodor Dostoyevsky wrote in The Brothers Karamazov, if the "entrance fee" for having free will is the horrendous suffering we see all around us, then "I hasten to return my ticket." Free will's not worth it.
Do you think the Ludovico technique from A Clockwork Orange is a great idea? Should we turn people into moral citizens and shape their brains to choose only what is good? Or is free choice more important than all the evil in the world?
Jonny Thomson teaches philosophy in Oxford. He runs a popular Instagram account called Mini Philosophy (@philosophyminis). His first book is Mini Philosophy: A Small Book of Big Ideas.
A simple trick allowed marine biologists to prove a long-held suspicion.
Surprising Science
It's long been suspected that sharks navigate the oceans using Earth's magnetic field.
Sharks are, however, difficult to experiment with.
Using magnetism, marine biologists figured out a clever way to fool sharks into thinking they're somewhere that they're not.
For some time, scientists have suspected that sharks belong among the growing number of animals known to navigate using Earth's magnetic field. Testing anything with a shark, though, requires some care.
"The reason this question has been withstanding for 50 years is because sharks are difficult to study," says Bryan Keller of the Save Our Seas Foundation. "To be honest, I am surprised it worked."
The key was selecting the right candidate. Keller and his colleagues chose the bonnethead shark, Sphyrna tiburo, a small critter that summers at Turkey Point Shoal off the coast of the Florida State University Coastal and Marine Laboratory with which Keller is affiliated.
Bonnetheads elsewhere have been known to complete 620-mile roundtrip migrations. As the lab's Dean Grubbs puts it, "That's not bad for a shark that is only two to three feet long. The question is how do they find their way back to that same estuary year after year." There's a report of a great white shark migrating between two locations, one in South Africa and another in Australia, year after year.
The research is published in Current Biology.
Shark tank
These are the three places the bonnethead sharks were magnetically fooled into thinking they were located.Credit: Keller et al. / Current Biology
Keller and his team rounded up 20 local juvenile bonnetheads and transported them into a holding tank at the marine lab. For the tests, the researchers simulated three real-world magnetic fields. As the various magnetic fields were activated, the sharks' movements were captured by GoPro cameras and their average swimming orientations calculated by software.

The first simulation, serving as a control, mimicked the magnetic field of the nearby shoal from which the sharks had been captured. When this field was activated, the sharks essentially acted like they were "home," just swimming around as they do.
A second field was the magnetic equivalent of a location 600 kilometers south of the lab within the Gulf of Mexico. When this field was activated, the sharks, apparently mistaking themselves for being far south in the Gulf, began swimming northward toward the shoal.
The opposite occurred with a field standing in for a location in continental North America 600 km north of their home shoal — the sharks began swimming southward.
Suspicion confirmed
"For 50 years," says Keller, "scientists have hypothesized that sharks use the magnetic field as a navigational aid. This theory has been so popular because sharks, skates, and rays have been shown to be very sensitive to magnetic fields. They have also been trained to react to unique geomagnetic signatures, so we know they are capable of detecting and reacting to variation in the magnetic field."
His team's experiments confirm what's long been suspected, Keller says: "Sharks use map-like information from the geomagnetic field as a navigational aid. This ability is useful for navigation and possibly maintaining population structure."
A Harvard professor's study discovers the worst year to be alive.
Credit: Pieter Bruegel the Elder. (Museo del Prado).
Politics & Current Affairs
Harvard professor Michael McCormick argues the worst year to be alive was 536 AD.
The year was terrible due to cataclysmic eruptions that blocked out the sun and the spread of the plague.
536 ushered in the coldest decade in thousands of years and started a century of economic devastation.
The past year has been nothing but the worst in the lives of many people around the globe. A rampaging pandemic, dangerous political instability, weather catastrophes, and a profound change in lifestyle that most have never experienced or imagined.
But was it the worst year ever?
Nope. Not even close. In the eyes of the historian and archaeologist Michael McCormick, the absolute "worst year to be alive" was 536.
Why was 536 so bad? You could certainly argue that 1918, the last year of World War I when the Spanish Flu killed up to 100 million people around the world, was a terrible year by all accounts. 1349 could also be considered on this morbid list as the year when the Black Death wiped out half of Europe, with up to 20 million dead from the plague. Most of the years of World War II could probably lay claim to the "worst year" title as well. But 536 was in a category of its own, argues the historian.
It all began with an eruption...
According to McCormick, Professor of Medieval History at Harvard University, 536 was the precursor year to one of the worst periods of human history. It featured a volcanic eruption early in the year that took place in Iceland, as established by a study of a Swiss glacier carried out by McCormick and the glaciologist Paul Mayewski from the Climate Change Institute of The University of Maine (UM) in Orono.
The ash spewed out by the volcano likely led to a fog that brought an 18-month-long stretch of daytime darkness across Europe, the Middle East, and portions of Asia. As wrote the Byzantine historian Procopius, "For the sun gave forth its light without brightness, like the moon, during the whole year." He also recounted that it looked like the sun was always in eclipse.
Cassiodorus, a Roman politician of that time, wrote that the sun had a "bluish" color, the moon had no luster, and "seasons seem to be all jumbled up together." What's even creepier, he described, "We marvel to see no shadows of our bodies at noon."
...that led to famine...
The dark days also brought a period of coldness, with summer temperatures falling by 1.5° C. to 2.5° C. This started the coldest decade in the past 2300 years, reports Science, leading to the devastation of crops and worldwide hunger.
...and the fall of an empire
In 541, the bubonic plague added considerably to the world's misery. Spreading from the Roman port of Pelusium in Egypt, the so-called Plague of Justinian caused the deaths of up to one half of the population of the eastern Roman Empire. This, in turn, sped up its eventual collapse, writes McCormick.
Between the environmental cataclysms, with massive volcanic eruptions also in 540 and 547, and the devastation brought on by the plague, Europe was in for an economic downturn for nearly all of the next century, until 640 when silver mining gave it a boost.
Was that the worst time in history?
Of course, the absolute worst time in history depends on who you were and where you lived.
Native Americans can easily point to 1520, when smallpox, brought over by the Spanish, killed millions of indigenous people. By 1600, up to 90 percent of the population of the Americas (about 55 million people) was wiped out by various European pathogens.
Like all things, the grisly title of "worst year ever" comes down to historical perspective.
A machine learning system lets visitors at a Kandinsky exhibition hear the artwork.
Culture & Religion
Have you ever heard colors?
As part of a new exhibition, the worlds of culture and technology collide, bringing sound to the colors of abstract art pioneer Wassily Kandinsky.
Kandinsky had synesthesia, where looking at colors and shapes causes some with the condition to hear associated sounds. With the help of machine learning, virtual visitors to the Sounds Like Kandinsky exhibition, a partnership project by Centre Pompidou in Paris and Google Arts & Culture, can have an aural experience of his art.
An eye for music
Kandinsky's synesthesia is thought to have heavily influenced his painting. Seeing yellow summoned up trumpets, evoking emotions like cheekiness; reds produced violins portraying restlessness; while organs representing heavenliness he associated with blues, according to the exhibition notes.
Virtual visitors are invited to take part in an experiment called Play a Kandinsky, which allows them to see and hear the world through the artist's eyes.
Kandinsky's synesthesia is thought to have heavily influenced his 1925 painting Yellow, Red, Blue.Image: Guillaume Piolle/Wikimedia Commons
In 1925, the artist's masterpiece, "Yellow, Red, Blue", broke new ground in the world of abstract art, guiding the viewer from left to right with shifting shapes and shades. Almost a century after it was painted, Google's interactive tool lets visitors click different parts of the artwork to journey through the artist's description of the colors, associated sounds and moods that inspired the work.
But Google's new toy is not the only tool developed to enhance the artistic experience.
Artist Neil Harbisson has developed an artificial way to emulate Kandinsky by turning colors into sounds. He has a rare form of color blindness and sees the world in greyscale. But a smart antenna attached to his head translates dominant colors into musical notes, creating a real-world soundtrack of what's in front of him. The invention could open up a new world for people who are color blind.
Reprinted with permission of the World Economic Forum. Read the original article.