The evolution of mathematics, from agriculture to quantum mechanics
Why is math the universal language? NASA's Michelle Thaller solves that one.
Michelle Thaller
Dr. Michelle Thaller is an astronomer who studies binary stars and the life cycles of stars. She is Assistant Director of Science Communication at NASA. She went to college at Harvard University, completed a post-doctoral research fellowship at the California Institute of Technology (Caltech) in Pasadena, Calif. then started working for the Jet Propulsion Laboratory's (JPL) Spitzer Space Telescope. After a hugely successful mission, she moved on to NASA's Goddard Space Flight Center (GSFC), in the Washington D.C. area. In her off-hours often puts on about 30lbs of Elizabethan garb and performs intricate Renaissance dances. For more information, visit NASA.
07 March, 2019
MICHELLE THALLER: Oğuzhan, you asked, why is mathematics the universal language? And this is something I've actually thought a lot about. Mathematics is in some ways kind of scary in how useful it is at really describing how the universe works around us. Now, to give you an idea, the origin of mathematics seems very straightforward. We can count on our fingers up to 10, and maybe it was useful to understand how many sheep you had? So you could start counting sheep and then you either added or subtracted sheep as you got more or as you lost some. It was a simple thing. We learned how to count. We learned how to add and subtract. The idea of multiplying and dividing is a little more abstract, but that also makes sense. That's something that we can kind of visualize.
But then what amazes me is that this led us on a tremendously complicated journey that's still going on to this day. And we had no idea where this would lead us. If you can do multiplication and subtraction, it's not too long before you begin to develop the basic building blocks of calculus. And calculus describes how moving objects can change, how things can accelerate. If you want to describe an apple falling from a tree to the ground or a ball rolling down a hill, that's calculus. It's the mathematics of how things can change over time. That's really interesting, and the amazing thing is it works so well. If you use these equations to predict how a ball will roll down a hill, reality matches that. It really does tell you how something is going to behave. So now we've gone from counting on our fingers how many sheep we have to being able to predict what the universe around us is going to do. That's incredibly powerful.
Now we look around us and we see things like planets orbiting the stars or the galaxy turning around, and we realize those equations of motion apply to everything else in the universe. It's not just here. It's not just on the surface of the Earth, but we can look at things literally billions of light years out in space, and they're following those same rules of mathematics. But now things got strange. We started to play with calculus. We started to see where it would go. What happens if you put in more variables and you solve for more things at once? And we end up with some very strange abstract concepts that turned out to be surprisingly useful. One of the things that kind of worries me is something called imaginary numbers. Imaginary numbers are numbers that don't really make sense in our proper definition of mathematics. Take, for example, the square root of negative 1. Now, in mathematics, if you multiply something by itself it always turns out to be a positive number. That's never a negative number. But somebody said, what happens if we start to do the mathematics of how an imaginary number -- this can't be real. The square root of negative 1 doesn't make any sense. But it turns out to be able to describe how things rotate, and that became the foundation of quantum mechanics. And here's the thing, now when you use a number that shouldn't exist -- that doesn't make any sense -- it predicts exactly how an atom will vibrate, It will predict how quantum mechanics at a very small scale runs, and it needs a type of math that doesn't make any real sense to us but it works. It works perfectly.
So we keep getting led farther and farther down this rabbit hole. Where does math lead us? Now we realize that you can describe physics incredibly well if you allow the universe to exist in many different dimensions-- more than three dimensions that we're familiar with. In fact, specifically, if you want to do particle physics, it requires 11 dimensions. That's not something our minds comprehend, but we can do the math. We can do the math of how things would behave if they could move in 11 different directions. And it turns out to predict exactly the results we get from particle physics. That's kind of scary. Does that mean that's real? Are there really 11 dimensions? The math works so well, and the predictions are so strong that it can't just be nonsense. But now we've gone to the limit of what I can tell you; is it real or not? Our math has given us something incredibly useful, but it's taken us completely out of our realm of common sense, of human scale of how our minds work and even our sense of space and time. I don't think that journey's over yet. Where is math going to lead us? It may lead us to understand things like the universe is a type of a hologram? That was a mathematical solution to How things work around a black hole, and it works really, really well. So I think it's wonderful and a little bit scary that you start counting on your fingers. You get to 11 dimensions of space and time. And where else?
Mathematics has snowballed from counting to 10 on our fingers, to calculus, to abstract concepts like imaginary numbers that move in 11 dimensions and predict particles physics.
The math that led us down the rabbit hole of quantum mechanics is bizarre and while we can crunch the numbers, we can't really understand what they mean.
If the math confirms that particles can move in 11 dimensions, is that a fundamental truth of the universe?
---
Malcolm Gladwell teaches "Get over yourself and get to work" for Big Think Edge.
Big Think Edge
Learn to recognize failure and know the big difference between panicking and choking.

At Big Think Edge, Malcolm Gladwell teaches how to check your inner critic and get clear on what failure is.

Subscribe to Big Think Edge before we launch on March 30 to get 20% off monthly and annual memberships.
It turns out, that tattoo ink can travel throughout your body and settle in lymph nodes.
17th August 1973: An American tattoo artist working on a client's shoulder. (Photo by F. Roy Kemp/BIPs/Getty Images)
popular
In the slightly macabre experiment to find out where tattoo ink travels to in the body, French and German researchers recently used synchrotron X-ray fluorescence in four "inked" human cadavers — as well as one without. The results of their 2017 study? Some of the tattoo ink apparently settled in lymph nodes.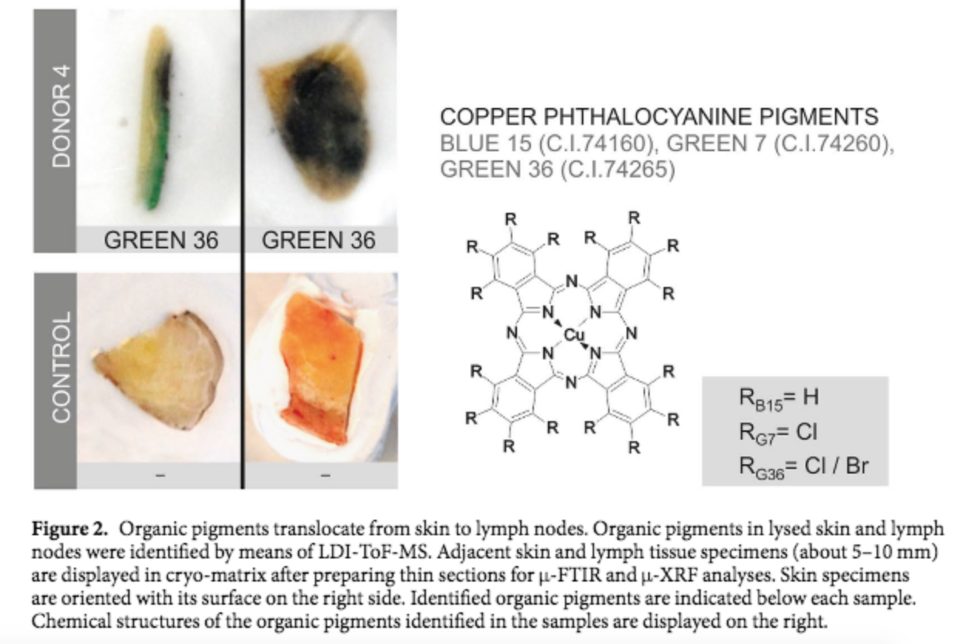 Image from the study.
As the authors explain in the study — they hail from Ludwig Maximilian University of Munich, the European Synchrotron Radiation Facility, and the German Federal Institute for Risk Assessment — it would have been unethical to test this on live animals since those creatures would not be able to give permission to be tattooed.
Because of the prevalence of tattoos these days, the researchers wanted to find out if the ink could be harmful in some way.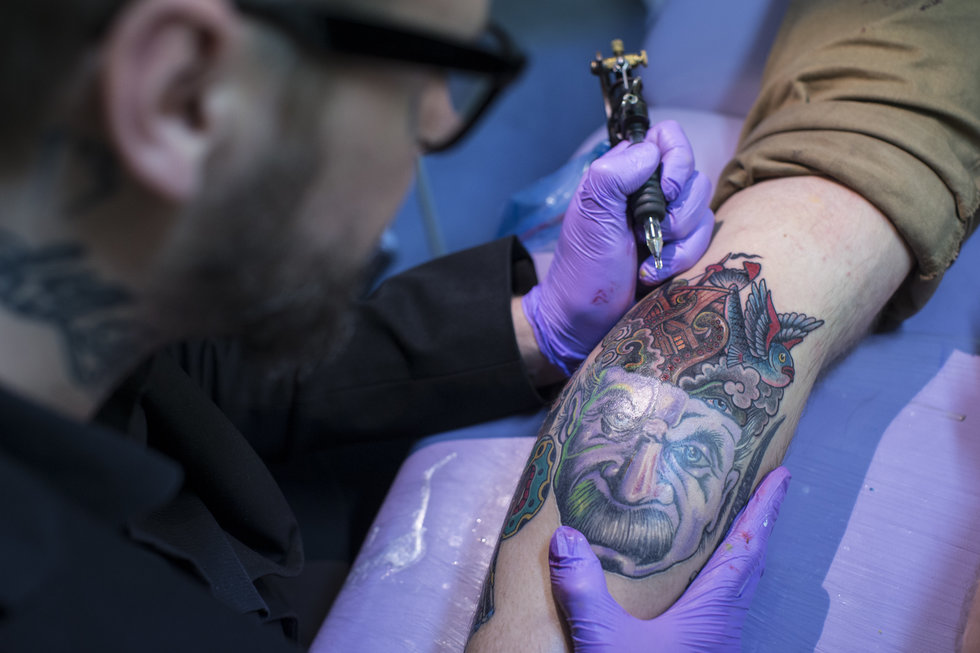 "The increasing prevalence of tattoos provoked safety concerns with respect to particle distribution and effects inside the human body," they write.
It works like this: Since lymph nodes filter lymph, which is the fluid that carries white blood cells throughout the body in an effort to fight infections that are encountered, that is where some of the ink particles collect.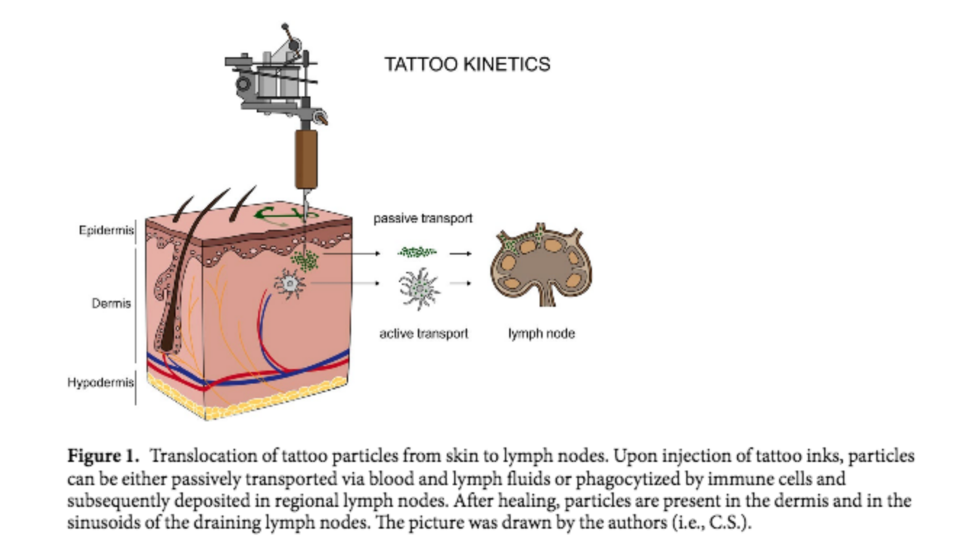 Image by authors of the study.
Titanium dioxide appears to be the thing that travels. It's a white tattoo ink pigment that's mixed with other colors all the time to control shades.
The study's authors will keep working on this in the meantime.
"In future experiments we will also look into the pigment and heavy metal burden of other, more distant internal organs and tissues in order to track any possible bio-distribution of tattoo ink ingredients throughout the body. The outcome of these investigations not only will be helpful in the assessment of the health risks associated with tattooing but also in the judgment of other exposures such as, e.g., the entrance of TiO2 nanoparticles present in cosmetics at the site of damaged skin."
It's one of the most consistent patterns in the unviverse. What causes it?
Videos
Spinning discs are everywhere – just look at our solar system, the rings of Saturn, and all the spiral galaxies in the universe.
Spinning discs are the result of two things: The force of gravity and a phenomenon in physics called the conservation of angular momentum.
Gravity brings matter together; the closer the matter gets, the more it accelerates – much like an ice skater who spins faster and faster the closer their arms get to their body. Then, this spinning cloud collapses due to up and down and diagonal collisions that cancel each other out until the only motion they have in common is the spin – and voila: A flat disc.
Big think's weekly newsletter.
Get smarter faster from the comfort of your inbox.
See our newsletter privacy policy
here
Most Popular
Most Recent
Big think's weekly newsletter.
Get smarter faster from the comfort of your inbox.
See our newsletter privacy policy
here
© Copyright 2007-2018 & BIG THINK, BIG THINK EDGE,
SMARTER FASTER trademarks owned by The Big Think, Inc. All rights reserved.