How Iraq Could Be Considered a Victory
Wesley Clark
General Wesley Clark is a Senior Fellow at UCLA's Burkle Center and a Co-Chairman at Growth Energy, an ethanol lobbying group. He also leads a Democratic political action committee known as "WesPAC," which he formed after dropping out of the 2004 race for the Democratic Party presidential nomination. Though now retired, Clark served in the U.S. army for 38 years, commanding at the battalion, brigade and division level, and serving in a number of significant staff positions. As the Supreme Allied Commander Europe of NATO, Clark commanded Operation Allied Force in the Kosovo War, saving the lives of roughly 1.5 million Albanians from the threat of ethnic cleansing. After graduating as valedictorian of his class at West Point, Clark was awarded a Rhodes Scholarship to Oxford University, where he obtained a degree in philosophy, politics and economics. He later graduated from the Command and General Staff College with a master's degree in military science.
30 September, 2010
Question: What is your biggest concern about the future of Iraq?

Wesley Clark: Well, the biggest concern for the future of Iraq really is about the Iraqi people themselves. We don't really know where this is going, it's more diplomatic now than it has been in the past. It's always been a lot about diplomacy in the region, and one of my original criticisms of the Bush Administration was they really never talked to Iraq's neighbors, they thought they'd go in there and use force and, and solve just by the use of force—pretty naive view at the top level. The military always knew better. And they never had a regional strategy.
We're trying to put together a regional strategy over there right now. We've pulled the troops out, I think that's appropriate. The terrorists are still there in some reduced numbers. And obviously they'll be there for a long time and the Iraqi public security forces and their anti-terrorism, counter-terrorism forces are going to be busy for a long time in Iraq. We're going to be helping them and we'll have some troops over there and some people may get hurt. But most of the military stuff is over, at least with the current dynamics in the region.

I think that what's happened is, politically, that there was a... at first blush, the Iranians made some significant inroads, especially in eastern and southern Iraq around Basra. And then the nationalities and ethnic differences reasserted themselves. They maybe Shia, but they're Persian, they're not Arab Shia. There was a difference; people resented the Iranians coming in. The government has paid a lot of attention to Tehran, but it doesn't want to be a province of Iran; it wants an independent country. So it's also looking to Saudi Arabia and the Sunni powers, and to the United States. I think we'll have a significant diplomatic role there for a long time. And somehow we've got to make all of that come together in a way that helps the Iraqi people heal the wounds of the civil conflict, the murders that went on, a lot of accidental deaths. A lot of people who left the country are gonna have to decide whether they come back or not. Laws are going to have to be put in place, there's the whole struggle over the hydrocarbon resources. But it's also about everything else that always is present in a political situation. Who has power? Who gets the money? What's the tax rate? Where's the highway built? Is the railroad refurbished? Who gets the pipeline? What company gets to build it? All of that stuff is in play. Iraq has tremendous natural resources; it's in a pivotal geographic position. It's got a fighting chance to make it.

Question: In what ways can Iraq be considered a victory?

Wesley Clark: Well, obviously in technical military terms, the fact that we went into Iraq in 2003 with sufficient force to defeat the Iraqi Army, that's a victory. That's a military victory. What happened afterwards is not really military. It's a political/military/diplomatic struggle in the region for dominance in Iraq. And the truth is that, although I was against the war, once you get America committed, like everybody else, I want to see us succeed.

Now, the ending could have been a lot worse and it could still be a lot worse. We could have left and Iraq could have ended up like Somalia is today—with no government, no institutions at all, and warring factions and another two or three million Iraqis fleeing or dying or whatever. That didn't happen. It could have been that we would have left and the Iranians would have staged some kind of excuse to march in and subjugate most of Iraq. And we could have had a broader war. That hasn't happened.

Now both of those two outcomes are still conceptually... they're possible. But I think we've avoided the worst. We've paid a heck of a price for it. And people will argue for a long time was this a smart thing to have done? And if it was a smart thing, was it still worth doing; and how could we have done it better? There'll be a lot of questions about this. But we've averted the worst outcome. I think anybody who would – from the military who you would talk to would tell you the troops did a great job. They did what they were asked to do. We didn't have enough troops, didn't always have the right leadership at the beginning in terms of structure. General Sanchez, for example, never had the staff he needed to really help him do the job. There was some mistakes early on in policies, like getting rid of the Iraqi armed forces. But by and large, we suffered through it, we've taken our knocks over there and we've got a fighting chance to make this work. Anybody who calls it a victory is way out of line right now in the larger sense. This is not a World War II victory.
Recorded September 23, 2010
Interviewed by Andrew Dermont
The military always knew better than to invade Iraq in 2003, but we will not leave the country in a Somalia-like situation—without a government or any national institutions.
Malcolm Gladwell teaches "Get over yourself and get to work" for Big Think Edge.
Big Think Edge
Learn to recognize failure and know the big difference between panicking and choking.

At Big Think Edge, Malcolm Gladwell teaches how to check your inner critic and get clear on what failure is.

Subscribe to Big Think Edge before we launch on March 30 to get 20% off monthly and annual memberships.
It turns out, that tattoo ink can travel throughout your body and settle in lymph nodes.
17th August 1973: An American tattoo artist working on a client's shoulder. (Photo by F. Roy Kemp/BIPs/Getty Images)
popular
In the slightly macabre experiment to find out where tattoo ink travels to in the body, French and German researchers recently used synchrotron X-ray fluorescence in four "inked" human cadavers — as well as one without. The results of their 2017 study? Some of the tattoo ink apparently settled in lymph nodes.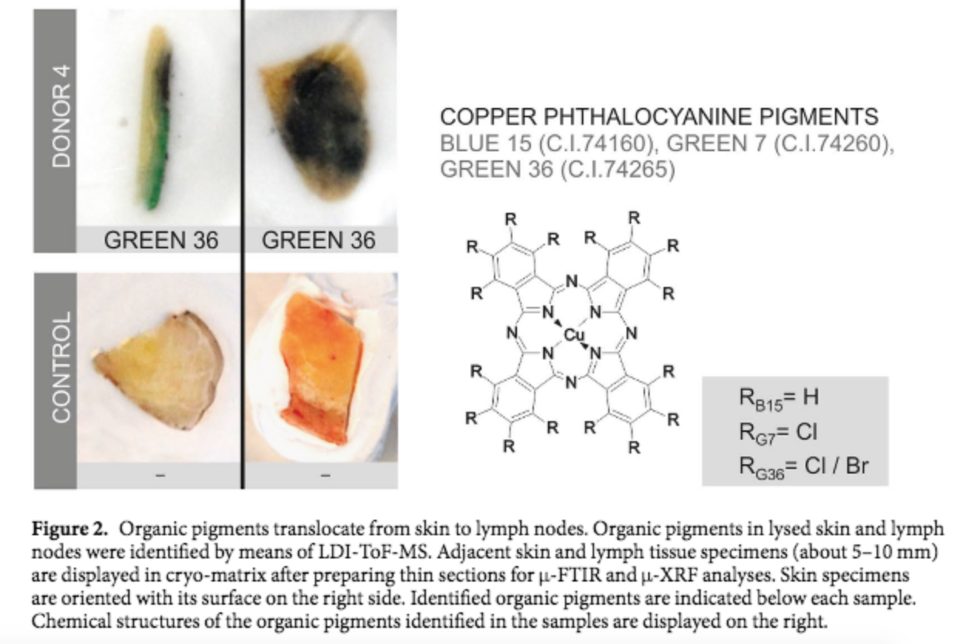 Image from the study.
As the authors explain in the study — they hail from Ludwig Maximilian University of Munich, the European Synchrotron Radiation Facility, and the German Federal Institute for Risk Assessment — it would have been unethical to test this on live animals since those creatures would not be able to give permission to be tattooed.
Because of the prevalence of tattoos these days, the researchers wanted to find out if the ink could be harmful in some way.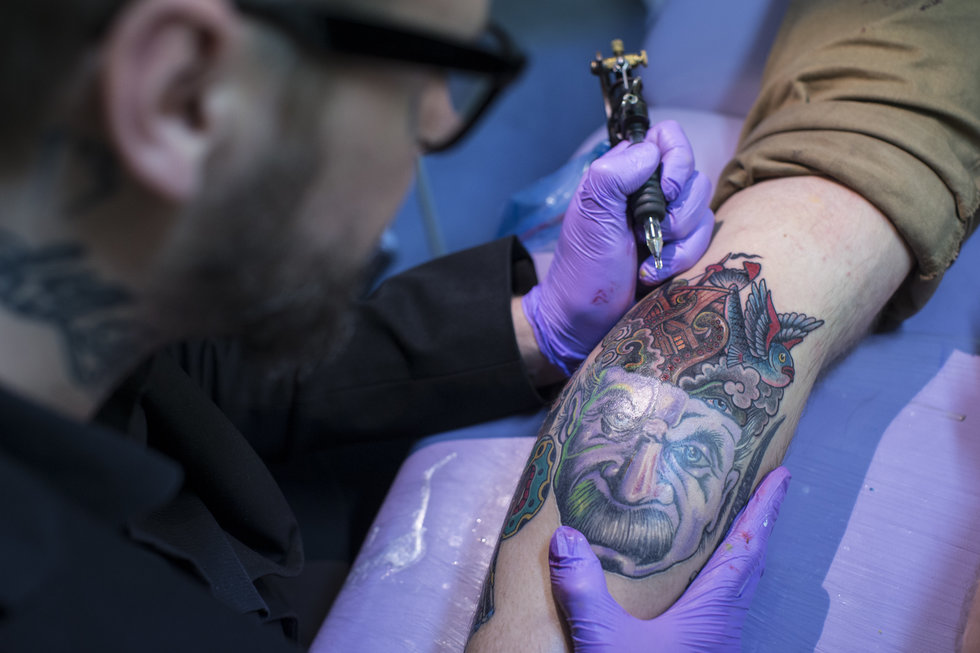 "The increasing prevalence of tattoos provoked safety concerns with respect to particle distribution and effects inside the human body," they write.
It works like this: Since lymph nodes filter lymph, which is the fluid that carries white blood cells throughout the body in an effort to fight infections that are encountered, that is where some of the ink particles collect.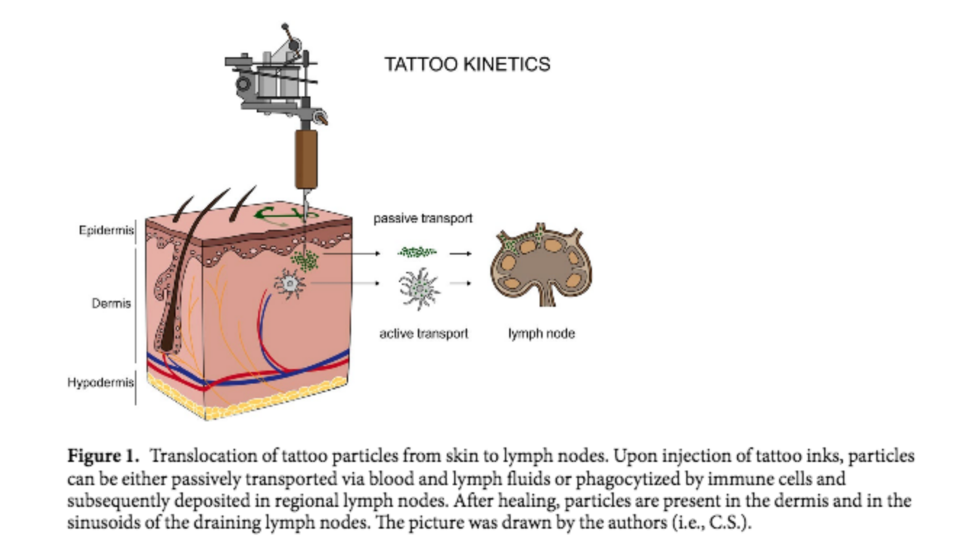 Image by authors of the study.
Titanium dioxide appears to be the thing that travels. It's a white tattoo ink pigment that's mixed with other colors all the time to control shades.
The study's authors will keep working on this in the meantime.
"In future experiments we will also look into the pigment and heavy metal burden of other, more distant internal organs and tissues in order to track any possible bio-distribution of tattoo ink ingredients throughout the body. The outcome of these investigations not only will be helpful in the assessment of the health risks associated with tattooing but also in the judgment of other exposures such as, e.g., the entrance of TiO2 nanoparticles present in cosmetics at the site of damaged skin."
It's one of the most consistent patterns in the unviverse. What causes it?
Videos
Spinning discs are everywhere – just look at our solar system, the rings of Saturn, and all the spiral galaxies in the universe.
Spinning discs are the result of two things: The force of gravity and a phenomenon in physics called the conservation of angular momentum.
Gravity brings matter together; the closer the matter gets, the more it accelerates – much like an ice skater who spins faster and faster the closer their arms get to their body. Then, this spinning cloud collapses due to up and down and diagonal collisions that cancel each other out until the only motion they have in common is the spin – and voila: A flat disc.
Big think's weekly newsletter.
Get smarter faster from the comfort of your inbox.
See our newsletter privacy policy
here
Most Popular
Most Recent
Big think's weekly newsletter.
Get smarter faster from the comfort of your inbox.
See our newsletter privacy policy
here
© Copyright 2007-2018 & BIG THINK, BIG THINK EDGE,
SMARTER FASTER trademarks owned by The Big Think, Inc. All rights reserved.