Embracing the Mess of Poetry
Edward Hirsch
Edward Hirsch's first collection of poems, "For the Sleepwalkers," was published in 1981 and went on to receive the Lavan Younger Poets Award from the Academy of American Poets and the Delmore Schwartz Memorial Award from New York University. His second collection, Wild Gratitude (1986), received the National Book Critics Circle Award. Since then, he has published several books of poems, including "Special Orders" (2008) and "Lay Back the Darkness" (2003). His latest book, "The Living Fire" (2010), his first retrospective collection, selects from each of his seven previous collections, published between 1981 and 2008.
He has been a professor of English at Wayne State University and the University of Houston. Hirsch is currently the president of the John Simon Guggenheim Memorial Foundation, as well as a chancellor of the Academy of American Poets.
22 February, 2010
Question: What is your process for creating a poem?
Edward Hirsch: I think it's changed over time. I mean, when I was young I could write all through the night and I loved to work late into the night. Now that I'm older I work really well in the early morning when your synapses are firing a little better. But I work at different times of the day. I don't have a set schedule to work on poetry at any given time, at the same time every day, but I do try to work on poetry every day and I do find some time every day that I can with some exceptions to work on poetry. But, the best times I have found, in my life, are late at night or early in the morning and I think it's because you're outside the social realm. You're alone with yourself and your own feelings and that gives you deeper access to what you need to get in touch with to write poetry.
Now, the process of writing poetry is very messy. Not systematic, never quite the same. Sometimes I have a feeling that I just can't get rid of. Sometimes there's an experience that I want to write about that I have to get off my chest. Sometimes there are some words that appeal to you. Often you've read another poem that you think is so beautiful that you'd like to make something like that. And so you try to make a sonnet that works in a certain kind of way, or you try to make something that's songlike, or you create a refrain, or you love the way a poem works in two line stanzas and you try to do that. And what I've found over time is that for me to write a poem that I think is worthy that I can live with, two things have to happen. One, something emotional has to be at stake. There has to be something important for me that I'm writing about. And then two, I have to have a formal idea. Something has to be being worked out in poetry. Now, that can be a traditional form or it can be something you're inventing. It can be the development of a metaphor, the working through of a metaphor. But, something has to be worked through formally as well as emotionally. Now, when those two things come together I've got something, I think, that I can be proud of.
Question: When do you think about the titles of poems?
Edward Hirsch: Sometimes the title comes to you at the beginning, sometimes it comes at the end. The very best way in my experience is when it comes in the middle. That you write a phrase or you think of something and it seems to have a deeper charge because the title has to be some kind of marker, something setting out a space, creating a space for what's going to come. And my experience is the best titles, for me, emerge in the process of writing. They don't usually come at the very beginning and hopefully they don't come at the very end because then it's getting late in the day.
Now, sometimes I change the title. I was surprised recently to find a book called "Poetry in Persons" that's coming out about visit to poets to a class that Pearl London gave. And when my second book had come out, "Wild Gratitude," I went to Pearl London's class and she worked through different drafts of poems and there were the drafts of my poem, Wild Gratitude, and I saw that I had begun the poem with the title August 13th. And it was the title August 13th for most of the way and then near the end, sometime in the process, I got the idea that maybe that would be a somewhat bland title and I got the idea for wild gratitude, which I'm very proud of as a title. So, I think it works best when you find it in the process.
Question: Does it take a certain wealth of experience to write a poem, or is it more effort and practice?
Edward Hirsch: Well, I would say there are different kinds of poems. There are things that poets in the history of poetry hit upon when they're very young that can never be outdone and it's a remarkable, strange experience when you think of say Arthur Rimbaud who write poetry between the ages of 17 and 21 whose career was over by the time he was 22. Or John Keats who notoriously died in his 20's and yet had packed a wealth of experience into his poems before then.
Scholars of the Hebrew bible define something they call wisdom literature and I would say clearly the poetry of wisdom is something that comes with age or that might come with age which has to do with reflecting on experience. And a certain kind of poetry looks back at experience from an older perspective. It's hard to think that say Shakespeare could have written "The Tempest" when he was young. It seems to be reflective work or retrospective work.
At the same time there's the brilliant audacity of youth that poets strike upon in their earliest work sometimes that they never can hit upon again. And sometimes you look at the first poems by someone and you go, "They have freshness and a sense of wonder that is never recaptured again by that poet." So, I think there are different kinds of poetry for different stages of life and there's the wild, exuberance of youth, there's the painful agony of midlife experience, there's the late poetry in the presence of death and I think what you hope for is that at different times of your life you're able to write the poetry that reflects the moment that you're in on your own journey.
Question: What is your revision process like?
Edward Hirsch: I was once doing a question and answer period with the novelist Jane Smiley in a bookstore and someone asked us what our processes were and Jane said hers and then I said mine and Jane said, "Well, if I had a student like that I'd force him never to write like that again because you could never write a novel in the way that you write poetry," which is: I wish I wrote drafts and then revised them, but I don't. What I do is I seem to revise as I go. And so, I write a line and then I revise the line and then I write two lines and then I revise lines one and two and then I write one, two and three and I revise one and two and then I write seven and eight and then I see that should be line four and I continually work it over as I go. So, it's a continual process of trial and error and then I find things and I throw it out and start again, but I keep writing it over again.
So, the result though is by the time I've got something, it's been worked over so many times that although I do make changes as the end, often by the time I've gotten it, it's pretty much completed. Now, that can take two days, it can take three weeks, it can take four months depending on how the process is going. Now, as I've gotten older I've been able to write more quickly. Sometimes I get in the space of something and I can do a lot in a day.
The mysterious thing about writing poetry is that when you're - when things are going poorly, when you're not thinking well, even making two sentences together is extremely hard and I just can't make the connections. And when I'm writing well and when I'm inside the feeling, then I can do fairly complicated things with some fluency. So, some of the most difficult formal poems that I've written, say one sentence sonnets, I've been able to do those fairly quickly whereas some of the clearest, simplest lyrics that I've written have taken me the longest to get to the clarity of feeling that you're looking for.
So, the process of revision, it's not systematic. But for me, I mean, I know a lot of poets who write out a draft and then revise it and I think they're happier people. But, I'm just not able to do it that way. I need to just continually examine it as I do it.
Recorded on February 4, 2010
Edward Hirsch reflects on his ever-changing process of creation.
Malcolm Gladwell teaches "Get over yourself and get to work" for Big Think Edge.
Big Think Edge
Learn to recognize failure and know the big difference between panicking and choking.

At Big Think Edge, Malcolm Gladwell teaches how to check your inner critic and get clear on what failure is.

Subscribe to Big Think Edge before we launch on March 30 to get 20% off monthly and annual memberships.
It turns out, that tattoo ink can travel throughout your body and settle in lymph nodes.
17th August 1973: An American tattoo artist working on a client's shoulder. (Photo by F. Roy Kemp/BIPs/Getty Images)
popular
In the slightly macabre experiment to find out where tattoo ink travels to in the body, French and German researchers recently used synchrotron X-ray fluorescence in four "inked" human cadavers — as well as one without. The results of their 2017 study? Some of the tattoo ink apparently settled in lymph nodes.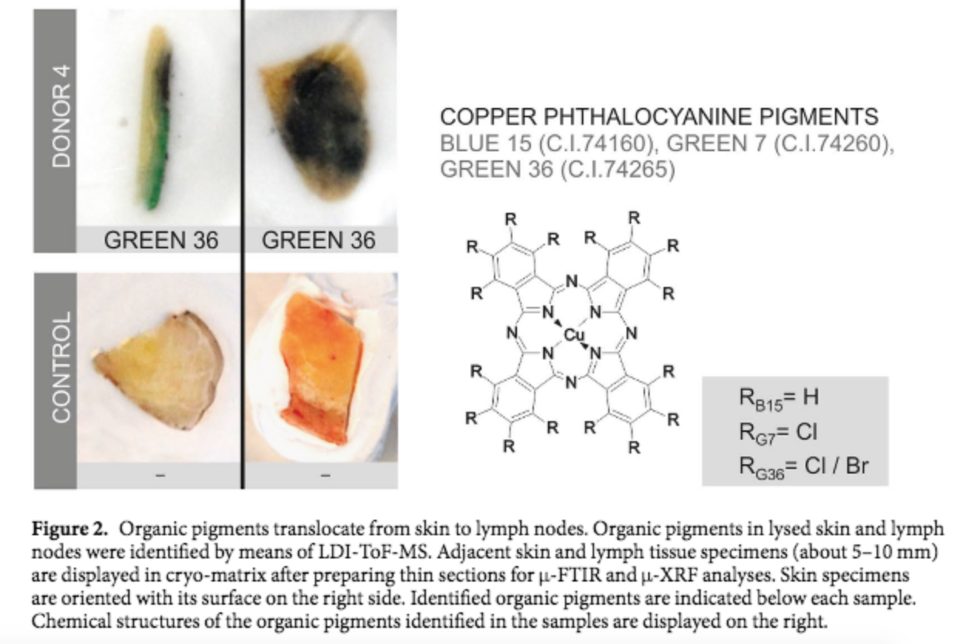 Image from the study.
As the authors explain in the study — they hail from Ludwig Maximilian University of Munich, the European Synchrotron Radiation Facility, and the German Federal Institute for Risk Assessment — it would have been unethical to test this on live animals since those creatures would not be able to give permission to be tattooed.
Because of the prevalence of tattoos these days, the researchers wanted to find out if the ink could be harmful in some way.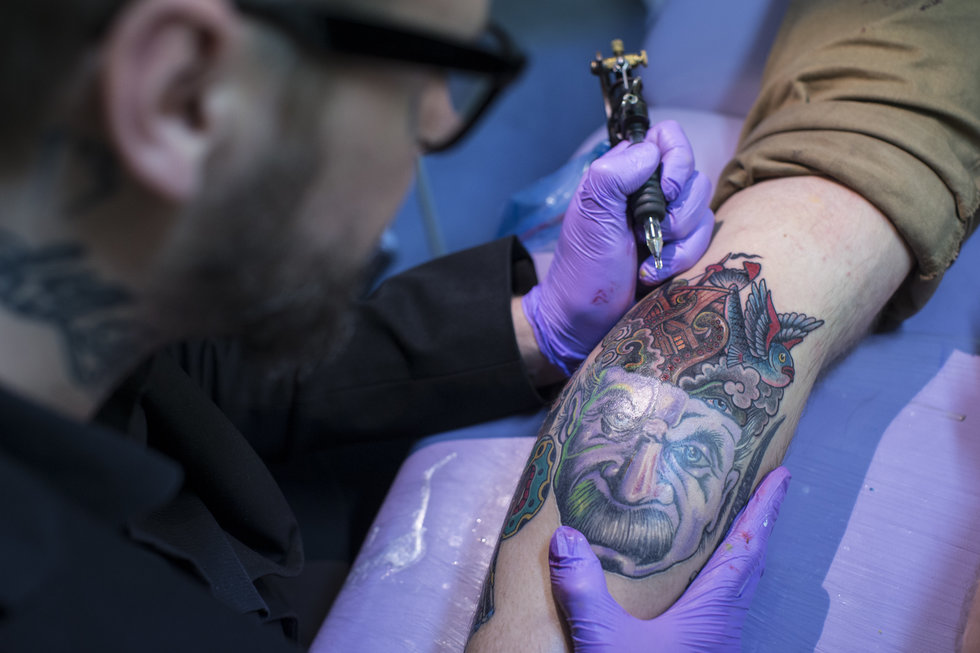 "The increasing prevalence of tattoos provoked safety concerns with respect to particle distribution and effects inside the human body," they write.
It works like this: Since lymph nodes filter lymph, which is the fluid that carries white blood cells throughout the body in an effort to fight infections that are encountered, that is where some of the ink particles collect.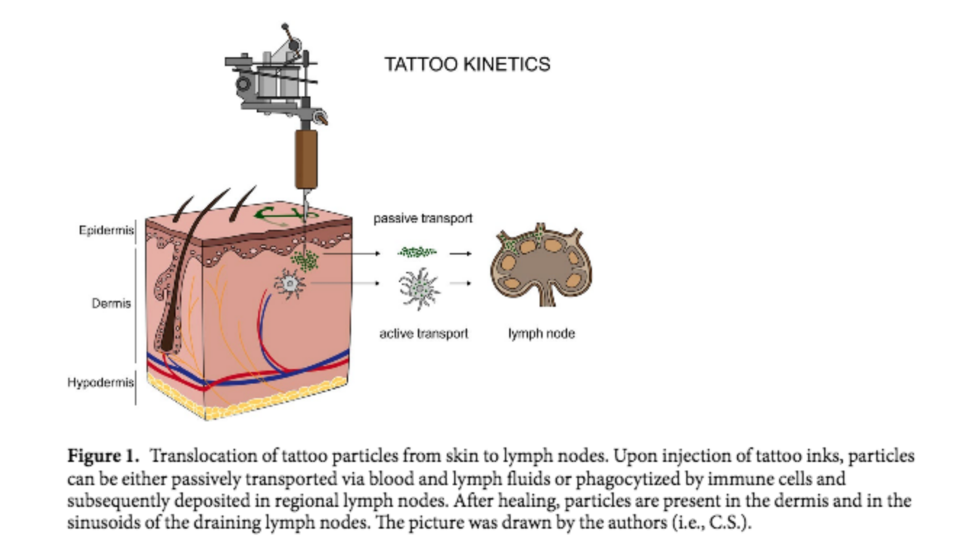 Image by authors of the study.
Titanium dioxide appears to be the thing that travels. It's a white tattoo ink pigment that's mixed with other colors all the time to control shades.
The study's authors will keep working on this in the meantime.
"In future experiments we will also look into the pigment and heavy metal burden of other, more distant internal organs and tissues in order to track any possible bio-distribution of tattoo ink ingredients throughout the body. The outcome of these investigations not only will be helpful in the assessment of the health risks associated with tattooing but also in the judgment of other exposures such as, e.g., the entrance of TiO2 nanoparticles present in cosmetics at the site of damaged skin."
It's one of the most consistent patterns in the unviverse. What causes it?
Videos
Spinning discs are everywhere – just look at our solar system, the rings of Saturn, and all the spiral galaxies in the universe.
Spinning discs are the result of two things: The force of gravity and a phenomenon in physics called the conservation of angular momentum.
Gravity brings matter together; the closer the matter gets, the more it accelerates – much like an ice skater who spins faster and faster the closer their arms get to their body. Then, this spinning cloud collapses due to up and down and diagonal collisions that cancel each other out until the only motion they have in common is the spin – and voila: A flat disc.
Big think's weekly newsletter.
Get smarter faster from the comfort of your inbox.
See our newsletter privacy policy
here
Most Popular
Most Recent
Big think's weekly newsletter.
Get smarter faster from the comfort of your inbox.
See our newsletter privacy policy
here
© Copyright 2007-2018 & BIG THINK, BIG THINK EDGE,
SMARTER FASTER trademarks owned by The Big Think, Inc. All rights reserved.