Become a Smarter Negotiator By Using Prospect Theory
Want to make someone an offer they can't refuse? Understand how our minds are hung up on loss aversion, says former FBI negotiator Chris Voss.
Chris Voss
Chris Voss is the Founder and CEO of the Black Swan Group Ltd. He has used his many years of experience in international crisis and high stakes negotiations to develop a unique program and team that applies these globally proven techniques to the business world. Prior to 2008, Chris was the was the lead international kidnapping negotiator for the Federal Bureau of Investigation, as well as the FBI's hostage negotiation representative for the National Security Council's Hostage Working Group. During his government career he also represented the U.S. Government at two (2) international conferences sponsored by the G-8 as an expert in kidnapping. Prior to becoming the FBI lead international kidnapping negotiator, Christopher served as the lead Crisis Negotiator for the New York City Division of the FBI. Christopher was a member of the New York City Joint Terrorist Task Force for 14 years. He was the case agent on such cases as TERRSTOP (the Blind Sheikh Case – Sheikh Omar Abdel-Rahman), the TWA Flight 800 catastrophe and negotiated the surrender of the first hostage taker to give up in the Chase Manhattan bank robbery hostage taking.
During Chris's 24 year tenure in the Bureau, he was trained in the art of negotiation by not only the FBI, but Scotland Yard and Harvard Law School. He is also a recipient of the Attorney General's Award for Excellence in Law Enforcement and the FBI Agents Association Award for Distinguished and Exemplary Service. Chris currently teaches business negotiation in the MBA program as an adjunct professor at University of Southern California's Marshall School of Business and at Georgetown University's McDonough School of Business. He has taught business negotiation at Harvard University, guest lectured at The Kellogg School of Management at Northwestern University, The IMD Business School in Lausanne, Switzerland and The Goethe School of Business in Frankfurt, Germany. Since 2009 Christopher has also worked with Insite Security as their Managing Director of the Kidnapping Resolution Practice.
12 January, 2017
Chris Voss: So I refer to bending reality as understanding how people view losses and gains. And there's Nobel Prize winning behavioral economics theory that says people put a value of losses on at least twice what an equivalent gain is. And that's how people get their valuations distorted. And actually the guys that came up with that theory said that losses are twice as heavy as gains, but then they've unofficially said really it's five to seven times as much, we just wrote down twice as much because we wanted fewer arguments. So losing $5 stings at least twice as much as gaining $5. Losing $5 feels like losing $10 or even $35, it's just a ridiculous skewing in our brains over loss, which is why when you're pitching a gain, if you think that what you're offering is worth $100 and you're only charging $80, well based on prospect theory they're not going to make that exchange, while to us that makes all the sense in the world because it's a gain. But if paying $80 for something it's got to be worth at least $160 for them to want it. I mean it's this crazy math that goes on in our heads over gains and losses. It just is. There's nothing we can do about it.
So understanding that, first of all when I began to use an accusations audit to try to diminish those fears of lost, it gets a person back more into even gains. And then I realize that people are more likely to do things to avoid losses. In a negotiation all I have to point out is what's actually going to be lost if this isn't done. In some ways in a business world a reverse of this is what I call taking people hostage to the future. If I can convince you that if you do all this work for me for nothing that all this business will come your way as a result, which is actually what's done a lot in the business community. Come and do this business for us at a cut rate and we'll introduce you to all this business and you'll be fabulously wealthy as a result of our referrals. Well, if you buy into getting all that money for those referrals now you're being taken hostage to the future and you'll do the business for nothing because you're afraid of losing those referrals. That's pretty common. And after a while people tend to catch on to it.
The much wiser approach is for me to simply point out how not doing this deal is in fact costing you every day. If you do nothing you lose. If you don't address this issue it's going to cost to you. So when the status quo becomes a loss then people are more likely to make a decision to make a move because of prospect theory, just the fear of loss in our head is huge.
In 2002, Daniel Kahneman and Amos Tversky won the Nobel Prize in Economics for a behavioral theory they created and refined between 1979 and 1992: prospect theory. It explained how people weigh up risks in decision making, and part of its findings revealed that we are inherently loss averse, meaning we give at least twice as much decision-making weight to the idea of losses than gains. Losing $5, explains former FBI negotiator Chris Voss, feels like losing $10, and the prospect of gaining $5 will feel joyless coompared to the fear of losing $5. This can be leveraged in negotiations simply by pointing out what is going to be lost if a deal isn't made, or something isn't done. The "crazy mathematics" we do in our heads isn't rational, but understanding it will give you an upper hand in your next negotiation. Chris Voss's book is Never Split the Difference: Negotiating as if Your Life Depended On It.
---
Chris Voss's book is Never Split the Difference: Negotiating as if Your Life Depended On It.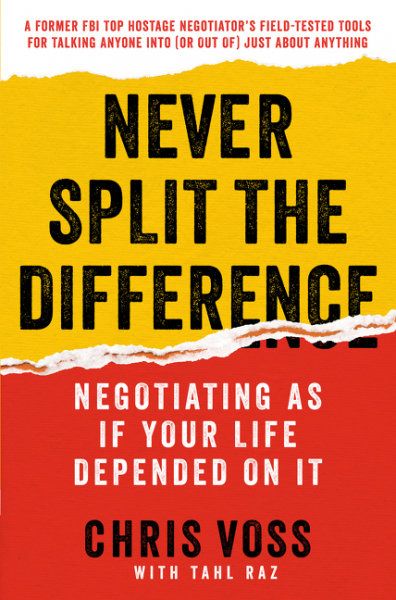 An innovation may lead to lifelike self-reproducing and evolving machines.
Shogo Hamada/Cornell University
Surprising Science
Scientists at Cornell University devise a material with 3 key traits of life.
The goal for the researchers is not to create life but lifelike machines.
The researchers were able to program metabolism into the material's DNA.
Some evidence attributes a certain neurological phenomenon to a near death experience.
Credit: Petr Kratochvil. PublicDomainPictures.net.
Surprising Science
Time of death is considered when a person has gone into cardiac arrest. This is the cessation of the electrical impulse that drive the heartbeat. As a result, the heart locks up. The moment the heart stops is considered time of death. But does death overtake our mind immediately afterward or does it slowly creep in?
Big think's weekly newsletter.
Get smarter faster from the comfort of your inbox.
See our newsletter privacy policy
here
Most Popular
Most Recent
Big think's weekly newsletter.
Get smarter faster from the comfort of your inbox.
See our newsletter privacy policy
here
© Copyright 2007-2019 & BIG THINK, BIG THINK EDGE,
SMARTER FASTER trademarks owned by The Big Think, Inc. All rights reserved.