Top Video of 2016 #9: 3 Tips to Succeed at Business Negotiations from an FBI Hostage Negotiator
Our brains react subconsciously to what is said during business negotiations. To succeed, it's important to choose your words carefully and be aware of the tone of your voice.
Chris Voss
Chris Voss is the Founder and CEO of the Black Swan Group Ltd. He has used his many years of experience in international crisis and high stakes negotiations to develop a unique program and team that applies these globally proven techniques to the business world. Prior to 2008, Chris was the was the lead international kidnapping negotiator for the Federal Bureau of Investigation, as well as the FBI's hostage negotiation representative for the National Security Council's Hostage Working Group. During his government career he also represented the U.S. Government at two (2) international conferences sponsored by the G-8 as an expert in kidnapping. Prior to becoming the FBI lead international kidnapping negotiator, Christopher served as the lead Crisis Negotiator for the New York City Division of the FBI. Christopher was a member of the New York City Joint Terrorist Task Force for 14 years. He was the case agent on such cases as TERRSTOP (the Blind Sheikh Case – Sheikh Omar Abdel-Rahman), the TWA Flight 800 catastrophe and negotiated the surrender of the first hostage taker to give up in the Chase Manhattan bank robbery hostage taking.
During Chris's 24 year tenure in the Bureau, he was trained in the art of negotiation by not only the FBI, but Scotland Yard and Harvard Law School. He is also a recipient of the Attorney General's Award for Excellence in Law Enforcement and the FBI Agents Association Award for Distinguished and Exemplary Service. Chris currently teaches business negotiation in the MBA program as an adjunct professor at University of Southern California's Marshall School of Business and at Georgetown University's McDonough School of Business. He has taught business negotiation at Harvard University, guest lectured at The Kellogg School of Management at Northwestern University, The IMD Business School in Lausanne, Switzerland and The Goethe School of Business in Frankfurt, Germany. Since 2009 Christopher has also worked with Insite Security as their Managing Director of the Kidnapping Resolution Practice.
23 June, 2016
Chris Voss: How you use your voice is really important and it's really driven by context more than anything else, and your tone of voice will immediately begin to impact somebody's mood and immediately how their brain functions. There's actually scientific data out there now that shows us that our brains will work up to 31 percent more effectively if we're in a good mood. So if I smile at you and you see it or you can hear a smile in someone's voice, if I automatically smile at you and you can hear that I like you, I will actually be able to reach into your brain, flip the positive the switch, it puts you in a better mood there are mirror neurons in our brain that we have no control over; they automatically respond. And if I intentionally put you in a good mood your brain will be working more effectively and that already begins to increase the chances that you're going to collaborate with me. You'll be smarter and you'll like me more at the same time.
Now upward and downward inflexion, downward inflexion is often used to say this is the way it is; there's no other way. And I will say it exactly like that. If there is a term in a contract that there's no movement on and I want you to know it and feel it without me having to say there's no movement on this, which maybe you want to yell at somebody and that's ineffective because that triggers a different part of the brain and makes people angry and they want to fight. And I've done this in contract negotiations. I've said things like, "We don't do work for hire," just like that. It lets the other side know there's no movement whatsoever.
I also may need to put you in a more collaborative frame of mind and if I want to ask you a question I'll say something like it seems like this is important to you and I'll inflect up. It's more driven by context. And I can use an upward inflection to encourage you and smile while I'm questioning you. And that will make you feel less attacked by being questioned because people are made to feel a little bit defensive when they're question anyway. So if I know if I have to question you, if I want you to think about a different option then I'm going to be as encouraging as possible while I may be very assertive at the same time.
The mirroring that I teach is not the same as the way most people think of mirroring. Most people when they think of mirroring they think mirroring body language, mirroring tone of voice, even using the same words. It's not that at all. The mirroring that I teach is much more simplistic and interestingly enough has a great impact on how the other person interacts with you. And it's just repeating the last one to three words that they've said word for word, one to three words or it's repeating a selected one to three words. And what it really does is it helps connect people's thoughts. There will almost never be a time when you mirrored the last three words of what someone said when they want to go on and explain and reword and expand.
And that mirror what is has done as it helps give you a better understanding of what the other person is trying to say. It also gives you more time to think. It's a way to buy time in a negotiation for yourself. The other person doesn't see you buying time in any way shape or form. It's a great way when you don't know what to say or where to go to keep them talking in a way that they're very comfortable with. One of my clients actually mirrors his counterpart's positions every single time. Every time they make a statement on a position he simply mirrors it. They'll repeat it and they'll expand it and every time he does that it also gives him a good feel for whether or not they're really stable in that position or whether there's quite a bit of softness in a position completely based on how they reword and responded to his mirror. So a mirror is a great way to keep somebody else talking very comfortably.
The F word in negotiations is fair. Fair is the F bomb. And when you begin to look for it it's stunning in how many negotiations somebody drops the F bomb in the negotiation. And when somebody says we just want what's fair, that's actually a really bad sign. One of two things is going on: now the cutthroat negotiators know how much I can punch your buttons if I say I've given you a fair offer and that will immediately put you on the defensive and make you worry about whether or not you're being fair, and most people have an extinctive feeling about fair price, fair market. Fair is like this incredibly overused term in negotiations, I just want what's fair, what's the fair market price.
So if I say I've given you a fair offer and I'm accusing you of being unfair I immediately knocked you back on your heels. It's a way for me to gain an advantage on you, if I'm that kind of a negotiator. The flipside of that is maybe I've been assertive enough in the negotiations and I haven't been using enough tactical empathy that the other person feels like I'm taking, taking, taking from them and they'll respond with, "I just want what's fair." That may be someone genuinely telling me, very indirectly, that they feel I've been far too aggressive. And if they feel I've been aggressive and if they feel treated unfairly, one of two things is going to happen: they're either going to walk away from a great deal or they're going to make implementation painful. And when implementation of a negotiation is painful, when they drag their feet, when they don't make deadlines, when they don't deliver the product quality they're supposed to deliver, when they're not as thorough and paying as much attention to detail because they didn't feel it was a fair deal, they'll destroy your profit. So you have to really keep an eye out for the F bomb in negotiations. And when somebody else feels they've been treated unfairly they're probably going to hurt you over it.
Mirroring is a phenomenon frequently observed between two people in conversation. When a person is mirroring who they talk to, mimicking their body language and enthusiasm, it is a signal that the two people are at ease with each other and have taken a similar point of view.
---
Mirroring starts in infancy as babies learn about the world by imitating the behavior of those around them. This imitative behavior continues through life, from adolescence into adulthood, and if used consciously, mirroring may subconsciously influence others: many artists who claim to be hypnotists or psychics, such as Long Island Medium Theresa Caputo, use mirroring.
Chris Voss, a former FBI Negotiator and current CEO of the Black Swan Group, is an expert on mirroring. If your goal is to better position yourself in a negotiation, mirroring is a technique you can use to choose your language carefully. By repeating the other person's last few words, just one to three of them, you can indicate that you are listening. Not only that, but it pushes the conversation forward as the person feels free to delve in deeper.
Repeating someone's last words also gives you time to think about your own place in negotiation. After your short reply repeating them, most people will expand on what they mean. Voss says that the small delay caused by repeating those one to three words can in the long run save much time, and help things to go your way.
Chris Voss's book is Never Split the Difference: Negotiating as if Your Life Depended On It.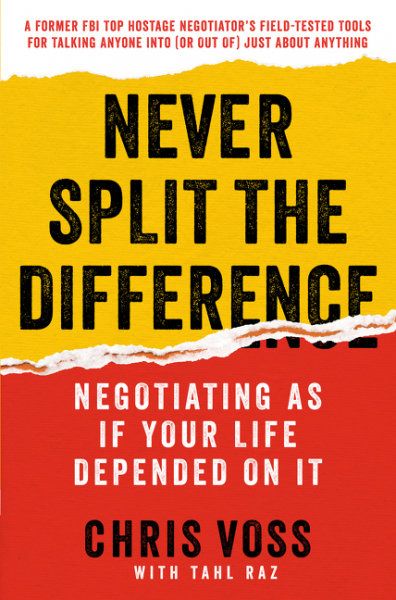 Neuroscience is working to conquer some of the human body's cruelest conditions: Paralysis, brain disease, and schizophrenia.
Videos
Neuroscience and engineering are uniting in mind-blowing ways that will drastically improve the quality of life for people with conditions like epilepsy, paralysis or schizophrenia.
Researchers have developed a brain-computer interface the size of a baby aspirin that can restore mobility to people with paralysis or amputated limbs. It rewires neural messages from the brain's motor cortex to a robotic arm, or reroutes it to the person's own muscles.
Deep brain stimulation is another wonder of neuroscience that can effectively manage brain conditions like epilepsy, Parkinson's, and may one day mitigate schizophrenia so people can live normal, independent lives.
As Game of Thrones ends, a revealing resolution to its perplexing geography.
Strange Maps
The fantasy world of Game of Thrones was inspired by real places and events.
But the map of Westeros is a good example of the perplexing relation between fantasy and reality.
Like Britain, it has a Wall in the North, but the map only really clicks into place if you add Ireland.
A recent study gives new meaning to the saying "fake it 'til you make it."
Pixabay
Surprising Science
The study involves four experiments that measured individuals' socioeconomic status, overconfidence and actual performance.
Results consistently showed that high-class people tend to overestimate their abilities.
However, this overconfidence was misinterpreted as genuine competence in one study, suggesting overestimating your abilities can have social advantages.
Big think's weekly newsletter.
Get smarter faster from the comfort of your inbox.
See our newsletter privacy policy
here
Most Popular
Most Recent
Big think's weekly newsletter.
Get smarter faster from the comfort of your inbox.
See our newsletter privacy policy
here
© Copyright 2007-2019 & BIG THINK, BIG THINK EDGE,
SMARTER FASTER trademarks owned by The Big Think, Inc. All rights reserved.
//This will actually fire event. Should be called after consent was verifed