Can Calorie Restriction Prolong Your Life?
Leonard Guarente
Dr. Leonard P. Guarente is an American biologist and director of MIT's Glenn Laboratory for the Science of Aging, where he is also a Novartis Professor of Biology. He is best known for his research on longevity and specifically for uncovering the gene in yeast that governs the organism's life span. He is the author of "Ageless Quest: One Scientist's Search for Genes That Prolong Youth," which was published in 2003 by Cold Spring Harbor Press.
01 December, 2009
Question: What's the best diet for long life?
Leonard Guarente: Well, I mean I think a low-calorie diet is probably a good thing. I think in humans we don't know; there's no data on what a low-calorie diet does in terms of diseases and longevity, as I said before. By analogy to rodents, you would think it would be a good thing. On the other hand, if it made you really miserable to eat 1,000 calories a day -- and people who are on that diet tend to be cold; they tend to have very low sex drive; they tend to in some cases be irritable -- and so if you're not happy, then that gets back to what we were saying earlier. You may be undoing some of the good that that diet would otherwise produce. So my feeling is to live sensibly.
I mean, a word of advice that I think is good -- it's hard to follow -- but I think what everybody should do, if everybody could do this, it's the best you can do right now -- is decide what is your perfect weight, body weight. What's perfect for you? And I think what most people do is rifle through the past and decide on when they were most happy with themselves -- and do everything possible to get to that weight and keep to it. And I think that that would necessarily make you healthier, most people healthier than they are now. Beyond that, I, you know, I take a vitamin supplement, a general supplement. I take Vitamin D. I do not take resveratrol, though a lot of people do. And the reason is, I'm waiting for a 100 percent pure and reliable source of it, and then I will take it. And I drink a little wine, and all the data says, again, there's an optimum. I think the data says that too much wine is bad, but no wine is not optimum. The right amount of wine is optimum.
Question: Have there been any studies on humans when it comes to calorie-restricted diets?
Leonard Guarente: Yes, there's a center in Louisiana called the Pennington Center that has been doing such studies. It's been a long time since there's been good data on humans on calorie restriction, and part of the problem has been that humans tend to cheat on the diet, so controlled studies end up not being so controlled. But recently there have been six-month studies done, and what you can do in six months -- you can't ask if it's making people live longer; you can't even ask if it's protecting them against diseases -- but you can ask if it's eliciting the kinds of physiological changes that you expect in calorie restriction, which would be a loss of body fat, a lowering of blood glucose, so anti-diabetic effect, a rendering of sensitivity to insulin, the action of insulin -- these can all be measured. And six months on calorie restriction in humans does roughly the same thing that it does in mice.
Now, just one footnote on one of those studies: so in rodents what we knew is that some of these sirtuin activators could activate muscle to process glucose better. And it was doing that at least in part by activating the synthesis of mitochondria. These are organelles in cells -- it's called the powerhouses of cells -- that make energy for cells. And by activating mitochondria you sort of drive metabolism, and you drive the uptake of glucose from the blood into the muscle in the processing of glucose. So it's a good thing; it's an anti-diabetic thing. And this process can be driven by SIRT1, the survival gene, in muscle in rodents. Now, it was done first with resveratrol, but it turns out calorie restriction in rodents does the same thing. You activate the synthesis of mitochondria in muscle, okay, and that makes them more metabolically active, and it's a good thing metabolically, okay?
Now, to get back to the humans, what they were able to show in this trial is, they took punch biopsies of muscle from the people that were on the calorie restriction diet for six months, and what they found in their muscles was an increase in mitochondria and an increase in the levels of the SIRT1 protein; the protein was actually increased in the muscle in response to calorie restriction. So that says that the congruence between mice and humans may be quite profound with regard to calorie restriction.
So we can't say any -- there's no direct evidence in humans about diseases; certainly not about lifespan. But at least basic physiology looks like it might be similar in humans, so that might make a good prediction about the effects of calorie restriction, but nobody want to practice calorie restriction because it's so unpleasant. And so what everybody would like is a mimetic, a drug that would elicit at least some of the benefits of calorie restriction.
Recorded on November 9, 2009
There is no direct evidence yet that calorie-restricted diets retard human aging, but there are promising signs. However, if a 1,000-calorie diet makes you grumpy and lowers your sex drive, it may undo any good.
Malcolm Gladwell teaches "Get over yourself and get to work" for Big Think Edge.
Big Think Edge
Learn to recognize failure and know the big difference between panicking and choking.

At Big Think Edge, Malcolm Gladwell teaches how to check your inner critic and get clear on what failure is.

Subscribe to Big Think Edge before we launch on March 30 to get 20% off monthly and annual memberships.
It turns out, that tattoo ink can travel throughout your body and settle in lymph nodes.
17th August 1973: An American tattoo artist working on a client's shoulder. (Photo by F. Roy Kemp/BIPs/Getty Images)
popular
In the slightly macabre experiment to find out where tattoo ink travels to in the body, French and German researchers recently used synchrotron X-ray fluorescence in four "inked" human cadavers — as well as one without. The results of their 2017 study? Some of the tattoo ink apparently settled in lymph nodes.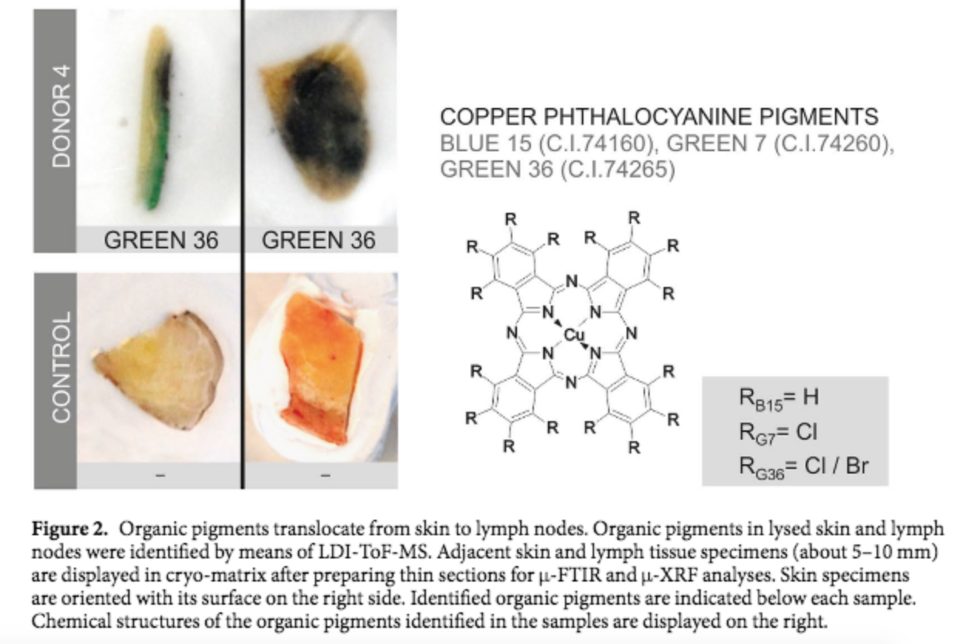 Image from the study.
As the authors explain in the study — they hail from Ludwig Maximilian University of Munich, the European Synchrotron Radiation Facility, and the German Federal Institute for Risk Assessment — it would have been unethical to test this on live animals since those creatures would not be able to give permission to be tattooed.
Because of the prevalence of tattoos these days, the researchers wanted to find out if the ink could be harmful in some way.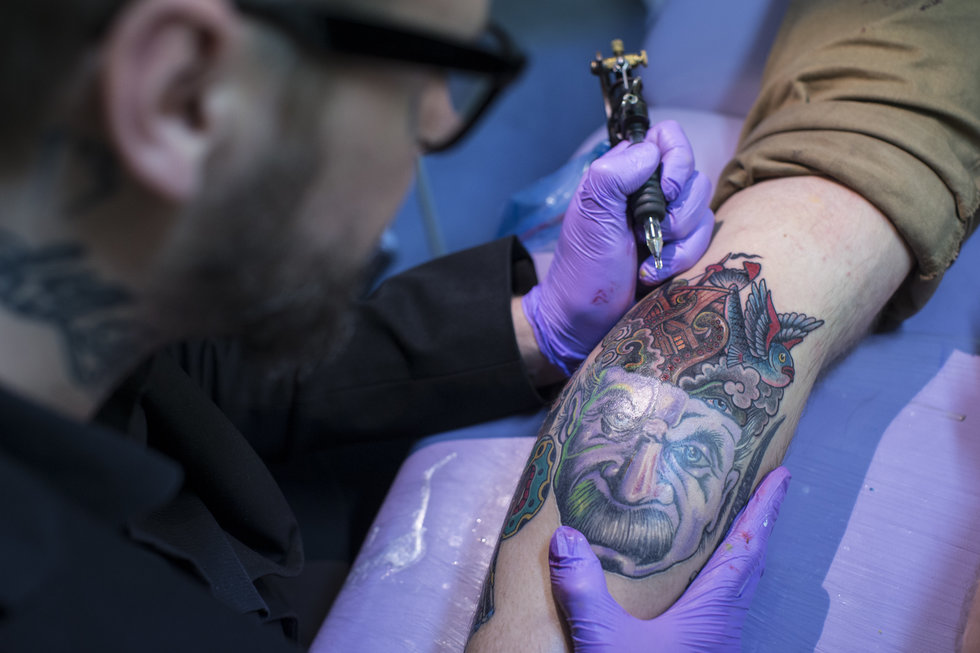 "The increasing prevalence of tattoos provoked safety concerns with respect to particle distribution and effects inside the human body," they write.
It works like this: Since lymph nodes filter lymph, which is the fluid that carries white blood cells throughout the body in an effort to fight infections that are encountered, that is where some of the ink particles collect.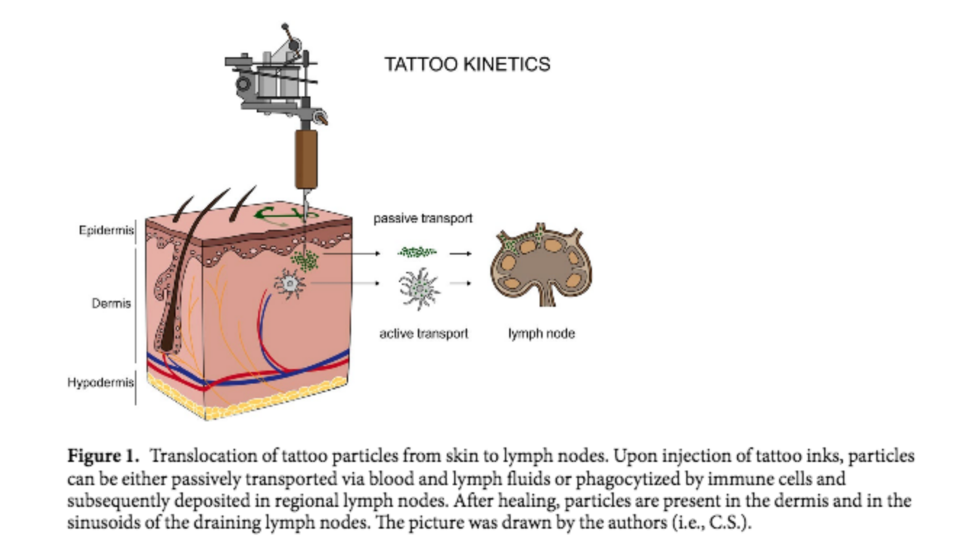 Image by authors of the study.
Titanium dioxide appears to be the thing that travels. It's a white tattoo ink pigment that's mixed with other colors all the time to control shades.
The study's authors will keep working on this in the meantime.
"In future experiments we will also look into the pigment and heavy metal burden of other, more distant internal organs and tissues in order to track any possible bio-distribution of tattoo ink ingredients throughout the body. The outcome of these investigations not only will be helpful in the assessment of the health risks associated with tattooing but also in the judgment of other exposures such as, e.g., the entrance of TiO2 nanoparticles present in cosmetics at the site of damaged skin."
It's one of the most consistent patterns in the unviverse. What causes it?
Videos
Spinning discs are everywhere – just look at our solar system, the rings of Saturn, and all the spiral galaxies in the universe.
Spinning discs are the result of two things: The force of gravity and a phenomenon in physics called the conservation of angular momentum.
Gravity brings matter together; the closer the matter gets, the more it accelerates – much like an ice skater who spins faster and faster the closer their arms get to their body. Then, this spinning cloud collapses due to up and down and diagonal collisions that cancel each other out until the only motion they have in common is the spin – and voila: A flat disc.
Big think's weekly newsletter.
Get smarter faster from the comfort of your inbox.
See our newsletter privacy policy
here
Most Popular
Most Recent
Big think's weekly newsletter.
Get smarter faster from the comfort of your inbox.
See our newsletter privacy policy
here
© Copyright 2007-2018 & BIG THINK, BIG THINK EDGE,
SMARTER FASTER trademarks owned by The Big Think, Inc. All rights reserved.