Big Think Interview With Tyler Volk
Tyler Volk
Tyler Volk is a Science Director of Environmental Studies and Professor of Biology at New York University. He is the author of "Death & Sex" (with co-author Dorion Sagan), "CO2 Rising: The World' Greatest Environmental Challenge," "Gaia's Body: Toward a Physiology of the Earth," and "Metapatterns: Across Space, Time, and Mind." Professor Volk is also lead guitarist for The Amygdaloids, a "heavy mental" band comprised of NYU scientists. He lives in New York.
22 March, 2010
Tyler Volk: I'm Tyler Volk, Professor of biology and Environmental Studies at New York University, Author of several books; Death and Sex, Gaia's Body, Tour of Physiology of Earth, Meta-patterns Across Space, Time, and Mind.
Question: Why do atoms have such long lives, but organisms die?

Tyler Volk: Yeah, well atoms have such long lives because they are made of fundamental particles that themselves are long-lived to infinity. There are some issues about the proton having some kind of a long decay constant, but organisms are dynamical systems made of parts, enzymes that interact very volatility, they have to be rebuilt constantly, the organisms themselves have to have constant inputs of matter and energy in order to carry on to regenerate these complex internal dynamics that they have going all the time.

Question: On the molecular level, what causes humans to die?

Tyler Volk: The body wears down after a while. There are repair mechanisms that we have. You cut your skin; you'll notice that your skin repairs. You break a bone; the bone repairs. Many of these repair mechanisms, as any of us who are aging know, become less efficient as we get older. And one reason that diseases become more statistically probable as we get older has to do with a general running out of these repair mechanisms; the efficiency of these repair mechanisms that were with us from our birth as human beings, but have themselves a kind of longevity that varies from individual to individual. But you can see, most people when they get to be around 70, 80, or 90, they're going to look old. There are some certain expectations. So there is some commonality we have as humans as a species in terms of shared genetic capabilities of repair our bodies that wear down over time.
Question: Why do human beings have so much trouble embracing death?
Tyler Volk
: We have a lot of trouble embracing death because we know it's going to happen and this really flies in the face of our urge to live which we're coming out of billions of years of organisms being successful at living and passing on progeny and suddenly in the last 30,000 years, 100,000 years, we don't' really know, some of the earliest detailed elaborate burials were 30,000 years ago. Human beings not only died, but they know they're going to die. Of course, the world's religions have not liked this fact and so try to build up various mythologies about afterlife. But I think the basic reason is just it's abhorrent to us. We've built up the self. We've had, for the most part, enjoyable experiences. There's more to experience. We have loved ones, we have roles in life and suddenly to know that that's all going to ending; to be snuffed out at some point, really puts in a primal dilemma to our minds
Question
:
How do you explain scientific movements to end death
?
Tyler Volk
: Yeah. I think some of these urges to conquer death, or to live a long time, have to do with this primal fear of death itself. Of course, we want to stay healthy, it's painful to get ill, it's painful to get old, to have injuries that don't heal so well, to have permanent pain. So, some of that is overcoming just the sense of un-wellbeing that happens to us. We want medicine to make progress and keep up healthy.
But the other factor is wanting to live for a long time and maybe forever. It's not clear what we would do, or how that would affect our lives. Sometimes science fiction writers explore those kinds of themes. But I see that as incredibly natural and I do think it's going to – not that we're going to live forever necessarily, I don't have an informed opinion about that. But from my reading, typically in nature magazines, science magazines and some of the biological findings and also what I see happening with genetics and genomics research in my own Biology Department at NYU, it's clear that advances are going to be coming to help us fulfill some of these dreams we have had since the upper Paleolithic of living for a long time.
Question
:
After researching death for so long, how do you address your own mortality
?
Tyler Volk
: I don't believe in any afterlife for myself. I don't think my mind continues after I die. That doesn't feel particularly good. So, my recourse is to go by who I am, what we have, see myself as a product of billions of years of evolution and during which time this evolutionary process has discovered and utilized in various ways forms of death in support of life. It doesn't make it something that I look forward to, I definitely do not, but I can see myself part of a larger picture. And I think there's a lot of gratitude I've developed as a result of understanding how death and life are intertwined and doing some of my investigations that I've written about in how death and life are closely coupled with each other in the support of life that we know.
Question
: W
hat is the importance of death to evolution
?
Tyler Volk
: Without death, there's no evolution; at least as far as we know it. One could hypothesize some organism that might live forever that would butt off mutations, but evolution as it works now, operates by organisms dying and the next generations carry on. And those generations, for the most part, have variance in them and then those variants are selected. So you can get a sort of design happening out of evolution over time, or you can get adaptations occurring that did not exist. So, for example, at one point there were no large creatures such as us, or elephants, or dinosaurs, or amphibians walking on land. There were vertebrates called fish in the world's oceans and then they were about to emerge and to go up on land. The only way that could happen would be many generations dying. Many generations of fish with certain kinds of limbs dying and there were slow variations accumulating to turn those fish into tetrapods, four-legged creatures, that would either being the mud, or in the shallow water and eventually crawl up out of the ocean. So, death has really been an essential ingredient to the evolutionary process.
Question
:
Why are cells constantly being recycled in our bodies
?
Tyler Volk
: Cells are dying in our bodies all the time. The rates that they die and are replaced vary depending on what organ we're looking at. So, for example, the skin – the cells in the skill are turned over approximately every month of time. New cells are migrating outward and old cells are sloughed off. And that makes some sense. The skin is subject to a lot of wear and tear and abrasion; it is in contact with a harsh environment. So for the skin to have some kind of way to renew itself is very essential to having a border around our bodies. Organs, such as the brain and the heart, the cells there – many of those cells, either aren't intended to die, they don't really have turnover. And some part of the brain it is being discovered, the cells do have turnover, but clearly the places such as the brain and the heart in which the interconnectivity of the cells and the cells working together, is really crucial in those organs that turnover is a lot less.
So the body, through the evolutionary process, has tuned death in a kind of adaptive manner to insure that these organs are healthy depending on what function these organs have to play.
There's also a role of death in development that all large creatures that we know, have. A really good example is our hand with our five fingers. The fingers do not grow as stems of a tree might grow in which they start small and they just grow outward. You might think that happens that they are starting – of course they're small in the womb. But instead, the hand starts off as like a paddle. Sort of a thick, very thick ping-pong paddle. And the fingers in this embryonic stage are formed by the cells in between dying off. So the first extension of the fingers is formed by a developmental form of death. It's a programmed death. This is death being controlled. It's not just the turnover that I described earlier of the skin turning over, but these cells die in between. And they don't die and then fall away. They die and are reabsorbed into the hand, and so it's a form of recycling. But the formation of the hand; and this is true of the human hand, the mouse hand, there's many examples of this. And if there is not controlled, what's called programmed cell death, very precisely sculpting the developing organism, it's been show that these organisms can die that death is absolutely essential in the early developmental process.
Question
:
How is death essential to life?
Tyler Volk
: Yeah. One thing I write about is the fact that there's not just one death, there's different forms of death. There's the death of our bodies that has to do with the essence of us being a large multi-cellular creature, a metazoan having to do with the slowing down of the repair mechanisms. But there's also a lot of death inside our bodies as we live. The death of our cells, skin cells are always sloughing off, internal cells are dying, cells that are abhorrent; go through a kind of suicide program. So, there's a lot of death inside our bodies all the time going on that is essential to our life. And this is somewhat of a different death from the death of our bodies as large organisms.
And then there's also death on small scales, in bacteria, that either have to do with running out of nutrients that is an inadvertent form of death, but there's also kinds of bacteria which are multi-cellular, and they can program cell death as they go into reproductive phases. So, one issue about death that I find particularly fascinating is that there is not just one kind of death, but death has been really incorporated into life in various forms depending on what scale of nature we're looking at.
Tyler Volk
: Yeah. One thing I write about is the fact that there's not just one death, there's different forms of death. There's the death of our bodies that has to do with the essence of us being a large multi-cellular creature, a metazoan having to do with the slowing down of the repair mechanisms. But there's also a lot of death inside our bodies as we live. The death of our cells, skin cells are always sloughing off, internal cells are dying, cells that are abhorrent; go through a kind of suicide program. So, there's a lot of death inside our bodies all the time going on that is essential to our life. And this is somewhat of a different death from the death of our bodies as large organisms.
And then there's also death on small scales, in bacteria, that either have to do with running out of nutrients that is an inadvertent form of death, but there's also kinds of bacteria which are multi-cellular, and they can program cell death as they go into reproductive phases. So, one issue about death that I find particularly fascinating is that there is not just one kind of death, but death has been really incorporated into life in various forms depending on what scale of nature we're looking at.
Question
:
How does the human lifespan compare to our closest primate relatives
?
Tyler Volk
: Our closest primate relatives are the chimpanzees and gorillas, with the chimpanzees being closer to us genetically. They're natural life spans are approximately half of ours. And that's of some interest because the chimpanzees are a bit smaller than use in body mass and the gorillas are larger than us in body mass. We can't know for sure the lifespan of the last common ancestor of humans and chimpanzees, but there would be some – you might guess that it would be half of what our current lifespan is.
Question
:
This is the natural lifespan
?
Tyler Volk
: Let's make a distinction that we're not talking about the infants dying – small children dying of diseases or death by predator, but the natural lifespan in normal, almost perfect circumstances. So looks throughout history, there's always been people who have made it to age 80 or so, or longer, even though the average life expectance at birth, given all factors, given diseases, predators, and then the diseases of aging and senescence, even those have been more prevalent, the natural lifespan has been approximately the same as it is today. The maximum – the natural maximum lifespan, which is different from life expectancy at birth which can vary even in different countries today. Russia right now has a relatively low life expectancy, people in Africa have a relatively low life expectancy, Japan has the highest life expectancy of any nation now. So, there's variations, but take those individuals into relatively equal healthy environments and they're all going to live close to the same age.
Question
:
And this natural life expectancy has not gone up
?
Tyler Volk
: Right. The natural life expectancy has not gone up very much. However, since the diseases, some of the diseases that modern medicine is tackling, such as heart disease and cancer, become more and more the diseases that we are dying from in elderly age, we can be expected to live longer without trying to genetically go in and manipulate our metabolisms in some ways. There's a lot of work being done on what is called caloric restriction.
There's a lot of research being done on what is called caloric restriction. Animals that are given reduced calorie diets, and yet have the essential nutrients that they need, live longer. We haven't been able to do the experiments on human beings yet. There are people out there attempting to do this by themselves. You can get books and join organizations to try to enhance or help you – how you can make recipes that satisfy your hunger and have caloric restriction.
I'm saying this to show that there are probably going to be ways that science is going to understand this natural demise, this metabolic demise of our repair mechanisms that set up our natural lifespan that has kept it pretty constant for a long time. And we're probably going to bring that forward. We're going to live longer lives I really think. I don't know if it's right around the corner, that's hard to judge. You've had people on your show that are saying what they think it's going to be. But just from reading the literature, it's clear that these kinds of advances are going to happen.
Question
:
Why do lifespans vary across species
?
Tyler Volk:
I find it really fascinating to consider why certain species of mammals live longer than other species of mammals. For example, we live longer than dogs, dogs live longer than mice. Often there's a tendency, or trend, that the large creatures live longer. But you might try to say, from an evolutionary viewpoint, that it would serve creatures well to live for a long time. They can reproduce more, let's say if they live for longer, and therefore can pass on their genes for even a longer period of time. But we know that there's a large variation in when creatures senesce and what the average lifespan is. And it turns out, there's two ways of looking at this. One is to go down deep into the organism and ask, why are the cellular repair mechanisms breaking down when they do; a couple years in the case of some small mammals. For us it's many decades, 70, 80, 90 years. But the other way to look at it is that these cellular repair mechanisms themselves must be subject to evolution. We know that these repair mechanisms vary among creatures.
It's been shown that birds, for example, have better cellular repair mechanisms than mammals do. The current reasoning has to do with the ecological niche that a certain creature lives within as a member of its species. And if that niche allows the possibility for many of the individuals to live long lives, then it has been worthwhile for the evolutionary process to build in better repair mechanisms for its cells to allow it to live longer. So, if I go back to the example of birds, the phrase that's sometimes used in the technical literature for birds and why the birds live so much longer than the mammals of the same body mass is the phrase, "fly now, die later." And the idea being that birds in the trees and in flying have very good predator escape mechanisms that make it worthwhile for the birds to have cellular repair mechanisms inside their bodies that allow this longevity for a certain body mass to occur.
And what I find fascinating here is that there is a tuning of the creature's niche, or environmental lifestyle and the possibilities that that lifestyle has for longevity and the very internal, deep internal, cellular repair mechanisms. The enzyme repair mechanisms issues about oxidative stress that either facilitate that longevity or cut the life short. One particular example I think is very telling is the case of the several species of the Pacific Salmon that live in the Northwest United States, Canada, and in Alaska. These salmon are born in upstream fresh water streams, or rivers. Very quickly, they go down to the saltwater oceans so they have a transition from fresh water to saltwater ocean. They live in the ocean for typically two to three years, depending on the species. They find their way back through a process somewhat mysterious, but maybe having to do with the water chemistry of their birth stream. They find they're way back to their birth stream and at that point, the males and the females undergo some physiological changes. Their bodies turn more red, they bolt out – the males, the jaws get very bulked out. And if you look at what's happening hormonally in them, it's like they're on an incredible dose of steroids. They're revved up for this upstream swim that we see dramatic pictures of where they're swimming these rapids and can they hop this dam or not, or do they have ladders to go up.
They go upstream and the males and females mate. The females lay the eggs in these little depressions in the sediments, and then the males and females all die. They do not go back downstream to say, live another year and come back upstream. And you might think that what's happening is a real waste of these salmon. It's been shown that they add some nutrients to the stream water, but they're not dying to add nutrients to the upstream waters, they're dying because what's happened to their bodies has put such stress on their bodies that they've done this incredible swim and put all their efforts into getting to a place to mate and into mating. And this is a wonderful example of how it's important for these organisms to remain healthy up until sex, up until successful sex and reproduction and then it's possible to die. Senecessence is, it's possible just after sex. If there were senecessence before sex, that creature is out of the evolutionary game, obviously. But you could have death following right on the heels of sex and in the case of the salmon, this has occurred in evolution. So, we can see here that there is a tuning between death and when senecessence that happens and the ecological, or environmental, circumstances that have resulted in various adaptations in the case of Pacific Salmon. A really dramatic case.
Question
:
How do the dead pervade our ecosystem
?
Tyler Volk
: Walk in the woods and the whole forest floor is filled with the litter of the trees, the dead material from the trees that's fallen down to the forest floor and is feeding the creatures in the soil. There's a lot of life in the soil, many species of bacteria we don't yet know, a lot of worms, other creepy crawly things in the soil. They're basically living on the ****, the dead material that's coming from above either in the form of dead parts of plants, entire plants, dead animals, waste products from animals, mushrooms rise and then die and fall back to the forest floor. And so the whole ecosystem is working by the efficient recycling of the dead. We can put a number on that in the following way. We can put a number on how the recycling of the dead actually enhances life. We can see it happening on the forest floor, but I'll just walk you through the number.
The total amount of carbon that photosynthesizing plants and algae require on an annual basis is about 100 billion tons of carbon that they incorporate, they either pull it in from the ocean water in the case of algae, or pulling it in from the air going into the leaves of plants, in the case of trees and other plants on land; about 100 billions tons of carbon a year. We can ask, what if plants had to rely on, what if the plants and algae had to rely on new carbon that was coming up from deep going into the atmosphere and ocean from volcanoes, from the dissolution of rocks that contain carbon? And that amount is about one-half of a billion tons per year. So, where the photosynthesizers to rely on this carbon coming up from deep that's fresh going up into the ocean and atmosphere? That's only ½ billion tons per year. Current abundance, the beautiful abundance of green life on the planet is requiring about 100 billion tons of carbon per year. So, it's a 200 to one ratio. And they get this 199 parts over the half billion tons that come up fresh from below from the recycling of organisms. From our breaths, from the breaths of the elephants, the eagles, from the breaths of the snakes, from the breaths of the bacteria, or the gases being put out as waste products from bacteria. That's really the bulk of this recycling, from the bacteria in the ocean and the soil.
And so, one can say that from the efficient recycling of the dead and the fact that the creatures that are putting forth Co2, such as ourselves, are living on the dead because we are going to eat animals that ate the plants. So, there's death to support our bodies, that this webbing of nature in which death becomes life and life becomes death around and around, enhances life we can say approximately 200 times. There's approximately 200 times more life on the planet with this networking of life and death that happens.
Question
:
How large of a role do decomposed human bodies play in this
?
Tyler Volk
: Humans are part of this, but we are relatively small in terms of our bodies decomposing and going into the cycle. The big carbon fluxes are really in the realm of all plants, the bacteria in the soil. We are creating more and more carbon fluxes – we are putting more and more of the earth's carbon fluxes in these earth cycles under our own control with taking over 10% of the planet, using 10% of the planet for agriculture and another 10% to 20% for grazing of various kinds and the fisheries. So, with our population, we are bringing more of this death and life cycle under control. The actual contributions of our bodies dying, of course, are relatively small compared to these larger pictures.
Recorded on: February 22, 2010
A conversation with the author and professor of biology at New York University.
Big ideas.
Once a week.
Subscribe to our weekly newsletter.
A small percentage of people who consume psychedelics experience strange lingering effects, sometimes years after they took the drug.
Mind & Brain
LSD flashbacks have been studied for decades, though scientists still aren't quite sure why some people experience them.
A subset of people who take psychedelics and then experience flashbacks develop hallucinogen persisting perception disorder (HPPD), a rare condition in which people experience regular or near-constant psychedelic symptoms.
There's currently no cure for the disorder, though some studies suggest medications may alleviate symptoms.
In February 2021, Josh was in his room and looking at his phone when he was struck by a strange feeling.
"The room looked normal, nothing was moving, but I felt as though I was under the influence of a psychedelic," he told Big Think. As a teenager, Josh had experimented with LSD, mushrooms, and other psychedelics a couple dozen times. Now 25, he had been sober for about a year. He brushed off the incident.
But soon, Josh, which is not his real name, was struck again by the same strange feeling.
"I had no idea what was going on in my brain at that time and the anxiety and paranoia grew so intense that I became fearful I had developed everything from brain cancer to schizophrenia," he said. The physical and psychological symptoms he began suffering were "devastating."
"The world [looked] crooked and out of focus, pictures had an eerie quality to them, things would go in and out of focus, at night while falling asleep I would experience vivid and terrifying hypnagogic hallucinations that made rest impossible."
After three weeks, Josh said his visual symptoms amplified with "unbelievable intensity."
"The floors would [breathe], paint on the walls looked wet, visual snow was so intense [that] pure black looked like it was glowing, at night I would see tracers everywhere, halos appeared around text. [...] I did not sleep, my thoughts were anxious and at times deranged, I had unbelievably intense dereliction that made the world seem fake."
LSD flashbacks
What Josh experienced is commonly called an LSD flashback. It's a mysterious phenomenon in which someone who's previously taken a hallucinogenic drug suddenly and temporarily experiences the effects of that drug days, weeks, or even years after consuming it.
Flashbacks can occur after taking a wide range of psychedelic drugs. But compared to other hallucinogens, flashbacks seem to be most common among people who have consumed LSD, according to studies
Antique old clock abstract fractal spiral
Antique old clock abstract fractal spiralNewwup via Adobe Stock
People have reported acid flashbacks for decades. The earliest recorded case may be Havelock Ellis' 1898 report of taking mescaline and then experiencing sustained heightened sensitization to "the more delicate phenomena of light and shade and color."

But it wasn't until the 1950s, little more than a decade after Albert Hoffman first synthesized LSD, that scientists started researching LSD and its potential long-term effects. While studies have illuminated some aspects of how psychedelics affect the brain, scientists still have much to learn about the nature of acid flashbacks, what causes them, and how to treat them.
What's certain, however, is that a small percentage of people who consume psychedelics report bizarre and sometimes debilitating effects that emerge long after taking hallucinogens.
Symptoms of acid flashbacks
Among the most common symptoms of LSD flashbacks are visual distortions. In a 1983 study titled "Visual Phenomenology of the LSD Flashback," the psychiatrist and LSD researcher Dr. Henry David Abraham described 16 common visual disturbances reported by people with LSD flashbacks. To name a few:
Acquired color confusion: The color of objects changed or presented a newly discovered problem of color confusion.
Difficulty reading: Text may appear jumbled or leave afterimages of the type against the background of the page.
Geometric phosphenes: Phosphenes, or eigengrau, are non-specific luminous perceptions that occur when the eyes are closed and may originate from entopic (i.e., arising from within the eye itself) stimuli in normal persons. They also may be induced by gentle pressure on the closed eyelid.
Pareidolias: This is literally an image within an image. These were described when a subject gazed into a finely reticulated design in linoleum, veneer, or a cloud formation. Besides the abstract pattern of the linoleum, subjects often would be able to see a series of concrete images as well, such as "a fish," "a face," and "a little boy."
Macropsia: Macropsia is the perception of an object larger than it really is. A characteristic description of this phenomenon came from a subject who noticed that his hand was enormous and then of normal size a few seconds later.
Micropsia: Micropsia is the perception of an object smaller than reality. One subject said, "My feet looked so tiny, like they were a million miles away."
The effects of acid flashbacks aren't limited to visual distortions. In a 1970 study called "Analysis of the LSD Flashback," researchers sorted LSD flashbacks into three broad categories: perceptual, somatic (meaning of the body), and emotional.
The emotional flashback is "far more distressing" than the other two, the researchers wrote, providing a case study of a 21-year-old woman who was suffering from acid flashbacks:
"The patient had these frightening flashbacks during the day, while walking down the street, after smoking marijuana or drinking wine, during the night, and occasionally even while asleep. In one situation she awoke during the middle of the night with a feeling of panic and began running around her house fleeing an imagined threat she could not identify or comprehend. She had taken LSD a number of times, but her last few trips were bad ones with panic and fright followed by loneliness to the point of suicidal despair when she 'came down.' The combination of bad trips and emotional flashbacks made her seek professional help because of her fear that she would harm herself."
To be sure, acid flashbacks aren't always emotionally distressing. A 2010 survey of 600 hallucinogen users found that, of the minority of users who reported experiencing at least one flashback, only 3 percent described it as a negative experience. In fact, some people enjoyed their flashbacks. On the website Erowid, which promotes research of psychedelic drugs, one user wrote:
"After 2 years of my last acid trip, while on vacation in a very nice wilderness place I was sitting on a rock and then I experienced a clear acid high. I was looking at a very steep hill and suddenly it started moving in nice patterns, exactly as one sees patterns while on acid. It wasn't something uncomfortable. In fact it was really pleasant and there was absolutely no trace of the nasty anxiousness after effects common to LSD. It lasted approximately 2 minutes and I enjoyed it very much."
But some LSD flashbacks are neither brief nor pleasant. A subset of people who use psychedelics develop hallucinogen persisting perception disorder (HPPD), a rare and poorly understood condition in which people experience omnipresent or recurring flashbacks. While the symptoms of HPPD vary, the condition can cause intense pain, irreversible perceptual distortions, emotional and psychological distress, and even suicidal thoughts.
HPPD: The never-ending trip
HPPD is estimated to affect between one to five percent of LSD users, though the actual figure is impossible to determine without better data. The disorder was first described formally in 1986 by the American Psychiatric Association's Diagnostic & Statistical Manual of Mental Disorders, 3rd edition, revised (DSM-III-R). The current edition of the manual (DSM-5) says patients need to meet several criteria to be diagnosed with HPPD:
Patients must reexperience perceptual symptoms they experienced while intoxicated with the hallucinogen.
These symptoms must cause "significant distress or impairment in social, occupational, or other important areas of functioning."
These symptoms aren't due to a separate medical condition or mental disorder.
So, what's the difference between a flashback and HPPD? Mainly frequency and duration. A 2017 review published in Frontiers in Psychiatry noted that while "a flashback is usually reported to be infrequent and episodic, HPPD is usually persisting and long-lasting."
A 2014 review published in the Israel Journal of Psychiatry and Related Sciences outlined two types of HPPD. The first, HPPD I, is the "flashback type," which is a generally short-term, non-distressing, benign and reversible state accompanied by a pleasant affect. The severity of HPPD I varies, with some people describing their mild flashbacks as annoying, while others say it's like getting "free trips."
But HPPD II is a different beast. The condition can be permanent, with perceptual distortions and other symptoms manifesting irregularly or almost constantly. "The symptoms usually include palinopsia (afterimages effects), the occurrence of haloes, trails, akinetopsia, visual snows, etc.," according to the aforementioned 2017 review. "Sounds and other perceptions are usually not affected. Visual phenomena have been reported to be uncontrollable and disturbing. Symptomatology may be accompanied by depersonalization, derealization, anxiety, and depression."
What causes flashbacks and HPPD?
When asked what causes flashbacks and HPPD, Dr. Abraham told Popular Science, "I've spent my life studying this problem and I don't know, is the short answer."
But researchers have proposed explanations. One centers on memory. Because psychedelics can cause extremely powerful and emotional experiences, it's theoretically possible that certain environmental stimuli can remind people of those experiences, and then memory "transports" them back into that subjective mindset — similar to how a soldier with post-traumatic stress disorder might suffer an episode after hearing a loud, sudden noise.
Another hypothesis involves how LSD interacts with the brain's visual processing center. Dr. Abraham proposed that HPPD may arise due to "disinhibition of visual processing related to a loss of serotonin receptors on inhibitory interneurons," which may be caused by consuming LSD.
The basic idea is that LSD somehow changes the way the brain interprets visual stimuli. That might explain why people with HPPD have difficulty properly "disengaging" from the things they see around them. For example, a red stoplight might appear as a discrete red circle but as a streak of red light painted across their field of vision; or a strobe light might not appear as a flickering light but a light that's constantly on.
LSD on paperYurok Aleksandrovich via Adobe Stock
"Such a locking of visual circuitry into an 'on' position following perception of a visual stimulus would explain such diverse complaints as trailing, color intensification, positive afterimages, phosphenes, and color confusions, each of which may represent a failure of the respective visual function to turn off the brain's response to the stimulus once the stimulus is gone," Dr. Abraham wrote.

It's also possible that people are genetically predisposed to HPPD and that ingesting LSD is the key that unlocks the disorder. This hypothesis would help explain why people have reportedly developed HPPD after taking a single, moderate dose of LSD.
Ultimately, the exact causes of HPPD are unclear. Partially as a result, there's currently no cure for the disorder, though studies show that people with HPPD have reported improvements in symptomatology after taking benzodiazepines. There's also anecdotal evidence that fasting can alleviate the disorder.
Despite uncertainty over the causes of HPPD, researchers do have a good idea of what can trigger "flare-ups" of HPPD. Dr. Abraham's 1983 study listed the most common triggers, some of which include:
Emergence into a dark environment
Intention (intentionally inducing visual aberrations by, say, staring at a blank wall)
Marijuana
Phenothiazines
Anxiety
Fatigue
People with HPPD describe the condition
To get a better understanding of HPPD, Big Think posted a questionnaire to the HPPD community on Reddit. Here are some of the responses:
How did HPPD first manifest for you?
IBeatMyGlied wrote:
"First I noticed highly enhanced creativity and intense visuals when [high on] weed and I really enjoyed that part. The realization that this is not going to go away soured the whole experience tho."
"My enhanced creativity left me after about a week and what I was left with was mild visual snow. I hardly knew anything about HPPD at the time and just didn't really care about my symptoms and still thought they were just going to vanish at some point, which they didn't. I kept taking drugs simply because I was addicted and felt like life is no fun without them. My HPPD got gradually worse over time and more symptoms appeared. First, I noticed mild tracers, which got worse over time (again due to continued drug use) and then tinnitus and brain fog. But primarily my symptoms are visual."
Are your symptoms episodic or constant?
"Both constant and episodic," wrote user LotsOfShungite. "A stressful event can trigger my symptoms off into the deep end."
Halven89 wrote:
"Except the brain fog and head pressure that varies, my visual disturbances are constant. The most debilitating ones are the visual snow, especially when I'm inside except if I watch the TV since it filters some of it out. It's also VERY frustrating that I no longer can focus on objects/details (can't stare) and the astigmatism-like symptoms that I got, like blurriness, especially in the distance and ghosting (double vision) plus starbursts from strong light sources. When I'm outside, the pattern glare is really annoying, same with the excessive amount of floaters that came with this. I also see halos from light sources."
IBeatMyGlied wrote:
"My symptoms are mostly constant and only change through rather obvious outside influences, such as certain drugs (almost all drugs), stress, lack of sleep, etc. Although my HPPD is quite pronounced, I have learned to accept it and almost only notice it when I pay attention to it. I always [know] it's there and it somewhat bugs me but I get along."
What are some common misconceptions about HPPD?
IBeatMyGlied wrote:
"One of if not the biggest 'misconception' is that many people believe that HPPD does not exist. But I guess there is no way to prove to another person that it does, so this is gonna stay the case until HPPD enters the public consciousness of the psychedelic community."
Halven89 wrote:
"They usually don't understand anything about it since most haven't heard about it, which really is crazy considering how debilitating this disorder is for many. And as Dr. Abraham said: in the medical field it's highly under- and misdiagnosed. Often as psychosis."
Futuristic view from inside of a fractalLopyriev via Adobe Stock
Hope for HPPD

Since experiencing his first flashback in February, Josh has found a few helpful strategies to minimize symptoms, including seeing a psychologist, staying sober, getting enough sleep, staying productive, and talking regularly with friends. He seemed optimistic about the future:
"The symptoms will lessen with time and sobriety, and HPPD provides an opportunity to improve yourself. That being said, because thoughts of suicide are apparently common with people that have HPPD, the medical community should take the condition seriously. Especially given how many people use psychedelics today."
While the future of HPPD research remains unclear, general psychedelic research is going through something of a renaissance. In recent years, researchers have published a growing body of studies showing how psychedelics like psilocybin, LSD, and MDMA can help treat conditions like depression, anxiety, post-traumatic stress disorder, and existential distress. But, among people with HPPD, opinions on the utility of psychedelics vary. Josh advised caution:
"I would not recommend [hallucinogenic] drugs be taken for recreational purposes. They are tools to help us treat illnesses and should be treated as such. If someone has depression or other mental health issue, maybe psychedelics administered in a clinical setting by a doctor is appropriate, but otherwise, playing with your brain like it's a chemistry playset is asking for trouble down the road."
Studies show that religion and spirituality are positively linked to good mental health. Our research aims to figure out how and why.
Mind & Brain
Neurotheology is a field that unites brain science and psychology with religious belief and practices.
There are several indirect and direct mechanisms that link spirituality with improved mental health.
Compassion and love are positive emotions that will make your brain healthier.
The field of neurotheology continues to expand from its early origins several decades ago to the present day. In its simplest definition, neurotheology refers to the field of scholarship that seeks to understand the relationship between the brain and our religious and spiritual selves. As I always like to say, it is important to consider both sides of neurotheology very broadly. Thus, the "neuro" side includes brain imaging, psychology, neurology, medicine, and even anthropology. And the "theology" side includes theology itself, but also various aspects related to religious beliefs, attitudes, practices, and experiences.
The mental health benefits of spirituality
Neurotheology also ranges from considering very esoteric concepts including questions around free will, consciousness, and the soul, to very practical concepts such as understanding how the brain functions and the relationship between spirituality and physical and mental health. This latter topic might be called "applied neurotheology." Applied neurotheology, therefore, seeks to understand the health-related aspects pertaining to our brain and our spiritual selves. In particular, we can try to understand how being religious or spiritual, or performing various spiritual practices, might be beneficial to our overall health and well-being. In our latest book, entitled Brain Weaver, we consider this important dimension of human brain health.
Even for those who are not religious, pursuing practices such as meditation and prayer — even when secularized — can be beneficial for reducing stress and anxiety.
A growing number of studies have shown how spirituality and mental health are linked. Importantly, studies have shown that those who are religious and spiritual tend to have lower rates of depression, anxiety, and suicide. This is true across the age spectrum with studies of adolescents showing that religious and spiritual pursuits are protective against mental health problems. And many adults cite religious and spiritual beliefs as important for coping with various life stressors.
Indirect mechanisms
Credit: MOHAMMED SAWAF via Getty Images
If there is a relationship between spirituality and positive mental health, we might question what the mechanism of action might be. I have typically divided the mechanisms into indirect and direct ones. The indirect mechanisms have to do with specific aspects of a given tradition that end up having ancillary mental health benefits. For example, going to church or other social events that are part of a religious tradition can be beneficial because social support, in and of itself, is beneficial to our mental health. The more people that we have in our social support network, the better we are at coping with various life stressors including problems with jobs, relationships, or health.

Most religions also teach people to avoid a lot of high-risk behaviors that can be very detrimental to our mental health and well-being. For example, most religions teach us to avoid alcohol and drugs, to not be promiscuous, and to try to be compassionate and charitable to others. By following these teachings, people will naturally avoid mental health problems such as substance abuse and tend toward being more optimistic and less depressed. These effects have nothing to do with being religious per se and everything to do with following a religion's advice.
Another interesting indirect mechanism of action related to religion has to do with diet and nutrition. Diet and nutrition are frequently overlooked when it comes to good mental health, even though research increasingly indicates they are essential. Many traditions ask individuals to follow certain dietary guidelines. For example, Hindus tend to have vegetarian diets, and most research to date shows that eating a more plant-based diet with a lot of low-inflammatory foods is good not only for your body but for your brain as well. In fact, we are currently performing a study with patients who have chronic concussion symptoms to determine the effect of dietary improvements on overall brain function.
Direct mechanisms
Credit: MIGUEL MEDINA via Getty Images
The direct mechanisms of action have to do with specific spiritual practices and even a person's personal sense of spirituality. Much of my research over the past 30 years has been to study the brain while people engage in different practices such as meditation or prayer. We have even observed brain changes associated with unique spiritual practices such as speaking in tongues or trance states. The brain effects related to these practices are quite remarkable and diverse. It should come as no surprise since these practices affect people on many different levels, such as the way people think, feel, and experience the world around them. Thus, we should expect to observe physiological differences in the parts of the brain involved with these practices.

Meditation and prayer, for example, activate the frontal lobes as well as the language areas of the brain, and research demonstrates that this occurs not only while the practice is performed but over the long-term as well. Our study of Kirtan Kriya meditation showed improvements of about 10 to 15 percent in cognition as well as reductions in stress, anxiety, and depression. These were associated with baseline changes to the brain's frontal lobe functions, which regulate these cognitive processes and modulate emotional responses.
More recent research has been exploring the effects of these practices on larger brain networks, and perhaps more important, specific neurotransmitter systems. One of our recent studies of a spiritual retreat program showed significant changes to the areas of the brain that release dopamine and serotonin. These are areas known to be involved in both cognition and emotional health. And there are a growing number of clinical studies which have documented the value of various spiritual practices or religiously oriented therapies for helping people manage a variety of mental health conditions including depression, anxiety, and ADHD as well as neurological conditions like Alzheimer's and seizure disorders.
Credit: JEAN-FRANCOIS MONIER via Getty Images
Finally, a personal sense of spirituality may be protective in and of itself. When people feel connected to all of humanity, a higher power, or the entire universe, that experience gives people a sense of meaning and purpose in life and an optimistic perspective on what the future holds. A number of research studies have shown that having such faith can be beneficial to your overall physical and mental health.

Improving brain health with applied neurotheology
Applied neurotheology can teach us the value of exploring our religious and spiritual side as a way of improving our mental health and well-being. Even for those who are not religious, pursuing practices such as meditation and prayer — even when secularized — can be beneficial for reducing stress and anxiety. Connecting with the larger world — by going on a nature walk, socializing with friends and family, or trying to make your neighborhood a better place by helping others — leads to a greater sense of compassion and love, positive emotions that will make your brain healthier.
Dr. Andrew Newberg is a neuroscientist who studies the relationship between brain function and various mental states. He is a pioneer in the neurological study of religious and spiritual experiences, a field known as "neurotheology." His latest book is Brain Weaver.
Even with six months' notice, we can't stop an incoming asteroid.
Surprising Science
At an international space conference, attendees took part in an exercise that imagined an asteroid crashing into Earth.
With the object first spotted six months before impact, attendees concluded that there was insufficient time for a meaningful response.
There are an estimated 25,000 near-Earth objects potentially threatening our planet.
The asteroid 2021 PDC was first spotted on April 19, 2021 by the Pan-STARRS project at the University of Hawaii. By May 2, astronomers were 100% certain it was going to strike Earth somewhere in Europe or northern Africa. On October 20, 2021, the asteroid plowed into Europe, taking countless lives.
There was absolutely nothing anyone could do to deflect it from its deadly course. Experts could only warn a panicking population to get out of the way as soon as possible, if it was possible.
The above scenario is the result of a recently concluded NASA thought experiment.
The question the agency sought to answer was this: If we discovered a potentially deadly asteroid destined to hit Earth in six months, was there anything we could do to prevent a horrifying catastrophe? The disturbing answer is "no," not with currently available technology.
While Europe can breathe easy for now, the simulation conducted by NASA/JPL's Center for Near Earth Object Studies and presented at the 7th IAA Planetary Defense Conference is troubling. Space agencies spot "near-Earth objects" (NEOs) all the time. Many are larger than 140 meters in size, which means they're potentially deadly.
Sitting Ducks
Credit: ImageBank4U / Adobe Stock
"The level [at] which we're finding the 140-meter and larger asteroids remains pretty stable, at about 500 a year. Our projection of the number of these objects out there is about 25,000, and we've only found a little over one-third of those so far, maybe 38% or so," NASA's Planetary Defense Office Lindley Johnson tells Space.com.

With our current technology, spotting an NEO comes down to whether we just happen to have a telescope pointing in its direction. To remove humanity's blind spot, the Planetary Society — the same organization that deployed Earth's first light sails — is developing the NEO Surveyor spacecraft, which they plan to deploy in 2025. According to the Planetary Society, it will be able to detect 90 percent of NEOs of 140 meters or larger, a vast improvement.
How to move an asteroid
The DART spacecraft will attempt to deflect an asteroid.Credit: NASA
The NASA/JPL exercise made clear that six months is just not enough time with our current technology to prepare and launch a mission in time to nudge an NEO off its course. (Small course adjustments become significant over great distances, which is why "nudging" an asteroid is a potential strategy.)

What would such a mission look like? Hollywood aside — remember Armageddon?— we know of no good way to redirect an NEO headed our way. Experts believe that shooting laser beams at an incoming rock, exciting as it might look, is not a realistic possibility. Targeted nuclear blasts might work, but forget about landing Bruce Willis, Ben Affleck, and Liv Tyler on an asteroid to set off a course-altering bomb, especially just a month after its discovery (as was the case in the movie).
Another thing that might work is crashing a spacecraft into an NEO hard enough to shift its course. That's the idea behind NASA's Double Asteroid Redirection Test (DART). This mission will shoot a spacecraft at the (non-threatening) asteroid Dimorphos in the fall of 2022 in the hope of changing its trajectory.
The deadly asteroid's journey
The asteroid "2021 PDC" hit Europe in NASA's simulation.Credit: NASA/JPL
The harrowing "tabletop exercise," as NASA/JPL called it, took place across four days at the conference:

Day 1, "April 19" — The asteroid named "2021 PDC" is discovered 35 million miles away. Scientists calculate it has a 1-in-20 chance of striking Earth.
Day 2, "May 2" — Now certain that 2021 PDC will hit Earth, space mission designers attempt to dream up a response. They conclude that with less than six months to impact, there's not enough time to realistically mount a mission to disrupt the NEO's course.
Day 3, "June 30" — Images from the world's four largest telescopes reveal the area in Europe that will be hit. Space-based infrared measurements narrow the object's size to between 35 and 700 meters. This would pack a similar punch as a 1.2-megaton nuclear bomb.
Day 4, "October 14" — Six days before impact, the asteroid is just 6.3 million km from Earth. Finally, the Goldstone Solar System Radar has been able to assess the size of 2021 PDC. Scientists calculate the blast from the asteroid will be primarily confined to the border region between Germany, Czechia, Austria, Slovenia, and Croatia. Disaster response experts develop plans for addressing the human toll.
"Each time we participate in an exercise of this nature," says Johnson, "we learn more about who the key players are in a disaster event, and who needs to know what information, and when."
Practically speaking, little can be done to hurry technological development along other than budgeting more money toward that goal. Maybe we should have Bruce Willis on call, just in case.
This spring, a U.S. and Chinese team announced that it had successfully grown, for the first time, embryos that included both human and monkey cells.
Getty Images
Surprising Science
In Aldous Huxley's 1932 novel "
Brave New World
," people aren't born from a mother's womb. Instead, embryos are grown in artificial wombs until they are brought into the world, a process called ectogenesis.
In the novel, technicians in charge of the hatcheries manipulate the nutrients they give the fetuses to make the newborns fit the desires of society. Two recent scientific developments suggest that Huxley's imagined world of functionally manufactured people is no longer far-fetched.
On March 17, 2021, an Israeli team announced that it had grown mouse embryos for 11 days – about half of the gestation period – in artificial wombs that were essentially bottles. Until this experiment, no one had grown a mammal embryo outside a womb this far into pregnancy. Then, on April 15, 2021, a U.S. and Chinese team announced that it had successfully grown, for the first time, embryos that included both human and monkey cells in plates to a stage where organs began to form.
As both a philosopher and a biologist I cannot help but ask how far researchers should take this work. While creating chimeras – the name for creatures that are a mix of organisms – might seem like the more ethically fraught of these two advances, ethicists think the medical benefits far outweigh the ethical risks. However, ectogenesis could have far-reaching impacts on individuals and society, and the prospect of babies grown in a lab has not been put under nearly the same scrutiny as chimeras.
Mouse embryos were grown in an artificial womb for 11 days, and organs had begun to develop.
Growing in an artificial womb
When in vitro fertilization first emerged in the late 1970s, the press called IVF embryos "test-tube babies," though they are nothing of the sort. These embryos are implanted into the uterus within a day or two after doctors fertilize an egg in a petri dish.
Before the Israeli experiment, researchers had not been able to grow mouse embryos outside the womb for more than four days – providing the embryos with enough oxygen had been too hard. The team spent seven years creating a system of slowly spinning glass bottles and controlled atmospheric pressure that simulates the placenta and provides oxygen.
This development is a major step toward ectogenesis, and scientists expect that it will be possible to extend mouse development further, possibly to full term outside the womb. This will likely require new techniques, but at this point it is a problem of scale – being able to accommodate a larger fetus. This appears to be a simpler challenge to overcome than figuring out something totally new like supporting organ formation.
The Israeli team plans to deploy its techniques on human embryos. Since mice and humans have similar developmental processes, it is likely that the team will succeed in growing human embryos in artificial wombs.
To do so, though, members of the team need permission from their ethics board.
CRISPR – a technology that can cut and paste genes – already allows scientists to manipulate an embryo's genes after fertilization. Once fetuses can be grown outside the womb, as in Huxley's world, researchers will also be able to modify their growing environments to further influence what physical and behavioral qualities these parentless babies exhibit. Science still has a way to go before fetus development and births outside of a uterus become a reality, but researchers are getting closer. The question now is how far humanity should go down this path.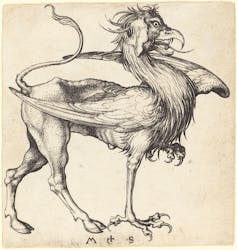 Chimeras evoke images of mythological creatures of multiple species – like this 15th-century drawing of a griffin – but the medical reality is much more sober. (Martin Schongauer/WikimediaCommons)
Human-monkey hybrids
Human–monkey hybrids might seem to be a much scarier prospect than babies born from artificial wombs. But in fact, the recent research is more a step toward an important medical development than an ethical minefield.
If scientists can grow human cells in monkeys or other animals, it should be possible to grow human organs too. This would solve the problem of organ shortages around the world for people needing transplants.
But keeping human cells alive in the embryos of other animals for any length of time has proved to be extremely difficult. In the human-monkey chimera experiment, a team of researchers implanted 25 human stem cells into embryos of crab-eating macaques – a type of monkey. The researchers then grew these embryos for 20 days in petri dishes.
After 15 days, the human stem cells had disappeared from most of the embryos. But at the end of the 20-day experiment, three embryos still contained human cells that had grown as part of the region of the embryo where they were embedded. For scientists, the challenge now is to figure out how to maintain human cells in chimeric embryos for longer.
Regulating these technologies
Some ethicists have begun to worry that researchers are rushing into a future of chimeras without adequate preparation. Their main concern is the ethical status of chimeras that contain human and nonhuman cells – especially if the human cells integrate into sensitive regions such as a monkey's brain. What rights would such creatures have?
However, there seems to be an emerging consensus that the potential medical benefits justify a step-by-step extension of this research. Many ethicists are urging public discussion of appropriate regulation to determine how close to viability these embryos should be grown. One proposed solution is to limit growth of these embryos to the first trimester of pregnancy. Given that researchers don't plan to grow these embryos beyond the stage when they can harvest rudimentary organs, I don't believe chimeras are ethically problematic compared with the true test–tube babies of Huxley's world.
Few ethicists have broached the problems posed by the ability to use ectogenesis to engineer human beings to fit societal desires. Researchers have yet to conduct experiments on human ectogenesis, and for now, scientists lack the techniques to bring the embryos to full term. However, without regulation, I believe researchers are likely to try these techniques on human embryos – just as the now-infamous He Jiankui used CRISPR to edit human babies without properly assessing safety and desirability. Technologically, it is a matter of time before mammal embryos can be brought to term outside the body.
While people may be uncomfortable with ectogenesis today, this discomfort could pass into familiarity as happened with IVF. But scientists and regulators would do well to reflect on the wisdom of permitting a process that could allow someone to engineer human beings without parents. As critics have warned in the context of CRISPR-based genetic enhancement, pressure to change future generations to meet societal desires will be unavoidable and dangerous, regardless of whether that pressure comes from an authoritative state or cultural expectations. In Huxley's imagination, hatcheries run by the state grew a large numbers of identical individuals as needed. That would be a very different world from today.

Sahotra Sarkar, Professor of Philosophy and Integrative Biology, The University of Texas at Austin College of Liberal Arts
This article is republished from The Conversation under a Creative Commons license. Read the original article.