Better Cooking Through Chemistry
Wylie Dufresne
Wylie Dufresne is the chef and owner of wd-50, a restaurant in Manhattan. Dufresne is a leading American proponent of molecular gastronomy, the movement to incorporate science and new techniques in the preparation and presentation of food.
Born in Providence, R.I. in 1970, Dufresne graduated from The French Culinary Institute in New York and also completed a B.A. in philosophy at Colby College. From 1994 through 1999, he worked for Jean-Georges Vongerichten, where he was eventually named sous chef at Vongerichten's eponymous Jean Georges. In 1999, he left to become the first chef at 71 Clinton Fresh Food. In April 2003, he opened wd~50 (named for the chef's initials and the street address) in Manhattan's Lower East Side.
Dufresne was a James Beard Foundation nominee for Rising Star Chef of the Year in 2000 and chosen the same year by New York Magazine for their New York Awards. Food & Wine magazine named him one of 2001 America's Ten Best Chefs award and, in 2006, New York Magazine's Adam Platt placed wd-50 fourth in his list of New York's 101 best restaurants. He was awarded a star in Michelin's New York City Guide, from 2006 through 2010, and was nominated for Best Chef New York by the James Beard Foundation. wd-50 has also been recognized as one of the Top 10 Molecular Gastronomy Restaurants in the U.S. by GAYOT.com.
19 August, 2010
Question: What is molecular gastronomy?

Wylie Dufresne: Yeah, I would say that molecular gastronomy is a field of science. I would, I would say that it's probably lumped under chemistry, maybe. Because cooking while it has certainly biology and some physics, it's mostly chemistry. But molecular gastronomy was a term coined by scientists to describe the work that they were doing in an effort to understand what's happening to the food that we eat... or the food that we cook, I'm sorry. What's happening to food as we cook it... as we put it through a myriad of physical, mechanical processes.

People like how Harold McGee and Nicholas Kurti... Nicholas Kurti is one of those scientists that coined the term along with Harold, Hervé This, and some other people. And I believe it was Kurti who famously said, "We know more about what's going on, on the surface of the Moon than inside a soufflé." And that's—again I can't weigh in on whether or not that's true because I don't know how much we know about either—but I think it was a group of people that were curious to understand what makes a soufflé rise, what are the mechanics. What's happening? Let's pick it apart and understand it. And I think that a large number of chefs, certainly myself included, found that field of study not only very interesting, but useful.
So we've been, for probably the last 15 years or so trying to avail ourselves to the information these people are generating along with generating our own, and other outside sources that are maybe not food scientists per se. And take that information to use it to learn more about what we are doing, to understand how to cook, to understand what's happening to food as we cook it in an effort, I think, to be better cooks

Question: How much has molecular gastronomy taught us about food?

Wylie Dufresne: Well we have learned a lot. I would say that in the last, the last 15 years, you know, plus or minus five, we've learned more about cooking than we have in the 15,000 prior... 15,000 years prior to that. And I think that that makes... that's exciting to me and I think that makes for an exciting time to be cooking for anyone for any curious cook. For anyone who desires to understand more what's happening to a chicken when you roast it or a vegetable when you blanch it, or a fish when you poach it, in an effort to cook it better and to cook it in a more informed way. Because, again, like taste, there is subjectivity in cooking as well. And I think that that's good because there is no right way necessarily to cook something, but understanding what's happening to it, any given object while you're cooking it, allows you to make an informed decision about how to cook it. And again, I like the fact that there's no right or wrong way to poach an egg, but knowing what's happening to an egg as it goes from 60 degrees Celsius to 70 degrees Celsius helps you make the decisions about at what point you want to start or stop the cooking. And that I find really, really very fascinating. Because to me, knowing mechanically how to poach an egg, but not what's happening to it while it's poaching is almost an empty knowledge. It's not as useful as knowing, okay the egg white proteins are coagulating at this temperature and the yolks are coagulating at that temperature, and so I can control this or that. And knowing the variables and understanding the variables I think makes anybody a better cook.
Recorded August 6, 2010
Interviewed by Max Miller
Because of molecular gastronomists, we have learned more about making food in the past 15 years than we had in the previous 15,000.
Malcolm Gladwell teaches "Get over yourself and get to work" for Big Think Edge.
Big Think Edge
Learn to recognize failure and know the big difference between panicking and choking.

At Big Think Edge, Malcolm Gladwell teaches how to check your inner critic and get clear on what failure is.

Subscribe to Big Think Edge before we launch on March 30 to get 20% off monthly and annual memberships.
It turns out, that tattoo ink can travel throughout your body and settle in lymph nodes.
17th August 1973: An American tattoo artist working on a client's shoulder. (Photo by F. Roy Kemp/BIPs/Getty Images)
popular
In the slightly macabre experiment to find out where tattoo ink travels to in the body, French and German researchers recently used synchrotron X-ray fluorescence in four "inked" human cadavers — as well as one without. The results of their 2017 study? Some of the tattoo ink apparently settled in lymph nodes.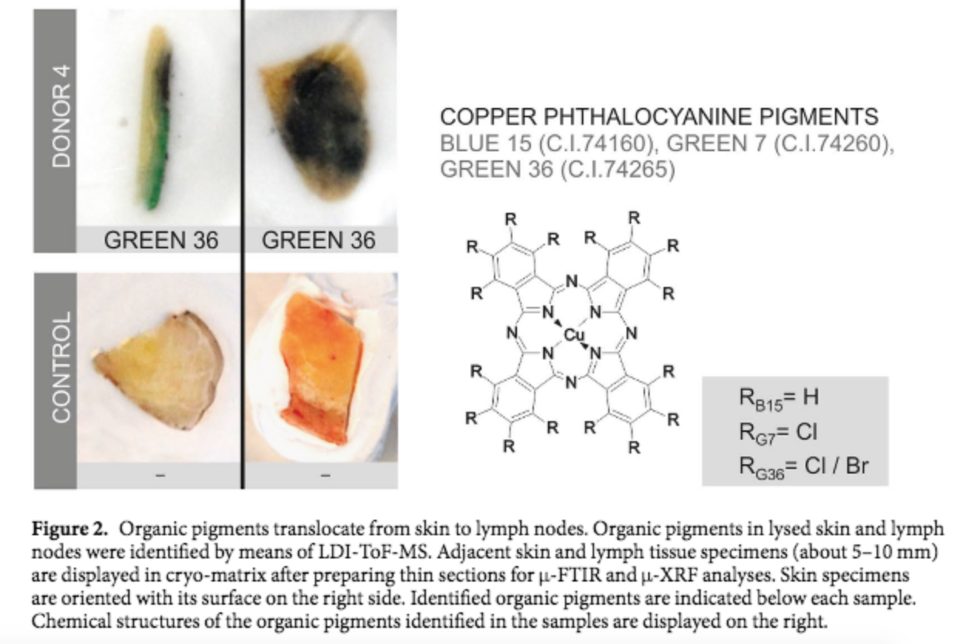 Image from the study.
As the authors explain in the study — they hail from Ludwig Maximilian University of Munich, the European Synchrotron Radiation Facility, and the German Federal Institute for Risk Assessment — it would have been unethical to test this on live animals since those creatures would not be able to give permission to be tattooed.
Because of the prevalence of tattoos these days, the researchers wanted to find out if the ink could be harmful in some way.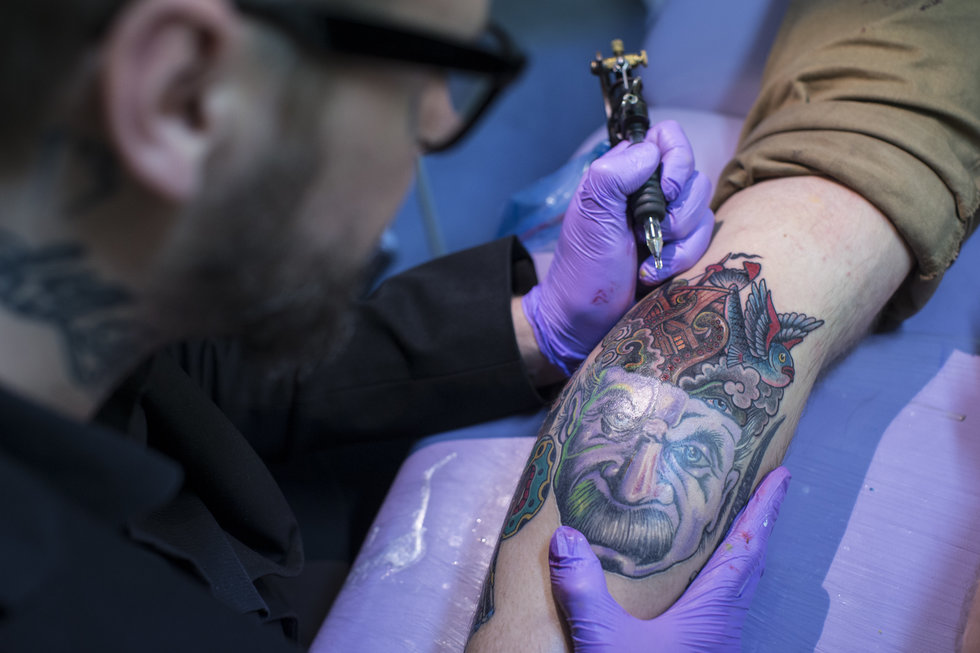 "The increasing prevalence of tattoos provoked safety concerns with respect to particle distribution and effects inside the human body," they write.
It works like this: Since lymph nodes filter lymph, which is the fluid that carries white blood cells throughout the body in an effort to fight infections that are encountered, that is where some of the ink particles collect.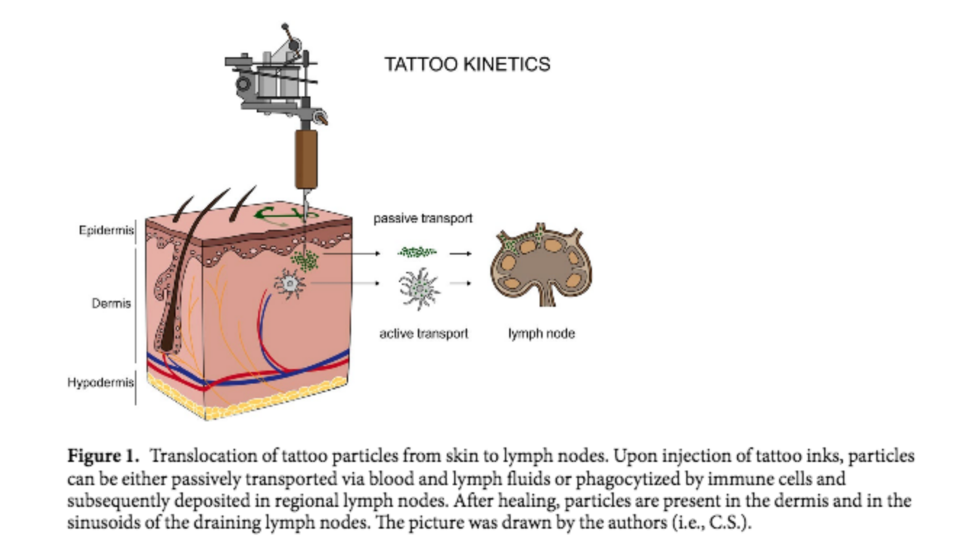 Image by authors of the study.
Titanium dioxide appears to be the thing that travels. It's a white tattoo ink pigment that's mixed with other colors all the time to control shades.
The study's authors will keep working on this in the meantime.
"In future experiments we will also look into the pigment and heavy metal burden of other, more distant internal organs and tissues in order to track any possible bio-distribution of tattoo ink ingredients throughout the body. The outcome of these investigations not only will be helpful in the assessment of the health risks associated with tattooing but also in the judgment of other exposures such as, e.g., the entrance of TiO2 nanoparticles present in cosmetics at the site of damaged skin."
It's one of the most consistent patterns in the unviverse. What causes it?
Videos
Spinning discs are everywhere – just look at our solar system, the rings of Saturn, and all the spiral galaxies in the universe.
Spinning discs are the result of two things: The force of gravity and a phenomenon in physics called the conservation of angular momentum.
Gravity brings matter together; the closer the matter gets, the more it accelerates – much like an ice skater who spins faster and faster the closer their arms get to their body. Then, this spinning cloud collapses due to up and down and diagonal collisions that cancel each other out until the only motion they have in common is the spin – and voila: A flat disc.
Big think's weekly newsletter.
Get smarter faster from the comfort of your inbox.
See our newsletter privacy policy
here
Most Popular
Most Recent
Big think's weekly newsletter.
Get smarter faster from the comfort of your inbox.
See our newsletter privacy policy
here
© Copyright 2007-2018 & BIG THINK, BIG THINK EDGE,
SMARTER FASTER trademarks owned by The Big Think, Inc. All rights reserved.