UCEA 2007 - How national technology policy REALLY gets made
16 February, 2011
Friday was the first day of sessions at the UCEA convention. CASTLE sponsored a panel discussion on national K-12 educational technology policy, moderated by Drs. Sara Dexter (U. Virginia) and Matt Militello (U. Massachusetts-Amherst).
---

 Listen to the podcast! (73.9 Mb, 81 minutes)
Panelists
Hilary Goldman, Director of Government Affairs, ISTE
Dr. Mary Ann Wolf, Executive Director, SETDA
Doug Levin, Senior Director of Education Policy, Cable in the Classroom
Some main themes
In the mid– to late 1990s, there were LOTS of national funding initiatives aimed at K-12 ed tech – all were replaced by EETT, which is much smaller and more limited – today, EETT has declined from over $700 million to $272 million – in the past, the Bush administration has even attempted to zero out the EETT budget – Congress has saved the program but at increasingly lower levels
There is a perception that the job is done
Teachers have not been trained how to use technology to improve student learning outcomes
Educators are moving slow – lots of missed opportunities – extremely incremental change in a revolutionary environment
TPCK model – preservice teachers should not take separate ed tech classes – should be integrated with content-specific methods courses
We are finally starting to get research that is helpful for policy purposes – for example, the eMints program in Missouri and other states
The amount of education that people need is astounding – state and federal policymakers, education associations, the public – they make major assumptions about what is happening that just aren't true
Example: because nearly all schools are wired, people truly think that means that all kids have access to the Internet – far from being true – only buildings and teacher computers are wired – every student is NOT wired and connected
Example: lots of money has been poured into student information systems – as a result, people think that teachers are getting data that informs their day-to-day instructional practice – again, this is far from true – in most districts, the data that are in these systems are not that granular
You have to use sexy vocabulary – the terms of art – that capture policymakers' attention – right now it is global competitiveness
High school reform and other change efforts – technology is not specifically articulated as a component – it thus gets lost or left out
Ed tech policy is still fairly immature - we're in our tweens
Groups like NEA, AFT, NSBA, AASA, NASSP, and NAESP are not knowledgeable about technology – they advocate for Title I, IDEA - they don't advocate for ed tech
The Partnership for 21st Century Skills is trying to change the conversation rather than trying to figure out how to fit ed tech into existing paradigms / models / laws - this is a real herky-jerky process
There is not, and has not been, a systemic long-term research agenda, funded by policymakers, to answer key research questions about K-12 educational technology
What kind of research is needed to further the cause of K-12 educational technology?
Most education academics are naive about how policy gets made – don't really understand the policy process – much educational research is not pertinent or helpful to policy conversations and the questions that are being asked by policymakers - we have to remember that ed tech is only one voice of many
ETAN – www.edtechactionnetwork.org – you don't have to get to DC – can plug in your e-mail and zip code and get resources and information – just 12 letters can make a difference – meeting in local offices back home also make an impact – asking questions at local town halls sponsored by legislators
We were blessed in the 1990s with the folks that were in the U.S. Department of Education (US DOE) – there are lots of places where this can break down – there are not strong advocates there today – one place to focus advocacy efforts is the US DOE, not just legislators
Why has school leadership been left out of the ed tech policy conversation and policy efforts? – historically, efforts were focused on affecting the classroom, not on changing the system – promising levers appear to be 21st century skills, data-driven decision-making, and cybersafety
We could draft Title II legislation around professional development for administrators regarding technology leadership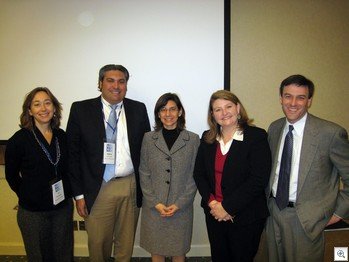 [left to right: Sara Dexter, Matt Militello, Hilary Goldman, Mary Ann Wolf, Doug Levin]
Malcolm Gladwell teaches "Get over yourself and get to work" for Big Think Edge.
Big Think Edge
Learn to recognize failure and know the big difference between panicking and choking.

At Big Think Edge, Malcolm Gladwell teaches how to check your inner critic and get clear on what failure is.

Subscribe to Big Think Edge before we launch on March 30 to get 20% off monthly and annual memberships.
Can sensitive coral reefs survive another human generation?
Videos
Coral reefs may not be able to survive another human decade because of the environmental stress we have placed on them, says author David Wallace-Wells. He posits that without meaningful changes to policies, the trend of them dying out, even in light of recent advances, will continue.
The World Wildlife Fund says that 60 percent of all vertebrate mammals have died since just 1970. On top of this, recent studies suggest that insect populations may have fallen by as much as 75 percent over the last few decades.
If it were not for our oceans, the planet would probably be already several degrees warmer than it is today due to the emissions we've expelled into the atmosphere.
They didn't know it, but the rituals of Iron Age Scandinavians turned their iron into steel.
Shutterstock
Culture & Religion
Iron Age Scandinavians only had access to poor quality iron, which put them at a tactical disadvantage against their neighbors.
To strengthen their swords, smiths used the bones of their dead ancestors and animals, hoping to transfer the spirit into their blades.
They couldn't have known that in so doing, they actually were forging a rudimentary form of steel.
Michael Dowling, Northwell Health's CEO, believes we're entering the age of smart medicine.
Sponsored by Northwell Health
The United States health care system has much room for improvement, and big tech may be laying the foundation for those improvements.
Technological progress in medicine is coming from two fronts: medical technology and information technology.
As information technology develops, patients will become active participants in their health care, and value-based care may become a reality.
Big think's weekly newsletter.
Get smarter faster from the comfort of your inbox.
See our newsletter privacy policy
here
Most Popular
Most Recent
Big think's weekly newsletter.
Get smarter faster from the comfort of your inbox.
See our newsletter privacy policy
here
© Copyright 2007-2018 & BIG THINK, BIG THINK EDGE,
SMARTER FASTER trademarks owned by The Big Think, Inc. All rights reserved.