We Can Travel to Another Star System by 2100
25 April, 2014
---
Editor's Note: This article was provided by our partner, RealClearScience. The original is here.
IN 1939, INTREPID engineers at the fledgling British Interplanetary Society proposed a daring mission into outer space. They conceived of a starship designed for ferrying explorers to the moon.
The plan was exquisitely detailed, describing a rocket propulsion system that would be fired in stages, as well as a method of landing on, and taking off from, a world "without air."
Unfortunately, the technology of the time wasn't ready to be wielded for such an ambitious endeavor, and a new world war would soon see firey rockets aimed at Earth's surface rather than the stars above.
Though the plan was permanently grounded, it was far from worthless. According to legendary science communicator Carl Sagan, "That design suggested that a mission to the moon might one day be a practical engineering possibility."
Thirty years later, such a mission wasn't merely possible; it happened.
THE BRITISH INTERPLANETARY SOCIETY (BIS) is still around today, still dreaming stellar dreams. And they're not the only ones. BIS has been joined by groups like 100 Year Starship and Icarus Interstellar, dedicated to a collective purpose: seeing mankind travel amongst the stars.
It may seem a far-flung possibility, but we've got a better chance than you might think of actually venturing to another star system before the turn of the century. Alpha Centauri is a measly 4.4 light years from the center of our solar system, which means that if we found a way to travel at just 10% of the speed of light, we could get there in roughly 44 years!
Admittedly, we've got some work to do. The fastest object mankind has ever crafted is the Voyager 1 spacecraft, which just recently left our solar system (we think). Its maximum speed is 38,610 miles per hour. The craft we'd have to build would need to travel 18,628 miles per second.
That speed may seem absurd, but not only is it not out of the question, it's entirely conceivable to achieve with current technologies. A brutish, yet feasible solution was actually brought up back in the 1960's. A team of engineers and scientists led by physicist Freeman Dyson devised a spacecraft called Orion. The spaceship would carry hundreds, perhaps even thousands of nuclear bombs and detonate them against an inertial plate, which would provide thrust for the craft.
"Each explosion applying a kind of 'put put,' a vast, nuclear motorboat in space," Carl Sagan described.
But the 1967 Outer Space Treaty laid Project Orion to rest. The accord forbid the use of nuclear weapons in space.
"Personally, the Orion Starship is the best use of nuclear weapons I can think of," Sagan remarked.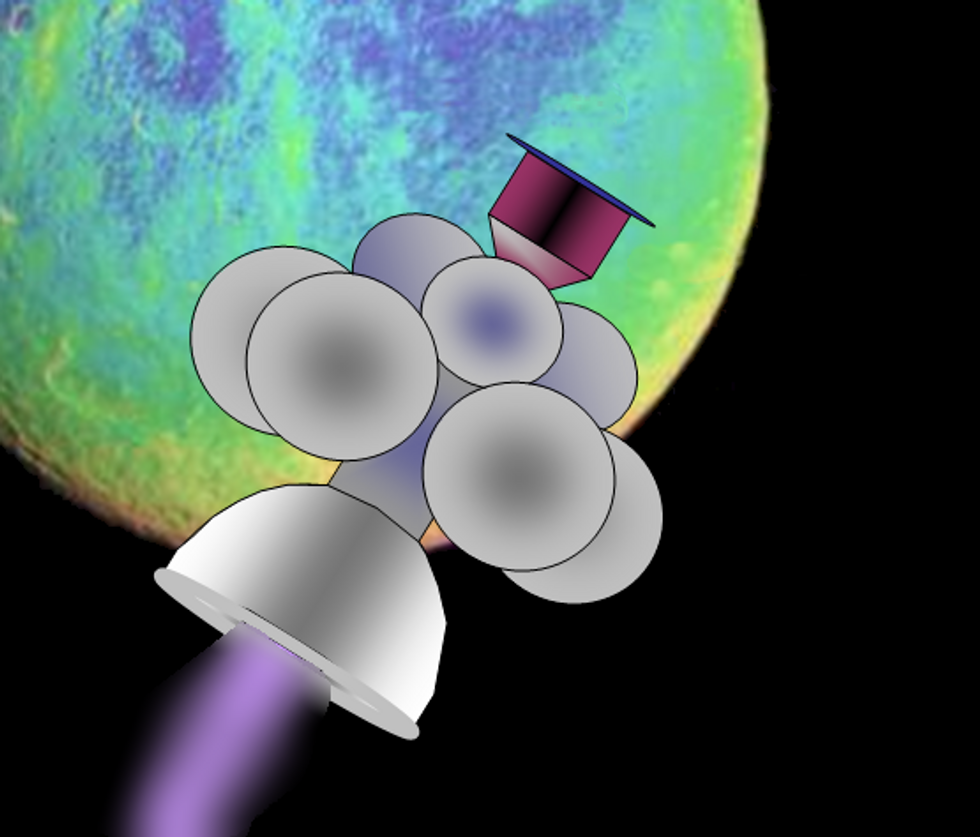 ANOTHER OPTION WOULD require technology beyond our current capability: controlled nuclear fusion power. Unlike nuclear fission, which cleaves atoms, fusion combines them, releasing a boatload of energy in the process. The Sun accomplishes the feat easily, but human beings have yet to maintain a stable, self-sustaining fusion reaction.
If we figure fusion out, it won't only power the Earth for millions of years, it could also propel us to the stars. The British Interplanetary Society drew up a fusion-powered spacecraft in the mid-1970s. Dubbed Project Daedalus, the craft would be constructed and launched in near Earth orbit. The 190-meter ship would be capable of 12% the speed of light and come equipped with sets of optical and radio telescopes, smaller probes, and robot "wardens" for repairing any potential outer damage. Sounds straight out of sci-fi, doesn't it?
IS ANY OF this possible? Yes. But we have our work cut out for us, and that's an understatement. These efforts will need to be championed not just by small, dedicated groups, but by governments, almost certainly collaborating with private enterprise. Fusion power will have to become a goal, not just a sideshow. Heck, we'll probably need a space elevator, and an orbiting station that dwarfs the ISS. In short, it might take an entire world.
So what are we waiting for? If we want to reach Alpha Centauri by 2100, we'll need to launch our ship by 2056. Time's a wastin'!
(Image: Shutterstock)
To create wiser adults, add empathy to the school curriculum.
Sponsored by Charles Koch Foundation
Stories are at the heart of learning, writes Cleary Vaughan-Lee, Executive Director for the Global Oneness Project. They have always challenged us to think beyond ourselves, expanding our experience and revealing deep truths.
Vaughan-Lee explains 6 ways that storytelling can foster empathy and deliver powerful learning experiences.
Global Oneness Project is a free library of stories—containing short documentaries, photo essays, and essays—that each contain a companion lesson plan and learning activities for students so they can expand their experience of the world.
Philosophers like to present their works as if everything before it was wrong. Sometimes, they even say they have ended the need for more philosophy. So, what happens when somebody realizes they were mistaken?
Just before I turned 60, I discovered that sharing my story by drawing could be an effective way to both alleviate my symptoms and combat that stigma.
Photo by JJ Ying on Unsplash
Mind & Brain
I've lived much of my life with anxiety and depression, including the negative feelings – shame and self-doubt – that seduced me into believing the stigma around mental illness: that people knew I wasn't good enough; that they would avoid me because I was different or unstable; and that I had to find a way to make them like me.
A joint study by two England universities explores the link between sex and cognitive function with some surprising differences in male and female outcomes in old age.
Mind & Brain
A joint study by the universities of Coventry and Oxford in England has linked sexual activity with higher cognitive abilities in older age.
The results of this study suggest there are significant associations between sexual activity and number sequencing/word recall in men. In women, however, there was a significant association between sexual activity in word recall alone - number sequencing was not impacted.
The differences in testosterone (the male sex hormone) and oxytocin (a predominantly female hormone) may factor into why the male cognitive level changes much more during sexual activity in older age.
Technology & Innovation
Mathematicians studied 100 billion tweets to help computer algorithms better understand our colloquial digital communication.
Scroll down to load more…