You've got 10 minutes with Einstein. What do you talk about? Black holes? Time travel?
Why not gambling? The Art of War? Contemporary parenting?
Each week, host Jason Gots surprises some of the world's brightest minds with ideas they're not at all prepared to discuss. Join us and special guests Neil Gaiman, Alan Alda, Salman Rushdie, Margaret Atwood, Richard Dawkins, Maria Popova, Mary-Louise Parker, Neil deGrasse Tyson and many more...
21 March, 2018
Martin Amis – The Spooky Art – Think Again - a Big Think Podcast #140
We are all of us held together by words.
Culture & Religion
"We are all of us held together by words. And when words go, nothing much remains." 
---
That's Martin Amis, writing about his father, Kingsley, toward the end of his life.  And it's true, of course, isn't it? But how many of us are ready to locate our selves in the language we have at our command? I guess all writers live by the pen (or maybe the pixel, these days), but like two of his literary heroes, Shakespeare and Vladimir Nabokov, Martin Amis belongs to what in every generation feels like a vanishing breed: the writer with an almost Kabbalistic reverence for the power of words themselves. In Amis' novels and essays, this often translates into intense, photographic lucidity. Other times, we get the verbal shiv—a wickedly hilarious twist of the knife in the gut of something bloated and stupid, like the present American moment. 
His newest collection of essays is called The Rub of Time. Its subjects include Porn, John Travolta, Tennis, Saul Bellow, and the strange business of literary interviews like this one. 
Surprise conversation-starter clips in this episode: 
A.O. Scott on comedians as public intellectuals, Toni Lane Casserly on the future of artificial intelligence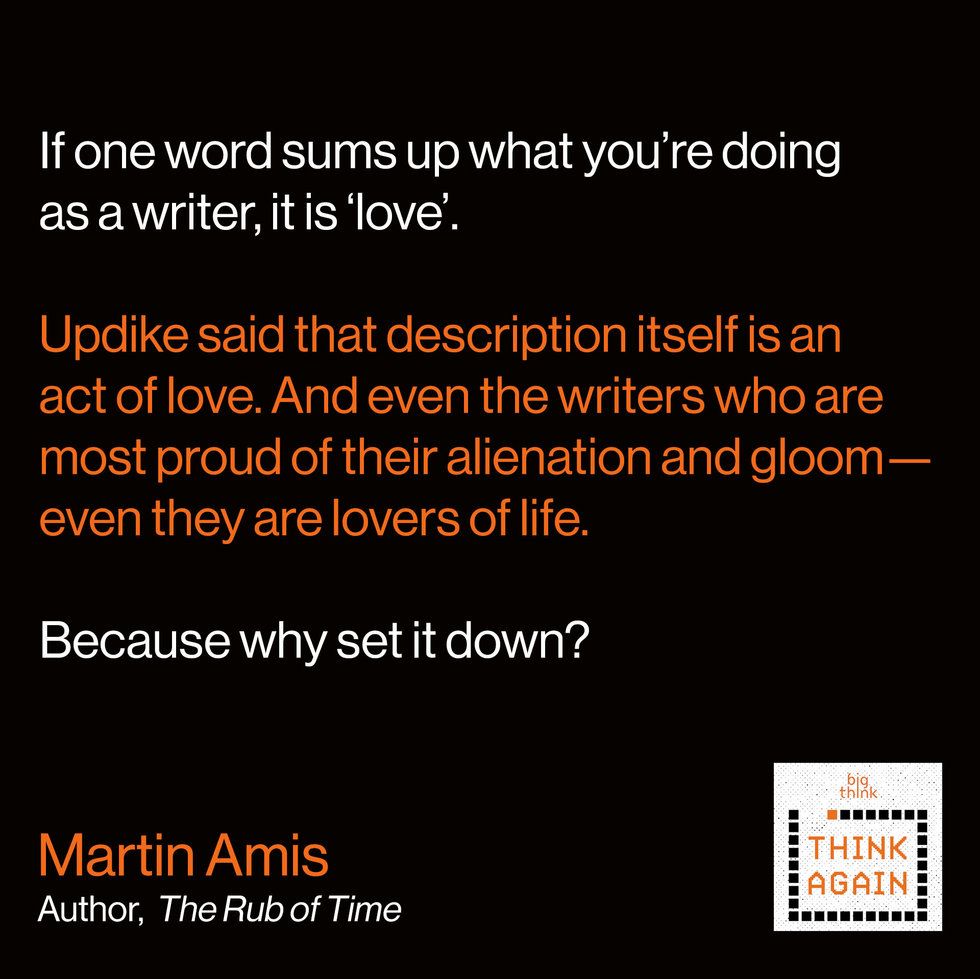 About Think Again - A Big Think Podcast: Since 2008, Big Think has been sharing big ideas from creative and curious minds. Since 2015, the Think Again podcast has been taking us out of our comfort zone, surprising our guests and Jason Gots, your host, with unexpected conversation starters from Big Think's interview archives.
You've got 10 minutes with Einstein. What do you talk about? Black holes? Time travel? Why not gambling? The Art of War? Contemporary parenting? Some of the best conversations happen when we're pushed outside of our comfort zones. Each week on Think Again, we surprise smart people you may have heard of with short clips from Big Think's interview archives on every imaginable subject. These conversations could, and do, go anywhere.

Come talk to us 
on Twitter: @bigthinkagain
Related Articles
The film becomes the story of the making of the film. From his Monty Python days to now, Don Quixote is a metaphor for Terry Gilliam's whole career, and for his 30 year project of making a film about a film about the knight of the woeful countenance. We talk about Muppets, time, and basically everything else two humans can talk about.
Think Again Podcasts
An American barbarian in Monty Python
Chaos Muppets vs. Order Muppets (and which one Terry Gilliam is)
Artistic ego: avoiding the fate of Icarus, Job, etc.
Love + fear = awe. And awe can inspire the best and the worst in us. From 100,000 wild tigers a century ago, we're down to around 5,000. Oscar winner Ross Kauffman's TIGERLAND tells the story of the lengths some will go to to protect them.
Think Again Podcasts
Making friends with The Tiger Man of Russia
Looking for beauty and humor in the darkest places
"I love meeting people…I love spending time with people…part of me hates picking up a camera and pointing it at somebody. I feel like a parasite."
Love, grief, and moral disgust aren't unique to humans. Like chimps, humans sometimes struggle for dominance, but our first impulse is trust and connection. Frans de Waal has spent decades showing that most of what we believe about animals, humans, and the differences between us is wrong.
Think Again Podcasts
The lifelong gratitude of a chimp de Waal taught to bottle-feed and adopt an orphan
Trump's alpha male display during the 2016 debates
How B.F. Skinner screwed up behavioral science for half a century
Connect with us
How to listen
You can listen to Think Again right here on site, or select your podcast app: