These Two Entrepreneurs Found a Great Way to Work Smarter, Not Harder
And out of their struggle, they made a product to help others.
19 October, 2015
---
It's easy to be busy and not get anything done. Ever spend an entire day answering emails and not make any headway on a project? That's exactly how Cathryn Lavery and Allen Brouwer felt.
Both had left their day jobs in order to pursue their own business ventures. But they struggled.
"After a while it felt like we were on a treadmill, working every day, but not getting anywhere," they write. "We'd feel busy, but not productive. We'd get to the end of the day and feel unclear on what we accomplished that really mattered."
Lavery said they noticed a trend among high-performing, successful people: their ability to plan and pace their progress into actionable steps. So, they needed a way to organize their goals, and out of it came the Self Journal. Necessity, after all, is the mother of invention.
"We'd been reading a bunch of books on successful people, on what they do and we just started applying it to ourselves," said Lavery. "What we should do every day and how we should approach setting a goal and reaching it. Before we did that, we were just kind of a mess where we were just reactive and not moving forward at all.
"As soon as we started applying these principals everyday it started to turn on, and so that's when Allen and I started creating this product just for ourselves. Then later on when we showed it to people, we decided clearly this is something other people could use."
The result was what would become the Self Journal — the first product of their company, Best Self Co.
So, what makes this journal different from the rest?
There's a psychology behind its design.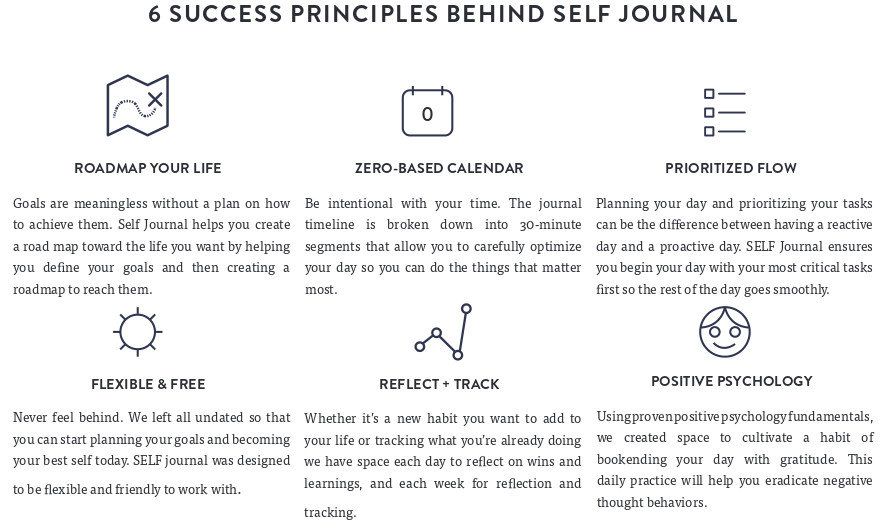 "It's only a three-month journal," said Lavery. "To be honest, I've been looking for something like this because year-long journals never work. I think a study showed that 88 percent of people fail [in completing their New Years resolutions] because it's really difficult to take that year-long resolution and break it down into actionable steps."
A yearlong goal seems overwhelming, and trying to break that down led her to giving up, but applying a shorter timeline toward a goal (or part of it) makes it seem more manageable.
Lavery said she found "a three-month timeline is a long enough time where you can see the end-goal in your vision. It also doesn't give you time to procrastinate on taking action today." She said they wanted to create a sense of urgency with the journal, so people would be less likely to procrastinate.
Humans, for some reason, have a tough time relating to their future selves. One study found that we're able to connect better with ourselves when we frame a deadline in terms of days instead of years. Other experts claim we have trouble connecting with a goal when we lose focus of the meaning behind it — even a fear of failure can be a deterrent. But they're all mental barriers that keep us from addressing what needs to be done today.
The Self Journal helped Lavery and Brouwer write through all those psychological deterrents. They're now hoping to sell their key to success as a solution to help others.

***
Natalie has been writing professionally for about 6 years. After graduating from Ithaca College with a degree in Feature Writing, she snagged a job at PCMag.com where she had the opportunity to review all the latest consumer gadgets. Since then she has become a writer for hire, freelancing for various websites. In her spare time, you may find her riding her motorcycle, reading YA novels, hiking, or playing video games. Follow her on Twitter: @nat_schumaker
Photo Credit: Best Self Co.
What can 3D printing do for medicine? The "sky is the limit," says Northwell Health researcher Dr. Todd Goldstein.
Northwell Health
Sponsored by Northwell Health
Medical professionals are currently using 3D printers to create prosthetics and patient-specific organ models that doctors can use to prepare for surgery.
Eventually, scientists hope to print patient-specific organs that can be transplanted safely into the human body.
Northwell Health, New York State's largest health care provider, is pioneering 3D printing in medicine in three key ways.
Big Think Edge
Push Past Negative Self-Talk: Give Yourself the Proper Fuel to Attack the World, with David Goggins, Former NAVY SealIf you've ever spent 5 minutes trying to meditate, you know something most people don't realize: that our minds are filled, much of the time, with negative nonsense. Messaging from TV, from the news, from advertising, and from difficult daily interactions pulls us mentally in every direction, insisting that we focus on or worry about this or that. To start from a place of strength and stability, you need to quiet your mind and gain control. For former NAVY Seal David Goggins, this begins with recognizing all the negative self-messaging and committing to quieting the mind. It continues with replacing the negative thoughts with positive ones.
If you don't want to know anything about your death, consider this your spoiler warning.
Culture & Religion
For centuries cultures have personified death to give this terrifying mystery a familiar face.
Modern science has demystified death by divulging its biological processes, yet many questions remain.
Studying death is not meant to be a morbid reminder of a cruel fate, but a way to improve the lives of the living.
Big Think Edge
Master Execution: How to Get from Point A to Point B in 7 Steps, with Rob Roy, Retired Navy SEALUsing the principles of SEAL training to forge better bosses, former Navy SEAL and founder of the Leadership Under Fire series Rob Roy, a self-described "Hammer", makes people's lives miserable in the hopes of teaching them how to be a tougher—and better—manager. "We offer something that you are not going to get from reading a book," says Roy. "Real leaders inspire, guide and give hope."Anybody can make a decision when everything is in their favor, but what happens in turbulent times? Roy teaches leaders, through intense experiences, that they can walk into any situation and come out ahead. In this lesson, he outlines seven SEAL-tested steps for executing any plan—even under extreme conditions or crisis situations.
Big think's weekly newsletter.
Get smarter faster from the comfort of your inbox.
See our newsletter privacy policy
here
Most Popular
Most Recent
Big think's weekly newsletter.
Get smarter faster from the comfort of your inbox.
See our newsletter privacy policy
here
© Copyright 2007-2019 & BIG THINK, BIG THINK EDGE,
SMARTER FASTER trademarks owned by The Big Think, Inc. All rights reserved.