The (un)certainty of professional persistence
Scott McLeod
Scott McLeod, J.D., Ph.D., is an Associate Professor of Educational Leadership at the University of Kentucky. He also is the Founding Director of the UCEA Center for the Advanced Study of Technology Leadership in Education (CASTLE), the nation's only academic center dedicated to the technology needs of school administrators, and was a co-creator of the wildly popular video series, Did You Know? (Shift Happens). He has received numerous national awards for his technology leadership work, including recognitions from the cable industry, Phi Delta Kappa, and the National School Boards Association. In Spring 2011 he was a Visiting Canterbury Fellow at the University of Canterbury in New Zealand. Dr. McLeod blogs regularly about technology leadership issues at Dangerously Irrelevant and Mind Dump, and occasionally at The Huffington Post. He can be reached at scottmcleod.net.
16 February, 2011
There has been a lot of good discussion on my post about the future of books, libraries, librarians, and schools (thank you, everyone). In addition to the comments on the post itself, there are some excellent thoughts elsewhere as well:
---
\n
\n
I was struck, however, by something that Erin Downey said in her own post:
\n
\n

What has, does, and will distinguish us from [coffee shops, community centers, and Internet cafes] are LIBRARIANS. Your barista doesn't know how to help you find a price guide for 19th century china dolls, or figure out what the primary motivations were of the Romantic poets, or locate the best resource for building an addition to your house (as well as getting the right permits for local construction!). We do all that and more on a daily basis without breaking a sweat - we're trained information professionals.

\n\n
\n
As I read Erin's post, she seems awfully certain that librarians will be around and will be essential to the new order. I confess that I'm not that certain.
\n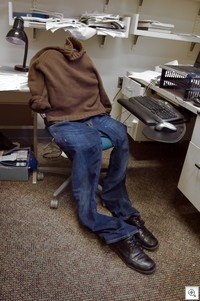 Perhaps I'm reading her wrong, but her paragraph strikes me as one of absolute certainty in librarians' worth: Of course we'll be around in the new paradigm! We're LIBRARIANS, dammit! We're TRAINED INFORMATION PROFESSIONALS who are VALUABLE in and of ourselves and also PROVIDE VALUE TO OTHERS. As I read her paragraph, I started substituting other professions in place of librarians: Of course we'll be around in the new paradigm! We're JOURNALISTS / TELEGRAPH OPERATORS / BUGGY WHIP MAKERS / TRAVEL AGENTS, dammit! We're TRAINED PROFESSIONALS who are VALUABLE in and of ourselves and also PROVIDE VALUE TO OTHERS.
\n
I think that the shifts we are now beginning to experience are going to be much more disruptive than we expect. I don't think that we can take for granted that any current information-oriented profession is going to be around in the new paradigm. I think it's a safer bet to assume that most of us in information-oriented jobs either are going to be replaced by something new or will see our professions so radically transformed that we may need to give them new labels.
\n
Whether we're librarians, teachers, administrators, or professors – or newspaper journalists, television producers, radio broadcasters, or magazine publishers – or travel agents, stockbrokers, medical professionals, or postal service workers, I think we need to be more uneasy. We need to be less complacent, less certain. We need to be more proactive and forward-thinking rather than self-congratulatory and self-satisfied.
\n
The professionals in information-oriented fields who will be best able to navigate the seismic transitions that are yet to occur will be those that DON'T take their individual jobs – or even their entire professions – for granted. We all need to be more on edge than we currently are.
\n
Photo credit: Officemate disappears
\n
In a breakthrough for nuclear fusion research, scientists at China's Experimental Advanced Superconducting Tokamak (EAST) reactor have produced temperatures necessary for nuclear fusion on Earth.
Credit: EAST Team
Surprising Science
The EAST reactor was able to heat hydrogen to temperatures exceeding 100 million degrees Celsius.
Nuclear fusion could someday provide the planet with a virtually limitless supply of clean energy.
Still, scientists have many other obstacles to pass before fusion technology becomes a viable energy source.
Military recruits are supposed to be assessed to see whether they're fit for service. What happens when they're not?
Politics & Current Affairs
During the Vietnam War, Robert McNamara began a program called Project 100,000.
The program brought over 300,000 men to Vietnam who failed to meet minimum criteria for military service, both physically and mentally.
Project 100,000 recruits were killed in disproportionate numbers and fared worse after their military service than their civilian peers, making the program one of the biggest—and possibly cruelest—mistakes of the Vietnam War.
The 116th Congress is set to break records in term of diversity among its lawmakers, though those changes are coming almost entirely from Democrats.
(Photo: MANDEL NGAN/AFP/Getty Images)
Politics & Current Affairs
Women and nonwhite candidates made record gains in the 2018 midterms.
In total, almost half of the newly elected Congressional representatives are not white men.
Those changes come almost entirely from Democrats; Republican members-elect are all white men except for one woman.
Big think's weekly newsletter.
Get smarter faster from the comfort of your inbox.
See our newsletter privacy policy
here
Most Popular
Most Recent
Big think's weekly newsletter.
Get smarter faster from the comfort of your inbox.
See our newsletter privacy policy
here
© Copyright 2007-2018 & BIG THINK, BIG THINK EDGE,
SMARTER FASTER trademarks owned by The Big Think, Inc. All rights reserved.