Big ideas.
Once a week.
Subscribe to our weekly newsletter.
More on the Fight over the Cato Institute
08 March, 2012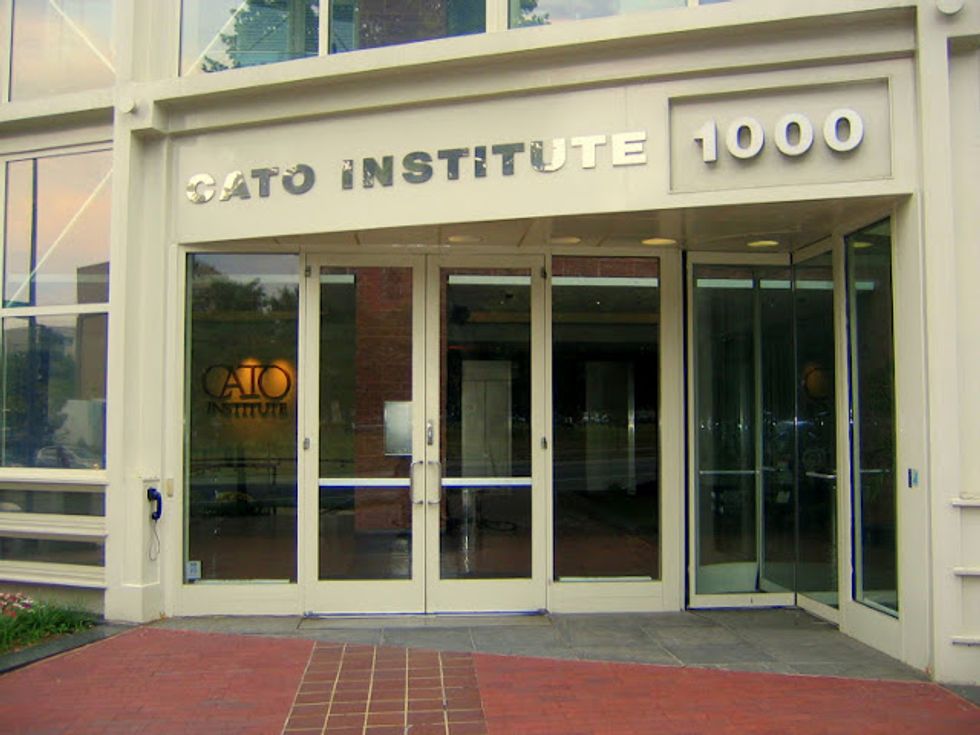 I just can't help myself. It's remarkable how little I care about the outcome of the Koch-Cato standoff. Yet, having spent about half my professional life in politics at heavily Koch-influenced institutions, and about half at Cato, I can't stop thinking about this. All apologies to those of you for whom this is unintelligible insider baseball.
---
Based on the combination of my time spent with Koch operatives and time spent working under Ed Crane at Cato, my guess is that the Kochs want two things: (1) to replace Ed Crane and (2) make Cato's work more relevant to the actual policy-making process.
My completely speculative thought is that the Kochs' takeover attempt is a gambit to pressure the Crane-loyal board members into agreeing to defenestrate Ed, or, if it comes to it, to get a Koch-loyal majority on the board who will then vote to give Ed the heave-ho. I figure the Kochs think that the management of Cato under Crane has long fallen short of professional standards, and that Crane's continued leadership hurts Cato's mission.  Whether Crane is a liability to Cato is by no means unrelated to (2), but it's largely a distinct issue. I further speculate that contention over Crane's continuing tenure is a much bigger part of the conflict than has been reported. Crane is going to retire and/or die soon anyway. The question is what happens then? The Kochs are packing the board in part to force the issue, and are suing to deny that Bill Niskanen's widow can inherit his shares in part to try to prevent Ed's shares from passing on to an ally rather than reverting back to the board when he finally keels over. (I have no idea whatsoever about the merits of the lawsuit, by the way.)
I half suspect that the whole battle for majority control of the board might have been avoided had Crane been willing to step down, or had a couple of the Crane loyalists on the board been willing to vote him out and replace him with someone, probably a Kochtopus veteran, agreeable to both board factions. Cato might not have needed "saving" had Ed gone quietly and retired, but if he's gonna go down, it seems that he intends to take the ship down with him, probably because he thinks the ship is his.
What I imagine to be the Kochs' second aim, to increase Cato's effectiveness in directly influencing policy, seems to pose a challenge to Cato's current strategy for creating pro-liberty political change. When Bob Levy quotes David Koch saying that he'd like to see Cato producing more "intellectual ammunition" (Randian phrase, BTW) useful to Americans for Prosperity, Levy seems to make it out that DK was calling for Cato to bend its libertarian principles in order to be a better shill for the GOP. But it seems to me more plausible, given the history of the Libertarian Party's first vice-presidential candidate, that DK thinks that the effective application of undisputed libertarian principles to policy and politics requires a greater integration with more politically-engaged, but nevertheless ideologically compatible institutions.
Why shouldn't Cato work more closely with groups like AFP?
One argument is that AFP is perceived as partisan, and Cato has worked hard to gain a non-partisan reputation. This is a promising argument, but it needs to establish an additional claim to be really persuasive: Cato's effectiveness will be damaged by harming its non-partisan reputation. But will it? I think this is the $64,000 question. Of course, one needs some baseline assumptions about just how effective Cato currently is, and what kind of reputation Cato currently has. If you think Cato's not currently very effective, it is not unreasonable to think it could become more effective by better coordinating with actual players in the policymaking process. Perhaps it would gain more through improved coordination than it would lose through loss of nonpartisan reputation. If the reality is that Cato doesn't currently enjoy all that impressive a reputation for partisan neutrality, the "cash-value" of this loss of reputation could be pretty small.
Anyway, a more practical bent need not involve changing anything about Cato's ideological orientation. It simply requires a shift in attention and emphasis to certain issues on which it already has a clear position. And this needn't be one-sided. Suppose Cato, without changing anything at all about its ideological orientation, were to focus more energy on some issues currently of interest to both groups like AFP and groups like, say, the ACLU or Amnesty International? I think there's a plausible argument that this would lead Cato to deliver greater libertarian bang for its donors' bucks, while possibly even improving its non-partisan reputation.
Now, I'm not sure I buy this argument. I tend to think that a greater focus on practical political relevance would tend to exert a subtle pressure on Cato's analysts to take it relatively easy on perceived allies when they do and say things harmful to liberty. Indeed, this pressure already exists, and it wouldn't be a good idea to increase it, since it's already biased toward the right. The legacy of right-fusionism has been to desensitize many libertarians to the inherently liberty-limiting aspects of social conservativism, and to reduce many self-described libertarians to acting primarily as cheerleaders for the economic agenda of "free-market" reactionaries. I also happen to think the Tea Party has almost nothing to do with liberty and almost everything to do with reactionary identity politics, and no good can come from helping the Tea Party along. These beliefs, by the way, have something to do with why I did not fit in well at Cato. So I guess it's not surprising that I think AFP's role in organizing the Tea Party has been disastrous for the "liberty movement," and that it would be a terrible idea to orient Cato toward the the issues AFP's membership happen to be riled up about.
However, it's important to note that this isn't even close to Ed Crane's view. It's a view that antagonizes Ed Crane, because he adores the Tea Party. Crane, who also co-founded the Libertarian Party, has an abiding faith (evidence be damned!) that Americans are in their heart of hearts libertarian, and he seems to believe that the Tea Party amounts to a popular upsurge of nascent libertarian sentiment. Listen to his love letter to the Tea Party at the beginning of this Cato forum last month on the book, Tea Party Patriots. Given Crane's enthusiasm for the Tea Party (that congress of Gingrich and Santorum enthusiasts!), it's not at all clear to me what his objection might be to working more closely with AFP, other than that the Kochs want him to.
Which brings us back to the question of Cato's reputation for neutrality. It's real, and it's really worth something. My friend Ezra Klein, the very model of an establishment DC liberal, says "When I read Cato's take on a policy question, I can trust that it is informed by more than partisan convenience. The same can't be said for other think tanks in town." I don't think he's mistaken. This is important. At the same time, I think Ezra trusts Michael Cannon and Gene Healy and Julian Sanchez largely because he knows them personally and has seen for himself that they're stand-up guys of unimpeachable intellectual integrity who care more about principle than politics.
For folks outside the Beltway, for whom the Cato staff are complete strangers, Cato looks like part of the right, if an odd one. There's a reason David Boaz is always complaining about newspapers identifying Cato as a "conservative" think tank, and it's not just that David Boaz likes to complain. Just ask yourself how Cato's work could have been more congenial to the GOP during George W. Bush's failed attempt to reform Social Security, or during the failed attempt to block Obamacare? Cato obviously already is in the politically-relevant intellectual ammo business. And in actual large-stakes political fights in Washington, Cato is generally on the Republican side. It would not be strange to spot a Catoite at Grover Norquist's infamous Wednesday morning meetings. Because Cato functions as part of the right.
It's tempting to think that Cato almost never does anything to help the Democrats largely because it's just too far to the left of the Democratic Party on foreign policy and civil liberties. Yet Cato is equally far to the "right" of the Republican Party on economic policy, welfare policy, education policy, and lots more. Social Security privatization is a forced savings program. School vouchers and/or education tax credits are taxpayer-funded education. Lower income-tax rates concede the income tax. Again and again Cato finds a way to settle on non-ideal, "second-best" economic, welfare, and education policies, and argue for them in away that provides "ammo" to the right. But it very rarely develops compromising second-best policies on foreign policy or civil liberties that would be of any practical use to dovish or civil-libertarian Democrats. Why not? Why was coming out in favor of gay marriage more controversial at Cato (the state shouldn't be involved in marriage at all!) than coming out in favor of school vouchers (the state shouldn't be involved in education at all!)? Why not a bigger institutional push for medical marijuana as a second-best, nose-under-the-tent alternative to outright legalization? The fact is that Cato has so deeply internalized the ethos of the venerable right-fusionist alliance that there is almost no hope of it functioning on the whole in a truly non-partisan way. I think its status-quo reputation reflects that.
Cato staff tend to use their principled intransigence on certain "left" issues as proof of their partisan neutrality. We're the furthest thing from conservative! We want to legalize drugs and prostitution! We're anti-war! I spent years saying this sort of thing. But now it strikes me that it is precisely this hesitancy to seriously commit to non-ideal, second-best policymaking on "left" issues -- in the realms of foreign policy and civil and personal liberties -- that makes Cato a de facto institution of the right. The issues on which you're prepared to compromise and politic are the ones about which you're most anxious to see the world move in your direction. Over the years, some at Cato have argued explicitly for recognizing the distorting effects of right-fusionism and for developing more fully natural alliances with the  left, but in the end those people have not tended to find themselves really at home at Cato.
I'd really like to see Cato establish a deserved reputation for partisan neutrality, since that's something I worked hard for in my half-decade there, but nothing in my experience leads me to believe that either Crane or the Kochs are interested in that. If libertarians want an institution that is not right-fusionist, they need to build it. It's not going to be Cato. Now, I do think Cato's reputation for partisan independence, such as it is, would suffer under Koch rule, and that this would hurt a number of good friends at Cato, and for this reason I sincerely hope the Crane faction prevails. Yet I don't think the Kochs are wrong to think Cato would be better off with a more effective and professional manager at the helm, if that is what they in fact think. I also suspect that Cato would be more effective, according to the right-fusionist standards I think both the Koch and Crane factions accept, if the Kochs had their way and integrated Cato more fully into their line-up of policy and politics non-profits. However, because I don't think greater right-fusionist effectiveness is desirable, my sympathies again fall on the side of the Crane faction.
Why mega-eruptions like the ones that covered North America in ash are the least of your worries.
Image: USGS - public domain
Strange Maps
The supervolcano under Yellowstone produced three massive eruptions over the past few million years.
Each eruption covered much of what is now the western United States in an ash layer several feet deep.
The last eruption was 640,000 years ago, but that doesn't mean the next eruption is overdue.
The end of the world as we know it
Panoramic view of Yellowstone National Park
Image: Heinrich Berann for the National Park Service – public domain
Of the many freak ways to shuffle off this mortal coil – lightning strikes, shark bites, falling pianos – here's one you can safely scratch off your worry list: an outbreak of the Yellowstone supervolcano.
As the map below shows, previous eruptions at Yellowstone were so massive that the ash fall covered most of what is now the western United States. A similar event today would not only claim countless lives directly, but also create enough subsidiary disruption to kill off global civilisation as we know it. A relatively recent eruption of the Toba supervolcano in Indonesia may have come close to killing off the human species (see further below).
However, just because a scenario is grim does not mean that it is likely (insert topical political joke here). In this case, the doom mongers claiming an eruption is 'overdue' are wrong. Yellowstone is not a library book or an oil change. Just because the previous mega-eruption happened long ago doesn't mean the next one is imminent.
Ash beds of North America
Ash beds deposited by major volcanic eruptions in North America.
Image: USGS – public domain
This map shows the location of the Yellowstone plateau and the ash beds deposited by its three most recent major outbreaks, plus two other eruptions – one similarly massive, the other the most recent one in North America.
Huckleberry Ridge
The Huckleberry Ridge eruption occurred 2.1 million years ago. It ejected 2,450 km3 (588 cubic miles) of material, making it the largest known eruption in Yellowstone's history and in fact the largest eruption in North America in the past few million years.
This is the oldest of the three most recent caldera-forming eruptions of the Yellowstone hotspot. It created the Island Park Caldera, which lies partially in Yellowstone National Park, Wyoming and westward into Idaho. Ash from this eruption covered an area from southern California to North Dakota, and southern Idaho to northern Texas.
Mesa Falls
About 1.3 million years ago, the Mesa Falls eruption ejected 280 km3 (67 cubic miles) of material and created the Henry's Fork Caldera, located in Idaho, west of Yellowstone.
It was the smallest of the three major Yellowstone eruptions, both in terms of material ejected and area covered: 'only' most of present-day Wyoming, Colorado, Kansas and Nebraska, and about half of South Dakota.
Lava Creek
The Lava Creek eruption was the most recent major eruption of Yellowstone: about 640,000 years ago. It was the second-largest eruption in North America in the past few million years, creating the Yellowstone Caldera.
It ejected only about 1,000 km3 (240 cubic miles) of material, i.e. less than half of the Huckleberry Ridge eruption. However, its debris is spread out over a significantly wider area: basically, Huckleberry Ridge plus larger slices of both Canada and Mexico, plus most of Texas, Louisiana, Arkansas, and Missouri.
Long Valley
This eruption occurred about 760,000 years ago. It was centered on southern California, where it created the Long Valley Caldera, and spewed out 580 km3 (139 cubic miles) of material. This makes it North America's third-largest eruption of the past few million years.
The material ejected by this eruption is known as the Bishop ash bed, and covers the central and western parts of the Lava Creek ash bed.
Mount St Helens
The eruption of Mount St Helens in 1980 was the deadliest and most destructive volcanic event in U.S. history: it created a mile-wide crater, killed 57 people and created economic damage in the neighborhood of $1 billion.
Yet by Yellowstone standards, it was tiny: Mount St Helens only ejected 0.25 km3 (0.06 cubic miles) of material, most of the ash settling in a relatively narrow band across Washington State and Idaho. By comparison, the Lava Creek eruption left a large swathe of North America in up to two metres of debris.

The difference between quakes and faults
The volume of dense rock equivalent (DRE) ejected by the Huckleberry Ridge event dwarfs all other North American eruptions. It is itself overshadowed by the DRE ejected at the most recent eruption at Toba (present-day Indonesia). This was one of the largest known eruptions ever and a relatively recent one: only 75,000 years ago. It is thought to have caused a global volcanic winter which lasted up to a decade and may be responsible for the bottleneck in human evolution: around that time, the total human population suddenly and drastically plummeted to between 1,000 and 10,000 breeding pairs.
Image: USGS – public domain
So, what are the chances of something that massive happening anytime soon? The aforementioned mongers of doom often claim that major eruptions occur at intervals of 600,000 years and point out that the last one was 640,000 years ago. Except that (a) the first interval was about 200,000 years longer, (b) two intervals is not a lot to base a prediction on, and (c) those intervals don't really mean anything anyway. Not in the case of volcanic eruptions, at least.
Earthquakes can be 'overdue' because the stress on fault lines is built up consistently over long periods, which means quakes can be predicted with a relative degree of accuracy. But this is not how volcanoes behave. They do not accumulate magma at constant rates. And the subterranean pressure that causes the magma to erupt does not follow a schedule.
What's more, previous super-eruptions do not necessarily imply future ones. Scientists are not convinced that there ever will be another big eruption at Yellowstone. Smaller eruptions, however, are much likelier. Since the Lava Creek eruption, there have been about 30 smaller outbreaks at Yellowstone, the last lava flow being about 70,000 years ago.
As for the immediate future (give or take a century): the magma chamber beneath Yellowstone is only 5 percent to 15 percent molten. Most scientists agree that is as un-alarming as it sounds. And that its statistically more relevant to worry about death by lightning, shark, or piano.
Strange Maps #1041
Got a strange map? Let me know at strangemaps@gmail.com.

The potential of CRISPR technology is incredible, but the threats are too serious to ignore.
Videos
CRISPR (Clustered Regularly Interspaced Short Palindromic Repeats) is a revolutionary technology that gives scientists the ability to alter DNA. On the one hand, this tool could mean the elimination of certain diseases. On the other, there are concerns (both ethical and practical) about its misuse and the yet-unknown consequences of such experimentation.
"The technique could be misused in horrible ways," says counter-terrorism expert Richard A. Clarke. Clarke lists biological weapons as one of the potential threats, "Threats for which we don't have any known antidote." CRISPR co-inventor, biochemist Jennifer Doudna, echos the concern, recounting a nightmare involving the technology, eugenics, and a meeting with Adolf Hitler.
Should this kind of tool even exist? Do the positives outweigh the potential dangers? How could something like this ever be regulated, and should it be? These questions and more are considered by Doudna, Clarke, evolutionary biologist Richard Dawkins, psychologist Steven Pinker, and physician Siddhartha Mukherjee.
Measuring a person's movements and poses, smart clothes could be used for athletic training, rehabilitation, or health-monitoring.
Technology & Innovation
In recent years there have been exciting breakthroughs in wearable technologies, like smartwatches that can monitor your breathing and blood oxygen levels.
But what about a wearable that can detect how you move as you do a physical activity or play a sport, and could potentially even offer feedback on how to improve your technique?
And, as a major bonus, what if the wearable were something you'd actually already be wearing, like a shirt of a pair of socks?
That's the idea behind a new set of MIT-designed clothing that use special fibers to sense a person's movement via touch. Among other things, the researchers showed that their clothes can actually determine things like if someone is sitting, walking, or doing particular poses.
The group from MIT's Computer Science and Artificial Intelligence Lab (CSAIL) says that their clothes could be used for athletic training and rehabilitation. With patients' permission, they could even help passively monitor the health of residents in assisted-care facilities and determine if, for example, someone has fallen or is unconscious.
The researchers have developed a range of prototypes, from socks and gloves to a full vest. The team's "tactile electronics" use a mix of more typical textile fibers alongside a small amount of custom-made functional fibers that sense pressure from the person wearing the garment.
According to CSAIL graduate student Yiyue Luo, a key advantage of the team's design is that, unlike many existing wearable electronics, theirs can be incorporated into traditional large-scale clothing production. The machine-knitted tactile textiles are soft, stretchable, breathable, and can take a wide range of forms.
"Traditionally it's been hard to develop a mass-production wearable that provides high-accuracy data across a large number of sensors," says Luo, lead author on a new paper about the project that is appearing in this month's edition of Nature Electronics. "When you manufacture lots of sensor arrays, some of them will not work and some of them will work worse than others, so we developed a self-correcting mechanism that uses a self-supervised machine learning algorithm to recognize and adjust when certain sensors in the design are off-base."
The team's clothes have a range of capabilities. Their socks predict motion by looking at how different sequences of tactile footprints correlate to different poses as the user transitions from one pose to another. The full-sized vest can also detect the wearers' pose, activity, and the texture of the contacted surfaces.
The authors imagine a coach using the sensor to analyze people's postures and give suggestions on improvement. It could also be used by an experienced athlete to record their posture so that beginners can learn from them. In the long term, they even imagine that robots could be trained to learn how to do different activities using data from the wearables.
"Imagine robots that are no longer tactilely blind, and that have 'skins' that can provide tactile sensing just like we have as humans," says corresponding author Wan Shou, a postdoc at CSAIL. "Clothing with high-resolution tactile sensing opens up a lot of exciting new application areas for researchers to explore in the years to come."
The paper was co-written by MIT professors Antonio Torralba, Wojciech Matusik, and Tomás Palacios, alongside PhD students Yunzhu Li, Pratyusha Sharma, and Beichen Li; postdoc Kui Wu; and research engineer Michael Foshey.
The work was partially funded by Toyota Research Institute.
Reprinted with permission of MIT News. Read the original article.

Personal Growth
How imagining the worst case scenario can help calm anxiety.
Scroll down to load more…