The wise, the old, and the experienced matter to a full and happy life.
Life is full of complicated and difficult moments, but we can become better at dealing with them. This practical wisdom is a cornerstone of Aristotle's ethics.
When we practice this skill, we become more adept at seeing situations and people differently — not unlike an artist viewing a painting.
The elderly and experienced of this world have such wisdom in spades. But those of us in the West rarely tap into this precious resource.
Who do you turn to for advice? When things are hard, and you don't know what to do, who are those people you ask for help? It might be your mom or that one person at work who knows all the answers. Perhaps it's an internet stranger on some comment board or a professional you pay. But the question is: why do you choose them?
These experts and advice givers are an essential part of our human experience. From consulting the wise old lady in the primeval village to texting your doctor-friend, humans have always needed people to rely on for advice. As social beings, we want to help each other. But what role do experts play in our moral development? This is a key part of Aristotle's moral theory.
Phronimos: a sage of ancient Greece
According to Aristotle, a full and flourishing life (or what the Greeks like to label "eudaimonia") is characterised by virtue guided by something called phronesis or "practical wisdom". Phronesis is the ability to find the middle ground in any given situation — to know what is courageous, or kind, or fair, when it's not immediately obvious. But, like any skill, this does not come naturally. It requires experience and conscious effort.
The person who has mastered phronesis is known as the "phronimos." These are the sages who have experienced enough of the world to know how to act and give great advice as a result. As the cliché goes, they have "been there, done that." Just as we seek a doctor about disease or an engineer about building a house, we turn to the phronimos to learn from their wisdom.
This wisdom manifests as a kind of perception. In the same way that an artist might see a painting differently than the untrained eye or how a wine connoisseur will taste flavors the average person will miss, the phronimos sees people differently. This ability is called "nous."
Credit: Meme
For instance, a naïve but well-intentioned boy might think honesty is always best. Honesty is, after all, a virtue Aristotle would be proud of. So, this boy tells his friend that he finds her ridiculously ugly. The phronimos, though, has the nous to see that his friend is desperately shy and incredibly self-conscious and instead decides to hold his tongue — or perhaps even lie.

Or, a new teacher might decide to punish a student for not doing their homework without noticing how fragile that student is. The phronimos teacher is one who sees the situation properly — perhaps the child has a difficult home life — and offers a kind word or some other assistance.
Phronesis comes with the hard graft of experience and conscious self-improvement. It's seeing enough of the world to know what to do — or not to do. It's to identify someone correctly as embarrassed, scared, or angry when others might miss it.
It's hard to describe, but we all know the phronimos person in our life. Aristotle's advice is to call on them as much as we can.
Text your grandparents every day
In many ways, life is just like an apprenticeship. When we're born, we have only a few basic, natural instincts to get us through the day alive. The rest we need to be shown or taught. That is why it is so important to make sure that we have the right mentors in our life.
A lot of people are lucky to have great parents who teach them most of what they need to live in modern society, but sometimes even this isn't enough. Parents, especially during a child's formative years, are often only middle-aged and have much to learn themselves.
While being elderly is not a requirement for Aristotle's phronimos, it is often the case that with age comes wisdom. Yet, as society becomes more and more isolated (even before COVID-19), and with household sizes shrinking, we rarely think to use the phronimos people in our lives.
In the English-speaking West, especially, old people are shuffled off to retirement villages or care homes, only to be brought out for Thanksgiving or little Ava's birthday party. If Aristotle had his way, you would text them every single day. After all, they have experienced it all before — and made it out alive!
Perhaps Aristotle's philosophy also reveals a deeper truth: how incredibly valuable the elderly of our society are. Besides the intrinsic cruelty of a society that isolates and forgets its old people, Aristotle asks us to ponder what we're really missing in the process. These people — these phronimos — have so much to offer. They've made the mistakes, so we don't have to. We really ought to call on their wisdom much more.
Jonny Thomson teaches philosophy in Oxford. He runs a popular Instagram account called Mini Philosophy (@philosophyminis). His first book is Mini Philosophy: A Small Book of Big Ideas.
Unwind the mind with these thought-provoking Alan Watts quotes.
Photo courtesy of the Alan Watts Foundation
Quotes on the immediacy of experience and life.
Learn a Zen Koan or two and scramble rationalist thought.
Ponder on the meaning of life with Alan Watts.
To this day, Alan Watts's impactful and wise words circulate through the culture. We find them in the many books he left behind, countless lectures and pop-culture references galore. Renowned scholar and teacher, Joseph Campbell once said of him:
"The pomposities of prodigious learning could be undone by him with a turn of phrase. One stood before him, disarmed — and laughed at what had just been oneself."
While it is no easy feat to distill the many whimsical phrases and knowledge Watts left behind, these quotes attempt to paint a broad picture of the Eastern scholar and philosopher-entertainer.
Here are some of the best Alan Watts quotes.
Alan Watts and Zen philosophy
What is Zen? Better to ask what isn't Zen. Watts was one of a kind when it came to articulating what cannot be said. The ineffable comes down to an Earthly speakable form when Watts wanted to probe into the peculiarities of paradox.
Trying to define yourself is like trying to bite your own teeth.
"Zen… does not confuse spirituality with thinking about God while one is peeling potatoes. Zen spirituality is just to peel the potatoes."
"I prefer not to translate the word Tao at all because to us Tao is a sort of nonsense syllable, indicating the mystery that we can never understand — the unity that underlies the opposites."
"A proper exposition of Zen should tease us out of thought, and leave the mind like an open window instead of a panel of stained glass."
Nirvana is right where you are, provided that you don't object to it.
Alan Watts on God
Having obtained both a master's degree in theology and becoming an Episcopal priest, Watts had a thoroughly rounded Christian education on the concept of God. With his boundless knowledge of Eastern traditions, mysticism and ancient history — Watts had a refreshingly comparative and unique take on the word and concept.
Buddhism has in it no idea of there being a moral law laid down by some kind of cosmic lawgiver.
"So in this idea, then, everybody is fundamentally the ultimate reality. Not God in a politically kingly sense, but God in the sense of being the self, the deep-down basic whatever there is. And you're all that, only you're pretending you're not. And it's perfectly O.K. to pretend you're not, to be perfectly convinced, because this is the whole notion of drama."
"How is it possible that a being with such sensitive jewels as the eyes, such enchanted musical instruments as the ears, and such fabulous arabesque of nerves as the brain can experience itself anything less than a god."
Few of us have ever met an angel, and probably would not recognize it if we saw one, and our images of an impersonal or suprapersonal God are hopelessly subhuman — Jell-O, featureless light, homogenized space, or a whopping jolt of electricity.
Alan Watts on the meaning of life 
Watts wasn't afraid to tackle one of the great philosophical questions that has faced all of humankind since time immemorial. He answers it with irreverent wit and a life-affirming answer that'll swing the worst of nihilists among us.
The meaning of life is just to be alive. It is so plain and so obvious and so simple. And yet, everybody rushes around in a great panic as if it were necessary to achieve something beyond themselves.
"The physical universe is basically playful. There's no necessity for it whatsoever. It isn't going anywhere; that is to say, it doesn't have a destination that it ought to arrive at. But it is best understood by analogy to music, because music as an art form is essentially playful."
"What happens if you know that there is nothing you can do to be better? It's kind of a relief isn't it? You say 'Well, now what do I do?' When you are freed from being out to improve yourself, your own nature will begin to take over."
I have realized that the past and future are real illusions, that they exist in the present, which is what there is and all there is.
Alan Watts on Love 
Love ranks up there with the other mysteries of life. There are many degrees of love that we float and flounder through each day. Whether it's the whirlwind romantic kind, the love of god, country or self – Alan Watts sets the record straight.
There is no formula for generating the authentic warmth of love. It cannot be copied. You cannot talk yourself into it or rouse it by straining at the emotions or by dedicating yourself solemnly to the service of mankind.
"Everyone has love, but it can only come out when he is convinced of the impossibility and the frustration of trying to love himself. This conviction will not come through condemnations, through hating oneself, through calling self love bad names in the universe. It comes only in the awareness that one has no self to love."
"The greater part of human activity is designed to make permanent those experiences and joys which are only lovable because they are changing."
"And so when the essential idea of love is lost there comes talk of fidelity. Actually, the only possible basis for two beings, male and female, to relate to each other is to grant each other total freedom."
No work or love will flourish out of guilt, fear, or hollowness of heart, just as no valid plans for the future can be made by those who have no capacity for living now."
Alan Watts and humankind
Humans are an interesting and humorous species. Watts loved to riff and pick apart the hypocrisy and idiocy endemic to culture and mankind's perception of itself. Whether it was ripping apart the nonsensical education system or ersatz self-help meditation — Watts was an expert in the takedown of such mendacity.
We seldom realize, for example, that our most private thoughts and emotions are not actually our own. For we think in terms of languages and images which we did not invent, but which were given to us by our society.
"When you tell a girl how beautiful she is, she will say, 'Now isn't that just like a man! All you men think about is bodies. O.K., so I'm beautiful, but I got my body from my parents and it was just luck. I prefer to be admired for myself, not my chassis.' Poor little chauffeur! All she is saying is that she has lost touch with her own astonishing wisdom and ingenuity, and wants to be admired for some trivial tricks that she can perform with her conscious attention. And we are all in the same situation, having dissociated ourselves from our bodies and from the whole network of forces in which bodies can come to birth and live."
"This is not a materialistic civilization at all. It is a civilization devoted to the hatred and destruction of material, its conversion into junk and poison gas. And therefore, one of the most sacred missions to be imposed upon those who would be liberated from this culture is that they shall love material, that they shall love color, that they shall dress beautifully, that they shall cook well, that they shall live in lovely houses, and that they shall preserve the face of nature."
"The word 'person' comes from the latin word 'persona' which referred to the masks worn by actors in which sound would come through. The 'person' is the mask — the role you're playing. And all of your friends and relations and teachers are busy telling you who you are and what your role in life is."
We cannot be more sensitive to pleasure without being more sensitive to pain.
What would you do if money was no object?
Philosopher, Alan Watts believed we too easily mistake the symbolic for the real.
If money was no object, we'd seek what we truly desire.
Watts believed we can only have so much ostentatious consumption.
In a thought-provoking lecture Alan Watts once posed this great question: "What would you do if money was no object?"
This pointed and hyperbolic question asks us to dig into the deeper truth of what it is we really want and desire in life and also question the symbolic importance we place on the almighty abstraction of the dollar.
Watts urged his listeners to detach themselves from the notion of chasing money to satisfy our desires. Easier said than done of course — but in typical koan fashion, Watts manages to show us that when we instead seek something less material and more spiritually fulfilling, the money part won't become an issue in the end.
What would you do if money was no object?
The gist of Watt's speech is as follows:
"So I always ask the question, 'what would you like to do if money were no object? How would you really enjoy spending your life?' Well, it's so amazing as a result of our kind of educational system, crowds of students say well, we'd like to be painters, we'd like to be poets, we'd like to be writers, but as everybody knows you can't earn any money that way…
Let's go through with it. What do you want to do? When we finally got down to something, which the individual says he really wants to do, I will say to him, you do that and forget the money, because, if you say that getting the money is the most important thing, you will spend your life completely wasting your time… To structure your existence with an objective of monetary gain is to spend a lifetime chasing an abstraction.
... And after all, if you do really like what you're doing, it doesn't matter what it is, you can eventually turn it — you could eventually become a master of it. It's the only way to become a master of something, to be really with it. And then you'll be able to get a good fee for whatever it is. So don't worry too much..."
Now money is a fundamental fact of our current constructed reality, even Alan Watts understood that. Barter, exchange, value, currency and what have you – there is absolutely no feasible way around it. So leave your pipe dreams and utopian visions at the door, just entertain the question at face value for now. It's probing for something much deeper than some cheap ideological economic fix.
Alan Watts on being paid for his work
Alan Watts on money, possessions and lifestyle www.youtube.com
Pontificating on this issue in any regard is risky business as inherent contradictory and seemingly hypocritical charges are bound to be directed at its speaker.

Watts rightfully so, silenced any criticism for any monetary gain he received for his work. After all, he knew that he was playing the society game and needed to make a living for himself. Watts was a philosopher and quite good at what he did.
This line of questioning would lead to Watts making an important distinction on the nature of differentiating between money and wealth. On a personal level, he understood what wealth was to him and the limits of a human's capacity to experience luxury and excess:
"There are limits to the real wealth that any individual can consume... We cannot drive four cars at once, live simultaneously in six homes, take three tours at the same time, or devour 12 roasts of beef at one meal."
Does It Matter? Essays on Man's Relation to Materiality
Watts explored the issue deeper in his anthology Does It Matter? Essays on Man's Relation to Materiality. In the essay "Wealth Versus Money," Watts remarked on the inability for humankind to distinguish between the merely symbolic and the true.

All too easily, we confuse the world as we symbolize it with the world as it is...
He looks into our simple confusion between money and wealth:
"Money is a way of measuring wealth but is not wealth in itself. A chest of gold coins or a fat wallet of bills is of no use whatsoever to a wrecked sailor alone on a raft. He needs real wealth, in the form of a fishing rod, a compass, an outboard motor with gas, and a female companion.
But this ingrained and archaic confusion of money with wealth is now the main reason we are not going ahead full tilt with the development of our technological genius for the production of more than adequate food, clothing, housing, and utilities for every person on earth."
This type of symbolic thinking manifests itself in all outlets of the physical world. In his essay, Watts makes a point about the how the fundamental confusion between money and wealth leads us to preposterous positions. He used the Great Depression as an example.
"Remember the Great Depression of the '30s? One day there was a flourishing consumer economy, with everyone on the up-and-up; and the next, unemployment, poverty, and bread lines,
What happened? The physical resources of the country the brain, brawn, and raw materials were in no way depleted, but there was a sudden absence of money, a so-called financial slump…
Complex reasons for this kind of disaster can be elaborated at length by experts on banking and high finance who cannot see the forest for the trees..."
Watts makes no claim of being an economic or financial expert. Those to him are mere surface roles muddying the waters at the core of this issue he's trying to broach. Watts likens the absurdity to a man coming to work on the building of a house, the morning of the Depression and the boss saying to him:

Sorry, baby, but we can't build today. No inches.

Watts realized that there was going to be and will always be harsh resistance to this type of idea or rather awareness of the symbolic:
"What wasn't understood then, and still isn't really understood today, is that the reality of money is of the same type as the reality of centimeters, grams, hours, or lines of longitude. Money is a way of measuring wealth but is not wealth in itself.
It is not going to be at all easy to explain this to the world at large, because mankind has existed for perhaps one million years with relative material scarcity, and it is now roughly a mere one hundred years since the beginning of the industrial revolution."
Now wait just a minute before flinging out those Communist manifestos and leading a riot down Billionaire's row. Regulation and taxation on this abstraction is not the answer.
"To try to correct this irresponsibility by passing laws would be wide of the point, for most of the law has as little relation to life as money to wealth. On the contrary, problems of this kind are aggravated rather than solved by the paperwork of politics and law.
What is necessary is at once simpler and more difficult: only that financiers, bankers, and stockholders must turn themselves into real people and ask themselves exactly what they want out of life — in the realization that this strictly practical and hard–nosed question might lead to far more delightful styles of living than those they now pursue. Quite simply and literally, they must come to their senses — for their own personal profit and pleasure."
So then we're brought back to the original question: what do I desire?
Have you heard the one about the U.S. Open and Yom Kippur? You're about to.
Darren Levine is the founding rabbi of Tamid, The Downtown Synagogue in New York City, which is guided by Positive Judaism. In an open letter earlier this year, Levine defined Positive Judaism as a spiritual life that "expands the mind, deepens personal character, strengthens community, improves the world, and adds joy and optimism to everyday living." Because of pop-culture stereotypes and the Jewish history persecution, people may not instantly think that Judaism and positivity are in sync, but Levine contents that joy and hope have been at the heart of the Jewish mindset for 3,000 years. You can choose to look at history with pessimism and negativity, says Levine, or you can instead find beauty in brokenness and turn it into jokes, positive emotion, and wisdom. "In the 21st century, it is the People that will or will not choose to be Jewish... Historical memory, Israel, the threat of anti-semitism and are not strong enough motivators for Jewish engagement. We need something new and serious and Positive Judaism is one new construct." Here, Levine shares a timely joke for Yom Kippur, and shares a teaching about hope and perspective.
Go back to school, Agora style. Philosophy can train us to respond to life's problems rather than merely react. One such training camp is coming to Baltimore.
Consider this: you know that your best friend's husband or wife is having an affair. Do you tell your best friend about the affair even if they don't ask you? And when you make the decision, do you consider the "ripple effect" of your actions? For example, who will be affected if you don't tell? How about if you do? What moral principle or virtue are you exercising in each case?
Similar cases and questions are being discussed in the classes of Dr. Fred Guy, Director of the Hoffberger Center for Professional Ethics and associate professor at the University of Baltimore. Guy's main goal is to inspire his students to think about philosophy and ethics and help them improve ethical decision making in their personal and professional lives. 
Recently, Guy has been thinking about the need for a similar type of education for adults, a philosophy camp that will challenge its participants with complex cases and force them to revisit and refine their moral principles.
"Adults are so busy and focused on so much other than ethical issues that we don't often stop to think coherently about what our moral principles really are. Or what we think of our own moral character. We just assume we're good people and let it go at that," he says.
But he has seen first-hand how transformative studying philosophy and examining our moral code can be. He remembers a policewoman in his ethics class who told him that had it not been for that class and his "Guide to Ethical Decision-Making," she may have killed a man over the weekend. The man was the uncle of her daughter and was guilty of molesting her. 
The idea for philosophy camp for grownups came to Guy after an op-ed piece he published in The Baltimore Sun describing his experience with a diverse group of 22 city teenagers who participated in the University of Baltimore's first Philosophy Camp. 
As he writes, "There was no particular reason why this post-millennial, Instagramming, Snapchatting generation would want to engage in serious conversations with each other." Yet they did, very successfully. A recent study has even shown the gains in confidence and academic performance that comes from teaching philosophy in schools.
He ended the article with a somewhat tongue-in-cheek challenge for adults to behave as well as those kids, and was surprised at the positive response he received. Now, he promises to make the Philosophy Camp for Adults a reality next summer at the University of Baltimore.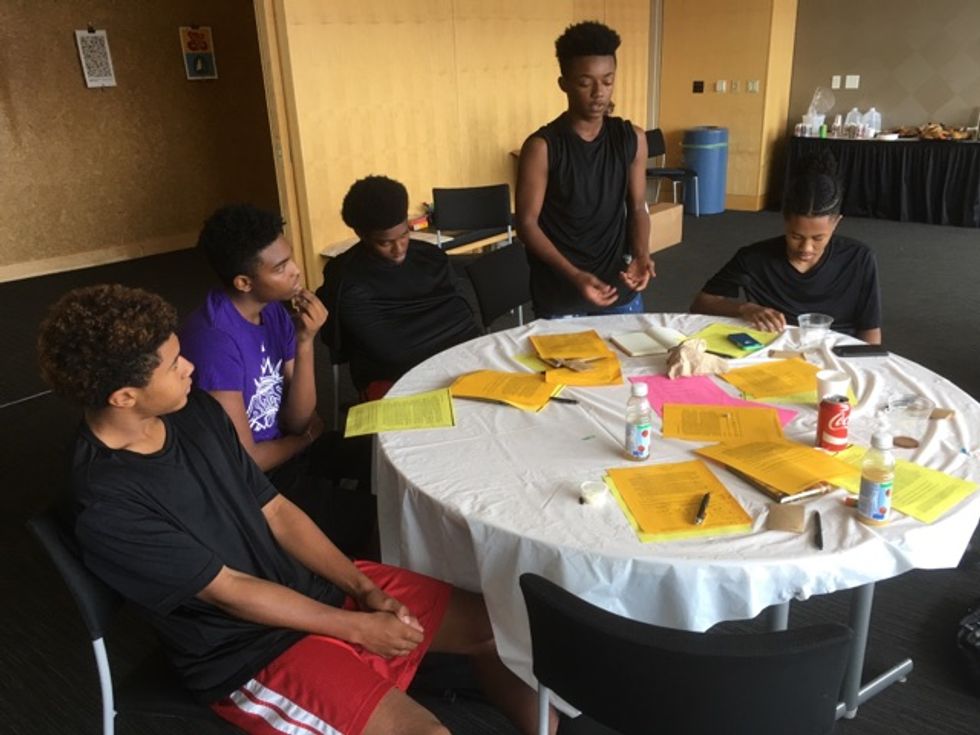 Participants in the first Philosophy Camp for Teens at the University of Baltimore / Photo Credit: University of Baltimore
We reached out to Dr. Guy to find out more about his idea, why we need such a camp, how it would work, and what kind of tips he can give us to become more ethical decision-makers ourselves.
BIG THINK: What are the main benefits of studying philosophy as an adult?
DR. FRED GUY: The benefits of studying philosophy as an adult are many. First, it opens the mind to a greater appreciation of what we don't know. Sounds paradoxical. But it's the start of wisdom. Knowing that we don't know and admitting it. In this process, we are more apt to leave behind some personal prejudices, biases, and pet theories that just can't be supported by good philosophical thinking. If we only get this response: "Oh, wow, I hadn't thought of it like that before," I'd say the camp would be a success.
BT: How would the camp work? What would you teach?
FG: I haven't figured out in detail how the camp would work, but I would imagine that we would follow the teen camp by dividing the week up into the major branches of philosophy or what we called the Big Questions: What is real? What can we know? What is good? And what is the best way to live? We may include: 'Is there a God?' with the adults. I think they would like that. These questions resulted in the major divisions in philosophy respectively: metaphysics, epistemology, ethics, political & social philosophy, and philosophy of religion. 
A couple of days ago marked the 50th anniversary of Louis Armstrong's 'What a Wonderful World'. We start with that. What gives you a sense of wonder? What gives you a feeling of awe? Are we so fixed in our daily routines that we can't appreciate the idea that our lives, the world around us, and existence itself is a great mystery? 
We would have exercises in wonder. Aristotle wrote that "Philosophy begins and ends in wonder." So we would certainly start with that. I think adults would get into this very quickly and find it refreshing: "Hey, it's ok to wonder and contemplate the beauty and mystery of it all."  
BT: Do you think that big companies would benefit from implementing such education for their employees?
FG: Yes, I think big companies could benefit from this kind of education. An obvious benefit would be thinking outside the box and actually challenging a company's "boxes" along the way. I also think it may encourage employees to think less linearly and more organically in planning ahead and being creative about their products and services. Knowing people is essential for most companies and philosophy is all about self-awareness, "know thyself" said the ancient Greeks and, "All things in moderation." 
Philosophy teaches self-discipline, especially the ancient Stoics and Buddhists. Leadership in corporations must reflect discipline and the primary virtues of moral character: courage, self-control (or temperance), practical wisdom and justice. Aristotle taught this in his Nicomachean Ethics. And the Stoics and Buddhists were all about knowing what is within our control and what is not, as well as the problems of becoming slaves to our desires and wants. This will fit a corporation as a whole or persons in a corporation. 
BT: It appears that adults have a relatively fixed moral code. What are the main mechanisms through which our moral frameworks change as we get older?
FG: I think the best way to approach adults with fairly fixed moral codes is to do what I do in my philosophy and ethics classes: Put them in positions from which they cannot escape without thinking. By this I mean challenge adults with ethics case scenarios that put them at the center of the issue and have them justify on moral principles the decisions they make in these scenarios. The adults will be what we call the primary moral agent, who is responsible for the ethical dilemma or problem. Or they may be the moral recipient, who is adversely or positively affected by another's actions. 
Most people just say things like, "Well, it seems to me to just be the right thing to do."  Or, "I wouldn't want to be treated that way, so I followed the Golden Rule."
[As adults] we often "back into" moral and ethical wrongdoing without noticing fully what we're doing. Or we justify a lie, a cheat, a theft on the basis of some greater good — e.g., family, finance, friendships, career goals. 
So, I would emphasize exercises in self-awareness of our moral character and what we stand for. I would especially challenge adults to justify their ethical decisions and actions.