Does money, even when borrowed, make us happier – or does the state of owing money add to our dissatisfaction and stress?
A man dressed as banker swims with a giant mock Swiss bank note during the 71st 'Coupe de Noel' Christmas swimming cup in Lake Geneva on december 14, 2008 in Geneva. (Photo credit: FABRICE COFFRINI/AFP/Getty Images)
Humans have long debated the adage 'Money can't buy you happiness.' Popular opinion suggests that, indeed, it cannot, but more recently researchers have challenged this notion. Based on extensive studies, investigators found that money, or income, can contribute to your happiness. In our capitalist society, income leads to increases in happiness to the extent that funds are required to attain the things that lead to happiness. By meeting needs for shelter or food, allowing the purchase of a home or groceries, or opening the window to experiences such as adventure or travel, money can increase our sense of satisfaction with life. 
But what about the relationship between debt and wellbeing? Does money, even when borrowed, make us happier – or does the state of owing money add to our dissatisfaction and stress? The 'IOU' is an ever-present and, at times, necessary evil that allows for a degree on the wall, a roof overhead, or a shiny car in the garage. Yet at what cost?
For my colleagues and I, the emotional impact of borrowing certainly merited study, given that 80 per cent of US households, and 70 per cent of college graduates, are currently in debt. A review of prior studies showed that stress from debt was two-pronged: it appeared to spill over and add to the psychological burden of life, but it was also a real drain on the actual resources required to pay off the debt.
To drill down deeper, our team analysed a large sample of college students and the impact of their student loans on subjective wellbeing. Much of what we found seemed self-evident: if a debt felt manageable, it was less damaging to an individual's sense of wellbeing than if the debt felt overwhelming. A person's sense of wellbeing varied with the source of the borrowed funds. Money borrowed from people or places charging less interest or offering more flexibility – subsidised student loans, for instance – results in less stress than money borrowed from financial institutions with exorbitant interest rates and no forgiveness policies. The emotional toll taken by debt varied with the degree to which an individual had other financial resources. A person whose debt was matched by investments or property had a security blanket to help them through. Especially important was the raison d'être for the loan. Debt undertaken for necessities, such as a home to live in, was less detrimental to one's wellbeing; debt undertaken for an irresponsible splurge on unnecessary home renovations was more stressful.
So, is education debt less upsetting because it leads to levels of attainment necessary for many careers? Only to a certain degree. Unsurprisingly, our analyses showed that student loans lead to greater financial worry, which has a detrimental effect on life satisfaction. But the more that education led to real income, the less anxiety the borrower felt. We found that as students continued to pay out their debt over the course of up to eight years, happiness was reliably boosted by income and diminished by debt, until the two balanced out.
Is there any benefit to such studies, which seem to bear out the obvious? We think so.
When considering the issue of whether debt or income have stronger effects on the sense of wellbeing, it is helpful to understand whether income is merely the opposite of debt. After all, if debt and income are two poles of a unidimensional continuum, then comparing their relative strengths will not be substantively meaningful. But our team found an interesting juxtaposition between debt and income, and a far more nuanced relationship between the two: debt levels can accrue regardless of income levels. In fact, individuals who have higher levels of income also have access to higher credit and can incur higher debt. On the other hand, individuals who are financially competent will likely have higher levels of income and lower levels of debt – and this leads to an inverse relation between the two and the sense of wellbeing they provoke.
What appears simple, therefore, is somewhat complex. Our findings emphasise that students shouldn't worry only about their credit scores when accruing large amounts of debt; erosion of the sense wellbeing and inner emotional life must be weighed as well. Students should understand, moreover, that not all debt has an equal impact. If you choose to carry some debt, a few considerations are key: only borrow what you can manage. Think hard about why you are borrowing the money and where it is coming from. And borrow only if you can back up the debt with income or other assets. If you consider these factors, then debt need not wipe that smile off your face.

Cassondra Batz
--
This article was originally published at Aeon and has been republished under Creative Commons.
In this new study, mindfulness-based intervention in schools did not move the needle on teen anxiety, depression, or body image problems.
Photo: Thomas Leuthard / Flickr
Mindfulness is big business. The buzzword dominates health blogs worldwide; the benefits of meditation, particularly in the mindfulness tradition, are championed broadly, often without question. But not everyone is convinced of its charms. While there are certainly many well-studied applications of mindfulness, it might not be the silver bullet—as a gateway to world peace; as a cognitive cure-all—it is sometimes marketed as. 
The first question we have to ask: Where is the bullet aimed? Context matters. Take this new study published in Behavior Research and Therapy. The research team, led by Catherine Johnson in the School of Psychology at Australia's Flinders University, wanted to know if mindfulness could help early adolescents reduce anxiety and depression, alleviate concerns about their weight, and improve their sense of wellbeing and everyday mindfulness. The team writes, 
Mindfulness presents as a promising transdiagnostic approach for mental health disorders, given its potential to counteract a number of shared risk factors for anxiety, depression and eating disorders. Robust evidence exists in adults for the benefits of mindfulness-based interventions (MBIs) across this group of pathologies. More recently, MBIs have been enthusiastically embraced in schools and are widely disseminated, but there are insufficient methodologically robust studies to make definitive conclusions about efficacy.
For this study 378 teens (average age: 13) from four Australian schools took part in weekly mindfulness training sessions (or not), ranging from 40 to 60 minutes in length. Just over half of the students practiced evening sessions with their parents and watched Youtube training clips. The control group did not partake in this training. The mindfulness group was also aided by teachers and course curriculum to keep their minds trained on the goal. 
The biggest hurdle in understanding this practice is defining the term. Mindfulness has become so much a part of mainstream culture as to be cliche—as I've previously written, can a distraction technology like Google really preach the mindful gospel? Most likely not. Thus you have a misunderstanding of the goals of the practice. 
For our purposes, let's pull from experts. In their new book, Altered Traits, two pioneering American meditation leaders, Daniel Goleman and Richard J Davidson, treat mindfulness as "an alert but nonreactive stance in attention." 
A mindfulness discipline entails observing everything in your environment—thoughts, physical sensations, sounds—without reacting to any of them. This requires an ability, one which develops over time with practice, to not immediately construct a story to the stimulation around you, including stimulation arising from your own thoughts. Imagine watching passerby on the street: you see them come, they walk by, they go. Once gone you attend to the next sensation. 
This isn't how our brains normally operate. We're constantly swayed by stimulation; we create narratives from incomplete evidence. All is not lost, as this cognitive feature allows for the invention of our incredibly rich mythological traditions. Our imagination is the root of religious storytelling as well as the reason marketing works: we're pulled into the story the product supposedly represents. Most of our days are spent quietly imagining life, carving into our mental space future desires and fears.
Mindfulness is a discipline of observation without reaction. It's not a passive endeavor, mind you: traditions that practice it develop their own moral correlates. But it is designed for self-knowledge as well as liberation from the innumerable prisons our thoughts construct. This is why context matters: if you're meditating to achieve liberation, you'll approach mindfulness in a particular way, with specific goals. 
The way Johnson and team approached it was different. They were investigating body image, anxiety, depression, and "wellbeing," another ambiguous, subjective term. In every case her research did not find that mindfulness was helpful for young teens. 
Which is important data. The researchers note a number of potential factors: the kids haven't had enough life experiences; they might not have spent the right amount of time practicing; compliance rates for home practice were not closely monitored; the optimal age to begin such a program might be later—or earlier. All of these factors will likely be taken into consideration moving forward and, indeed, more research should be conducted. 
We just need to apply realistic goals for our meditation practice. Self-knowledge and body image problems are not necessarily part of the same neurological networks. As Goleman and Davidson write, meditation should not be considered one thing but rather a series of different practices with varying effects of brain networks. Only one type of mindfulness was practiced in this study. It might not have been the right one for the intended results. 
Which is why Altered Traits is such a valuable book, and why research like this study is also consequential: mindfulness is not a one-size-fits-all therapy conducive for a variety of psychological ailments. We're still at the beginning of the exciting field of scientific research in meditation. Being realistic about what mindfulness is and is not useful for is critical as we collectively learn the best means for examining the optimal functioning of our our minds. 
--
Derek is the author of Whole Motion: Training Your Brain and Body For Optimal Health. Based in Los Angeles, he is working on a new book about spiritual consumerism. Stay in touch on Facebook and Twitter.
The world economy is often measured in terms of money, but is this the best method?
Is this enough to judge an economy by?
"The economy stupid". These words skyrocketed James Carville to political fame and helped to elect Bill Clinton in the 1990s. The state of the economy is one of the most important questions there is economically, politically, and socially, and how well the economy is doing is often listed as the most pressing issue for the public in opinion polls.
But, how do we measure the overall state of the economy?
The most common method of measuring an economy as a whole is by means of GDP, or Gross Domestic Product. GDP is simply the total value of all goods and services produced in a country in a given period of time, most often a year. Brought to the forefront of global economics in 1944 by the Bretton Woods Conference, it continues to be the primary means of measuring a country's economic health.
It is a very general measure, often difficult to make, that can be interpreted in many ways. It is extremely useful when you are trying to grasp a lot of information in a single figure, like how exports and imports affect an economy, how two countries compare in overall wealth, and so on.
Here is a map of the world colored by GDP. You can see China and the United States are far richer than most other countries, that nations in the south are often poorer than those in the north, and smaller nations generally have less money than their larger neighbors as well.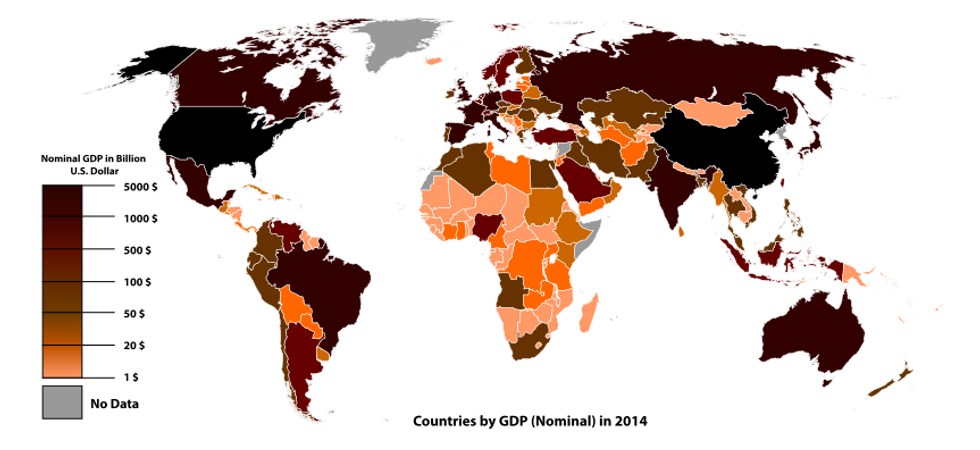 Is this everything there is to see?

Well, no, and there lies the problem. Here is a map of GDP per person in any given country.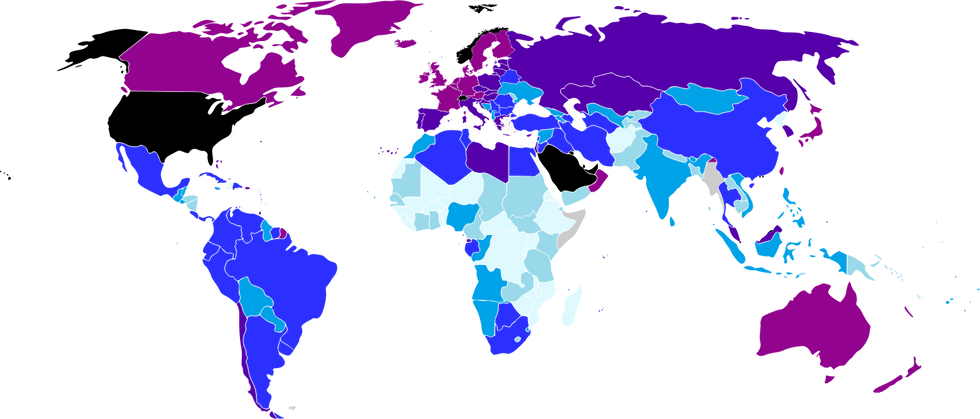 In this image, the darker the color, the higher the GDP per person, black being highest. Light blue is the lowest end of the scale. Notice the changes in apparent wealth in Asia.
As you can see, the values change a lot. China, the second richest nation in the world, becomes a middle-tier country on this map, while little Luxembourg in Europe, which has less money than Warren Buffet, has a remarkably high GDP per capita, showing that its population is better off, on average, than most other countries in the world.
Neither of these maps, however, show us the actual distribution of wealth. It is possible in both maps for one person in each country to have all of the money to themselves. This is another failure of GDP: it tells us only the general facts about how much money there is, and little more.
Are there any alternative measures to use, ones that might give us a better picture?
There are a slew of alternative measures for a nation's welfare and economic health that give more detail than GDP or GDP per capita does. One of the more interesting is the Capability Approach pioneered by Indian economist and philosopher Amartya Sen.
This method is focused on the "capability" of individuals to "to achieve outcomes that they value and have reason to value", including "the ability to live to old age, engage in economic transactions, or participate in political activities".
This method is put to use in the Human Development Index, based on data compiled by the United Nations, which measures a cross section of societal details such as education opportunities, healthcare access, and expected wealth, to give us an idea of the welfare of the individuals in a given nation. Here is the world map for HDI.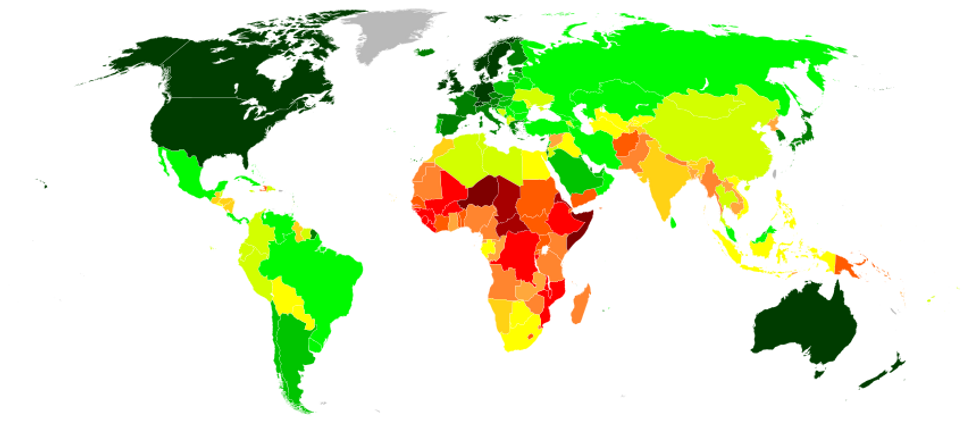 The darker the green, the better the HDI, and the higher the welfare for a typical citizen. Red and yellow, not so much. Credit to wikicommons.
Again, this index can suffer from generalization. There does exist, however, a corrective version of this for inequality, termed IHDI (Inequality-adjusted Human Development Index). By the UN's definition, "the difference between the IHDI and HDI is the human development cost of inequality, also termed – the loss to human development due to inequality." Shown here: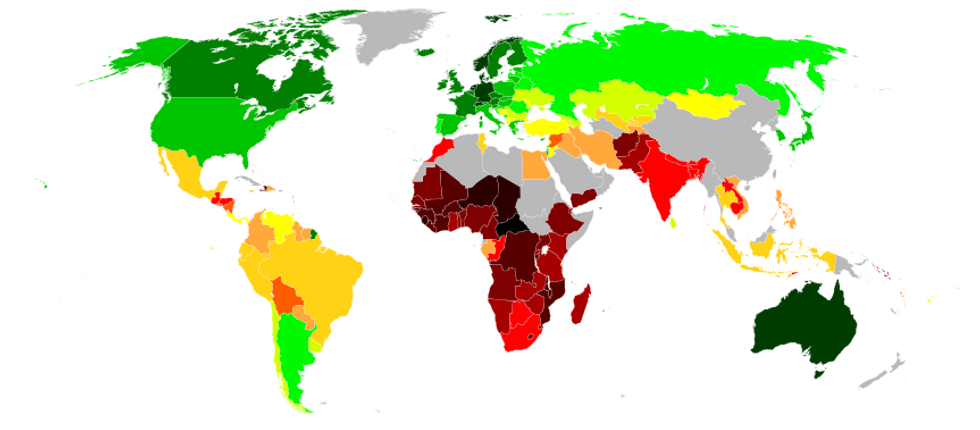 The darker the green, the better the IHDI. Red and yellow, not so much. Credit to wikicommons. As you can see, the benefits of development are not evenly shared across the world.
This measure attempts to make up for the failures that GDP can have in measuring how strong an economy is, by trying to tell us how well off the people in a country actually are. There is a great deal left out if one focuses only on how much wealth a nation produces. Perhaps Robert F. Kennedy said it best about the predecessor to GDP, when he described the shortcomings of GNP.
"Gross national product counts air pollution and cigarette advertising, and ambulances to clear our highways of carnage. It counts special locks for our doors and the jails for the people who break them.  It counts the destruction of the redwood and the loss of our natural wonder in chaotic sprawl. It counts napalm and counts nuclear warheads and armored cars for the police to fight the riots in our cities.  It counts Whitman's rifle and Speck's knife, and the television programs which glorify violence in order to sell toys to our children. Yet the gross national product does not allow for the health of our children, the quality of their education or the joy of their play. It does not include the beauty of our poetry or the strength of our marriages, the intelligence of our public debate or the integrity of our public officials… it measures everything in short, except that which makes life worthwhile."
The key problem of our key economic indicator is that it can only measure money. This is a useful tool, but not the only one. Is it time to switch the world's major countries over to a system that relies on HDI or IHDI? Is there a better option than that? Or is our current tendency to report GDP as the most important statistic fine as it is?