In the 1970s, the Australian moral philosopher Peter Singer began to argue that it is ethical to give parents the option to euthanise infants with disabilities.
Peter Singer at the Effective Altruism Global conference in Melbourne 15 August 2015.
In the 1970s, the Australian moral philosopher Peter Singer, perhaps best-known for his book Animal Liberation (1975), began to argue that it is ethical to give parents the option (in consultation with doctors) to euthanise infants with disabilities. He mostly, but not exclusively, discussed severe forms of disabilities such as spina bifida or anencephaly. In Practical Ethics (1979), Singer explains that the value of a life should be based on traits such as rationality, autonomy and self-consciousness. 'Defective infants lack these characteristics,' he wrote. 'Killing them, therefore, cannot be equated with killing normal human beings, or any other self-conscious beings.'
The thought of killing disabled babies is especially dangerous because the concept of disability often functions as a mere cloak, thrown over much uglier hatreds. In 'Disability and the Justification of Inequality in American History' (2001), the historian Douglas Baynton points out that African-American enslavement was justified through disability models: there was a supposition that African Americans suffered from a number of medical conditions that were understood to make them unable to care for themselves. Until 1973, homosexuality was a psychological disorder justified in the Diagnostic and Statistical Manual of Mental Disorders; the current edition, the DSM-5, still considers transgender people disabled.
Singer generally frames severe physical disabilities through a medical lens. His ideas chafe against models of the disabled as a minority group. To Singer, severe disability is more a problem to be solved than a difference to be embraced and accommodated.
For years, I thought Singer was morally bankrupt. I grew up in a family with hereditary deafness, and though deafness is far from the type of disability that Singer was focusing on (with some arguing that it's not a disability at all), I still recognised an idea that the disability community has faced for centuries: that people with disabilities are fundamentally less entitled to their rights – even their lives. Singer's ideas stood in opposition to my core belief that the disabled body is created largely through a lack of accommodation, and that people with disabilities are different perhaps, but not less.
While most of Singer's other writings seemed so thoughtful, so compassionate, his writings on disabled children seemed to be approaching the slippery slope toward ethnocide – the intentional and systematic destruction of cultures, like the Deaf culture that my own family embraced. I had never been able to shake what he was saying about the disabled – and I wanted to know more: what he thought today; if his ideas had ever shifted; and, mostly, how he could believe so strongly in something that seemed so out of sync with his reverence for life.
This past winter, I reached out to Singer to learn more.
I was nervous to talk with him, even over the blurry, jumpy distance of Skype, but I had no reason to be. Though his ideas felt abrasive, even violent, to me, he took opposition with thoughtful consideration. And as we talked, I began to wonder if I hated his ideas because they poked at sore spots in my worldview, exposing its vulnerabilities.
Singer resists the idea that disability is mere difference; there is suffering involved, he says, and not only of the social variety. 'I don't think the idea that it's better to be able rather than disabled is in itself a prejudice,' he told me. 'To see that as akin to racism or sexism is a mistake.' He argues that if it weren't preferable to be able-bodied, we wouldn't have a problem with pregnant women taking drugs or drinking heavily, that avoiding disability would have to also be seen as prejudicial. It isn't, and Singer maintains that it shouldn't be.
Instead, Singer maintains that disability, unlike race or gender, comes with intrinsic suffering – sometimes great enough that it is more compassionate to end the lives of infants than to force them to live in pain. Over the years since he first began discussing this proposal, Singer has had to contend with studies showing that quality-of-life assessments of people with disabilities are not that different from those of able-bodied people – a fact that could grossly undermine his argument of alleviating suffering. While he has found those studies compelling, he maintains that it's not fair to allow them to speak for those too severely disabled to respond to such a survey. (In general, he doesn't buy the idea that people with vastly different disabilities ought to be speaking to each other's experiences.)
Disturbingly, though he focuses mostly on severe disabilities, he also resists putting strict parameters around which disabilities would qualify for infanticide. 'Look,' he told me, 'I don't think it's for me to tell parents [that] if your child is like this you are to end the child's life, and if the child is like that you ought not to.' Instead, he considers how class, family, community, not to mention regional and national support, shape the potential life of the child.
Particularly surprising was how Singer's responses often revealed under-investigated issues in the disability movement's rhetoric: the idea that class and location could have tremendous impact on a parent's ability to raise a child with a disability, for instance, or that some are so disabled that they have no ability to speak to their own quality of life. The way that Singer's ideas are often engaged with exhibits an intellectual laziness that tosses these issues dangerously aside.
Singer has not focused on infanticide for decades, but his ideas still ache in the disability world, like a wound that won't heal. Singer is still deeply entrenched in questions about the hierarchy of lives, and his ideas about the inferiority of many people with disabilities – and the dangers that those ideas imply – are as pertinent today as they've ever been. The epidemic of spina bifida that spurred his arguments has now passed, but the larger questions he poses are still central to questions of prejudice and equality in the disability community. This makes it hard to sort through Singer. His arguments are built intricately and beautifully, like a perfect mathematics equation, but at their core beats a single assertion, one that is still too difficult to concede: that this group of human beings aren't really people. That's the pain that obscures the rest.

Katie Booth
--
This article was originally published at Aeon and has been republished under Creative Commons.
Many great minds have plenty of bad things to say about democracy, but what about the people who think it is great?
Pericles, the great Athenian leader, speaks of the greatness of liberty to the people of Athens.
Socrates had several issues with democracy, most of them stemming from events that took place during his lifetime in Athens. Some of the decisions made by the Athenian democracy were rather insane and made by a body politic that had no business trying to determine foreign policy. Socrates is depicted in Plato's Republic as favoring a totalitarian regime managed by iron-fisted philosopher kings, in which all citizens are raised to fit a particular role, the state regulates bedtime stories, and harmony between individual and society reigns supreme. 
His objections to democracy are countered in the works of John Stuart Mill, whose love of democracy is as great as Socrates' hatred of it.
John Stuart Mill was an English philosopher in the 19th century who is best known for his work on utilitarianism, though his writings span an incredible range of topics. His ideas on democracy, liberty, and the benefits of both are laid out in two of his works; On Liberty, and Considerations on Representative Government.
What does he have to tell us?
While Mill agrees that the unwashed masses should not have absolute power, in Considerations on Representative Government he argues for a giving the votes of the educated more weight than anybody else's; he counters Socrates' idea of the philosopher king with an observation on what happens to the citizens of a "good" despotism. Seeing the society they would rule as being:
"One man of superhuman mental activity managing the entire affairs of a mentally passive people. Their passivity is implied in the very idea of absolute power. The nation as a whole, and every individual composing it, are without any potential voice in their own destiny. They exercise no will in respect to their collective interests. All is decided for them by a will not their own, which it is legally a crime for them to disobey. What sort of human beings can be formed under such a regimen? What development can either their thinking or their active faculties attain under it?"
The population living in a despotic society would be reduced to unthinking drones who need only enough mental capacity to get their daily chores done. Only a democracy can produce citizens capable of enough cognitive power to maintain a democracy, argues Mill, by requiring them to use that mental ability. He notes with envy that while the typical English voter only had to be prepared to vote and serve on a jury, the typical Athenian had to be ready to serve in nearly any office that existed. Mill sees this as a mostly good thing, as it requires the Athenian to be more fully developed as a person in order to fill those roles.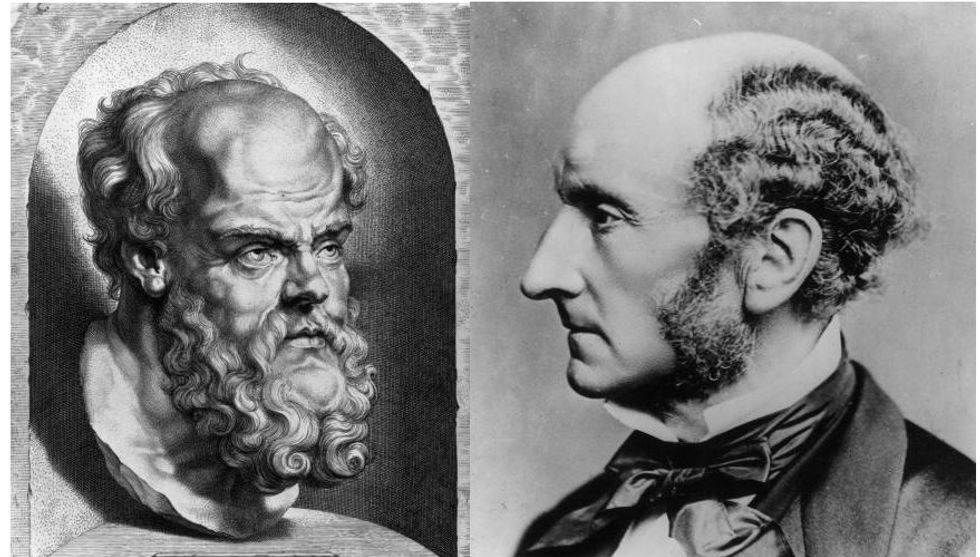 Could a Socrates have been produced in Sparta? Mill thinks not, despite Socrates' praise for the Spartan government. 
Democracy is great and all, but why is freedom good?
In On Liberty, Mill argues that we all need the freedom to choose our lifestyles. This is vital, as without this liberty people will be stifled and unable to explore new ideas, make discoveries, and fully develop as people. In a society where we must all follow the same religion, value the same things, and enjoy the same hobbies, individualism can never flourish. Mill sees this as a horrible situation, explaining that:
"It is only the cultivation of individuality which produces, or can produce, well developed human beings." and "In proportion to the development of his individuality, each person becomes more valuable to himself, and therefore capable of being more valuable to others."*
In Considerations on Representative Government, he notes that the best defense of liberty is an active population working inside of a democratic system. Mill allows us to connect the dots. Only a democratic government can safeguard freedom, and only a free society can hope to promote the development of the individual. The development of the individual is both good by itself and as a means to other ends. We, therefore, need democracy to help individualism and self-development to flourish and the world to progress.
But democracy can lead to such dangerous outcomes! Look to Athens and their mob!
Mill understands that people might make bad choices when they vote. However, he points out that the United Kingdom and the United States of the 19th century were doing rather well compared to the authoritarian states of Eastern Europe and Asia. He also reminded us that Athens, even with occasional lapses in judgment, produced much greater men than did any of the other Greek city-states. Liberty gives positive results, so it seems.
So, was Socrates just wrong about everything?
It is important to remember, however, that Mill was a progressive. He saw the march of history as moving ever forward and the ideal society as one that understood this progress was possible and promoted it. The ancient Greeks were interested in harmony, and in the Republic Plato built a utopia that would remain harmonious for the longest time possible. They even went so far as to define justice as harmony between parts of the whole, both for people and cities. The goals of Mill and Socrates differ considerably, and this must be remembered when comparing their worldviews.
Socrates offers us some excellent critiques of democracy. The problem of properly educating the voters, the threats of demagoguery, and the insistence that the people with direct power should be enlightened are all valuable insights. However, Mill shows us how democracy, flawed as it may be, offers us the best opportunity for growth as individuals and as a society. If, of course, we are willing to do what it takes to make democracy work.
*Mill was a utilitarian. He firmly believed that democracy and freedom lead to better outcomes and more happiness than tyranny. A common objection to utilitarian endorsements to democracy is that if it could be proven that oppression leads to better results, we would be morally obligated to institute that instead. Mill does dodge this problem, somewhat, by placing a high value on individualism. A high enough value, perhaps, to always make the math come down on the side of liberty. If this solves the problem or not is another issue. 
The philosopher believed we craved for something less pleasant.
Nietzsche, towards the end of his not entirely happy life.
Everybody wants to be happy, right? Who doesn't? Sure, you may not want to sacrifice everything for pleasure, but you certainly want to enjoy yourself. There are a slew of drugs on the market for solving the problems of depression, and the methods for achieving happiness are often sold and advertised as something you can get, and that which you desire above all else.
The pursuit of happiness is so integral to our idea of the good life that it was declared to be an inalienable right by Thomas Jefferson. It summarizes the American Dream like no other idea. For many people it is the meaning of life itself. It is difficult for some to fathom that there is a way of thinking that suggests you don't want to at least try to be as happy as you can be.
Well, there is one philosopher who doesn't think you want happiness in itself. Friedrich Nietzsche.
Nietzsche saw the mere pursuit of happiness, defined here as that which gives pleasure, as a dull waste of human life. Declaring: "Mankind does not strive for happiness; only the Englishman does", referencing the English philosophy of Utilitarianism, and its focus on total happiness. A philosophy which he rejected with his parable of the "Last Man," a pathetic being who lives in a time where mankind has "invented happiness".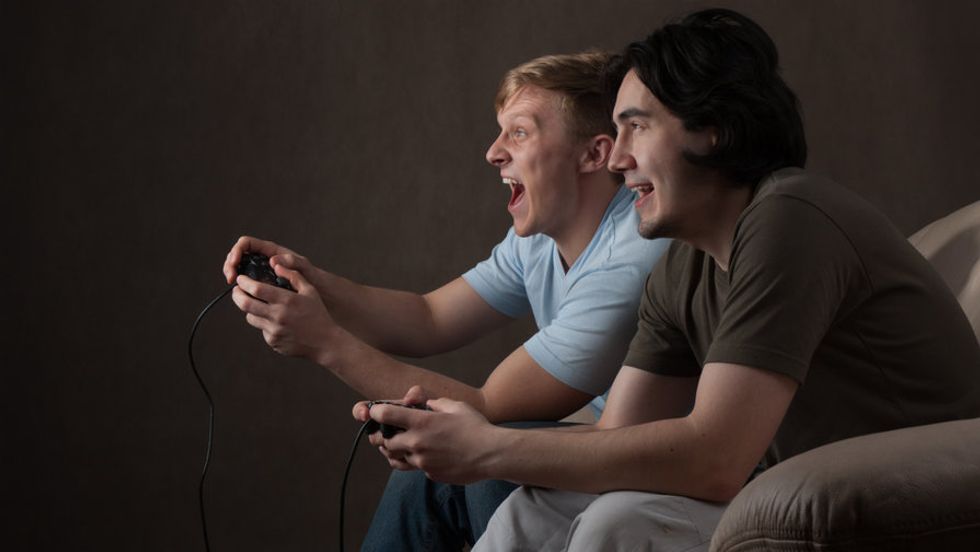 The Last Men? In Nietzsche's mind they were happy, but dull.

Nietzsche was instead dedicated to the idea of finding meaning in life. He suggested the Ubermensch, and his creation of meaning in life, as an alternative to the Last Man, and offered us the idea of people who were willing to undertake great suffering in the name of a goal they have set, as examples. Can we imagine that Michelangelo found painting the ceiling of the Sistine Chapel pleasant? Nikola Tesla declared that his celibacy was necessary to his work, but complained of his loneliness his entire life.
Is that happiness? If these great minds wanted happiness in itself, would they have done what they did?
No, says Nietzsche. They would not. Instead, they chose to pursue meaning, and found it. This is what people really want.
Psychology often agrees. Psychologist Victor Frankl suggested that the key to good living is to find meaning, going so far as to suggest positive meanings for the suffering of his patients to help them carry on. His ideas, published in the best-selling work Man's Search for Meaning, were inspired by his time at a concentration camp and his notes on how people suffering unimaginable horrors were able to carry on through meaning, rather than happiness.
There is also a question of Utilitarian math here for Nietzsche. In his mind, those who do great things suffer greatly. Those who do small things suffer trivially. In this case, if one was to try to do Utilitarian calculations it would be difficult, if not impossible, to find a scenario when the net happiness is very large. This is why the Last Man is so dull; the only things that grant him a large net payoff in happiness are rather dull affairs, not the suffering-inducing activities that we would find interesting.
This problem is called "the paradox of happiness." Activities which are done to directly increase pleasure are unlikely to have a high payoff. Nietzsche grasped this problem and gave it voice when he said that "Joy accompanies, joy does not move." A person who enjoys collecting stamps does not do it because it makes them happy, but because they find it interesting. The happiness is a side effect. A person who suffers for years making a masterpiece is not made happy by it, but rather finds joy in the beauty they create after the fact.
Of course, there is opposition to Nietzsche's idea. The great English thinker Bertrand Russell condemned Nietzsche in his masterpiece A History of Western Philosophy. Chief among his criticisms of Nietzsche was what he saw as a brutality and openness to suffering, and he compared Nietzschean ideas against those of the compassionate Buddha, envisioning Nietzsche shouting:
Why go about sniveling because trivial people suffer? Or, for that matter, because great men suffer? Trivial people suffer trivially, great men suffer greatly, and great sufferings are not to be regretted, because they are noble. Your ideal is a purely negative one, absence of suffering, which can be completely secured by non-existence. I, on the other hand, have positive ideals: I admire Alcibiades, and the Emperor Frederick II, and Napoleon. For the sake of such men, any misery is worthwhile.
Against this Russell contrasts the ideas of the Buddha, and suggests an impartial observer would always side with him. Russell, whose interpretations of Nietzsche were less than accurate and who suffered from having poor translations to work with, saw his philosophy as the stepping stone to fascism, and as being focused on pain.

So, while you may value something above happiness, how much are you willing to suffer to get it? Nietzsche argues that you will give it all up for a higher value. Others still disagree. Are you even able to pursue happiness and receive it? Or is Nietzsche correct that you must focus elsewhere, on meaning, in order to even hope for satisfaction later?
susan-david-on-our-unhealthy-obsession-with-happiness
Everybody wants to be happy, right? Who wouldn't try to get as many pleasurable experiences as they could? Well, if this philosopher is right. You wouldn't.
Can people living in a simulated reality, even a perfect one, be said to have a "good life"?
What is the key to the good life? Is it something we all want?  Everybody wants to be happy, right? But what is happiness? How do we get it?
That question has puzzled people for ages. But one answer that comes up often is pleasure. Of course, what "pleasure" means is another debate itself. For some philosophers, this is the only true good in life, all other things are only part of the good life as they give pleasure to the individual. Such an belief is referred to as Hedonism, and is as ancient as ideas come, with a history going back to the earliest civilizations.
After all, when we do something we enjoy, or otherwise encounter something good, does it not bring us pleasure? Sure, there are other things we might say we like: religion, virtue, beauty, or something else. But hedonists say these things are only good because they bring us pleasure. The only true good, and the vital key to a good human life; they say.
Hedonism is both scorned and loved, some view it as a poor way to live, marked by vice and indulgence. Others see it as the honest way of looking at things. Some, like Epicurus, were hedonists who viewed temperance and moderation as the keys to pleasure. And then there are those who just love pleasure, and seek to maximize the pleasure they experience however they can.
But if you agree with Hedonism, think about this.

Suppose tomorrow you were told that a new machine had been built: the experience machine. This machine is capable of generating a virtual reality for you; one so real you could not tell the difference between reality and fantasy. The machine is fail-safe, and will never suffer an error or a mechanical failure.
The only setting is to "paradise", and you would experience endless pleasure if you enter. No real experience could possibly compete with the machine in terms pleasure gained. All you need to do is sign a form or two, and get plugged into the machine. They can even preset the machine to give certain experiences, or to include certain people if you wish.
Do you get in?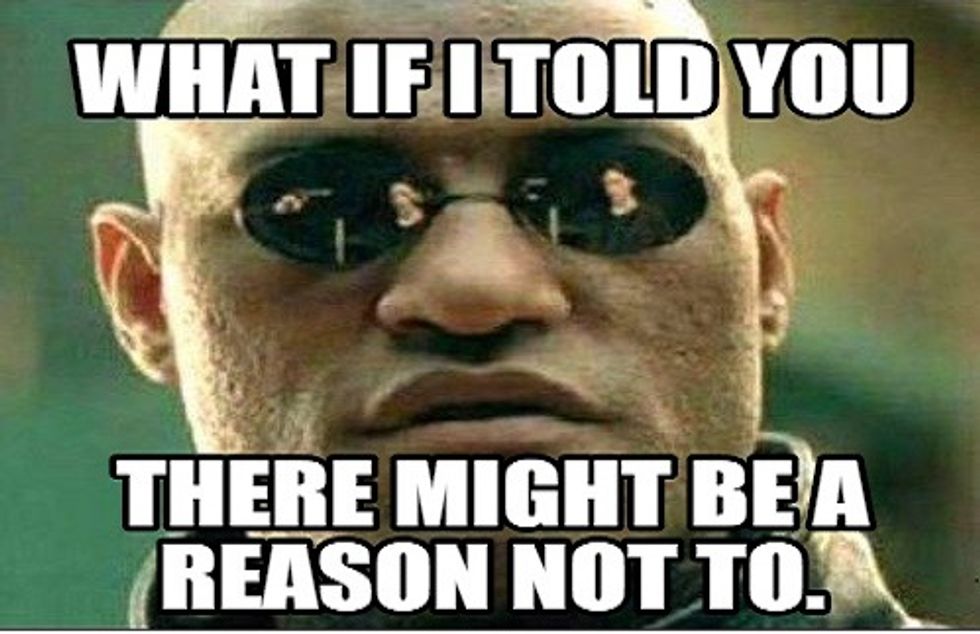 The author of the problem, American philosopher Robert Nozick, says you won't. Pointing out that most people value having experiences in reality, or that the person that gets in will only be thinking that they do anything, when in fact they are merely sitting down all the time. They instead desire to be a certain kind of person, which requires actually doing things.

Nozick claims that because we value something other than pleasure, evidenced by rational people deciding not to get into the machine, the idea that pleasure is the only good must be false.
Even if you suppose that we derive pleasure from the reality of something, remember: it can't compete with going into the machine. We must value it for its own sake rather than as a path to pleasure if we reject the machine. So much for Hedonism then, if we agree with Nozick.
However, some philosophers say we would, and should, get into the machine. The founder of Utilitarianism, Jeremy Bentham, believed firmly that there was only one good, pleasure, and one evil, which is pain. With his early version of utilitarianism, going into the machine becomes a no brainer. The math is clear. The fact that the experiences aren't real is no concern of his.
There are, of course, other ideas and experience to support and reject hedonistic ideas other than the machine. Aldous Huxley's Brave New World is often interpreted as a rejection of the Hedonistic Utopia, while Infinite Jest shows the absurdity of creating the perfect pleasure-causing film—people would do nothing but watch it to death.
In support of Hedonism, the first novel ever written, The Epic of Gilgamesh, has an argument for it, making this perhaps the oldest philosophy known. Some authors have even proposed moving civilization into a Matrioshka brain. If well built and placed, this would allow for a perfect world to be created in a computer simulation and run for trillions of years.
The idea of the experience machine makes us ask ourselves what we value. If we only value pleasure, then we should agree to go in. If don't want to get in, then we must value something else. Even the most devoted hedonists might pause to wonder if they value their pleasure being "real" before entering the machine. Those who suppose there are other valuable parts of a good life other than pleasure would have less trouble deciding.
So, ready to get in? Or would you rather suffer out here with us?