How does the largest welfare program imaginable have libertarian supporters?
The idea for a universal basic income, or UBI, is increasingly popular.
While it seems like a left-wing handout, many prominent right wing thinkers have endorsed the idea.
The libertarian version of UBI does have a few key differences from the more standard version.
We've all heard of it: basic income, the freedom dividend, the income guarantee, or any of the other names for the program that would give everybody a payment as a right of citizenship. Such plans have been discussed by American thinkers for at least two hundred years and have gained increasing attention and popularity in the modern age.
On the face of it, it seems like a rather left-wing concept. The idea of sending everybody a check each month for existing seems as Marxist as it gets. It also doesn't help that many of the best-known supporters of the idea are on the left. However, the idea's popularity isn't limited to red book clubs. There are right-wing supporters of the concept as well, among them was famous economist Milton Friedman.
The libertarian case for the basic income
For those who don't know, Milton Friedman was an economist working out of the University of Chicago during the middle part of the 20th century. A leading thinker behind monetarism, he favored tinkering with the economy through controlling the size of the money supply rather than through fiscal policy. Even people on the American center-left acknowledge his brilliance as they criticize his mistakes.
When it came to the problem of poverty, Friedman supported letting the free market and private charity have a chance to solve it first. However, he understood that dealing with it effectively at the large scale likely required at least some state intervention. As he explains in Capitalism and Freedom, its the free-rider problem that causes this:
It can be argued that private charity is insufficient because the benefits from it accrue to people other than those who make the gifts [...] I am distressed by the sight of poverty; I am benefited by its alleviation; but I am benefited equally whether I or someone else pays for its alleviation; the benefits of other people's charity therefore partly accrue to me. To put it differently, we might all of us be willing to contribute to the relief of poverty, provided everyone else did. We might not be willing to contribute the same amount without such assurance. In small communities, public pressure can suffice to realize the proviso even with private charity. In the large impersonal communities that are increasingly coming to dominate our society, it is much more difficult for it to do so.
He argued that this justified having the state take steps to reduce poverty, as it is harder to skip out on paying money to reduce poverty when that is tax fraud rather then miserliness. This didn't mean Friedman supported the welfare state though; he argued instead for a much simpler solution in the form of the negative income tax, or NIT.
In our current welfare system, there are a myriad of programs that each deal with a different aspect of life for the poor. One program provides food aid, another deals with housing, yet another provides low-cost utilities, and another one deals with income security for the elderly. A large number of regulations, such as minimum wage laws, exist to help hold wages high enough to keep other working people off the welfare rolls.
Friedman viewed this multitude of agencies as wasteful and suggested that a single program would do the same job with a smaller government by just giving cash to people who needed it. As a libertarian who placed a high value on the freedom of choice, he also suggested it was a much more dignified way of helping the poor than telling them what they could and could not do with the money we give them as is currently the case with things like food stamps.
How would it work?
The mechanism is relatively simple. Dr. Friedman explains it above in his interview on Firing Line.
For those who didn't watch the clip, it is easily explained. The income tax system is changed a bit to include an exemption based on family size. Only earned income above that point is taxed. If you make less than the exemption amount, you instead receive a subsidy.
The size of the subsidy would change based on how much you make and would also be subject to a subsidy rate. This means that if a person makes $1000 less than the exemption point, they would only get a certain percentage of that difference back as a subsidy. Friedman argued that the subsidy rate shouldn't any higher than 50 percent, as it would discourage work if it were raised past that point.
As an example, suppose we lived in a society where with an NIT where the exemption for me is $10,000, and the subsidy rate is 50 percent. If I were to only make $8000, I would pay no taxes and get back half of the $2000 difference between what I made and the exemption point, or $1000.
If I made exactly $10,000, I would neither pay taxes nor receive a subsidy. If I made more than that, I would start to pay income taxes on the income above that point. If I made absolutely nothing, I would get the largest subsidy possible under this system, $5000, which would be the "guaranteed" income under this arrangement.
Such a program would also have the advantage of not having a "welfare trap," the point where making more money at work causes welfare payments to go down by a larger amount and leaves the recipient worse off. The trap is a well-known problem and is bashed by many economists as a significant flaw that discourages people from trying to improve their situation.
The numbers used above were just for discussion; the exact numbers used in a working system would reflect economic realities. It should be said that Friedman intended to keep the guaranteed rate low enough to encourage people to still work while at the same time being high enough to correct for the failures of private charity.
Has it ever been tried?
Yes, it has, and it worked.
Several experiments in the 1970s in the United States and Canada showed that the negative income tax could work as intended. The guaranteed income was set as equal to the poverty threshold and, as predicted, the labor supply fell because of this.
This fall was not as significant as experts feared, however. The simultaneous rise in high school graduation rates suggests that at least part of this fall in labor supply was caused people having the economic security to stop working and finish their education. Claims that the program resulted in an increased divorce rate were initially reported but are now known to be the result of a statistical error.
What do others think of the NIT?
Criticism of the idea comes from two directions.
On the right, critics often object on a fundamental level to any redistribution or an income tax of any kind. Some who do support the NIT see it merely as the best version of a bad deal.
On the left, criticism tends to focus on either the mechanism of the NIT or on the details of Friedman's plan. Josh Martin, an executive committee member at the US Basic Income Guarantee Network, explained his objections this way:
A negative income tax and a universal basic income seek to achieve the same goal — to ensure an income floor for everyone. But, given the choice between the two, a UBI is preferable as it solidifies this income floor as a universal benefit, while an NIT would only provide the income floor to those who need it. This conditionality makes it easier for politicians and for people who don't receive the NIT to justify cutting the program as they don't receive the benefit personally.
This concern that a purely redistributive program will be subject to political difficulties later is a common one. It is part of the reason why regressive taxes on the poor fund Social Security — you can't attack it in the way Mr. Martin describes. A system of basic income that pays everybody a set amount each month is similarly protected; it's hard to cut a program everybody gets direct benefits from.
Universal basic income is an increasingly popular idea that will likely exist in some form someday. It enjoys support from every part of the political spectrum for various reasons. While the far left and the far right might disagree on why a universal basic income program is needed or what form it should take, the fact that they agree on the need for such a program is surprising enough to almost count as an endorsement in itself.
Should there be a ceiling to the ambitions of Silicon Valley? It seems like a decisive "no," according to the people who want to build new societies online, atop the ocean, and on Mars.
Artist rendering of SpaceX Mars colony
Richard Buckminster "Bucky" Fuller, an early 20th-century architect and visionary, believed it was possible to build floating cities called "Cloud Nines." The cities would be contained within geodesic domes — huge, spherical objects — and they'd be able to float by carefully adjusting the temperature of the interior air. Was it just fantasy? Perhaps. Even though he patented some of the technology and claimed in earnest that building such cities was possible, construction never broke ground (or air).
But what if "Bucky" had access to the Silicon Valley of today — to its startup accelerators, angel investors, and relentless drive to optimize? Could he at least have gotten a decent Kickstarter off the ground?
Today, similarly ambitious plans to transform societies are being dreamt up in Silicon Valley. The main difference is that the gap between fantasy and reality is closing, faster than you may realize.
Mars Colony
SpaceX founder Elon Musk said in September that he wants to render all of his company's vehicles — the Falcon 9, the Falcon Heavy, and the Dragon spacecraft — obsolete. Why? So he can build the BFR (Big Fucking Rocket), more politely known as Interplanetary Transport System.
"All our resources will turn toward building BFR," Musk said at the International Astronautical Congress. "And we believe we can do this with the revenue we receive from launching satellites and servicing the space station."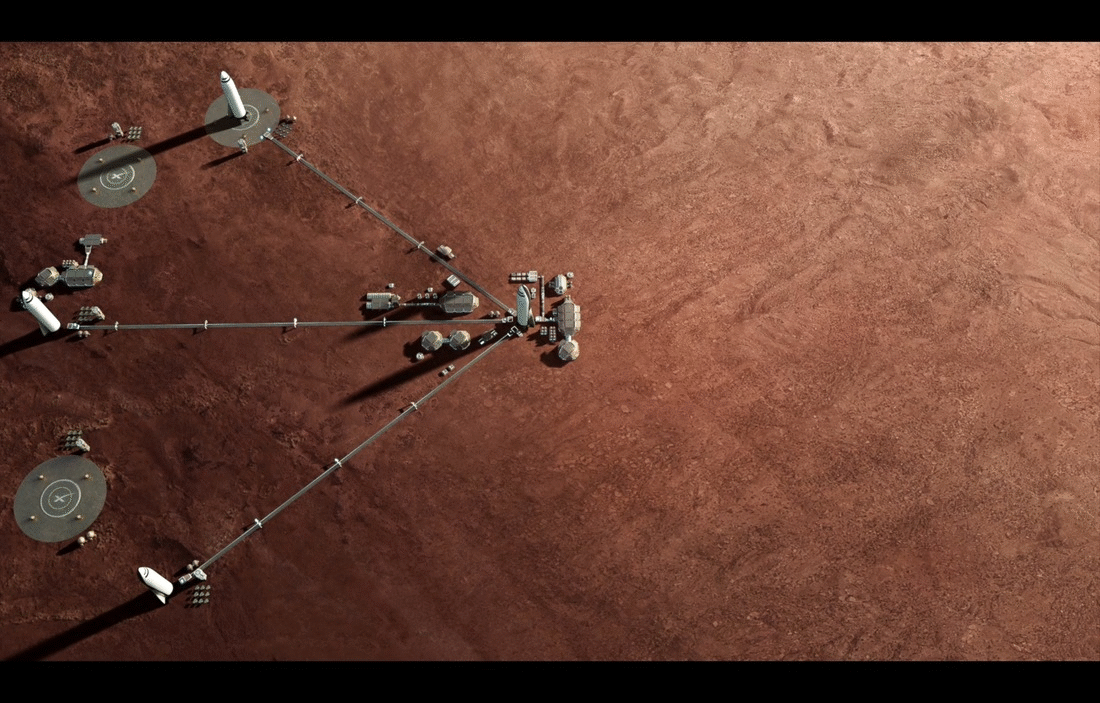 Artist's rendering of Mars colony for SpaceX
The BFR is intended to transport people to mars, where Musk hopes to build a permanent colony of more than 1 million inhabitants. He thinks the red planet could serve as a "backup drive" for Earth at the cost of $100,000 or $200,000 per person, all of whom would live in an (almost) self-sustaining city.
But exactly how people will survive there over the long term remains unclear. The main thing the SpaceX plan lacks, according to some spaceflight experts, is bioregenerative life support technology, which would take colonists' breath, liquid waste, and solid waste, and use plants to convert these into food, water, and air.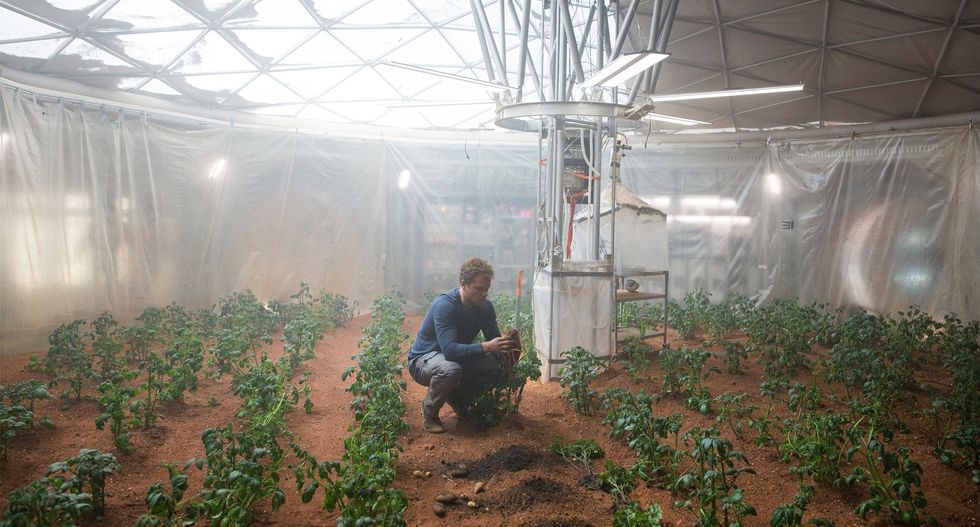 20th Century Fox's "The Martian"
SpaceX hopes to put people on Mars by 2024. But while you have to respect Musk's superhero-style goals, it's worth noting that SpaceX has a history of missing its own deadlines.
Opt-In Socieites
"Silicon Valley is both a place and an idea," said Netscape inventor Marc Andreessen.
Imagine if that idea — along with its institution-busting creations like Bitcoin and Uber — spread around the world and gave rise to new Silicon Valleys, creating online societies composed of and run by those with technological know-how.
Don't argue about regulation
Build Uber
Don't argue about monetary policy
Build Bitcoin
Don't argue about it
Build the alternative —@balajis pic.twitter.com/k1FhUtkpou
— Vala Afshar (@ValaAfshar) August 22, 2017
Smart Cities
By 2030, two thirds of the world will live in cities. Silicon Valley is anticipating that massive, creeping influx by looking into designing "smart cities" that would optimize everything from housing to transportation. 
Tech accelerator Y Combinator published a blog post detailing its smart city research project:
The first phase of this will be a YC Research project. We'll publicly share our results, and at the end of the process, we'll decide if it's something we should pursue and at what exact locations. We're seriously interested in building new cities and we think we know how to finance it if everything else makes sense.
The post went on to list the tactical questions that need to be answered:
How can we make and keep housing affordable? This is critical to us; the cost of housing affects everything else in a city.
How can we lay out the public and private spaces (and roads) to make a great place to live? Can we figure out better zoning laws?
What is the right role for vehicles in a city? Should we have human-driven cars at all?
How can we have affordable high-speed transit to and from other cities?
How can we make rules and regulations that are comprehensive while also being easily understandable? Can we fit all rules for the city in 100 pages of text?
What effects will the new city have on the surrounding community?
Some features of a smart city include fleets of driver-less cars (meaning no traffic jams or huge, expensive parking garages), seamless security through facial recognition, interconnected hospitals with shared patient records, and public broadband, to name just a few possibilities. 
It'd be a massive undertaking. But given that many cities worldwide are threatened by environmental changes, some might benefit from having Silicon Valley put its city-planning ideas to the test, as Ariel Schwartz writes for Business Insider:
So many of the world's greatest existing cities will have to consider moving inland in the coming years as they're overtaken by water. There will be so much room for new and better infrastructure to be built... Overly ambitious ideas are welcome.
Silicon Valley's New Socialism
Every robot added to the U.S. economy reduces employment by 5.6 workers, and each robot that is added to the workforce per 1,000 human workers causes wages to drop by as much as 0.25 to 0.5 percent, according to research published at the National Bureau of Economic Research.
In short, the robots are coming for our jobs and we haven't yet ironed out a plan for how we're going to accommodate all the displaced workers. One of the most discussed solutions is universal basic income (UBI), an economic plan that would guarantee every citizen a minimum income no matter what.
When I first began studying #basicincome I concluded we were going to need it tomorrow. With further study I realized we needed it yesterday pic.twitter.com/KcKUpIh5j2
— Scott Santens (@scottsantens) February 17, 2017
Can't the U.S. be a little more like Scandinavia in its ethos? Fixing inequality in America will take more than economic reform, it will also need a cultural shift.
From a human rights and decency standard, everybody in a society should be able to meet their basic needs, says economist and Columbia professor Jeffrey Sachs – but he questions whether a popular proposal known as Universal Basic Income (UBI) is the way to achieve a better standard of living in the U.S. At its simplest, UBI is an unconditional base salary that is paid to all citizens of a society, no matter their employment status, current wealth, attempts to gain work, and regardless of how they intent to spend it. Sachs sees the value in the idea, but isn't confident in the proposal's no-strings-attached nature – will some people coast for free off the hard work of others? A guaranteed basic income experiment known as 'Mincome' in Canada in the 1970s showed a just a 9% reduction in working hours among two main groups of citizens: new mothers, using their additional income to extend their maternity leaves and spend more time with their infants, and teenage boys who were using that income to stay in school. A new UBI trial is planned for 2017 in Ontario, and many nations await the results.
Sachs prefers a different strategy: social democracy, which requires a cultural reform in the U.S. alongside an economic reform. Sachs holds up the ethos of Northern European countries like the Netherlands, Denmark, Norway, Sweden, and Germany who have publicly financed healthcare and education. Free and equal skills for all, over free and equal money. The more egalitarian spirit operating in these countries would clash dramatically with the Wall Street 'winners and losers' mentality that dominates American economics. "That is what's degrading American society. Not just the technical issues. Not just the rising inequality but this spirit that you're a winner or you're a loser. And if you're a loser get out of the way. That's Ayn Rand talking. It's ugly and we've had enough of it."
Jeffrey Sachs's most recent book is Building the New American Economy: Smart, Fair, and Sustainable.
Universal Basic Income an expensive system to be sure, but social justice commentator Eva Cox argues that the societal returns will be worth the investment.
It's difficult to deny the attractive qualities a Universal Basic Income (UBI) holds. A radical policy such as this could right many of the inequalities that exist in our societies, says Eva Cox, a former program director of Social Inquiry at the University of Technology, Sydney.
"Brought together, it is clear that a Universal Basic Income (UBI), if implemented appropriately, could help address historic gender, race and material inequities," Cox wrote in an essay for the Green Institute, titled Why a Universal Basic Income Can Address Historic, Gender and Material Inequities (pdf).
She argues there's a bias in how we calculate the GDP, which does not account for many unpaid activities that contribute to the health of our society and economy. "My case for changing the paid work bias is based on wider traditions that recognize the value of widely diverse ways of living and contributing to the common good and personal wellbeing."
At its core, the purpose of a UBI is to create opportunity and freedom where it formerly never existed. It would help ease the frustration many factory workers in America's heartland are facing with the rise of automation and give those in poverty a chance for something better. This movement has a message centered around creating a fair start for everyone, and challenging misconceptions surrounding the very nature of work. It's an idea that has had promising outcomes for society in at least one past study. 
But many economists question its practicality. It's an expensive system to be sure, which is why many countries (the Netherlands, Finland, and Canada) are launching pilot programs to test how it might best be implemented and whether the return is worth the investment.
Cox argues that a UBI would not only recognize the unpaid contributions people already make through volunteer projects and societal demands, it could also encourage its expansion. "It would allow people to redirect some of their energies to unpaid roles, encourage creativity, enterprise and goodwill," writes Cox. She continues:
"If we accept officially that people are not essentially lazy or work-shy, we can change the current assumption that welfare payments need to be mean and stigmatising, with sexist and racist overtones. Removing requirements to search for paid work or prove incapacity, would enable many more people to feel value and return a sense of agency."
Universal Basic Income is an idea that has long been discussed by history's great thinkers, but is finally being tested. Whether its time has come is still being debated and trialled, but many hope it can narrow the inequality that causes so much societal tension. The proof of its worth will be in the data.
A universal basic income (UBI) policy could change how we evaluate the meaning and quality of work in our society.
Jennifer Anniston as TGI Fridays waitress 'Joanna' quits her job in the 1999 film 'Office Space'.
What is work? Clare Ozich, Executive Director of the Australian Institute of Employment Rights (and co-editor of the Green Agenda), considers how a universal basic income (UBI) policy could change how we evaluate the meaning of work in our society in her essay 'The emancipatory potential of a Universal Basic Income'.
Advocates of UBI believe by setting a standard of living through a yearly income for everyone—it would create a floor no one would fall beneath, eliminating poverty. How we implement it successfully is still being tested in countries around the world. (Studies are currently being planned or done in the Netherlands, Finland, and Canada.) But the challenge UBI presents is also a conduit to a larger discussion surrounding the nature of inequality within our society and how we might be able to fix it.
Ozich says the nature of work is changing. Automation is reducing employment in factories and threatens to make many workers unemployed in the next 25 years. It's important for governments across the world to start considering how we transition. One way is to reduce working hours, another is to redefine what we consider work.
There's so much more to a person than the day-job they perform. There's much work our society benefits from which is often unpaid. "I think the most exciting aspect of the debate on UBI is that it opens up a discussion about how we conceive of work; and what value we place on what forms of work," Ozich writes. "UBI forces us to think about these questions. One of the critiques of UBI is that it is giving people something for nothing. Is it really? Aren't there already multiple ways we all contribute to our society all the time outside the narrow concept of paid employment?"
Parenthood and child-rearing, as well as volunteer work, and the work and time we put into conservation are all forms of work that help our society in many ways, but we often value employment status—who signs your paycheck—higher than these after-hours projects we partake in.
Kathi Weeks, author of The Problem with Work: Feminism, Marxism, Antiwork Politics, and Postwork Imaginaries, describes what makes UBI so appealing:
"One of the reasons I am so attracted to the demand for a basic income is because of the way that it challenges some of the basic tenets of the work ethic—what I would describe as that cultural overvaluation of work that sings the praises of hard work as an inherent value, highest calling and individual moral obligation. This longstanding ethic of work remains a crucial ideological support for an economic system that accumulates great wealth for a few and lifetimes of poorly paid and all consuming waged work for the rest ... Where a strong work ethic is a key element of productivity, our willingness to call these values and modes of being into question is a potentially effective mode of rebellion."
A UBI could be an effective tool for people to use in order to ask for better working conditions and fair wages. It could act as a safety net so that the fear of job loss would no longer mute requests for better pay or hours, especially among society's most vulnerable workers. It's a movement that has a message centered around creating a fairer start for everyone, and challenging misconceptions surrounding the very nature of work. It's an idea which has had promising outcomes for society in at least one past study.
A study in Manitoba, Canada done back in the 1970s provides us with an idea of what a small community receiving basic income would look like. Many believe people would stop working if given a guaranteed wage and some did in Manitoba. But when Evelyn Forget, an economist and professor at the University of Manitoba, looked at why, she began to see how cyclical poverty could be.
There was a 9% reduction in working hours among two main groups of citizens. These people were new mothers, using their additional income to extend their maternity leaves and spend more time with their infants, and teenage boys were using that income to stay in school.
"When we interviewed people, we discovered that prior to the experiment, a lot of people from low-income families, a lot of boys in particular, were under a fair amount of family pressure to become self-supporting when they turned 16 and leave school," Forget told PRI in an interview. "When Mincome came along, those families decided that they could afford to keep their sons in high school just a little bit longer."
When you're looking for a better life, a little extra cash can go a long way. A UBI has the power to change many people's lives. However, time will tell if this radical new policy is feasible.