Nietzsche's ideas were used by the Nazi's to justify their atrocities, but did Nietzsche actually support Fascism?
Nietzsche, by Munch
If there was one philosopher the fascists of the mid-20th century loved, it was Nietzsche. He was so adored by them that Hitler gifted Mussolini the complete works of Nietzsche for his birthday. The Nietzschean ideals of anti-egalitarianism, the Superman, and the will to power inspired them to act, and millions died because of it. They adored his ideas, and anointed him as the prophet of their ideology.

And most of it was due to misunderstandings and willful changes.
Nietzsche's philosophy is purposefully difficult to read. His criticisms of the "Slave Morality" he credits the Jewish people with inventing can seem like an anti-Semitic rant from time to time. When in reality, he saw the Jews as a powerful people with a fine culture, his attacks are on their ideas: not on the people. His idea of the Superman was not a racial concept but rather a spiritual one.
He claimed that the Germans were great because of the "Polish blood in their veins", and saw German nationalism as a dangerous joke. He ended relationships over his disapproval of anti-Semitism, including ones with his sister and the composer Richard Wagner. After he went mad, he wrote letters urging the great powers of Europe to attack Germany before it was too late.

Then, how did he become the Nazi Philosopher?

How Nietzsche was hijacked is a curious story, and a powerful warning. It begins with his sister, Elizabeth Förster-Nietzsche. She was reportedly an unintelligent woman; when she asked philosopher Rudolf Steiner to help her understand her brother's philosophy he was forced to give up after several excruciating attempts to educate her. He sent so far as to write that she, "lacks any sense for fine, and even for crude, logical distinctions; her thinking is void of even the least logical consistency; and she lacks any sense of objectivity." Her husband was a famed anti-Semite who Friedrich couldn't stand.
She took over her brother's estate after his descent into madness. She was then able to selectively edit new versions of his works, and created the entire book The Will to Power with his unused notes, in a way as to emphasize the bits that fit in with her political ideology. She withheld his work Ecce Homo from publication for years as it had a great deal in it that would derail her attempts to frame him in her image. In conversation, she developed a remarkable ability to remember conversations with her brother that supported her ideology.
To put not too fine of a point on things, she even met Hitler in the early 1930s when he visited the Nietzsche museum she operated. Hitler attended her funeral in 1935.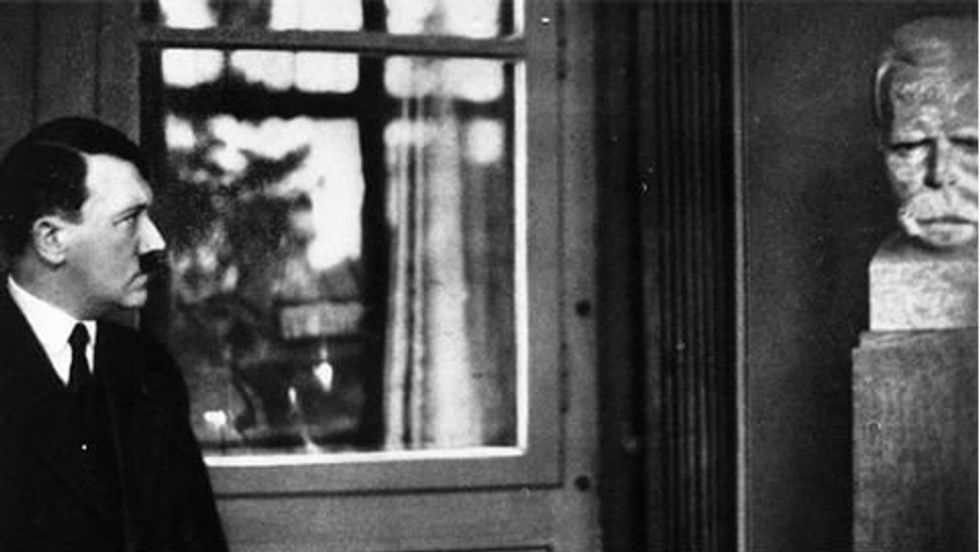 Adolf Hitler at the Nietzsche museum. 
How did Nietzsche get used by the Nazis?

Just as American politicians like to reference the ideas of dead American heroes like Washington and Jefferson, the Nazis sought great Germans to reference when justifying their new regime. Nietzsche, with the tweaks made to his philosophy by his sister, became the primary thinker for those Nazis looking to justify their beliefs with philosophy.
German universities taught Nietzsche as part of courses on the new order, references to soldiers being the Ubermensch were common, and the will to power was adopted by the Nazis as a key psychological insight. The philosopher Alfred Baeumler claimed Nietzsche had prophesied the rise of Hitler and fascism in Germany.
After the war, the warping of his ideas to suit the ideologies of his sister and later of the Nazis was corrected in large part due to the works of Jewish-American philosopher Walter Kaufmann. The notion that Nietzsche was a proto-fascist can be said to be long debunked.
So, Nietzsche was really a kind and nice philosopher who gave out candy to children?

To give the devils their due, Nietzsche did have incredibly reactionary views on women, viewing the ideal women as little more than a broodmare for potential Ubermenschen. This was a point where the fascists could just run with what they had. Similarly, Nietzsche did reject egalitarianism, democracy, and occasionally ventured into rhetoric that verged on "let's eat the poor". He was no saint, but he wasn't a Nazi either. If reading Nietzsche doesn't shock you, something went wrong.
Nietzsche's philosophy is easy to misunderstand and almost as easy to purposefully misinterpret. Even today, the far right is still using bad readings of it to justify their politics. Nietzsche was anti-nationalistic, considered the Jews worthy opponents, despised Christianity, and mass movements of all kinds; it takes a bad reading to consider him a goose-stepping fascist instead of the champion of individual genius that he was.
So, what does this mean for us today?

Almost any philosophy can be hijacked liked this. It's really not that hard. Examples come to mind without having to try. Every Marxist would claim that at least one of the communist regimes of the last century had twisted the philosophy in a way to promote selfish goals. Utilitarianism can be used to argue that every action imaginable is for the greater good. It might go without saying that the Bible has been used to justify pretty much everything; slavery, abolitionism, war, peace, and so on ad infinitum.
The real thing you should take away form this story is how easy it was to do it. Elizabeth Förster-Nietzsche was able to pull it off without understanding the ideas involved; all she had was the proper legal rights and some convenient events working for her. All of it happened despite Nietzsche's friends objecting to it, and people who had lectured on his works before he went mad did nothing. It could happen to any school of thought, and that should terrify you. Always make sure you get the full story before you make any decisions, philosophically speaking. 
The philosopher believed we craved for something less pleasant.
Nietzsche, towards the end of his not entirely happy life.
Everybody wants to be happy, right? Who doesn't? Sure, you may not want to sacrifice everything for pleasure, but you certainly want to enjoy yourself. There are a slew of drugs on the market for solving the problems of depression, and the methods for achieving happiness are often sold and advertised as something you can get, and that which you desire above all else.
The pursuit of happiness is so integral to our idea of the good life that it was declared to be an inalienable right by Thomas Jefferson. It summarizes the American Dream like no other idea. For many people it is the meaning of life itself. It is difficult for some to fathom that there is a way of thinking that suggests you don't want to at least try to be as happy as you can be.
Well, there is one philosopher who doesn't think you want happiness in itself. Friedrich Nietzsche.
Nietzsche saw the mere pursuit of happiness, defined here as that which gives pleasure, as a dull waste of human life. Declaring: "Mankind does not strive for happiness; only the Englishman does", referencing the English philosophy of Utilitarianism, and its focus on total happiness. A philosophy which he rejected with his parable of the "Last Man," a pathetic being who lives in a time where mankind has "invented happiness".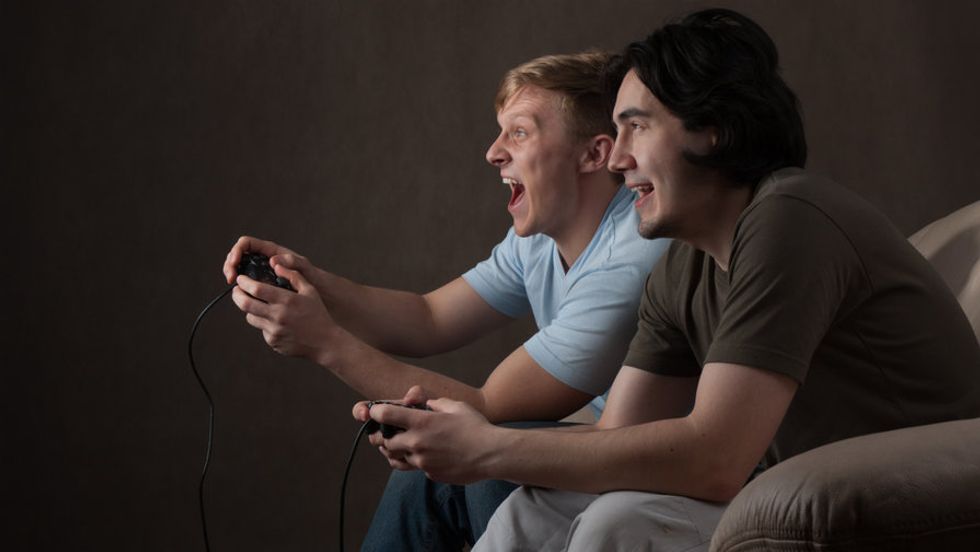 The Last Men? In Nietzsche's mind they were happy, but dull.

Nietzsche was instead dedicated to the idea of finding meaning in life. He suggested the Ubermensch, and his creation of meaning in life, as an alternative to the Last Man, and offered us the idea of people who were willing to undertake great suffering in the name of a goal they have set, as examples. Can we imagine that Michelangelo found painting the ceiling of the Sistine Chapel pleasant? Nikola Tesla declared that his celibacy was necessary to his work, but complained of his loneliness his entire life.
Is that happiness? If these great minds wanted happiness in itself, would they have done what they did?
No, says Nietzsche. They would not. Instead, they chose to pursue meaning, and found it. This is what people really want.
Psychology often agrees. Psychologist Victor Frankl suggested that the key to good living is to find meaning, going so far as to suggest positive meanings for the suffering of his patients to help them carry on. His ideas, published in the best-selling work Man's Search for Meaning, were inspired by his time at a concentration camp and his notes on how people suffering unimaginable horrors were able to carry on through meaning, rather than happiness.
There is also a question of Utilitarian math here for Nietzsche. In his mind, those who do great things suffer greatly. Those who do small things suffer trivially. In this case, if one was to try to do Utilitarian calculations it would be difficult, if not impossible, to find a scenario when the net happiness is very large. This is why the Last Man is so dull; the only things that grant him a large net payoff in happiness are rather dull affairs, not the suffering-inducing activities that we would find interesting.
This problem is called "the paradox of happiness." Activities which are done to directly increase pleasure are unlikely to have a high payoff. Nietzsche grasped this problem and gave it voice when he said that "Joy accompanies, joy does not move." A person who enjoys collecting stamps does not do it because it makes them happy, but because they find it interesting. The happiness is a side effect. A person who suffers for years making a masterpiece is not made happy by it, but rather finds joy in the beauty they create after the fact.
Of course, there is opposition to Nietzsche's idea. The great English thinker Bertrand Russell condemned Nietzsche in his masterpiece A History of Western Philosophy. Chief among his criticisms of Nietzsche was what he saw as a brutality and openness to suffering, and he compared Nietzschean ideas against those of the compassionate Buddha, envisioning Nietzsche shouting:
Why go about sniveling because trivial people suffer? Or, for that matter, because great men suffer? Trivial people suffer trivially, great men suffer greatly, and great sufferings are not to be regretted, because they are noble. Your ideal is a purely negative one, absence of suffering, which can be completely secured by non-existence. I, on the other hand, have positive ideals: I admire Alcibiades, and the Emperor Frederick II, and Napoleon. For the sake of such men, any misery is worthwhile.
Against this Russell contrasts the ideas of the Buddha, and suggests an impartial observer would always side with him. Russell, whose interpretations of Nietzsche were less than accurate and who suffered from having poor translations to work with, saw his philosophy as the stepping stone to fascism, and as being focused on pain.

So, while you may value something above happiness, how much are you willing to suffer to get it? Nietzsche argues that you will give it all up for a higher value. Others still disagree. Are you even able to pursue happiness and receive it? Or is Nietzsche correct that you must focus elsewhere, on meaning, in order to even hope for satisfaction later?
susan-david-on-our-unhealthy-obsession-with-happiness