Get ready for images projected in mid-air to start appearing in the next few years. 
Still from Blade Runner: 2049
Until now. Brigham Young University is developing a technology called an Optical Trap Display that will allow projected object to exist in real space. To do so, the base releases a tiny opaque particle into the air and moves the particle in a predetermined path, illuminating it with a laser. If the particle moves faster than a certain speed, it gives the illusion of a solid object. If you speed the particle up even further, it creates the illusion of movement. >Still confused? Me too, and I'm the guy writing this. One easy way to visualize this process is to think about how a 3D printer scans an object and "draws" the outline. Try to imagine a single opaque particle doing all the work, and you have the basic idea behind the technology.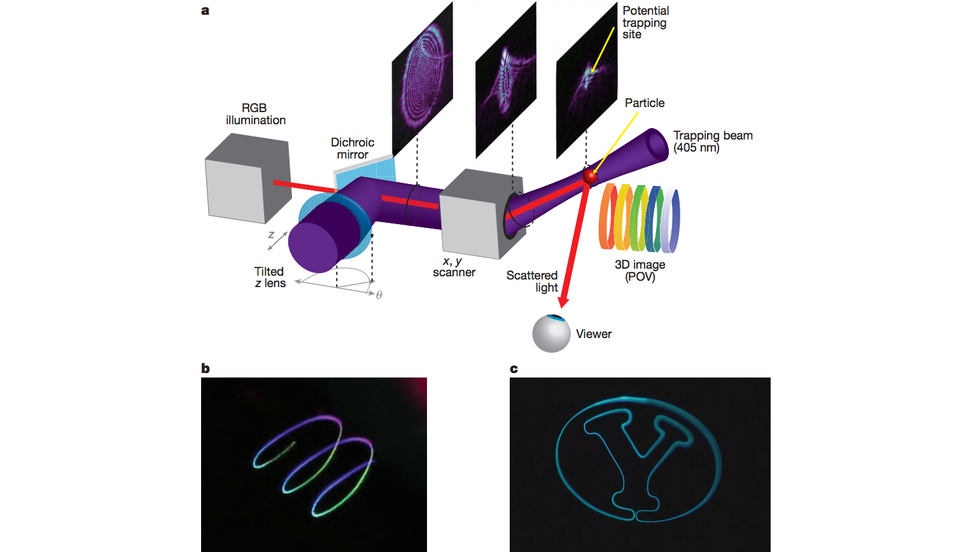 Image c/o Nature Journal
The good news? The tech is a lot more affordable than the elaborate set-up that bankrupted the Tupac hologram technology. The bad news? Right now, Brigham Young's holograms are about as big as your fingernail, according to Gizmodo.
This is still incredible news for futurists. Once this OTD technology progresses, perhaps we'll be able to see Blade Runner: 2049-style projections right on time in 2049.
Whether it's palm reading, climate denial, or straight-up illuminati finger pointing, people all around us – and including us – have world views that are inconsistent with evidence.
Denial comes in all flavors. Some think the moon landing was staged, some think Tupac is alive, and others reject vaccines. If the United States learnt anything in the 2016 election, it's that social bubbles need to be broken down — so how do you reason with someone who ignores evidence or bends it to fit their worldview? This has been on Bill Nye's mind more and more since climate change denial has become a political issue rather than a scientific one. People can't change their minds instantly when their beliefs are ingrained, so it's not a matter of convincing them on the spot. Nye suggests working together towards scientific understanding by tactfully pointing out that perhaps this person is rejecting evidence because the alternative makes them uncomfortable. Understanding is a process, not a flip switch. Bill Nye's most recent book is Unstoppable: Harnessing Science to Change the World.