Interactive globe shows where your hometown was at various stages of Earth's deep geological past.
If you love travelling, a pandemic like this is not the greatest of times.
But here's a way to go somewhere else without even leaving the house.
This interactive tool lets you travel up to 750 million years back in time.
Travels in the fourth dimension
Image: Ancient Earth Globe, reproduced with kind permission.
Berlin in deep time. Left to right: in the Neocene Period (20 million years ago), Berlin is on a vast plain that includes what would become the Baltic Sea; in the Devonian (400 million years ago), it's on the southern edge of a turtle-shaped continent; and in the Ordovician (470 million years ago), Berlin is on an island south of what was to become, many millions of years later, the Black Sea.
No matter where in the world you are, the virus continues to be out there somewhere, as keen as ever on making your acquaintance. The best policy remains: avoid contact with others, avoid unnecessary travel. In short: we're all stuck at home a whole lot more than we'd like to.
After the better part of a year spent under various forms of lockdowns and other restrictions, many are suffering from an increasingly itchy version of wanderlust – the urge to travel – and it's becoming harder and harder not to scratch.
Here's an interesting alternative: instead of traveling through space, why not stay put in the first three dimensions and travel through the fourth one instead? It's a trick performed to great acclaim by H.G. Wells in "The Time Machine."

The protagonist in Wells' 1895 novella travels to the terrifying future populated by Eloi and Morlocks and even further forward to the final days of Earth, without having to leave the laboratory attached to his house.
​750 million years into the past
Image: Ancient Earth Globe, reproduced with kind permission.
New York City through the ages. Left to right: Early Triassic (240 million years ago), in the middle of a megacontinent opposite future Morocco; Carboniferous (340 million years ago), still coastal, but mirrored – the ocean to the west, the land to the east; Late Ordovician (450 million years ago), near the tip of a very Long Island indeed.
And thanks to the Ancient Earth Globe, you can now travel 750 million years in the other direction, also without leaving your house. You don't even need a lab; just go to the interactive map built by paleontologist Ian Webster. Here's how it works.

Type in the name of your hometown.
Its coordinates are 'geolocked' onto the globe.
As you scroll through the past ages of the Earth, the continents shift shape and change place.
Watch the surroundings of your location modify accordingly. Now you're high up in the mountains. And now you're getting your feet wet in the middle of a nameless ocean.
There are several ways to navigate the deep past presented by the Ancient Earth Globe.
From the drop-down menu on top, you can pick one of 25 specific times, from zero to 750 million years ago.
Or pull one of 19 significant events from the menu on the right-hand side: the time of the first dinosaurs or the first flowers, the time of the supercontinents of Pangaea or Pannotia, the Jurassic or Cretaceous era.
Or you can time-travel casual style, by using the left and right arrows on your keyboard to flip through prehistory.
The map of the world isn't 'fixed'
Image: Ancient Earth Globe, reproduced with kind permission.
Time travel in Buenos Aires. Left to right: Late Jurassic (150 million years ago), glued to Southern Africa; Carboniferous (340 million years ago), in the middle of a giant bay; Silurian (430 million years ago), on the north shore of a large continent, facing a Hawaiian-like chain of islands.
The purpose of the Ancient Earth Globe is to provide its users with an appreciation of the dynamic nature of our planet's appearance. The map of the world that we experience as 'fixed' is anything but. The tectonic forces that shift, split and collide entire continents are constantly at work. Except that our lives are too short to really experience the changes they bring about.
But go back far enough into the past, and what's familiar becomes strange. Dry land transforms into ocean floor. Seaside towns move to the middle of strange continents. Cold climes turn tropical, and vice versa. Imagining such exotic pasts may not be the same as actually going there. But it sure beats watching the news in this Groundhog Day of a year.
Images from the Ancient Earth Globe reproduced with kind permission by Ian Webster
Strange Maps #1052
Got a strange map? Let me know at strangemaps@gmail.com.
Our experience of time may be blinding us to its true nature, say scientists.
Back to the Future.
Time may not be passing at all, says the Block Universe Theory.
Time travel may be possible.
Your perception of time is likely relative to you and limited.
We seem to perceive time as passing in one direction. After all, we can't just just forward to the future or revisit our past if we felt like it. Every minute of every day appears to move us ahead, pulling us through our lives towards an inexorable demise. At least that's what the conventional experience of time tells us. But what if your present, past, and future all existed already? Time, from that point of view, would not flow.
The block universe theory says that our universe may be looked at as a giant four-dimensional block of spacetime, containing all the things that ever happen, explained Dr. Kristie Miller, the joint director for the Centre for Time at the University of Sydney.
In the block universe, there is no "now" or present. All moments that exist are just relative to each other within the three spacial dimensions and one time dimension. Your sense of the present is just reflecting where in the block universe you are at that instance. The "past" is just a slice of the universe at an earlier location while the "future" is at a later location.
So, is time just an elaborate mind trick? And more importantly - is time travel possible?
Dr. Miller's answer to that is "yes". Of course, just hypothetically, since we'd need to figure out first how to travel at "some reasonable percentage of the speed of light". Going to the past would entail using wormholes, like "short cuts through space-time".
Block Universe diagram.Credit: ABC Science
Now, if you did manage to get back in time, you won't be able to change it. This is because your past is always simultaneously someone else's future. So if you travel to the past, you're just making that future the way it is. So don't worry about "grandfather paradoxes" - your time machine has already been incorporated into the scheme of things.
'If I travel to the past, I am part of the past," said Miller. "Importantly, I was always part of the past."
What's more - maybe the past has already been altered by time travelers. How would we be able to tell if it hasn't? "For all we know, the reason the past is the way it is, is in part due to the presence of time travelers," added Miller.

By that logic, what you do tomorrow will make it the way it is, with you fulfilling a certain destiny writ in time, which is in itself more of an illusion than a fundamental property of nature.
Certainly, with such claims, the block universe theory has its detractors. One big criticism is that the future shouldn't exist yet. Physicist Lee Smolin wrote that "The future is not now real and there can be no definite facts of the matter about the future." Furthermore, as he added at a 2017 conference, what is real is just "the process by which future events are generated out of present events."
Another negative of this idea is if the block universe is static, what is the point of anything? Can you have progress? Answering that is the "evolving block universe" model which sees the block of the universal space-time growing rather than staying the same. The surface of such a volume would represent the present moment. It's when "the indefiniteness of the future changes to the definiteness of the past," as described it cosmologist George Ellis. Under that model, the changing part would be the future.
While the debates are going to continue, the block universe theory is one of the most promising approaches that can reconcile the cosmological view of time with our everyday experience. What may be certain - time is much more than what it appears to be. Unraveling its mysteries is integral to understanding the human experience.
A new study challenges what we understand about the workings of time.
credit: Pixabay
Quantum physics has spawned its share of strange ideas and hard-to-grasp concepts - from Einstein's "spooky action at a distance" to the adventures of Shroedinger's cat. Now a new study lends support to another mind-bender - the idea of retrocausality, which basically proposes that the future can influence the past and the effect, in essence, happens before the cause.
At this point, retrocausality does not mean that you get to send signals from the future to the past - rather that an experimenter's measurement of a particle can influence the properties of that particle in the past, even before making their choice. 
The new paper argues that retrocausality could be a part of quantum theory. The scientists expound on the more traditionally accepted concept of time symmetry and show that if that is true, then so should be retrocausality. Time symmetry says that physical processes can run forward and backwards in time while being subject to the same physical laws.
The scientists describe an experiment where time symmetry would require processes to have the same probabilities, whether they go backwards or forward in time. But that would cause a contradiction if there was no retrocausality, as it requires these processes to have different probabilities. What the paper shows is that you can't have both concepts be true at the same time.
Eliminating time symmetry would also get rid of some other sticky problems of quantum physics, like Einstein's discomfort with entanglement which he described as "spooky action at a distance." He saw challenges to quantum theory in the idea that entangled or connected particles could instantly affect each other even at large distances. In fact, accepting retrocausality could allow for a reinterpretation of Bell tests that were used to show evidence of "spooky action". Instead, the tests could be supporting retrocausailty. 
The paper, published in the Proceedings of the Royal Society A, was authored by Matthew S. Leifer at Chapman University in California and Matthew F. Pusey at the Perimeter Institute for Theoretical Physics in Ontario. The scientists hope their work can lead towards a fuller understanding of quantum theory.
"The reason I think that retrocausality is worth investigating is that we now have a slew of no-go results about realist interpretations of quantum theory, including Bell's theorem, Kochen-Specker, and recent proofs of the reality of the quantum state," said Leifer to Phys.org. "These say that any interpretation that fits into the standard framework for realist interpretations must have features that I would regard as undesirable. Therefore, the only options seem to be to abandon realism or to break out of the standard realist framework."
Are we going to have time travel as a result of this? In one idea proposed by Richard Feynman, existence of retrocausality could mean that positrons, antimatter counterparts of electrons, would move backwards in time so that they could have a positive charge. If this was proven to be true, time travel could involve simply changing the direction of moving particles in the single dimension of time.
Leifer doesn't go as far as time travel in his explanation, but speculates that if retrocausality does exist in the universe, then there could be evidence of it in the cosmological data, saying that "there are certain eras, perhaps near the big bang, in which there is not a definite arrow of causality." 
Is this idea ready for the big time? It is supported by Huw Price, a philosophy professor at the University of Cambridge who focuses on the physics of time and is a leading advocate of retrocausality. Leifer and Pusey are taking things in stride, however, realizing that much more work needs to be done. 
"There is not, to my knowledge, a generally agreed upon interpretation of quantum theory that recovers the whole theory and exploits this idea. It is more of an idea for an interpretation at the moment, so I think that other physicists are rightly skeptical, and the onus is on us to flesh out the idea," said Leifer.
There are no experiments underway by the physicists to test their theory, but they hope this work will question the assumptions of quantum mechanics and lead to new discoveries down the line.
When it comes to time, and what the heck it actually is, there's a clash of ideas between physics and neuroscience.
If you're here to indulge in some mind-bending talk about time travel, neuroscientist Dean Buonomano is about to break some hearts. He doesn't think it's plausible—but if it were, there is one hypothesis of the universe in which it could theoretically happen. There are currently two main ideas about time: Presentism—the notion is that only the present is real: the past happened, the future will happen, but only the present exists—and Eternalism, in which the past, present, and future are all equally real. If you want to flux-capacitor your way back in time, you'll want to hope that Eternalism turns out to be the true theory. It's known to physicists as Block Universe, where all moments of the past, present, and future are already laid out in a continuum—there are places to travel to. "Under Presentism we can pretty much take the possibility of time travel off the table because there's no other moments to go to—only the present is real," says Buonomano.
While there is certainly no consensus in the physics community, Eternalism is the standard view. And here is where the conflict with neuroscience begins. Buonomano presents the mutually exclusive ideas of the nature of time within the two fields, and explains why the disciplines need to have a meeting of the minds. Dean Buonomano is the author of Your Brain Is a Time Machine: The Neuroscience and Physics of Time.
Astrophysicist Neil deGrasse Tyson explains the nature of time and the conundrums of time travel in a recent interview.
Fresh snow fallen on the clock park, a sculpture by artist Klaus Rinke made of 24 station clocks, in Duesseldorf, western Germany, on March 7, 2016. (Photo credit: MAJA HITIJ/AFP/Getty Images)
Astrophysicist and science educator Neil deGrasse Tyson gave a fascinating interview recently to Jake Roper of Vsauce3, where he talked at length about the nature of time and the possibility of time travel.
Tyson thinks the most dramatic impact on our current understanding of time came from Einstein's discovery of general relativity. Time stopped being a linear, necessarily sequential idea where "we are all participating in the same ticks of the clock," as Tyson says. With relativity, time became a more fluid concept, dependent on the observer.
Because of relativity, we learned that there is no "absolute time".
"Time is relative, so time can be stretched, for me relative to you. So, time has multiple, sort of, parallel rates at which it flows, depending on the state of who's making the measurement and the state of who's in motion, and what conditions they are in," said Tyson (0:53).
Tyson rather thinks of time as a dimension, calling us "prisoners of the present". What he means is that we don't have an ability to jump into the past or the future on our individual timelines. But what if we could do just that?
If time travel was feasible, we'd open ourselves up to some potentially mind-bending situations and logic puzzles. 
"Suppose you could move around in your timeline with the same flexibility as moving left and right, up and down, forward and backward. If that's the case you can revisit your own timeline. Under those conditions you do not die. You are always dying. You are not born. You're always being born. That's another kind of interesting way to think about time," explained Tyson (1:34).
Some classic time paradoxes come out of this thinking. They revolve around the changes that can be imagined by suddenly being able to go back and forth in time.
If you jumped into the future, would you then know and remember everything that would have happened to you had you stayed in your original timeline and let events take place naturally?
And if your timeline already exists, could you change your fate by changing aspects of your future, if you managed to travel to it, like in the classic sci-fi movie franchise "Terminator".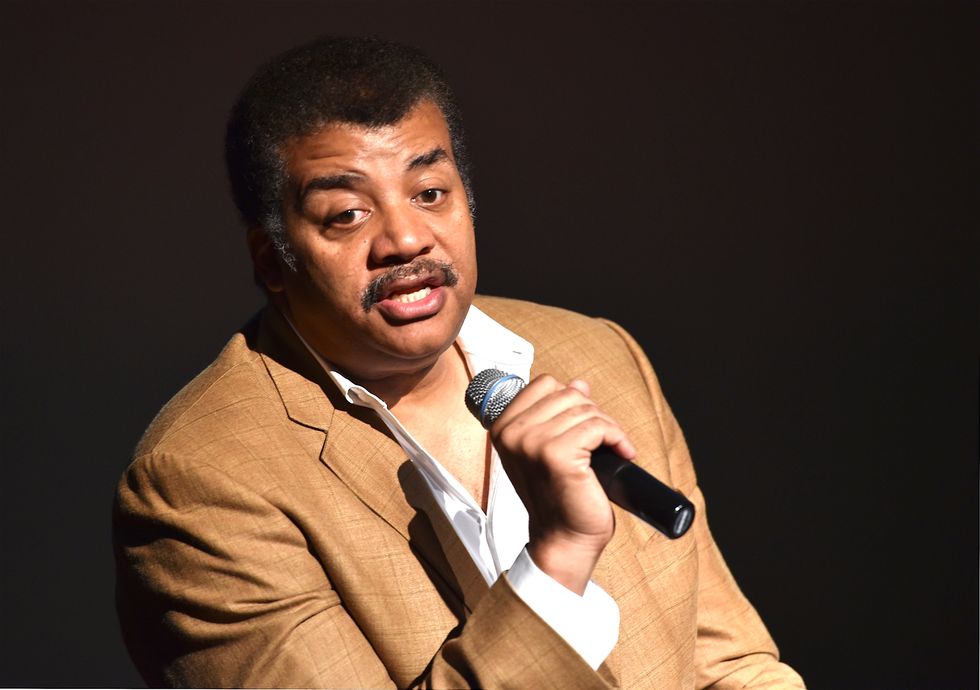 Neil deGrasse Tyson, astrophysicist, 'Cosmos' television show host and Frederick P. Rose Director of the Hayden Planetarium at the American Museum of Natural History speaks August 4, 2014 after a screening of James Cameron's 'Deepsea Challenge 3D' film at the museum in New York.  (Photo credit: STAN HONDA/AFP/Getty Images)
 Tyson hypothesizes that maybe you could alter your timeline, creating a new one as part of a "very complex, sort of, fractal structure". And if this was possible, Tyson really doesn't agree with some of the unnecessarily complicated plot choices of the "Terminator":
"So, what gets me about Terminator is he's got to kill everybody who might be the mother of the future of the person who overthrows the thing… You can go further back [in time] just have one little thing change and everything after that would change."
In an example of another strange conundrum, Tyson also explores the idea of a particle that is never created nor destroyed and only exists in a time loop, a concept called "the Bootstrap Paradox". In the time-travel movie "Somewhere in Time", this "self-created" object was a locket which the lead character received as a gift from an old woman who told him to meet her back in time. He figures out how to go back in time, meets her when she's young and gifts her the same locket that she gave him back in the future. Once he did that, the origin of the object became uncertain and it got trapped in the time loop.
Another potentially big player in time travel - the infamous Butterfly Effect. It's a concept from chaos theory which basically says that small initial causes can create large ripple effects. If you were time traveling, could you too easily change the course of history?
Tyson isn't so sure that if you, let's say, go back and kill baby Hitler that you'd really change anything.
"You pivot everything on this one thing and tell me that all of civilization will be different. I'm not buying it. Civilization is more robust than that. And if Hitler were killed as a child, then no, maybe not - the Germans were ripe to have somebody rise up and take control of their psyche. And maybe the circumstances made Hitler - not Hitler making the circumstances," pointed out Tyson (10:27).
In the end, Tyson doesn't believe that travel back in time is possible, agreeing on that with Stephen Hawking. He thinks that at some point, physicists will discover a new law that will explain what prevents backwards time travel, adding "we don't know what that law is or why it must exist but everything we can imagine that allows it totally messes everything up." 
While this is still just a hypothetical discussion, Tyson sees definite value in speculating about time travel. On the other hand, he takes comfort in living a "fixed" life in a linear timeline, adding his opinion of free will:
"If it is being a prisoner of the present transitioning from the past to the future, I have the illusion of free will. And I'm happy to live in that illusion in the knowledge that I don't." (13:15)
Watch the whole interview here: