Bill Nye, CEO of The Planetary Society, offers an important 5-point plan for President Trump on space exploration and NASA's budget.
Bill Nye, CEO of The Planetary Society
As the CEO of The Planetary Society, Bill Nye has written an open letter to President Trump, highlighting the need for prioritizing space research, and for supporting NASA's space exploration efforts in particular. Bill Nye offers the president a comprehensive five-point plan for steering NASA's objectives and orientation during his tenure: 
1. Keep Mars as the Goal
Mars became the central objective of NASA's efforts during the previous administration, and Bill Nye urges a continued focus on the same path. It is also important to insist on Mars because there are voices in the Trump administration that want to divert resources away from the Red Planet and focus on exploration of the moon. A vocal example of this is Newt Gingrich who has advocated "a permanent moon base". For Bill Nye and The Planetary Society, a diversion of efforts to the moon would mean that a manned mission to Mars might be delayed by a generation.
2. Orbit Mars First
This point has emerged from earlier work at The Planetary Society, such as workshops on solving problems of inhabiting Mars, which have found that orbital engagement should precede a full landing on the Red Planet. This was the original strategy for the moon landing, where Apollo VIII orbited the moon and Apollo XI landed on it. The Planetary Society has suggested that in an orbital-first strategy, humans can be stationed in Mars' orbit by 2033, and thereafter landed on the Mars surface by 2039.
3. Expand NASA's Scientific Programs
Bill Nye draws attention to the 'jobs' element of NASA's contribution, pointing out that there are tens of thousands of high-skilled jobs in engineering, manufacturing, and the pure sciences, that exist specifically thanks to NASA's scientific programs. The report recommends that "at least 30 percent of NASA's total budget be committed to its Science Mission Directorate," and that we don't forget two things: our curiosity and safety. A budget commitment to the science mission "will help humanity better understand its origins, protect us from solar storms, search for life beyond Earth, as well as understand our changing climate," says the report. NASA's acting administrator, Robert Lightfoot, has already stated that because of Trump's proposed budget, the agency "will not pursue the Asteroid Redirect Mission (ARM)." Here's why that matters. Trump signed the 'NASA Transition Authorization Act of 2017' on March 21, which seems to favor stability over progress, leaving one person pretty unhappy: Elon Musk.
4. Embrace the Commercial Space Industry
The private sector's role in space exploration has grown enormously over the past decade, Bill Nye notes, and fostering continued entrepreneurial energy and private initiative is a sign of a healthy space industry. Thus Nye advocates continued cooperation between the government and the private sector in the name of science, and again the report strikes on Trump's passion area: American jobs. "NASA already supports some 17,000 civil servants and tens of thousands of private-sector contractors throughout the country. An agency focused on exploring Mars in partnership with a vibrant commercial sector has the potential to engage many more of our citizens in a 21st-century workforce."
5. Modestly Increase the Budget, Five-Over-Five
Bill Nye lays emphasis on the fact that NASA does not require a significant amount of money to make the tremendous strides that it does. Nye suggests a fiscal outlay of "five-over-five", meaning a +5% annual increase in the budget for each of the next five fiscal years. He suggests that such an investment would go a long way in helping NASA to continue its momentum in space exploration.
In his video, Bill Nye urges the president to pay careful attention to these recommendations, noting that the president has the "opportunity to provide clear direction to our nation's space program," and that "advances made on [Trump's] watch could be historic."
The video component should be seen in the context of a 16-page report produced by The Planetary Society titled "Opportunities for NASA and the New Administration" which was submitted to the NASA transition team before Trump took office. This report elaborates on many of the points articulated in Bill Nye's video, and highlighted many of the same concerns.
The Planetary Society has been keeping a close eye on the Trump administration's budget implications for NASA. According to summary analysis posted on their website, the Planetary Society notes that many important changes are already being stipulated or mulled, and further fiscal discussions over the year will have significant consequences for NASA.
As Nye verbalizes, the Trump administration "has the opportunity to lead, by taking this critical first step," and, in a meeting we'd love to see happen, Nye offers to discuss these points with the president in person.
As its CEO, Bill Nye lays out the missions The Planetary Society would like to see NASA focus on over the next 20 years. NASA by nature goes where the future is, and Nye can't help but think of another industry that should follow suit.
Why is NASA so important? Let us count the ways – for its intellectual and physical daring, its spinoff technology that has advanced civilization generally (we wouldn't have the internet without NASA) – but perhaps chief among them is that no matter who you are in the world or how you feel about the United States, NASA earns global respect for its technological achievement and drive towards progress and efficiency. An industry that could learn from that ethos, rather than digging its heels in to delay the future, is fossil fuels. If everyone pulled together in the same direction, it would mean clean, renewable energy for everyone on Earth, much sooner. Bill Nye's most recent book is Unstoppable: Harnessing Science to Change the World.
Bill Nye's most recent book is Unstoppable: Harnessing Science to Change the World.
Look who went and got himself a talk show. Big Think's regular contributor Bill Nye will be on Netflix in 2017!
Bill Nye Saves the World!
Bill Nye the Science Guy is coming back to TV!
As of next spring, Nye will be on Netflix in his new show "Bill Nye Saves the World." It'll be a talk show where Nye uses his trademark wit and directness to hash out science topics and dispel myths. "Special guests will appear in the show's episodes, too," reports The Verge, "and you can [also] expect to see some cool experiments and lab demonstrations."
In short, it's the perfect science show for Netflix. It's also the perfect showcase for Nye.
Nye is best known for hosting the PBS kids show Bill Nye the Science Guy and teaching kids science with wacky experiments and skits. But he's so much more than that. Combining his engineering background (he developed a hydraulic pressure resonance suppressor for Boeing that's still being used in its 747 planes) and media experience, with his trademark humor (he was a stand-up comic before PBS), Nye has become one of the most influential science communicators of our time. He's also the CEO of The Planetary Society, helping kickstart its LightSail project. Plus, he can totally rock a bowtie.
Not convinced? Here are 7 reasons to watch Nye on Netflix:
 1. He's not afraid of controversy
Few science communicators have been brave enough to discuss political issues. Nye is. He jumped into the abortion debate with calm, care, and facts, and added a critical angle to the debate. Watch here.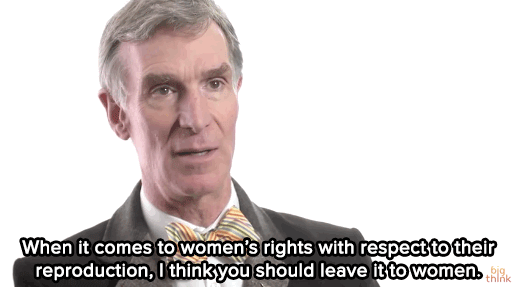 2. He lets facts determine his opinions  
"Just think about," is a phrase Nye uses a lot. He may hold certain opinions, but he's open to changing them if facts prove otherwise. Even on GMOs. That openness is rare in public figures, and it's a good trait to learn. Watch and learn here:
3. He ain't afraid of no ghosts
Nye believes that no subject is free from scientific scrutiny because ours is a world founded on scientific principles. He may not be sure where the supernatural fits in, but darned if he won't try to figure it out. Watch and learn.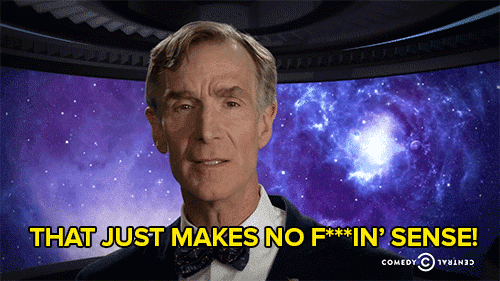 4. He takes pop-culture seriously
Nye doesn't treat pop culture as fluff. He recognizes that ideas and concepts that capture mainstream culture are rooted in some of our deepest insecurities. That's why he pondered the thought experiment of whether or not we live in a video game simulation. 
5. He's open and approachable
Just like with politics, many science figures are loathe to weigh in on religious or moral ideas. Not Nye. When an anonymous question came in about the evolutionary purpose of homosexuality, he pondered what he knew and answered with dignity and respect. When was the last time you heard a public figure talk about homosexuality that way?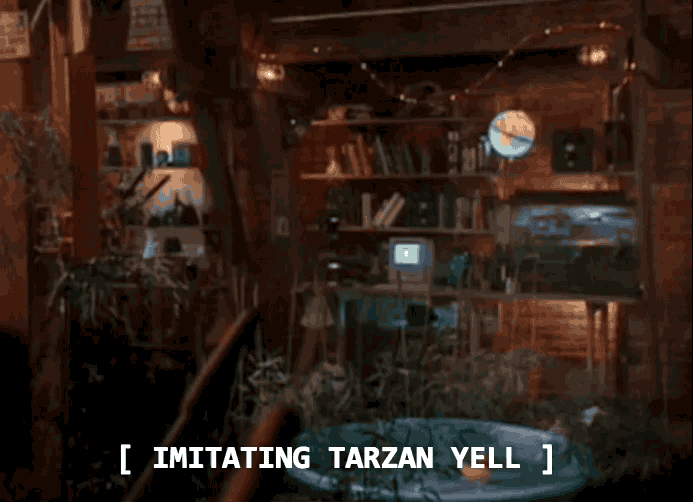 6. He's always rational
As exciting as the idea of alien contact is, Nye can't help himself from responding to it with facts. When Jesse asks how world religious leaders would react to aliens landing on Earth, Nye veritably interrupts himself with facts about why the idea of aliens landing here is a longshot. He can't answer a question if there's no plausible answer, and he'd rather be factually accurate than misleading.
7. He's a smooth operator
Death is a difficult, emotional topic to talk about. And yet, Nye tackles it with respect and reason. He delves into some hard facts of evolution here, but he also manages to be incredibly encouraging. [Bonus: He's also smooth in the co-ordination department: exhibit A, he competed on Dancing with the Stars]

In short, Bill Nye is great at inspiring and explaining big ideas, which is something we love at Big Think. We can't wait to see him do more of it. We think you will, too. He's coming to Netflix in 2017.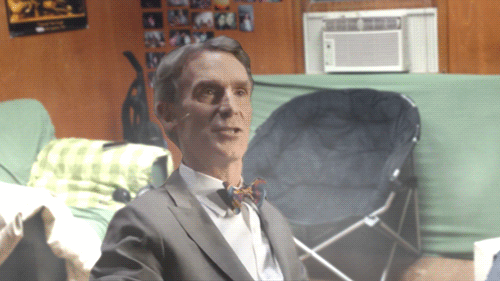 Peel off your tin-foil hat like a Hershey's Kiss, because Bill Nye has a reality check for the alien conspiracy theorists out there.
Peel off your tin-foil hat like a Hershey's Kiss, because Bill Nye has a reality check for the alien conspiracists out there. Roswell? Area 51? Vincent D'Onofrio as the roach alien in MIB? Bill Nye shoos them away, deeming each as unrealistic as the next.
Nye has some experience when it comes to classified information – not much, he admits, but a little. He once had security clearance while working as an engineer on secret government planes, and although he did not visit Area 51 himself, colleagues with one level higher security clearance than him did go, and what did they find there? Planes. Lots of people, lots of planes, and zero trace of alien life.
The origin of alien conspiracies go back to 1947, when something mysterious fell out of the sky and crashed at a ranch near Roswell, New Mexico. It spurred curiosity and panic; claims emerged that the unknown object was an extraterrestrial spaceship. The government eased people's minds by revealing that it was nothing but a standard weather balloon that had crashed – and of course, that was a filthy lie. The intrigue was quieted until the late 1970s, when UFO enthusiasts rediscovered the story and images and amped up the interest once again, developing conspiracy theories about alien crash landings. There was no closure until the 1990s, when the US military published reports disclosing what really happened in Roswell: it was an experimental US government spy balloon that had crashed, part of Project Mogul, an attempt to listen out for Soviet murmurs of nuclear testing.
It has been thoroughly investigated and officially debunked, but seeing as the government lied once, the heat on the theory has never really died in the hearts of passionate conspiracy theorists.
But Nye does not believe the government is concealing aliens from us for an even simpler reason: as we can see from the daily political scandals in the media, it is so hard for the government to keep anything a secret.
But he's not quick to dismiss alien life, and is excited at the prospect of traces being discovered in the next 50 or 100 years, under the icy layers of Mars, or on Jupiter's intriguing moon Europa. whether that's a sizeable organism or a mere cell, or fossil.
So there's no reason to narrow your eyes at the government when you ponder alien life. Then again, it's possible Bill Nye's body was commandeered by the government using alien technology for the duration of this interview. Or maybe Nye is an alien. And he hangs out with Tupac and Elvis drinking green slime mojitos in a secret ET spa club way out in desert Nevada.
Bill Nye's most recent book is Unstoppable: Harnessing Science to Change the World.