Only a radically new tax system, one that affects everyone's bottom line, can compel the environmental transition in consciousness that we so clearly need.
A 16 foot high sculpture of a polar bear and cub, afloat on a small iceberg, passes in front of the Houses of Parliament on the River Thames on January 26, 2009 in London, England. The sculpture was launched to provide a warning to members of parliament o
Technological advances and historically unprecedented income inequalities have raised living standards while enabling a new global elite to enjoy lifestyles more lavish in energy consumption and environmental impact than those enjoyed by any aristocracy in the past.
Real-life illustrations of elites show the excesses afoot. In one instance, a businessman oversees his economic activities across several Central Asian, Middle Eastern and North African countries from a base in Dubai. He largely evades tax through an intricate tax-haven/residence arrangement concocted by his wealth advisor, giving him leeway to engage in the pleasures of modernity: frequent jet travel, the consumption of imported goods, and the ability to use as his playground a country whose extreme climate requires energy-intensive technology for much of the year.
In another instance, a civil servant for the United Nations lives in the diplomatic district of the capital of a developing nation. Despite her strong commitment to improving the world, her work- and play-spaces remove her from the society she's supposedly serving, while revolving around a carbon-heavy diet of jet travel and imported goods and experiences.
Both these lifestyles, hatched in the 20th century and continued in the 21st, show disregard for ecological costs associated with global networks, alongside a culture of wasteful consumption. Yet such behaviours have only increased: a third example represents the 21st century's remote workers, freelancers and consultants. Employed as web-designers, interpreters or editors, they boost mobility by leveraging online jobs, cheap airline tickets, powerful passports and unregulated sharing technologies such as Airbnb and Uber.
This fluidity of movement allows this class, to which I belong as both a freelance journalist and a former UN official, to transcend the 20th-century model of a white-collar job tied to the country of residence and taxed income, and relocate away from expensive London, Geneva or Hong Kong to affordable peripheral foreign capitals such as Lisbon or Hanoi. But the money saved comes at the expense of massive energy outlays associated with disposable, socially detached living, and the kind of frequent international travel required to tap into the cost benefits achieved by inhabiting cheaper nearby countries. Members of this class show scant consideration for the huge environmental footprint their transnational lifestyles incur, and their calculations are driven by financial rationale and market-driven competition.
So, if our current tax systems don't penalise damage to the planet and can be side-stepped by the nomadic, hybrid lifestyles unlocked by technology, one solution could be to shift from disconnected national taxation systems to a collaborative global regime, whereby individuals are charged on the basis of their personal energy footprint. Those eating and living locally, rarely travelling on airplanes, and using recycled or multi-purpose materials would be taxed less than high-living internationals fuelling their lifestyle with imported products and jet travel. Equally, those whose job requires frequent travel and a high-energy footprint would pass the tax bill on to their employers, compelling companies to factor ecological impact into their bottom line.
Imagine being able to access a real-time summary of all your energy choices over your smartphone, not unlike a calorie-counting or ebanking app but vastly more omniscient. It would allow individuals and companies alike to follow, in a simplified way, how and why they are taxed on a range of retail consumer and travel transactions.
The system, administered by an international body, would know – and charge tax payers accordingly – for choosing, say, a bottle of mineral water shipped over from France over a locally bottled one. It would also track consumption, and reward retrospectively: refunds would flow when packaging gets recycled instead of ending up in landfill.
Once established, this would be a tax system of synchronised complexity, simultaneously tracking a multitude of transactions across the planet in supermarkets, airports, real-estate agencies and gas stations. Construction companies would get taxed on the quantity of materials and their transported distance, and penalised for the surplus discarded. Those anxious to acquire the latest cellphone would find their passion reflected in their tax bill. All legally sold products – from electronics to cans of beer to houses – would be fitted with sensors tracking the energy generated in their creation, transport, consumption and disposal. The value assigned at the end of the process would be split between the producing company and the consumer.
Empowered by artificial intelligence, this new form of taxation would track off-base comportment, too. For example, when estimating the charges incurred by a holidaying tax payer, the system would take into account the distance travelled, mode of transport (trains generally being more energy-efficient than airplanes) and the total amount of energy consumed. Choosing to leave the hotel air-conditioning on throughout one's stay, or to take a hot-air balloon sightseeing trip rather than a hike, or to consume foreign-grown rather than local foods would all contribute towards a higher tax bill. Thoughtfulness would always be rewarded.
The futuristic-sounding technology supporting this system has existed for some time, whether in the form of RFID (radio-frequency identification) chips, nanobots or interconnected sensors hooked up to the Internet of Things and verified by blockchain, a form of triple-entry accounting also known as a distributed ledger. The only innovation would be in bringing them together in an integrated, global structure.
Undoubtedly, there is something massively intrusive about a digital panopticon capable of tracking our every move and choice in a personalised, real-time manner. Concerns could be managed through a more limited version based on a comprehensive consumption tax that would slowly fold out into the fuller system.
But companies and intelligence agencies have already deployed this technology for years – with our explicit or implicit consent – when tracking consumers and criminals. Rather than hiding behind platitudes, would it not make sense to embrace technology's power, and reach for the mass good by consciously encouraging ourselves to live more responsibly, while initiating a public debate on how our data is shared and among whom?
An energy footprint-based tax system would accelerate our transition to a regenerative economy and help us fight climate change. The system holds societal advantages, too. Taxing us on the basis of our energy consumption counters the creation of migration choke-points, and encourages local innovation by downplaying imports, while reducing the kind of inequality between more and less economically developed countries that was baked into our global system of trade and consumption. It would compel the 1 per cent to pay its rightful tax share by eliminating avenues of evasion such as moving to tax havens or renouncing citizenship. Finally, the tax would encourage us to demand that transnational corporations behave ethically, by annulling the partial economies that they pass on to us, and which encourage our silent consent.
Only a radically new tax system, one that affects everyone's bottom line, can compel the environmental transition in consciousness that we so clearly need.

Iason Athanasiadis
--
This article was originally published at Aeon and has been republished under Creative Commons.
Bill Gates proposes an ingenious solution to the job losses from the coming automation.
The prospect of automation taking away human jobs is both alarming and an opportunity to reorient our civilization to new objectives. The worrying part is that a sizable number of jobs, both blue and white collar, might be gone soon - a number that some estimates put as high as 47% during the next 25 years.
How will we adjust to this transformation? How will the people without jobs survive? Some ideas, floated by people like Elon Musk, see the necessity of instituting a universal basic income. Another approach was just proposed by Bill Gates, one of the original tech superstars and prognosticators, who also happens to be the world's richest man. In an interview with Quartz, Bill Gates explained his view that as robots will be taking human jobs, a "robot tax" will be necessary on the companies that employ them. 
Gates sees this as a positive development, because the tax would fund jobs that do not receive enough focus and talent currently, including elderly care and working with kids. These types of jobs that require empathy are better left to the humans. The government would run such programs. Gates thinks business cannot be left to manage this because growing "inequity" due to automation can only be addressed via the government.
Here's how Gates says that as a working human is taxed, so should the robot replacing the human - 
"Right now, the human worker who does, say, $50,000 worth of work in a factory, that income is taxed and you get income tax, social security tax, all those things. If a robot comes in to do the same thing, you'd think that we'd tax the robot at a similar level," explains Gates.
He thinks it an overall positive that automation will replace much of human labor, as it will free those people to do something else. What is necessary is training and education. 
"So if you can take the labor that used to do the thing automation replaces, and financially and training-wise and fulfillment-wise have that person go off and do these other things, then you're net ahead. But you can't just give up that income tax, because that's part of how you've been funding that level of human workers," points out Gates. 
Gates proposes that the time has come to start talking about these questions. Many jobs in retail, warehouse work, driving, service industry and others should be gone in the next 20 years. And, according to Gates, maybe we should also think about slowing down the pace of automation until we have a good plan going forward. 
How would taxing automation work exactly? Gates sees it as a tax on profits from increased efficiency or a tax on robot companies. 
"Some of it can come on the profits that are generated by the labor-saving efficiency there. Some of it can come directly in some type of robot tax. I don't think the robot companies are going to be outraged that there might be a tax. It's OK," says Gates.
Overall, Gates stays enthusiastic about the future. But automation is a topic that demands immediate and continual attention. Not because we should be afraid of innovation, but because it's a challenge we worked to create and need to meet. 
"People should be figuring it out. It is really bad if people overall have more fear about what innovation is going to do than they have enthusiasm. That means they won't shape it for the positive things it can do," continues Gates.
To him, taxation is a better approach to innovation than stifling it.  
Watch the whole video here:
Cover photo: Bill Gates, founder of the Bill and Melinda Gates Foundation, takes part in a discussion organised by British magazine The Economist about expected breakthroughs in the next 15 years in health, education, farming and banking on January, 22, 2015 in Brussels. (Photo credit: EMMANUEL DUNAND/AFP/Getty Images)
Trump's impending presidency has left marijuana advocates with fingers crossed on one hand, with the other ready to flush the toilet at a moment's notice.
The 28 states (and Washington DC) who have legalized medicinal marijuana, as of November 2016. Seven states now allow recreational marijuana use.
In the wake of the election results numerous ballot measures went mostly unnoticed as an onslaught of dismay and joy erupted across the nation. Here in California we decided to not abolish the death penalty (but to reform the system), hike taxes on tobacco products, ban single-use plastic and paper bags, and quadruple the number of Americans that have access to marijuana.
That last statistic is not owed to California alone, as Massachusetts, Maine, and Nevada joined in for recreational usage, while citizens in Arkansas, Florida, Montana, and North Dakota legalized medical marijuana. Only Arizona failed to pass legislation this time around. As predicted, states in this longstanding fight for reform are falling like dominoes. Will a Trump-led federal government intervene?
Since California first legalized medical marijuana in 1996 the feds have essentially turned a blind eye to what states are doing. While there have been federal raids on grow houses, farms, and businesses, for the most part public will is winning. Will that change when anti-marijuana crusaders like Chris Christie and Rudy Giuliani are awarded cabinet positions? Or by a vice president who only three years ago refused to lower penalties for possession in Indiana?
Despite overwhelming evidence to the contrary, marijuana is still listed as a Schedule I substance, meaning it has no medical value. As long as this status remains marijuana reform advocates will have a hard time pegging down the federal government's position—and businesses will always be vulnerable to sudden prosecution. This conundrum is further muddied by the fact that states are collecting tremendous tax revenues from the industry while federal restrictions do not allow marijuana companies to use banks.
One of the perceived dangers of marijuana legalization is crime, which actually increases when companies have to operate as cash-only businesses. At the moment the only industry wholly profiting is security. John Hudak writes:
A cash-only system creates a seriously risky business environment and offers bad actors opportunities for money laundering. Those risks are held in place by a government that refuses to implement a policy fix.
Not only is it illegal for banks to do business with marijuana companies, Section 280E of the Internal Revenue Code states that anyone earning income from Schedule 1 or II substances is not entitled to tax deductions even as they are required to file annual returns. Hudak states that some young businesses are experiencing tax burdens that exceed 100 percent of revenue, which is obviously unsustainable.
Just as marijuana reform has taken place under the radar of federal law, another emerging trend is offering a potential solution: bitcoin. Trees, a San Francisco bitcoin startup, projects that the marijuana industry will be worth $30 billion in just three years. It's obscene to speculate that mainstream banks would not want a part of that, but given the bipolar relationship the federal government has created with states more innovative measures are proving necessary.
Bitcoin is generally regarded as a risky investment, though as more users worldwide trade in it the value stabilizes. The currency has seen less fluctuation each year thanks to businesses and individuals willing to take a chance. Bitcoin companies see potential in the rapidly growing marijuana industry. Oakland "cannabis industry accelerator" Gateway offers startups four-month mentoring sessions and upfront investment for six percent equity, while bitcoin debit cards and ATMs are gaining in popularity despite high fees. At this uncertain time alternative currencies are strangely providing the most stability.
In 2015 Trump said at a Nevada rally that states should have the final say in marijuana reform. He later told Bill O'Reilly that he "100 percent" supports medical marijuana while hedging on the question of recreational use due to "problems." Christie has adamantly expressed his disdain for marijuana yet did not turn back New Jersey's medical laws; in fact, he recently signed an assembly bill expanding PTSD patients' rights.
Take nothing for granted with this administration. The 65 million Americans who have state-sanctioned access to marijuana face a difficult battle with politicians known to hold personal grudges: Trump and journalists; Christie and Bridgegate. Last week's celebration is tenuous, as has been the entire process of marijuana reform in America. For now we'll keep fingers crossed on one hand with the other ready to flush the toilet at a moment's notice.
--
Derek Beres is working on his new book, Whole Motion: Training Your Brain and Body For Optimal Health (Carrel/Skyhorse, Spring 2017). He is based in Los Angeles. Stay in touch on Facebook and Twitter.
Earners keepers? According to Larry Kudlow, there's a secret history behind the US's history of tax reduction and it involves John F. Kennedy.
On December 14 in 1962, at the Waldorf Astoria Hotel in New York City, President John F. Kennedy unveiled an economic plan that would breathe new life into the stagnant US economy. His focus was on growth incentives; he proposed reducing marginal tax rates for all taxpayers, cutting the lowest earners' taxes from 20% to 14%, and the highest earners' taxes from 91% to 65%. His tax code also closed a series of loopholes and tax exceptions. These measures worked, and the U.S economy grew by roughly 5% every year, for almost eight years.
Radio broadcaster and CNBC senior contributor Larry Kudlow credits JFK as the initial force behind Reaganomics, and believes Democrats today should take heed and embrace tax cuts over tax hikes. Kudlow doesn't believe in taxing your way to prosperity, and it's the thread throughout his new book JFK and the Reagan Revolution: A Secret History of American Prosperity, which he's co-authored with Brian Domitrovic. The book aims to correct the historical record, which Kudlow and Domitrovic feel omits the truth about Kennedy's economic persuasion, which came about under advice from his Republican Treasury Douglas Dillon.
Are Kudlow and Domitrovic on the money with their thesis? Some people are strongly opposed, such as broadcaster, entrepreneur and bestselling author Thom Hartman, who says that "there's just one major, glaring problem with Kudlow's analysis: It's not true." Read here for a counterargument to Kudlow's view.
Despite his chat with Big Think kicking off on the misguided notion that "we all start at the same beginning, the starting line is the same," hear Kudlow out and consider whether there's validity to his argument for tax cuts – does a rising tide really lift all boats? Or would its success hinge on the simultaneous closing of tax loopholes and exceptions, true to Kennedy's 1962 plan?
Kudlow and Domitrovic's book is Reagan Revolution: A Secret History of American Prosperity.
Do you think it's fair that corporations can move their offices offshore to avoid tax bills?
Apple Store, 5th Avenue
In 2014, Apple paid 0.005% taxes on its international profit, and has averaged a 1% tax rate over the 25 years it's had an international headquarters in Ireland.
It's precisely why the company has an office there — to avoid paying taxes that the European Union now says it owes, in addition to interest on international sales. It also manages to avoid paying taxes in the United States on those same international sales. The country it uses for its headquarters — Ireland — specifically recruits companies so that they can pay almost nothing. 
Here's an infographic from the European Commission that demonstrates the shell game aspects of how the money flowed. Or, rather, didn't.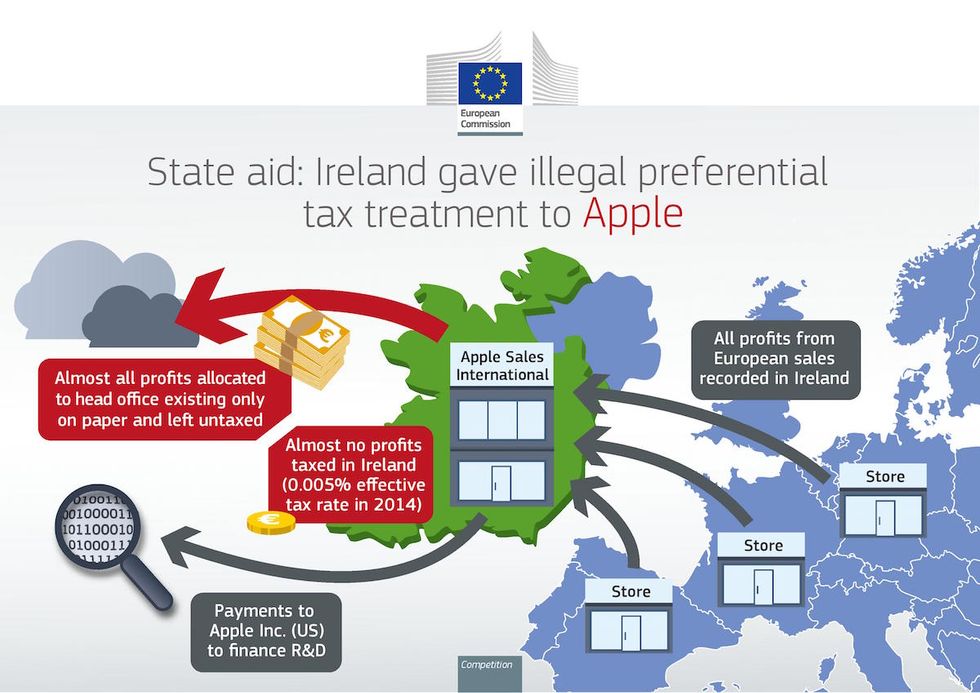 Apple's own annual report claims something else entirely, stating that:
"substantially all of the company's undistributed international earnings intended to be indefinitely reinvested in operations outside the US were generated by subsidiaries organized in Ireland, which has a statutory tax rate of 12.5 percent." 
The European Union (E.U.) figured it out, and has now told Apple that it owes $14.6 billion in taxes, and interest on that as well.
Apple doesn't want to cover the tax bill, nor the penalties, but it might just have to; the Commissioner of Competition in the E.U. stated, simply, "This is illegal under E.U. state aid rules." And Apple has the cash on hand — $187 billion outside of the U.S. right now.  
Apple basically responded with (paraphrasing … of course!) "Nice corporate tax haven with thousands of jobs we've got going here… sure would be a shame if something… err, ummm, happened to it."
Which means Ireland really doesn't want to charge the tax, because it might lose the thousands of workers that are there now, as well as other companies with similar setups. 
At a time when in the United States — and in much of Europe for that matter — schools are underfunded, roads and bridges are crumbling, and city infrastructure accounts are basically bankrupt, should we allow companies to do what Apple is doing? 
If we allow them to do so, then what's to stop all companies from heading to countries like Ireland and other locations across the world to escape taxes?
And if we don't allow tax havens like these, does it kill businesses and otherwise impede growth? 
Economist Robert Reich has some thoughts about that here: 
Robert Reich is on Facebook, and his books and some videos are available here. 
Thumbnail image Creative Commons Licensed.