Perhaps you're thinking you don't know any non-monogamous people. But I wouldn't be too sure.
Young people stand next to a fence decorated with so-called 'Liebesschloesser' (love padlocks) at the Hohenzollernbruecke bridge in Cologne, Germany. Photo credit: PATRIK STOLLARZ/AFP/Getty Images
There's no longer anything unusual about wanting an open relationship. Many who consider themselves progressive about sex, gender, love and relationships know this. It's just that almost nobody in an open relationship wants to be open about it. What's surprising is that so many people feel the need for secrecy.
I've been out as polyamorous for years. Because of this, non-monogamous people who aren't out often feel able to talk to me about their own situations. When I go to conferences, I can't help noticing all the philosophers who are in closeted non-monogamous relationships. This discrepancy between reality and socially acknowledged reality can be disorienting; the 'official' number of non-monogamous people in the room is almost always one (me).
So what's going on? No doubt there are several factors at work, but I want to talk about one that's both powerful and insidious: non-monogamy isn't considered 'romantic'.
Romantic love is widely considered to be the best thing life has to offer: 'failing' at romance is often construed as failing at life. Amatonormativity is a name for the attitude that privileges lives based around a focal monogamous romantic relationship. What gets called 'romantic' isn't just about classification; it's about marking out those relationships and lives we value most.
This monogamous ideal is supposed to appeal to women especially. According to the stereotypes, single women are desperate to 'lock down' a man, while men are desperate to avoid commitment. There's nothing new here: monogamy has historically been gendered. Even in situations where marrying more than one woman has been illegal, it has often been normal for men to have mistresses, but different rules have applied to women. This is unsurprising: in a patriarchal society with property inheritance passing along the male line, paternity is key, and enforced female monogamy is an effective way to control it.
Women's sexuality can also be policed by developing a feminine model that includes a 'natural' desire for monogamy, plus social benefits for conforming to that model (and penalties for non-conformity). This model can then be internalised by women as a 'romantic' ideal inculcated via fairytales. In a similar vein, rather than allowing only men to have more than one partner, we can instil a subtler cultural belief that men's infidelity is 'natural' and therefore excusable, while women's infidelity is not.
Our language undermines gender-related optimism about monogamous romantic ideals: there is no word for a male 'mistress'; romantic comedies are 'chick flicks'. 'Romance' novels are marketed to and consumed by women. Brides are 'given away' by men to other men. We never hear about 'crazy old cat gentlemen'. And how many married men do you know who've taken their wife's surname? These attitudes persist not just in word but in deed: wives in hetero marriages still do more housework than their husbands, even if they earn more (which they rarely do).
Recent growing acceptance of same-sex love as 'romantic' has presented challenges to gendered norms. But this has happened alongside another change: monogamy has become an even more powerful 'romantic' ideal by including same-sex relationships. And its impact is intensely gendered.
Women who enter voluntarily into non-monogamous relationships are a direct challenge to the idea that women are 'naturally' monogamous. They are socially penalised to maintain the status quo. A non-monogamous woman will be portrayed as debased and disgusting – a 'slut'. When I have discussed my open relationships online, I have been called a 'cum-dumpster', a 'degenerate herpes-infested whore', and many other colourful names.
My internet trolls focus on sex, partly because presenting non-monogamous relationships as 'just sex' makes it easier to degrade them, and partly because women who violate the monogamy norm – whose sexuality is out of (someone's) control – are a threat to an ancient feeling of entitlement over women's sexuality and reproductive potential. In contrast, a non-monogamous man is, at least sometimes, liable to be regarded as a 'stud'.
Apart from monogamy, the only other relationship structure that controls paternity in a similar way is patriarchal polygamy, which is stigmatised in contemporary North America, for reasons including bona fide feminism as well as racism and cultural imperialism. One effect of this is that monogamy is seen as the only fair and liberal alternative.
Actually, there are many alternatives. But to tolerate them is to tolerate widespread social uncertainty about who is having sex with whom. This would extend to everything sex is entangled with, and everything it represents. Our ideals of 'romantic' love regulate not just our expectations about sex but also our conceptions of family and the nature of parenthood.
Ultimately, what we call 'romantic' is a philosophical issue that touches on the core of who we (think we) are, and what we value. I believe that the 'romantic-ness' of romantic love is largely socially constructed, and as such malleable. We collectively write the 'script' that determines the shape of the privileged ('romantic') relationship style. This script has changed, and will continue to change. But currently that process goes on largely below the radar: we aren't supposed to see it happening, or realise that we can control it. Romantic love maintains a wholly 'natural' image, evading challenge or critical scrutiny by seeming inevitable, incomprehensible and wonderful.
We must get beyond this. We need to question the limits we have placed on what counts as a 'romantic' relationship. Freedom to love – the right to choose one's own relationships without fear, shame or secrecy – is critical, not just for individuals but for us all collectively. Non-conformity is the mechanism that reshapes the social construct to better represent who we are, and who we want to be. Instead of forcing our relationships to conform to what society thinks love is, we could force the image of love to conform to the realities of our relationships.
But it won't be easy. If the love of a polyamorous triad is seen as 'romantic', and hence as valuable as the love of a monogamous couple, then the triad should have the same social and legal privileges as the couple. How could we deny them the right to be co-parents? How could we defend the legal or financial benefits of monogamous marriage, or the lack of legal recourse for anyone fired for being polyamorous? These are the privileges by which we signal to monogamous couples and nuclear family units that theirs are the most socially valuable social configurations.
Nor could we defend the countless ways in which non-monogamous people are stigmatised and rejected. My boyfriend's father no longer speaks to him about anything but the weather because he is in a polyamorous relationship with me. An extended family member literally prayed over me when she learned that I was non-monogamous, feeling an urgent need to ask Jesus to 'save' me from this 'culture'. Stigma against non-monogamy is beyond a joke: researchers have uncovered assumptions that the non-monogamous are just bad people: less likely to walk their dogs, or floss their teeth.
It's far easier to pretend that this is not really happening. Or that it's not really a big deal. Perhaps you feel that way right now: perhaps you're thinking you don't know any non-monogamous people. But I wouldn't be too sure. Until quite recently, an awful lot of people thought that all their friends and relatives were straight.

Carrie Jenkins
--
This article was originally published at Aeon and has been republished under Creative Commons.
For the first time, the World Health Organization has declared a new mental illness to be the leading cause of disability around the world.
Depression. Photo Diego Fornero [flickr.com/destino2003]
The World Health Organization (WHO) has announced a new condition as the leading cause of of poor health and disability around the world, which has seen an 18% spike in diagnoses over the past few years. A condition that most of us have encountered in our lives either through personal experience or the difficulties of a friend or loved one. And, in a new twist, this condition is a mental disorder.
Major Depressive Disorder, more commonly known as depression now affects more than 300 million people across the globe, causing a lack of self-esteem, the inability to enjoy activities that previously brought pleasure, low energy, pain, and in severe cases delusion and hallucination. Between 2-7% of individuals with depression will go on to commit suicide.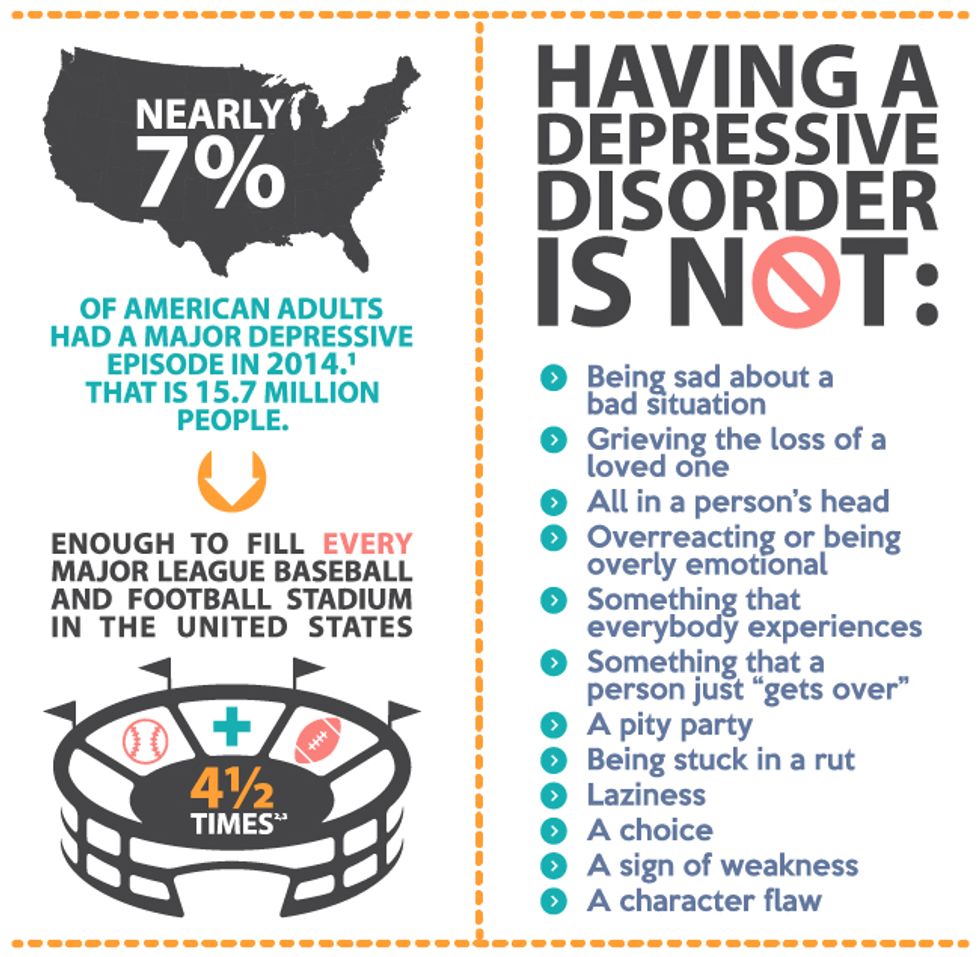 Infographic by Mental Health America.

While one might suppose this condition would be equal opportunity, rates of occurrence are higher in developed nations than in the developing world, whether or not this is a situation of higher rates of detection or the actual existence of many more cases overall is currently unknown. It has been shown that cases are more common in urban areas, which is a problem that countries like China, with rapidly urbanizing demographics, are trying to address.
WHO estimates that a trillion dollars in economic activity is lost every year to depression, an easily understood measure of its evils. Much more difficult to express is how horrible the condition truly is. The self-fueling despair, the utter hopelessness, the isolation it can produce, the inability to find any reason to carry on, or any reason to have been.
Unlike the previous record holders for leading causes of disability, depression is much simpler to hide than say, the inability to walk. Stigmas associated with mental disorders also make it more desirable to hide for many people, making the problems of detection and treatment that much harder.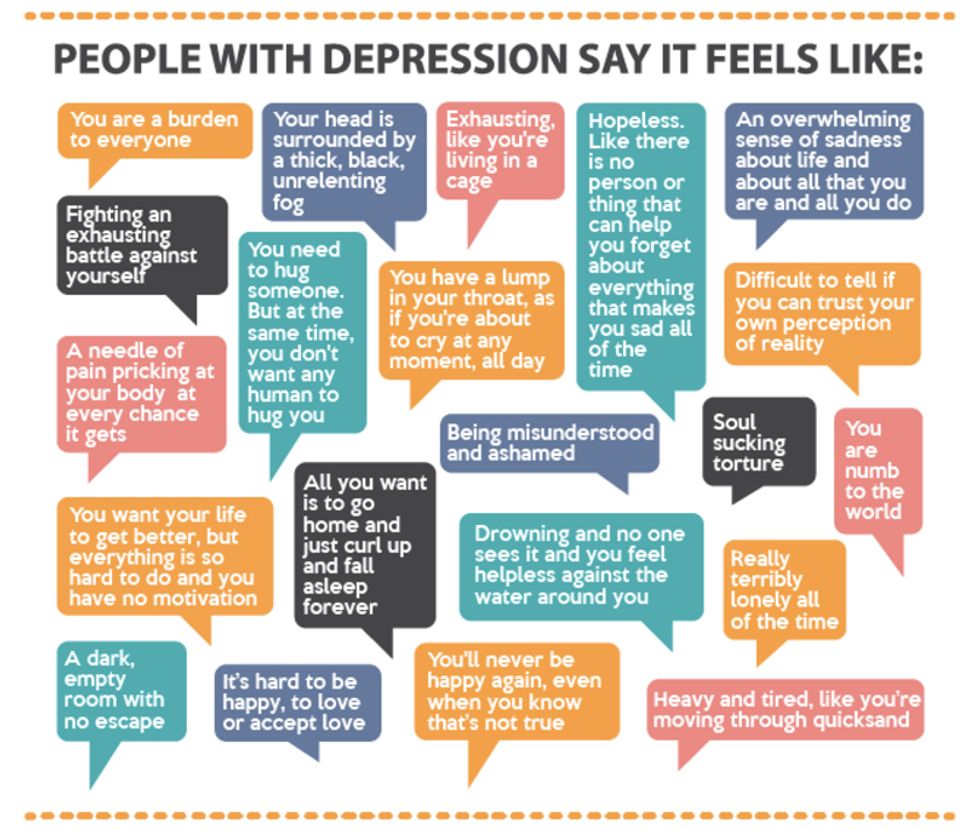 What can be done about this?
WHO doesn't leave us without a suggestion or two. It points out that the typical government health budget around the world gives only a paltry 3% to mental health care, with higher rates in developed countries, perhaps shedding some light on the higher perceived rates of occurrence. WHO has called for various initiatives, campaigns, and actions by states, NGOs, and community groups to help fight depression.
They also point out that for every dollar spent in treatment and prevention of clinical depression, four dollars of economic activity is gained back; making it an extremely effective investment for any society.
Depression is now the most common disabling disease in the world, driving hundreds of thousands into despair every day. Its newfound prominence among the conditions that plague us most should concern us greatly, but it may also offer a silver lining: the stigmas associated with mental illness might be easier to end if the prominence and gravity of the disease are made clearer to all.
We're in an epidemic of mental illness and in an epidemic of misinformation about mental illness. The myth that America is "overmedicated" regarding antidepressants only furthers the stigma that stops people from seeking help.
Big Pharma has got itself a bad, bad name. Many people become nervous at the mention of pharmaceutical intervention for mental illness, but there's another solution that may bring ease to some: it's called little farmer, quips psychiatrist Drew Ramsey. For how food can control conditions like anxiety and depression, look through Ramsey's previous videos on Big Think. But here, Ramsey wants to address the popular notion that America is overprescribed. "I always like to point out that the ten percent of Americans who take antidepressants in the morning, they do that voluntarily because it's something that helps them." In his 16 years of psychiatric practice, Ramsey has more often seen mis-prescription rather than overprescription. But at least mis-prescribed people are on the path to finding the right treatment – much worse is the people who aren't getting any help at all whether it be diet, or therapy, or pharmaceuticals. Psychiatric medication isn't right for everyone, but in many cases it truly saves lives, says Ramsey. If we continue to propagate the over-prescription myth for this kind of medication (opiates are another issue), it may alienate those who need help from seeking it at all. Stigma doesn't help in the effort to reduce severe life disruption and suicide, which for the latter totaled 42,773 Americans in 2014, a steep rise from 29,199 people in 1999. Drew Ramsey's book is Eat Complete: The 21 Nutrients That Fuel Brainpower, Boost Weight Loss, and Transform Your Health.
Drew Ramsey's book is Eat Complete.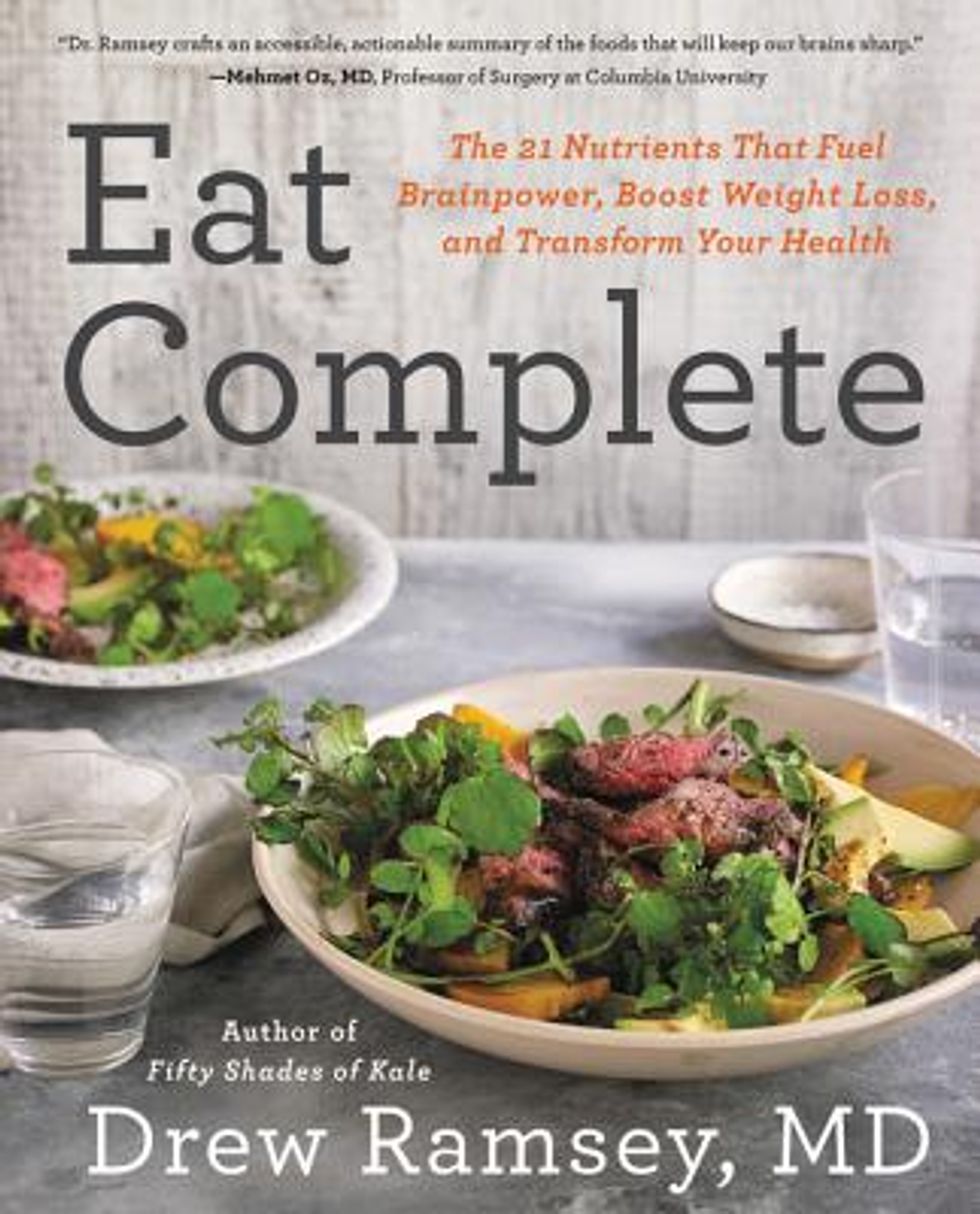 A rash of teen idols, singers, actors, and actresses have all come out recently detailing their struggles.
Actress, singer, and songwriter Demi Lovato is now a mental healthcare advocate.
Few things in our society are stigmatized quite like mental illness. Most people try to hide it or manage it on their own. Few seek help. But it is exceedingly common. Nearly one in five Americans – 42.5 million adults – wrestles with it. Worldwide one in four, or 450 million people, suffer with some sort of psychological issue.  
Everyone has their own problems of course, both physical and psychological, to one degree or another. Yet, as humans, our high regard for the brain, intellect, and stability make mental illness seem more shocking and less acceptable. Perhaps for certain societies, it harks back to the idea that those with mental illness are possessed by an evil spirt or even satan. With the advent of science, mental illness became seen as a personal failing rather than a spiritual one.
Though seeking treatment may be more acceptable now, the issue of mental illness itself is more pressing today than it has been in decades. The teen suicide rate for instance rose 25% between 1999 and 2014, after a steady downward trend through the '80s and '90s. Today, girls are particularly prone. But it isn't just teens. Every adult age group under age 75 has seen a significant increase in its suicide rate. The numbers are even more disturbing if we consider that far more attempt the act than accomplish it.
One thing that captures our imagination is celebrities. Whether splashed across magazine covers or TV and movie screens, celebrities are the royalty of the modern era. They've reached almost godlike status. Outbursts and jaunts with mental illness and substance abuse among them is certainly nothing new. But today, more and more are speaking out about living with a psychological disorder in a deeply personal way, and experts wonder if this might not make a more substantial impression and so lessen the stigma.
Teen idol Selena Gomez recently opened up about her struggles with anxiety and depression at the American Music Awards. After accepting hers for favorite female rock-pop artist, she said that along her journey, though she soon "had everything," she often felt "absolutely broken inside." Ms. Gomez drove herself hard so as to not disappoint her fans, but forgot to devote some energy to herself. Her advice: "If you are broken, you don't have to stay broken."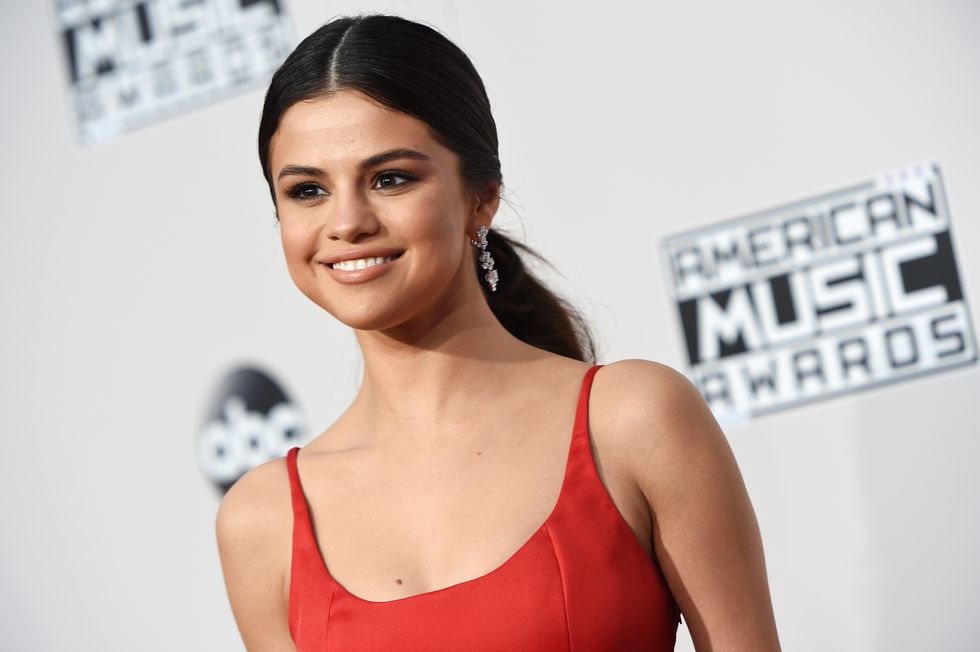 Selena Gomez recently spoke out about her struggles with anxiety and depression at the American Music Awards.
Gomez wasn't the only celebrity popular among young people to open up. Justin Bieber, actress Rowan Blanchard, and model and actress Cara Delevingne have all recently revealed having depression. Singer and songwriter Halsey went one step further in an interview with Billboard about bipolar disorder. Adele similarly discussed her bout with postpartum depression with Vanity Fair. Bieber and Blanchard instead opened up via Instagram.
Other celebrities who have "come out" in this manner include JK Rowling, Brooke Shields, Glenn Close, and Lena Dunham, though in the case of Close, it was her sister she was supporting. Actress, singer, and songwriter Demi Lovato became so passionate about mental healthcare, that she is now the spokesperson for the, "Be Vocal: Speak Up for Mental Health" campaign. "If you know someone or if you're dealing with it yourself, just know that it is possible to live well," she told People. "I'm living proof of that."   
This isn't occurring only amongst celebrity women. In Bruce Springsteen's recent autobiography Born to Run, he talks about his lifelong battle with depression. African-American men, perhaps due to a macho streak, have culturally been one of the least likely to open up about certain struggles. But rapper Kid Cudi has gone against the grain. He recently discussed with fans on his Facebook page his decision to check into rehab for anxiety, depression, and suicidal thoughts. In the last several years, hip-hop has become more emotional.  
Mental health issues are being treated differently by Hollywood nowadays too. It used to be that those with mental illness were depicted as raving lunatics, to be locked away in frightening, prison-like institutions. Today shows like FXX's You're the Worst and films such as Silver Linings Playbook show a more human side, with characters we relate to and feel for.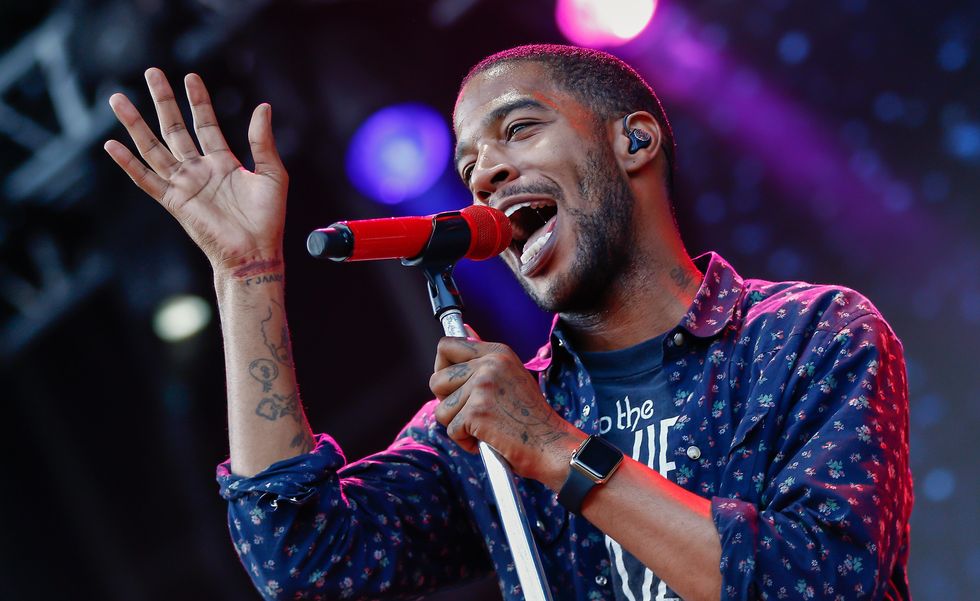 Hip-hop artist Kid Cudi recently opened up about his bouts with depression and thoughts of suicide.
So is this trend a case of celebrities leading the way, or is the stigma surrounding mental health issues beginning to recede? After all, in American society, acceptance of psychotherapy became far more widespread starting the 1960s, and Patty Duke arguably in the '80s was the first superstar to advocate for mental health. Harvard Square psychotherapist Melissa Kelly told the Boston Globe that this new celebrity trend is very helpful for those who are struggling, especially young people.
Even so, she has noticed that among millennials, opening up to each other about seeing a therapist and working on themselves is more acceptable. It is not seen as a failing of character, but merely a part of "self-care." A recent Harris Poll backs this up. It found that among those ages 18 to 25, receiving mental healthcare is more acceptable than for older adults.
So is this a case of life reflecting art or the other way around? That might be hard to tease out. Even so, a stigma remains. But for someone with a serious disorder, such as depression, hearing that your favorite celebrity has suffered similar struggles and yet, still managed to make their dreams come true, can be incredibly heartening. It may even give them the motivation to seek help for themselves.
To learn more about the stigma surrounding mental illness, click here: