Some say that great ideas come out of thin air. Neuroscientist David Eagleman posits that perhaps all great ideas are simply built upon old ideas, because thats what fuels the creative brain.
"All ideas have a genealogy," says David Eagleman. A writer, neuroscientist, and adjunct professor at Stanford University, he's definitely clued in to what makes ideas click. He posits that the brain craves something new so much that if you give someone the same thing over and over that after a certain amount of time you'll begin to see diminished returns in excitement. But sometimes "new" isn't necessarily new at all. He points out that although the iPhone is a revolutionary product it bears heavy similarity to an invention from IBM... from two decades ago. New ideas tend to be built upon similar ones, David Eagleman says, because "what we're doing is building on the foundations of what has come before us." David's new book is The Runaway Species: How Human Creativity Remakes the World.
Studies reveal the impact of strategic thinking on studying and other areas of life.
Pixabay
Metacognition, thinking about how you think, has been shown to help students improve their grades. Stanford University researchers published a new study that outlines a 15-minute thinking hack that led to an average improvement of one third of a letter grade for the participants. 
The research stems from the insight that while many resources are provided by educational institutions, students don't always know how to use them effectively. Patricia Chen, a postdoctoral research fellow who led the study, hypothesized that if students were made more self-reflective about how they approach their studies and the available resources, they could do better.
"Blind effort alone, without directing that effort in an effective manner, doesn't always get you to where you want to go," said Chen.
The team conducted two experiments using a "Strategic Resource Use" intervention they designed, which combines educational and social psychological theories. 
For the experiments, the control group, which consisted of half the class, received just a regular reminder of a statistics exam coming up in a week. The intervention group also got a 15-minute online survey that made students think about what they expected will be on the exam, what grade they might get, what resources would be best used for preparation and how they would use them. In particular, they were asked to choose from 15 available class resources like practice questions, readings from the textbook, lecture notes or peer discussions.
Students in the first study got an average of 3.45% higher in points than their classmates in the control group. For the second study, that average difference was 4.65 percentage points.
The researchers found that strategic thinking had additional psychological benefits, helping students feel more empowered about their education. Students in the intervention group were also less stressed out about the upcoming exams.
Chen sees the strategy of metacognition to be useful in other parts of life, not just in education. You can use it to achieve goals like losing weight, learning any new skill or in parenting.
"Actively self-reflecting on the approaches that you are taking fosters a strategic stance that is really important in life," she said. "Strategic thinking distinguishes between people of comparable ability and effort. This can make the difference between people who achieve and people who have the potential to achieve, but don't."
You can read her study in the journal "Psychological Science".
Other studies have also highlighted the positive effects of utilizing metacognition. A study from the University of Newcastle in Australia looked at over 2,000 PhD students and found a relationship between how they thought about the learning process to their successes and failures in achieving their degrees. The British Educational Endowment Foundation discovered that students who received interventions that made them think about their writing skills showed 9 to 18 months worth of academic improvement. 
Diabetes, certain forms of cancer, and other conditions may also be inhibited. 
People in a coffee bar drinking espresso.
Americans are coffee addicts, and perhaps more so nowadays, now that we're working longer hours and getting less sleep than decades past. 50% of Americans drink at least one cup per day. In the past, the pendulum on coffee, and in particular caffeine, swung back and forth as to whether moderate consumption was healthy or not. At one time, too much was thought bad for the heart.
Today, moderate caffeine consumption is actually considered healthy. Tea and coffee both contain antioxidants which rid the body of free radicals—proven to harm cells. One recent study found that coffee consumption in women can decrease the risk of dementia. Another found that drinking coffee can lessen the impact of liver disease.
In a recent study published online in the journal Nature Medicine, researchers at Stanford University discovered that among certain adults, caffeine can block an inflammation pathway which leads to heart disease. 100 human participants underwent extensive assessment, including giving researchers their family and medical histories, answering survey questions, and giving blood. This pathway is associated with low-grade, chronic inflammation, known to contribute to disease and aging.
Nucleic acid metabolites are byproducts of processes that circulate in the blood and trigger inflammation. Chronic, low-grade inflammation has been linked to heart disease, Alzheimer's, dementia, osteoarthritis, certain types of cancer, and even depression. According to the study's lead author David Furman, PhD, "More than 90 percent of all non-communicable diseases of aging are associated with chronic inflammation."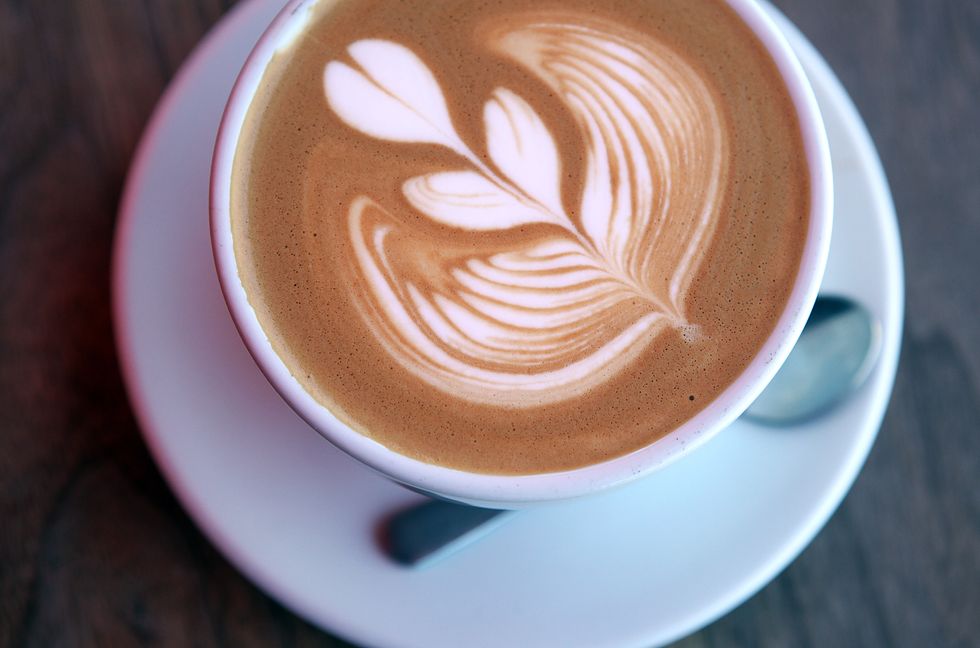 Recent studies show that moderate caffeine consumption offers tremendous health benefits.
Mark Davis, PhD was a senior author on this study. He's the director of the Stanford Institute for Immunity, Transplantation, and Infection. Besides helping to prevent disease, "It's also well-known that caffeine intake is associated with longevity," Davis said. "Our findings show that an underlying inflammatory process, which is associated with aging, is not only driving cardiovascular disease but is, in turn, driven by molecular events that we may be able to target and combat." Target in medical speak often means potentially treatable with drug therapy, which could reap exciting benefits for certain patients.
Still, their findings aren't airtight. The inflammatory mechanism researchers discovered was present in some, but not all participants. Interestingly, those who were found to have a less active pathway or mechanism tended to consume higher levels of caffeine. Turning to the lab, these scientists soon saw that among older patients who tended to drink more coffee or tea, the inflammatory mechanism was inhibited.
At the opening of the study, researchers perused data from a long-term project a decade old, the Stanford-Ellison cohort. This is a longitudinal study on the immunology of aging. Here, the immune systems of 20 to 30 year-olds is compared to those of adults over age 60. Participants give blood annually and answer survey questions and all the data is recorded.
In the caffeine study, researchers compared blood samples from younger participants to older ones, to see what genes were active in old age. Two groups of genes were of interest. Each help produce an inflammatory protein that circulates throughout the body, known as IL-1-beta.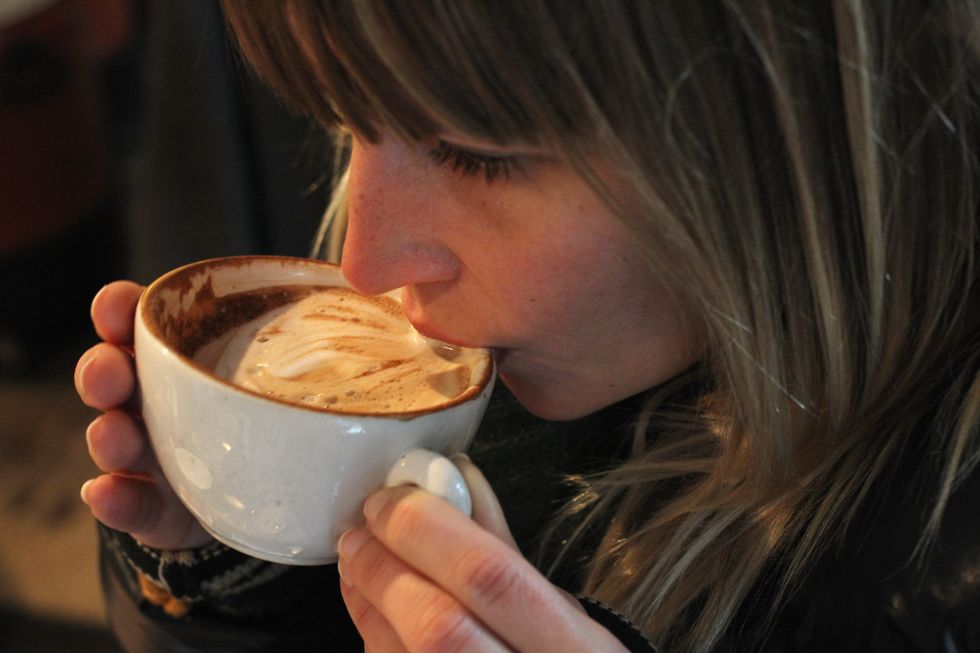 Caffeine was shown to inhibit certain gene clusters and so stave off chronic inflammation.
Next, the study zeroed in on two subgroups of older subjects. One had both gene clusters activated, while the other had one or both activated but at a low level. Among those with high cluster activity, nine out of the 12 had high blood pressure. But only one of 11 participants who had low cluster activity did. Colleague and co-author Francois Haddad, MD ran a follow-up study, finding that the group with high gene cluster activity had more advanced cases of atherosclerosis or hardening of the arteries.
Those who had high activity were more likely to have free radicals in their system. Also, those who had low activity reported at least one close relative who lived to age 90 or older. Meanwhile, those who saw high activity at age 85 or above in 2008, were more likely to have passed away by 2016. In addition, IL-1-beta and other byproducts produced by free radicals were found at high levels in the systems of the high cluster group.
Researchers incubated immune cells with some of those nucleic-acid metabolites. This was found to increase the activity of one of the two gene clusters. The result was IL-1-beta. They injected this into healthy mice who soon developed system-wide inflammation and high blood pressure. Then, researchers took blood from older participants who had gene cluster activity along with a high rate of caffeine consumption. They found that those inflammation-causing substances were inhibited over time, due to caffeine's presence.
Though a marvelous result, there remain some loose ends. One is that researchers couldn't prove a cause-and-effect relationship between caffeine consumption and longevity, merely a strong correlation. The second and perhaps more important was, they weren't sure why some people have this gene cluster activation while others don't. Some mechanisms have already been implicated, and those will be the focus of future studies.
To learn other ways to live longer and healthier, click here:
Artificial intelligence (AI) is not nearly as smart as we want it to be. Because we are not nearly as smart as we want to be.
Artificial intelligence (AI) is not nearly as smart as we want it to be.
That's the biggest takeaway from a new experiment out of MIT's Computer Science and Artificial Intelligence Lab. A team of researchers sought to improve its AI's machine learning skills by watching 2 million videos and predicting what would happen next. "Teaching AI to anticipate the future can help it comprehend the present," New Scientist reports. That ability to anticipate the future gives AI much needed context for everyday tasks, as researcher Carl Vondrick told New Scientist: "if you're about to sit down, you don't want a robot to pull the chair out from underneath you." That ability to correctly anticipate the future will also "allow machines to not take actions that might hurt people or help people not hurt themselves," according to VICE.
Here's how the MIT team did it:
Credit: MIT CSAIL
This technique is an important step forward for making smarter AI, but it's not the only way artificial intelligence learns. As we've said before, the goal of creating artificial intelligence is to create a system that converses, learns, and solves problems on its own. AI first used algorithms to solve puzzles and make rational decisions. Now, it uses deep learning techniques like the one from this MIT experiment to identify and analyze patterns so it can predict real-life outcomes. Yet for all that learning, AI is only as smart as a "lobotomized, mentally challenged cockroach," as Michio Kaku explained to us here:
As smart as artificial intelligence is becoming, it learns in different ways than people. Generally speaking, the human brain has many different ways to learn the same information, but "the most effective strategies for learning depend on what kind of learning is desired and toward what ends," according to research out of Stanford University. In short, some ways of learning are better at helping you learn specific kinds of information than others. We've got a whole primer on how to learn here, but here's a quick summary:
Rather than memorize facts, your brain retains the information best if you create explanations for why those facts are true. That gives you context.
Rather than struggle to understand an abstract concept, articulate why it's difficult. That can help you identify where you're stuck and help you create a solution.
Rather than cram for a test, learn a little bit of the material over a longer period of time. That helps transfer the information into long-term memory storage.
AI does not learn in any of these ways -- yet. Until it can, we have nothing to fear from it. Except more horrifying short videos. 
Cross 'multi-tasking ninja' off your resume, it's out, say Stanford researchers and other cognitive experts. Here are three tips for transitioning back to single-tasking.
Multitasking. Photo credit: Matthias Weinberger / Flickr
We know multi-tasking is bad for us: we just can't stop doing it. No matter how many times we hear that multitasking causes heightened mental stress, ruins memory and concentration more than smoking pot, and is literally impossible for our brains to do, we still do it.
"As much as people would like to believe otherwise, humans have finite neural resources that are depleted every time we switch between tasks," The New York Times reports. "That's why you feel tired at the end of the day. You've used them all up."
Multitasking is so pernicious because it doesn't feel like a myth. As Psychology Today explains, "When you multitask 'successfully,' you activate the reward mechanism in your brain which releases dopamine, the happy hormone. This dopamine rush makes you feel so good that you believe you're being effective and further encourages your multitasking habit." At first, multitasking appears to give us an enormous hit of that rush, and "that's why it's so hard to stop multitasking," Psychology Today says, "because you've conditioned your mind and body to feel that thrill."
In reality, multitasking splits our focus and gives us a false sense of accomplishment, making us "suckers for irrelevancy," as Stanford professor Clifford Nass put it in his 2009 study: "Everything distracts." ABC News correspondent Dan Harris concurs, as he told us:
In addition to all those deterrents, Psychology Today reports that multitasking can also "make you overly optimistic which means your [sic] less careful about the work you do and more likely to make mistakes." It also makes "the little information we do take in when we're multitasking more difficult to remember at a later stage." The Stanford research backs that up, with study co-author Eyal Ophir saying multitaskers "couldn't help thinking about the task they weren't doing. [They] are always drawing from all the information in front of them. They can't keep things separate in their minds," in a press release.
Those effects seem compounded in college students, since multitasking gave them lower GPAs according to this 2015 Iowa State University study. Neuroscientist and McGill University professor Daniel Levitin explains those myths to us here:
Given all this evidence, it's high time all of us heed the research and embrace monotasking. Monotasking — also known as unitasking or "single tasking," according to The Times — is not the same as mindfulness. Mindfulness cultivates awareness, a focus on the here and now. Monotasking is simply paying attention to, and completing, one task at a time.
If that sounds daunting to you, it can be. But don't worry: you can take baby steps to retrain your brain and reclaim your focus. Buffer co-founder Leo Widrich did just that with these 3 simple steps:
Opening one single browser tab at a time
Brainstorming his daily tasks with a colleague the night before
Changing where he worked at least once a day
All those changes allowed him to maximize his neural energy and processes in a way that not only got his work done, but got it done faster and better than it did when he was multitasking.
If those steps are difficult for you to do at work, focus on the two biggest attention-busters: email and text messages. Inc recommends, "establishing an e-mail checking schedule" to avoid the temptation to check it every time you get an alert.
"Commit yourself to checking emails only three times a day, (maybe when you get into work in the morning, at lunchtime, and before leaving work at the end of the day)." They also suggest you "turn off texting notifications and choose specific times to check your phone as well" in order to minimize distractions during work.
If social media is your biggest distraction, there are ways to fix that, too. "You can get apps which block your social media (and even your email) except for certain times of the day," Psychology Today says. Here's a list from Mashable to get you started.
Whatever you decide, "make sure that you also take breaks in your unitasking because that's when your brain is at its most effective," Psychology Today says. One of the best things you can do during that break to recharge is meditate. Again, mindfulness is not the same thing as unitasking, but because mindfulness helps you focus on the present, it increases your focusing abilities. Here's Stanford neurosurgeon James Doty breaking down the process step by step: