A new study finds an unexpected trait that young people want in a lifelong partner.
Credit: OZAN KOSE/AFP/Getty Images.
A new study from the UK looked at dating preferences of 2,700 international students.
The study found that kindness was the top trait preferred by both men and women in a lifelong partner.
Looks, financial stability and a sense of humor were also important but with differences across cultures.
We often have unrealistic expectations of our partners, wanting them to fulfill us in a multitude of ways. But there's one quality that stands out above all when choosing a lifelong mate – kindness. So says a new study of college students from six countries. It beat out money and looks as the top trait young people find most desirable.
The study carried out by the UK's University of Swansea involved the dating preferences of 2,700 students in the "Eastern" countries of Singapore, Malaysia and Hong Kong, and the "Western" countries of UK, Norway and Australia. While some differences in behaviors were noticed across the world, there were also clear similarities.
For the study, participants had to "buy" characteristics they wanted in a partner from a fixed budget. They had eight attributes to choose from for spending their "mate dollars" - physical attractiveness, creativity, good financial prospects, kindness, humor, religiosity, chastity, and the desire to have children.
Responding to different budgetary scenarios, the students were asked to figure out which traits were necessary, indispensable, and which were luxuries.
On average, the young people spent 22-26% of the total budget on kindness, making it a necessity. Outside of that, men found looks most important, while women favored partners with financial stability. On the flip side, traits like chastity, creativity and the desire for children emerged as luxuries for both men and women, getting less than 10% of the budget.
Here's a chart of key findings:
BUDGET SPENT ON DIFFERENT TRAITS BY GENDER
| | | |
| --- | --- | --- |
| Trait | Men | Women |
| Kindness | 25% | 24% |
| Physical attractiveness | 23% | 17% |
| Good financial prospects | 12% | 18% |
| Humor | 15% | 14% |
| Wants children | 7% | 9% |
| Creativity | 8% | 6% |
| Religiosity | 5% | 7% |
| Chastity | 6% | 5% |
One interesting cultural difference that emerged from the study was that while humor was considered indispensable for men to people in all cultures, it was a "necessity" only for the Western men. It's less of a priority in Eastern cultures, suggests the research.
The desire to have children was also more of a priority for Western women. The principle researcher Dr. Andrew G. Thomas explained that this has to do with differences in family planning.
"In cultures where contraception is widespread, a partner's desire for children may predict the likelihood of starting a family," said Thomas. "In contrast, in cultures where contraception use is less widespread, having children may be a natural consequence of sex within a relationship, making actual desire for children less relevant."
Read the study here, published in the Journal of Personality.
Philosophers aren't known for their love lives, but a few have managed to be tragic romantics anyway.
Philosophers aren't particularly renowned for having successful love lives, but some have become hopeless romantics — and others misanthropes. Here we have 10 philosophers who have written on or been heavily influenced by love in both their work and their personal lives.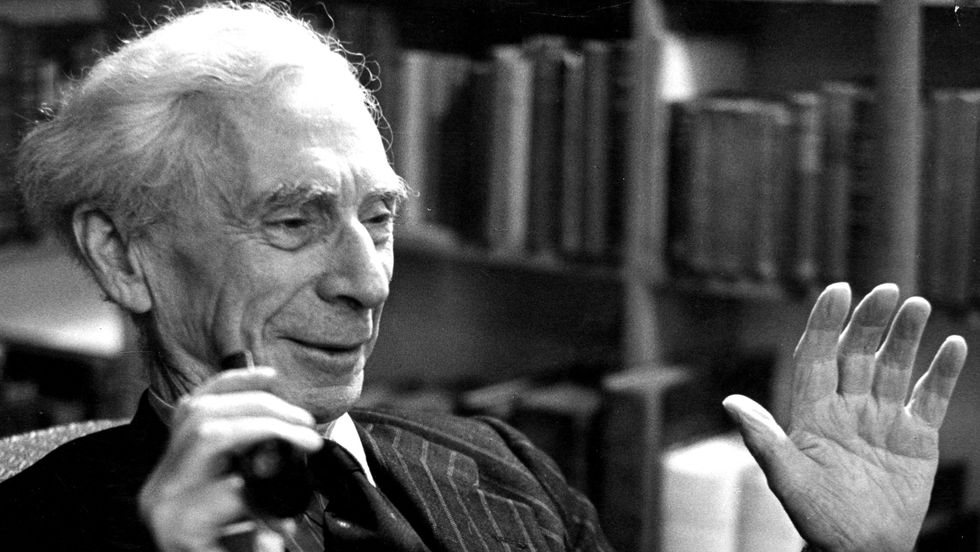 The third Earl Russell was an analytic philosopher whose ideas on modern love, such as his support for gay rights, were so scandalous that when he explained them in his book Marriage and Morals (1929) he found himself unemployable. He was married four times and carried on numerous affairs during his separation from his first wife. He found marriage to be an excellent institution, but one that should not be bound by Victorian norms. He continued to advocate for gay rights, free love, and new ways of thinking until his death.
"To fear love is to fear life, and those who fear life are already three parts dead." — Marriage and Morals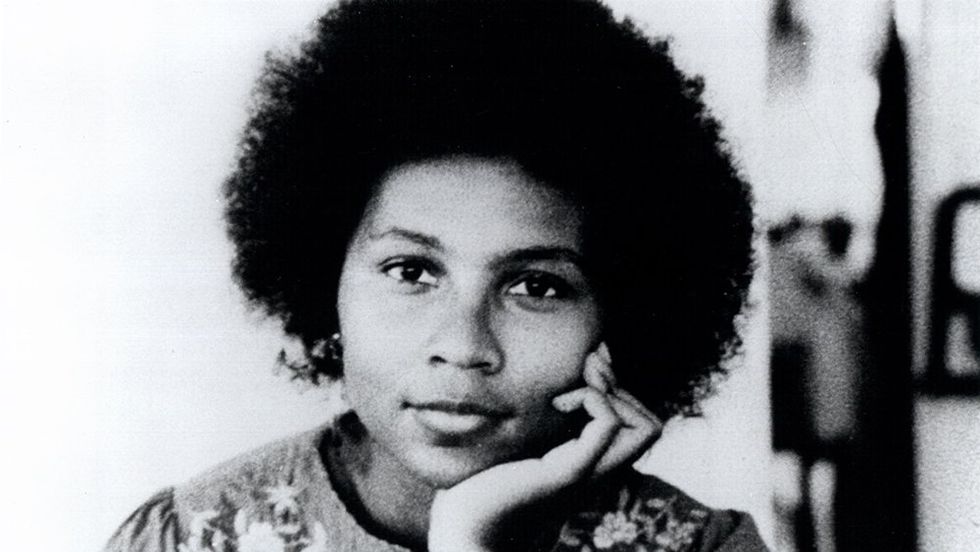 An American author and feminist philosopher, hooks realized after breaking up with a few boyfriends that there was no proper text on love that she could have given them to help save those relationships. Like any good writer, she then set out to write it.

In All About Love: New Visions (2000) , she argues that our modern definition of love is too watered down by overuse of the word. Working from the idea that love is a verb, she then suggests ways to improve our modern concept of love and prevent what hinders it. She notes with a fervor that power discrepancies and the differences in how men and women are expected to approach love are a particular problem.

"The fear of being alone, or of being unloved, had caused women of all races to passively accept sexism and sexist oppression." — Ain't I a Woman? (1981)
Alfred Jules Ayer was a British logical positivist who held the Wykeham Professorship in Logic at Oxford University. He was married four times to three different women. Heartbroken by the death of his third wife he remarried his second wife, Alberta Wells, again a year before his death. He also had several affairs and at least one daughter out of wedlock.
Despite his affairs, he maintained standards for romantic conduct. At age 77, he saw then heavyweight champion Mike Tyson harassing a woman at a party he confronted the much younger boxer and allowed the woman to slip away.
Even logical positivists are capable of love.— as quoted in Profiles by Kenneth Tynan, 1989 edition.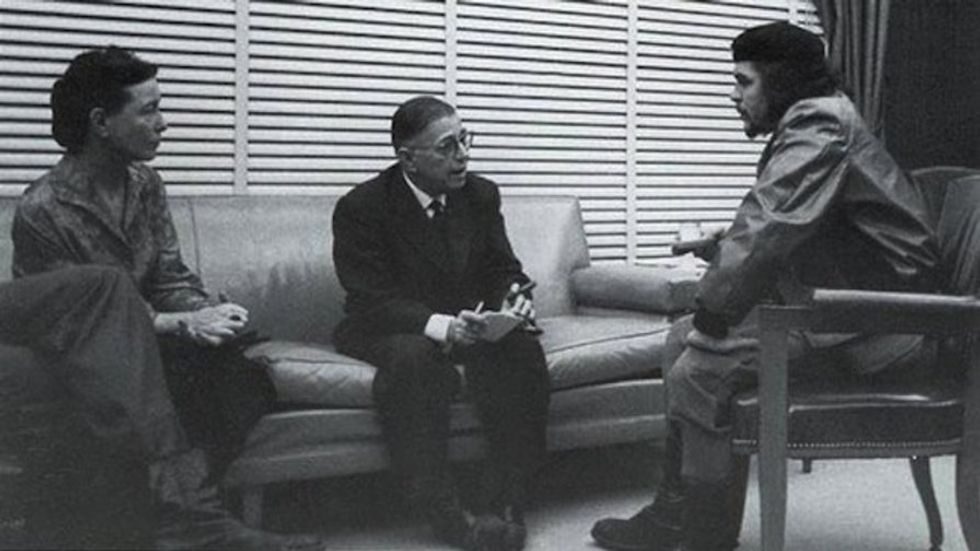 Sartre was a French existentialist and the life partner of Simone de Beauvoir. In line with their modern lives and her second wave feminism, they had an open relationship which waxed and waned over 50 years. He, rather infamously, carried on affairs with proteges who were much younger than him. Despite never marrying, his love for Simone was evident, and he remarked at the end of his life on how wonderful it was to have known her for so long.
"You know, it's quite a job starting to love somebody. You have to have energy, generosity, blindness. There is even a moment, in the very beginning, when you have to jump across a precipice: if you think about it you don't do it." — Nausea (1938)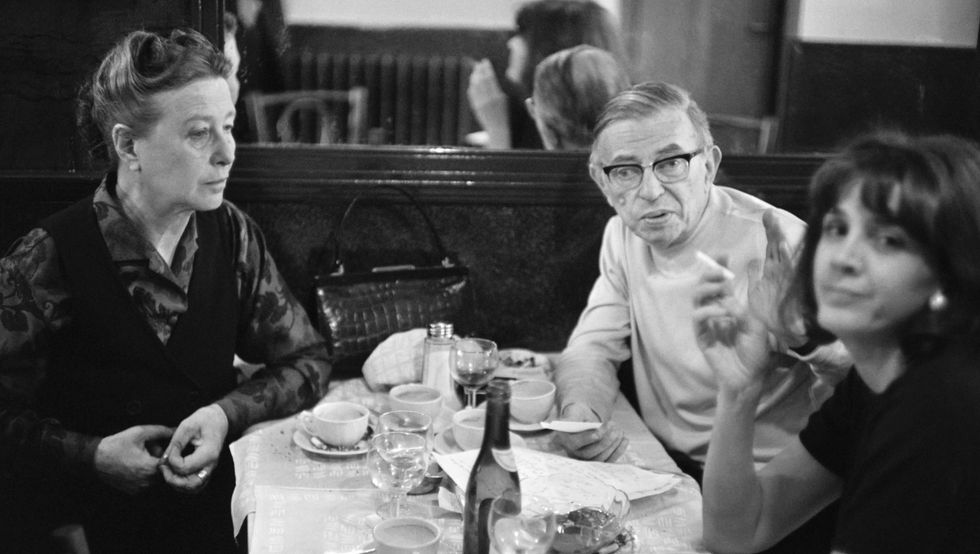 The longtime partner of Jean-Paul Sartre, Simone de Beauvoir was a romantic in her own right. She carried out nearly as many affairs as he did, and offered a feminist critique of the idea that what she was doing was in any way unacceptable. She did lose her teaching license for seducing her students, however. She found many aspects of love, romance, and marriage to be demeaning to women, and carried out her life in such a way as to correct the problem.
She is interned with Jean-Paul Sartre, wearing a ring given to her by her lover Nelson Algren.

"It was said that I refused to grant any value to the maternal instinct and to love. This was not so. I simply asked that women should experience them truthfully and freely, whereas they often use them as excuses and take refuge in them, only to find themselves imprisoned in that refuge when those emotions have dried up in their hearts. I was accused of preaching sexual promiscuity; but at no point did I ever advise anyone to sleep with just anyone at just any time." — Force of Circumstances Vol. III (1963)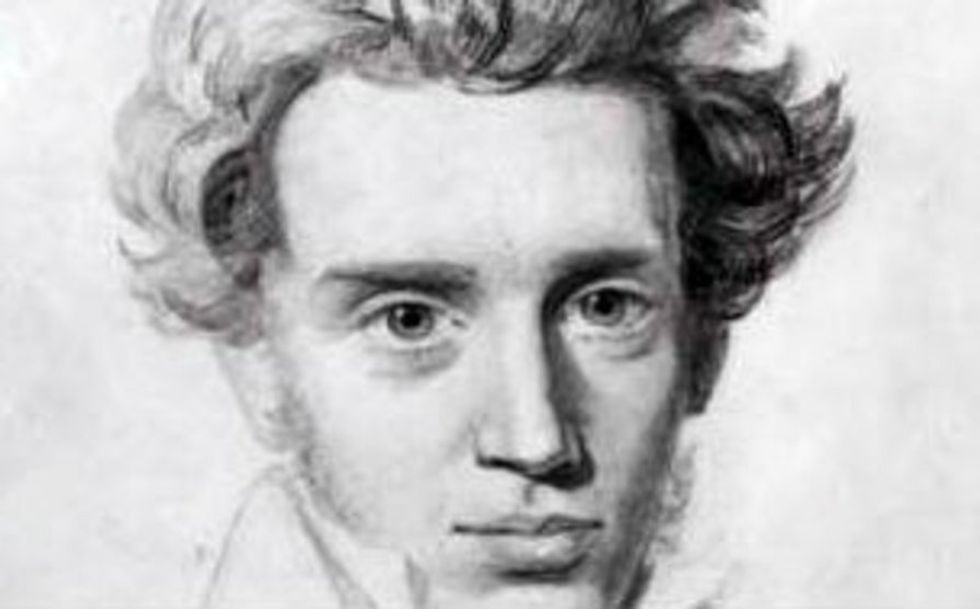 Perhaps the most tragic romantic on this list. Kierkegaard fell madly in love with a young woman named Regine Olsen, who was also madly in love with him. He proposed marriage, but broke it off a month later, returning his engagement ring to her by mail. They were both devastated by his actions; she threatened suicide over it and he cried himself to sleep over his decision.

It is hypothesized that he feared he could not be a husband, writer, and Christian to the extent he wanted to be all at the same time. Knowing this, he chose to be the latter two. This anxiety over the lives we cannot live was a major part of this thinking. The romance would influence his writings for the rest of his life and, as he must have, he regretted it always.
"If you marry, you will regret it; if you do not marry, you will also regret it; if you marry or do not marry, you will regret both..." — Either/Or (1843)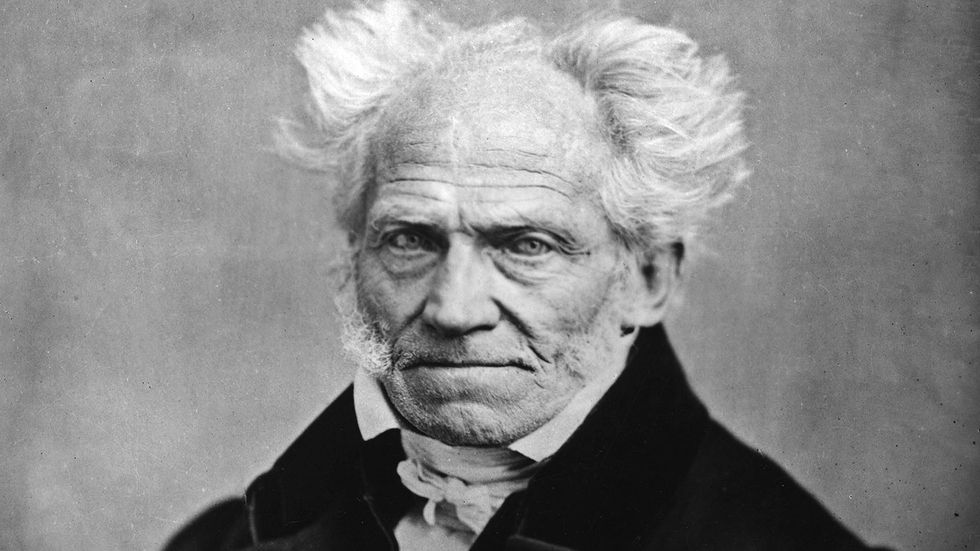 Happy Hallowee--I mean, Valentine's Day.
Despite his praise for the life of asceticism, Schopenhauer tried his hardest to have a decent social and love life. While his connections allowed for some success in the former case, he was rather luckless in the later. He viewed love itself positively, seeing it as one of the key motivations for human activity. His writings on the "will to life" foreshadowed Freudian notions of the id. Despite this attitude towards love, he still found a way to be pessimistic about it. He argued that most people would pick horrible spouses, have too many children, and end up miserable anyway.
"The final aim of all love intrigues, be they comic or tragic, is really of more importance than all other ends in human life." — Schopenhauer
An Indian guru who attracted no small amount of controversy during his life. Contrary to most gurus who favor celibacy, Rajneesh favored a more liberal attitude towards sexuality as part of a path to overcoming sexual desire. He pointed out, as did Bertrand Russell before him, that sexual repression will only create a society obsessed with sex. Once a person is past that desire, they can truly focus on devolving universal love.

"Nobody can teach you love. Love you have to find yourself, within your being, by raising your consciousness to higher levels. And when love comes, there is no question of responsibility. You do things because you enjoy doing them for the person you love." — Sat-chit-anand (1988)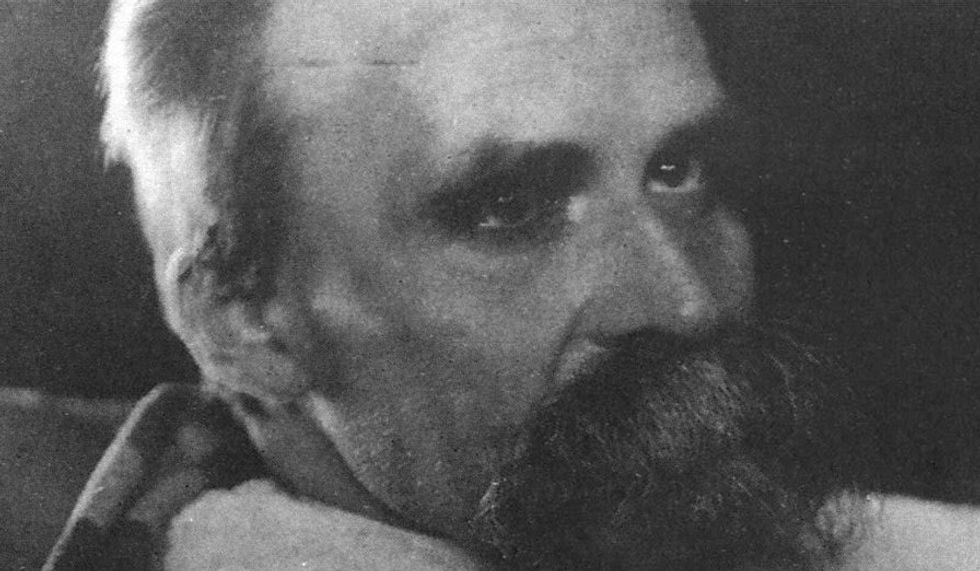 Friedrich Nietzsche is a philosopher we have spoken of many times before. However, his unsuccessful love life has escaped our observation before now. He proposed thrice to the same woman, Lou Salome. Her rejections crushed him, and other than the occasional expression of affection for Wagner's wife he ended his romantic pursuits after Lou Salome refused him. He later pointed out, however, that the only significant philosopher who was married was Socrates; as powerful rebuttal of marriage for the intellectual as he could give.
Nietzsche lived alone for most of his sane life, did think marriage was a decent idea for most people but questioned their way of going about it. In Human, All too Human (1878) he proposed that serial marriage would be beneficial for men. His (alarmingly sexist) stances on women seem to suggest he favored marriage and domestic life for them.
"It is not a lack of love, but a lack of friendship that makes unhappy marriages." —Beyond Good and Evil (1886)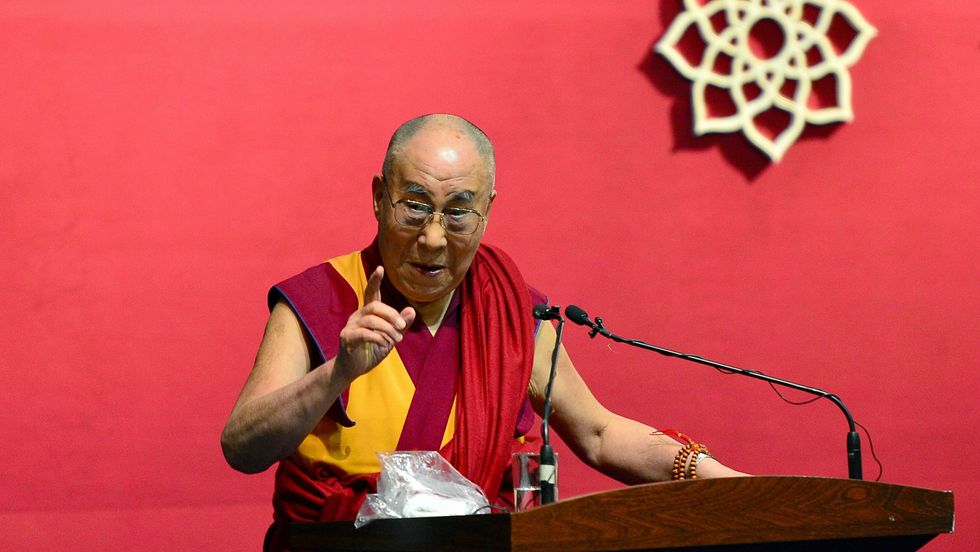 While remaining a celibate monk, the Dalai Lama has lots to say about love. Although he sings the praises of avoiding sex and marriage, he does understand the attraction to the institution and uses the problems it has to help us understand his position. For him, the greatest use of love is to love the world and everyone in it, no matter how many difficulties life tosses at you. Despite the hardships of his life, he still strives to love everyone and encourages us to expand the circle of who we love.

"Love and compassion are necessities, not — Lhamo Dondrub, 14th Dalai Lama
Is high IQ really something that can genuinely turn people on? Apparently so — but only to a certain point.
Pixabay
Putting sapiosexual memes aside, is high IQ really something that can genuinely turn people on? According to a new study from the University of Western Australia - yes. There is a caveat, however — above a certain threshold, the effects start to wear off.
The authors of the study Some people are attracted sexually to intelligence: A psychometric evaluation of sapiosexuality wanted to know how exactly desirability of a potential partner changes across various levels of intelligence. In addition, they wanted to finally come up with a reliable measure to prove the existence of the sapiosexual creature (a.k.a. the "sapiosexual psychological construct"), to whom "intelligence is a genuine turn-on" and not simply a desirable trait due to the associated perks.
Previous research has shown that when it comes to the traits people look for in a potential partner, intelligence is second only to "kind and understanding." Few studies, however, explore exactly how much intelligence is required and how desirable it is. 
So far, there are four main hypotheses about the social value of intelligence. One of them, the so-called "threshold IQ hypothesis," posits that for all romantic, creative, academic, and professional intents and purposes, the social value of intelligence does not extend further than an IQ of approximately 120. After this threshold, intelligence becomes "sufficient enough" and other factors, such as personality take center stage. 
A similar hypothesis takes an even more conservative threshold of an IQ of a 100. A third one accepts a linear relationship between intelligence and its social value, while the fourth hypothesis sees an exponential increase of the social value of intelligence above the 90th percentile (as shown empirically, for example, when looking at the relationship between SAT scores and income within a sample of the top 1% of intellectual ability).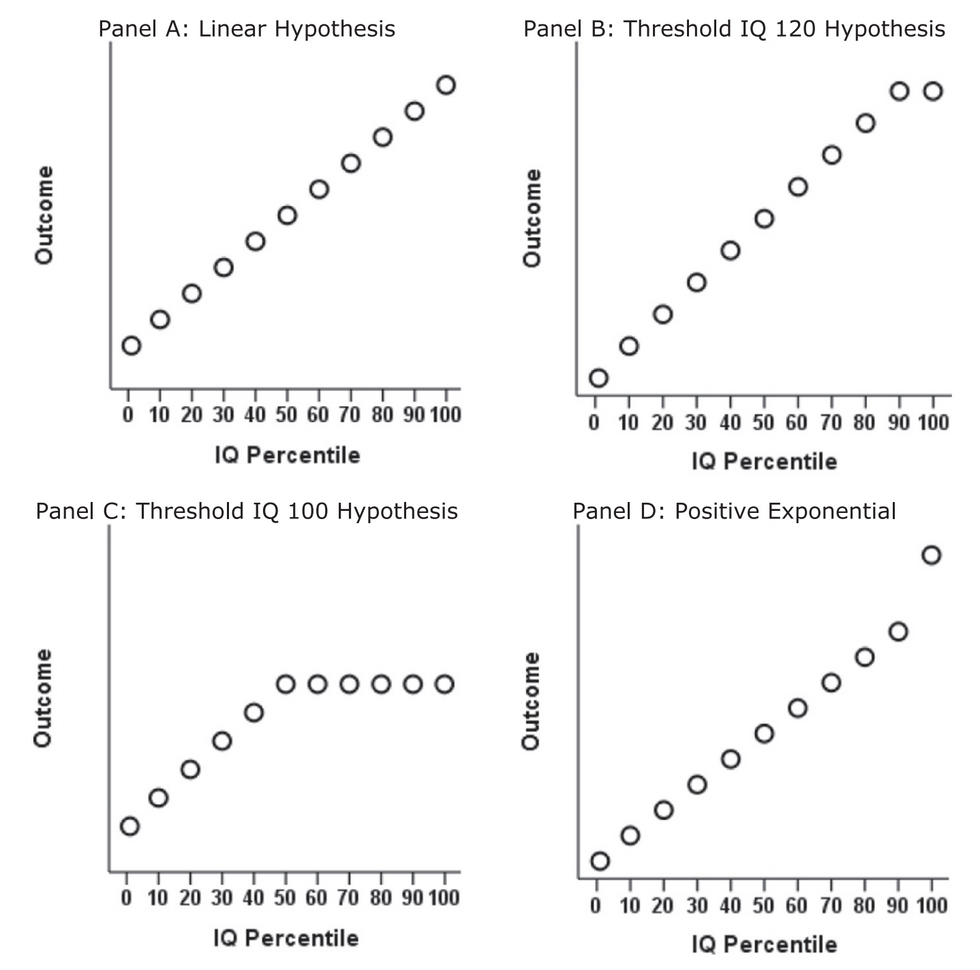 Types of theoretical associations between intelligence and socially advantageous outcomes. / Credit: Intelligence
The latest study was done with 383 participants with a mean age of 25 and a mean IQ of 108. Yet again, intelligence was rated second only to kindness and understanding, when participants were asked to rate the traits they want in a partner. When it came to the desirability of each level of intelligence, the results supported the threshold IQ 120 hypothesis. It appears that while the 90th intelligence percentile is the most sexually attractive and the most desirable in a partner, after that point attraction not only stops increasing, but actually declines.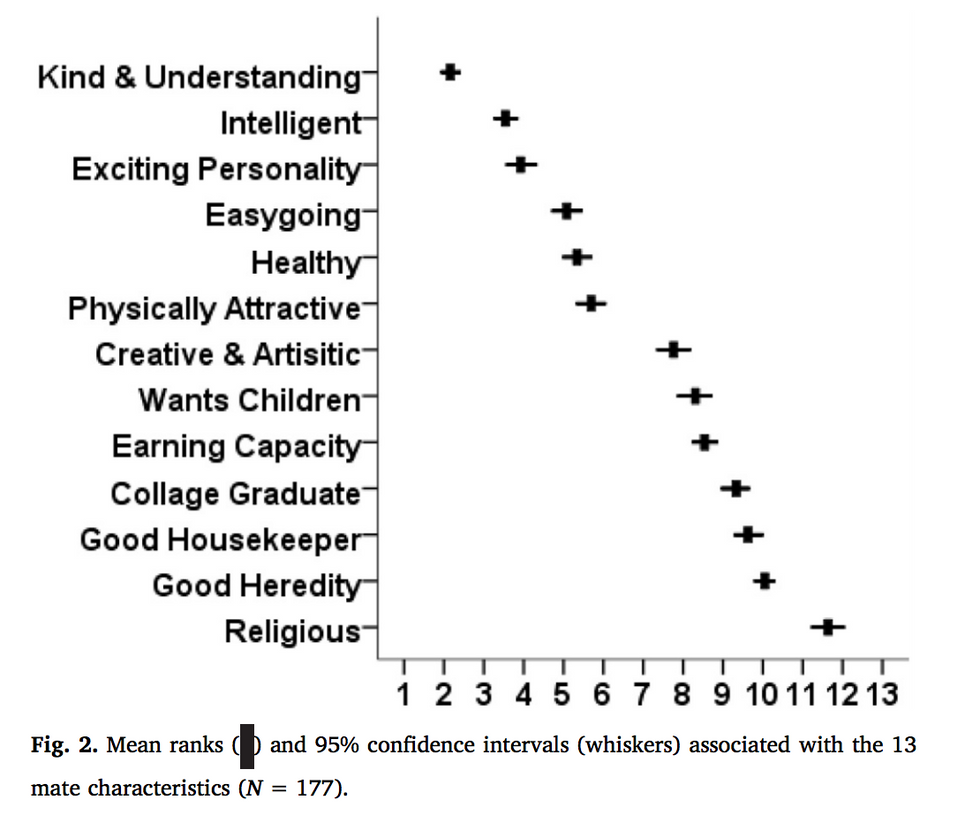 The researchers provide a possible explanation to this phenomenon:  
"[I]t may be the case that some participants in this investigation appealed to the stereotype that highly intellectually abled people suffer from inter-personal problems, when they evaluated the 99th intelligence percentile item. Extreme levels of intelligence may not be the only trait that invokes negative stereotypes. That is, some people may rate very high levels of several socially desirable attributes as somewhat less attractive (e.g., physical attraction, kindness, wealth, etc.), because they may fear a lack of compatibility with the prospective partner, or that such extreme traits may be associated with corresponding less attractive characteristics."
Finally, the authors created and administered the first Sapiosexuality Questionnaire (SapioQ) featuring items like "Listening to someone speak very intelligently arouses me sexually." The results gave "some plausibility for the sapiosexuality construct," showing a normal distribution of the trait. In other words, about 8% of the respondents could be considered sapiosexual with women scoring slightly higher on the scale.
In light of the results, it should also be noted that other studies have seen that the minimum level of intelligence required of a mate can change depending on our intentions. For example, a single date was associated with a minimum intelligence expectation of approximately the 50th percentile, while marriage boosted that minimum with 15 additional percentage points. Interestingly, in this study there was one major difference between males and females. When it came to the one-night-stand scenario, males' minimum intelligence requirement dropped to the 41st percentile, while females' rose to the 55th.
A recent study reflects that men view their female friends differently than women view their male friends – but by a pretty insignificant margin.
Actors Hugh Grant and Stephanie Stumph flirt during the Wetten dass...? show at the AWD Dome in Bremen, Germany. (Photo by Ronny Hartmann/Getty Images)
A recent study in the journal Evolutionary Psychological Science reveals that heterosexual men and women may view opposite-sex friends differently from one another. In particular, men in the study were more likely than women to report being attracted to their opposite-sex friends – but not by much.
Researchers' interest in the subject was grounded in opposite-sex friendships being, by and large, a natural anomaly. Professor April Bleske-Rechek, the leading psychologist behind the study, said in an interview with PsyPost:
In graduate school, my advisor (David Buss) and I began studying friendship with an evolutionary lens, and hence we began to consider the ways in which our evolved mating strategies might impinge on our experiences with opposite-sex friends. 
We did that because, defined as a voluntary, non-reproductive alliance between non-genetically related members of the opposite sex, these relationships — at least among young adults — seem to be a bit of an evolutionary novelty.
From an evolutionary biologist's point of view, non-sexual relationships between members of the opposite sex might seem downright bizarre.
The study's methodology consisted in approaching opposite-sex pairs of adults on a college campus, asking them to participate in a study about dyads, and separating them to answer some questions on a clipboard. According to the article, very few pairs declined to participate. Once separated, the participants answered questions about their relationship status and the extent to which each subject was attracted to the other.
The hypothesis that young men look at their female friends differently than young women view their male friends was confirmed by the results. Men reported higher mean and maximum levels of attraction to their female friends than vice-versa. However, the differences were small. Prior studies into similar topics had results showing men having much higher relative rates of attraction. The researchers wrote:
In short, we failed to replicate the significant sex difference documented in previous studies (Bleske-Rechek and Buss 2001; Bleske-Rechek et al. 2012; Kaplan and Keys 1997). The sex difference we observed was small in magnitude, rather than moderate to strong, and not statistically significant. 
Having expected to find a greater difference, the researchers suggest that one explanation for the subtle difference may be that they approached the friends while they were with each other (despite the fact that they physically separated to answer the questions). They describe:
We speculated that our sampling method was an explanatory factor. That is, we had not asked people to tell us about a friend of theirs but instead approached friends in their "natural habitat." Are the members of the opposite sex with whom young adults pass their time in an everyday context different from the members of the opposite sex that they visualize when researchers ask about their friends?
Other questions remain as well. Are first-person reports about such friendships reliable? To what extent are the results culturally specific? What, if anything, can be learned about romantic relationships? Was there an evolutionary advantage to non-romantic heterosexual, opposite-sex friendships?
Nevertheless, one thing, according to Professor Bleske-Rechek, remains clear: there is a real difference. She describes in her interview:
The current set of studies, taken as an aggregate, supports my general hypothesis that young adult heterosexual men and women, on average, have somewhat different mental definitions (or characterizations) of "opposite-sex friend." When men and women think of an opposite-sex friend, men are more likely than women to think of a friend to whom they are attracted.
A seemingly simple question about the nature of human friendships reveals great complexity and eludes straightforward answers. 
Romantic advice from some of humanity's biggest thinkers. 
Still from Baz Luhrmann's 1996 film "Romeo + Juliet"
Romantic relationships are difficult to get right no matter how hard we try. Thankfully, philosophers and other big thinkers have weighed in and offered advice. Here's who you should trust with relationship advice — and who you should run from.